March 2023 | 1904 words | 7-minute read
She's just in standard VII but Seema Kumar has already decided she will become a police officer someday. The challenging cloud looming over her ambition is maths. "I know I have to score well in it so I can finish high school and then clear the police force entrance exam," says the student of a government girls school in Uttar Pradesh's Sambhal district.
Seema is on track to achieve her goal thanks to a digital technology-based science, technology, engineering and mathematics, or STEM, education programme supported by the Tata Trusts. Maths is no longer a bugbear for Seema and her classmates, the big reason being a learning platform out of the ordinary, with engaging videos and exercises and 'stars' and 'energy points' as rewards. "Maths wasn't my favourite subject but now I've really started liking it," says Seema. 
Amid all the talk of the digital divide that enfeebles education in India, most so in rural regions, progress is being made as education technology (ed-tech) platforms offer a way to level the playing field, especially for students from marginalised backgrounds. There are many obstacles that remain, though, from the lack of high-quality content in Indian languages to the prohibitive cost of private ed-tech courses and connectivity gaps in interior areas.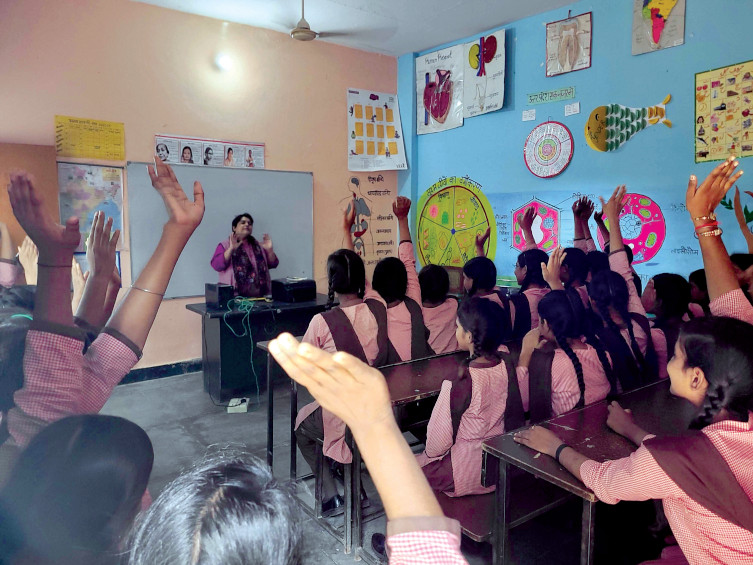 Tackling such complications is the business and the passion of Khan Academy India (KAI), the Indian arm of the United States-based nonprofit, Khan Academy. The learning platform giving a boost to Seema was created by Khan Academy, which works in partnership with states and public school systems. Large-scale and meaningful impact is the quest and KAI has taken a studied pathway to realising it.
'Hinglish' included
KAI has contextualised and adapted Khan Academy's vast and free online library of learning resources into Hindi, English, Punjabi, Marathi, Gujarati and Assamese, as also 'Hinglish', that captivating blend of two languages as dissimilar as can be.
These resources, specifically maths and science videos and practice lessons, are being used by nearly 390,000 students from standard VI and upwards in 7,376 government schools across Punjab (including the union territory of Chandigarh), Uttar Pradesh and Maharashtra, and the central government's Jawahar Navodaya Vidyalaya (JNV) network. For many of these students — and their teachers — this was the first brush with ed-tech.
The back story of the Tata Trusts' connection with the programme stretches to 2015, when the philanthropy forged a long-term collaboration with Khan Academy to adapt the organisation's content to India's schooling system. This resulted in the 2016 launch of the Indian platform for learners. The joining of hands was based on the belief that technology could provide the scaling-up solution the country needed to fulfil the mandate of the landmark Right to Education Act 2009: to deliver quality education to all of India's school-going children.
"KAI is not merely about providing learners free resources in Indian languages," says Amrita Patwardhan, head of the Trusts' education portfolio. "The platform's pedagogic strength lies in its modular structure and the scope for personalisation for users at different skill levels."
From Khan Academy's perspective, backing from the Trusts has enabled it to unlock the potential of partnerships and customise its offerings. "We have a great product and working with the Trusts has helped us make our resources accessible to poor students and improve their learning," says Shubhra Mittal, head of state partnerships at KAI.
The objective of KAI's effort is to provide a free, world-class education to anyone, anywhere, and to bridge the learning gaps in maths and science in Indian public schools. The canvas is vast and complex. The country's public school system comprises an estimated 256 million students of diverse backgrounds, and it is plagued by poor teacher-student ratios, inadequate infrastructure and literacy levels that leave much to be desired.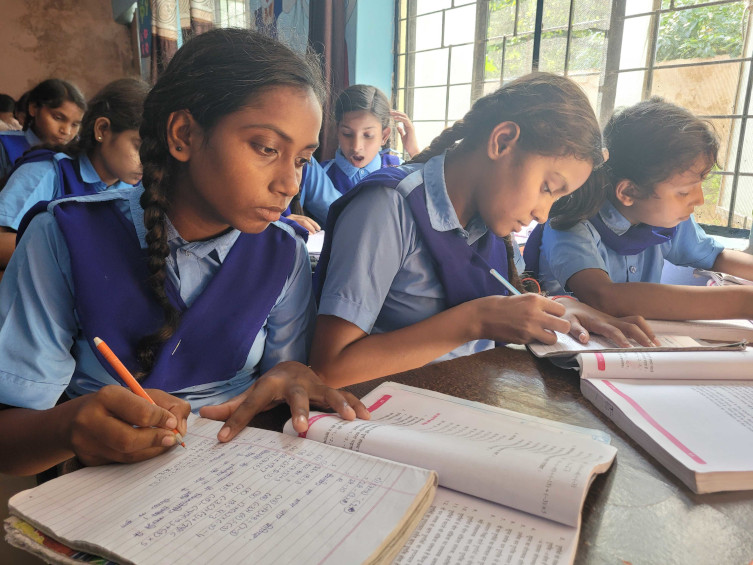 Girls for maths
In 2021, following an agreement with the state government, Khan Academy India (KAI) rolled out its maths module at the Kasturba Gandhi Balika Vidyalayas (KGBVs) across Uttar Pradesh. The targeted students needed the leg-up more than most.
KGBVs are residential schools run by the government for girls from marginalised backgrounds in subdistricts with a female literacy rate of under 50%. Many of their students are either dropouts from regular schools or new learners with little to no exposure to formal education.
A lot of these students have a phobia of maths, a phobia so pervasive in India that education authorities have had to spell out that all children should, and can, learn the subject. Emboldening the girls there to learn maths was a priority for the KGBVs, too. Says Sarita Singh, state consultant for gender equity, UP-KGBV: "We constantly fight this maths myth and show the world that girls can learn it easily. That's where KAI's resources come in."
To fight the maths bogey, the programme employs videos and exercises that are self-paced and engaging. The intent is not just to banish the fear of maths but also to inculcate a lifelong love for the subject. "Maths is seen as boring. By making it interesting we want our students to opt for it in higher grades," says Shailja Mishra, district coordinator with UP-KGBV in Sambhal. Schools are mandated to make students spend at least 25 hours per annum on KAI's platform.
To date, nearly 44,000 students between standards VI and VIII at 650 UP-KGBVs have used KAI's maths exercises and videos — in Hindi and 'Hinglish' — to supplement their classroom learning. The resources are also beneficial for teachers, who can assign customised assignments to bridge different pupils' learning needs.
"The KAI platform makes it easier for us to bring every student up to speed with the syllabus by standard VIII," says Goldy Baliyan, a maths teacher at KGBV-Rajpura in Sambhal. Digital upskilling is yet another advantage. "In the process of learning, students hone their computer skills, which is an asset for their future," says Ms Singh.
Rural canvas
Dealing with such barriers requires a nuanced approach. The KAI team had to invest significant time and effort in figuring out how to maximise the effectiveness of its maths and science content and its teacher tools in real-world classroom scenarios in rural India. 
One of the first steps was determining the ideal 'dosage': the time a student needs to spend on KAI's website or app to learn maths and science effectively. The answer to this question came from a 26-week pilot programme conducted in 2017 in Rajasthan. "We found that 120 minutes per month, the globally recommended dosage, correlates with better learning outcomes in India, too," says Ms Mittal.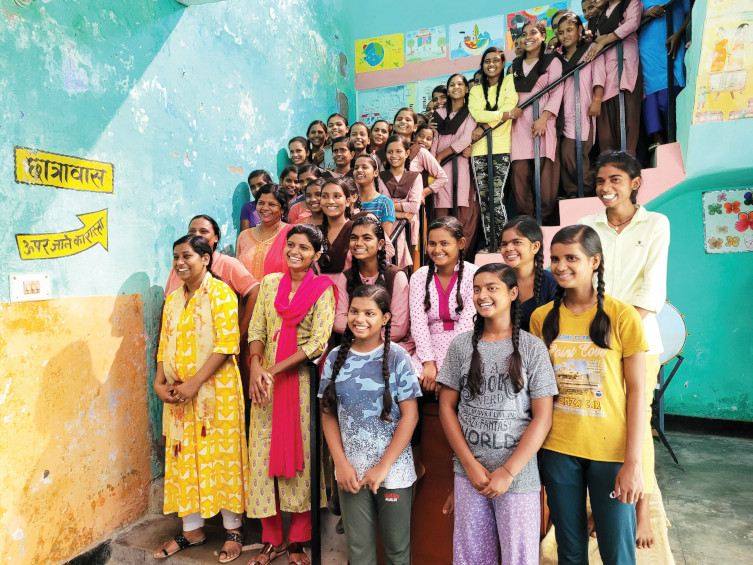 The team had to find ways to tackle shortfalls in digital infrastructure and connectivity in rural schools. As a rule, KAI doesn't distribute devices to schools; that is the responsibility of the partner state (typically, its educational body). However, the team does help schools figure out how to use their existing technology.
"We recommend the optimal ways for them to use their available laptops, tablets, mobile phones and even projectors to achieve the 120-minute monthly target," says Prachi Luthra, KAI's programme head for Uttar Pradesh.
KAI seeded the idea of self-paced concept mastery for students while managing the concerns of teachers about completing their syllabi on time. The entire repository of exercises and videos was mapped, not just to the prescribed syllabus for each region, but also to the schools' annual academic calendars. "Our aim was to give schools and teachers a ready solution they could adopt easily," says Ms Luthra.
Schoolteachers are key stakeholders for KAI. They do everything from creating virtual classrooms and login credentials for students to handing out assignments, tracking individual progress and scheduling remedial lessons. That's why the programme's structure is as teacher-friendly as possible and teacher training is a priority.
KAI has trained 15,500-plus teachers through its hybrid training programmes — including synchronous in-person and web-based training — through a six-hour certification course, Khan for Educators. KAI also trains district-level education coordinators, who then train teachers at local schools. Other support initiatives are a first-of-its-kind helpline for teachers, WhatsApp groups and other interaction channels.
India has plenty of for-profit private sector players in ed-tech who are trying to make inroads in non-urban areas by establishing themselves as one-stop shops. KAI has not taken that approach. It has been clear from day one that working 'outside the system' would limit its potential impact. Consequently, the partnerships with states and school systems are critical to reaching the most disadvantaged students and achieving desired results.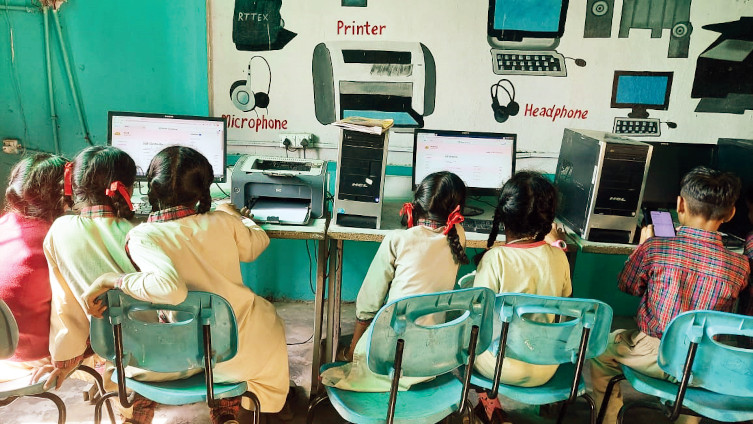 An example of this is KAI's shared approach to developing content in Indian languages. As per agreements with state bodies, government-nominated teachers contextualise the English exercises, videos, and tests for their pupils, with KAI delivering the necessary oversight and support. The teachers are trained to do more than just translate the American content; they even replace foreign-sounding names, foods and other items in word problems with local-language equivalents.   
Indian bent
This has paid off: content in Indian languages today accounts for 26% of the overall learning time on KAI's platform. In addition, one in four of the programme's 'highly engaged' users (including self-directed learners) accesses the platform in an Indian language.
The bonds crafted with states and schools have had another benefit: for the programme: a high degree of grassroots-level trust and ownership. This has increased the programme's usage, particularly so during the Covid lockdowns, when students were confined to their homes. "Seeing the lengths to which school authorities went to get students to use the platform — even visiting their homes during the lockdown to get them to register — showed us the impact we are making on the ground," adds Ms Mittal.

In the post-pandemic world, ed-tech has come to play a massive role in skilling, especially in the context of marginalised communities. From that lens, KAI's ability to build a free and multilingual online education platform at scale is nothing short of remarkable. The programme's growth trajectory proves that.
The KAI platform has expanded from 6,000 school students in 2017 to a level where it will soon touch 400,000 (those using the content on a monthly basis). Most of the students on the platform are from Punjab, where KAI's resources are deployed in 6,300 schools, and in Uttar Pradesh, where the figure is 650. The JNV school system has more than 350 schools logged in, while in Maharashtra KAI has rolled out the platform for nearly 500 model schools.
Having come this far, the KAI team is now looking to the future. On the immediate agenda are plans to launch Assamese-language maths content for standards VIII and IX, and scaling up the project in Uttar Pradesh to standards IX-XII. In mid-2023, the team will also roll out science content for grades IX-XII, marking yet another milestone in its journey.
"We have built a successful working model for scaling up technology-assisted, mastery-based learning in India's public school system. There's no limit to what we can achieve," says Ms Mittal.
—Nikhil Menon
Source: Tata Trusts' Horizons, January 2023 issue