October 2021 | 1565 words | 6-minute read
Fifteen-year-old Sarina Khatun from Rukhia village in West Bengal is the daughter of a daily wage earner who could hardly make ends meet, let alone educate his four children.
A teacher of the local Titan Kanya academic support centre took the teenager under her wings and guided the girl ('kanya' is a girl in Hindi) to finish middle school. Today, in class 10, Sarina gives tuition free of cost to poor children in her village and dreams of becoming a teacher.
Jamirul Islam, a daily wage labourer, lives with his wife and five children in West Bengal's Arjunpur village. His youngest daughter, Hasiba, who enrolled at a local Titan Kanya centre, is leading a group of classmates in completing a science project. Likewise, Lokeshwari, a class 10 student from N Pudhur village in Krishnagiri district of Tamil Nadu, was forced to quit school due to the pandemic, but her teacher at the Titan Kanya centre ensured she completed her schooling. Today, Lokeshwari has enrolled in college and aspires to be a teacher. What is common between Sarina, Hasiba, Lokeshwari and scores of other girls across the country is that they are beneficiaries of Titan Company's flagship corporate social responsibility (CSR) programme, Titan Kanya.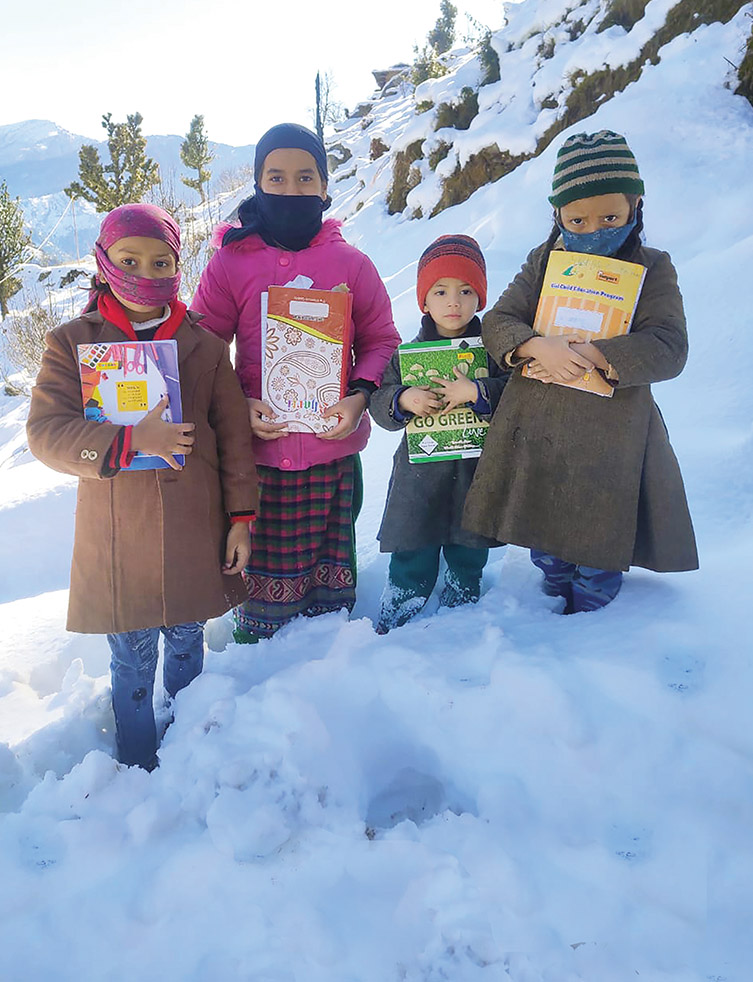 At least 1.6 million girls in India remain out of school, with 39.4% of them in the age group of 15-18 years*, and the pandemic has exacerbated this problem. According to a report by the Malala Fund, 20 million more secondary school-aged girls worldwide are at risk of not returning to schools, with many being from developing countries.

Titan Kanya programme
In 2013, Titan Company launched an initiative to empower the girl child. Called Titan Kanya, the programme has been implemented in partnership with Project Nanhi Kali, a non-governmental organisation jointly run by the KC Mahindra Education Trust and the Naandi Foundation; and IIMPACT, an initiative of the alumni batch of 1978 from the Indian Institute of Management Ahmedabad.
With an initial target of supporting 10,000 girls from urban, rural and tribal belts, located in remote areas with limited access to schools, Titan Kanya today has touched the lives of over 17,000 girls through its 400+ local learning centres spread across villages in Tamil Nadu, Uttar Pradesh, Uttarakhand and West Bengal.
"While visiting the Titan Kanya learning centres, we ask the little girls, 'Badi hoke kya ban'na chaahti ho?' And they reply with a shy smile, 'Doctor, teacher, vakil...,' and sometimes, 'Police ban ke main daaku ko andar kardoongi!' The cheery and confident faces of Titan Kanyas give us both satisfaction and encouragement, for investing in the education of girls to build stable, resilient and well-developed societies," says CK Venkataraman, MD, Titan Company Ltd.
"We started with non-enrolled girls, dropouts, and those who were irregular in attending school," says NE Sridhar, head, Corporate Sustainability, Titan Company. "The aim was to get them to school, ensure they continue and pass class 10. We started with a few centres and kept expanding."
The first of Titan Kanya's two-model approach focuses on remedial education that is being implemented through Project Nanhi Kali. Functioning in Tamil Nadu since 2013, the programme seeks to ensure that underprivileged girls in government schools complete formal schooling.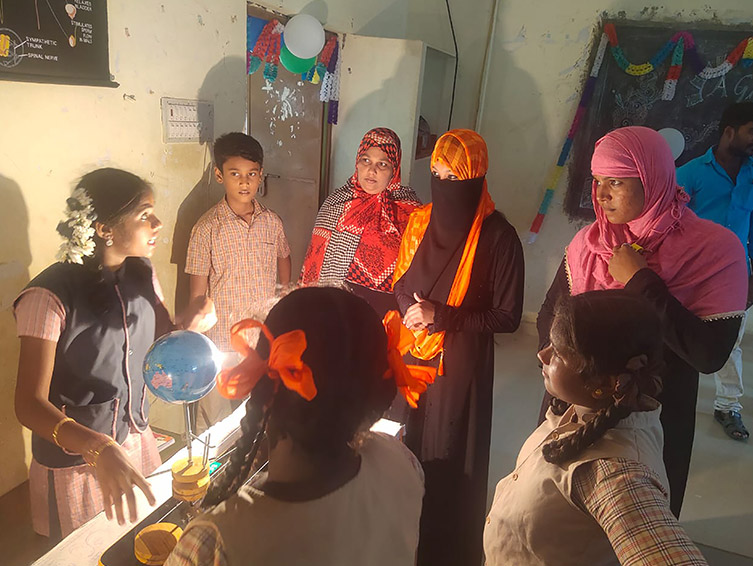 Kalpana, a teacher at the Krishnagiri Titan Kanya learning centre in Tamil Nadu, says, "The girls in our schools come from backward areas where the prevalent social norms attribute less value to educating girls, especially after they attain puberty; this leads to a high dropout rate. The awareness among girls about the opportunities education can open is also rather low."
"Our objective is to create a learning environment that becomes a part of the schooling system. After Krishnagiri, where the programme has positively affected the lives of over 7,000 girls across 236 schools, we have moved to Chengam and Jawadhu Hills in Tiruvannamalai, Tamil Nadu's most backward district," says Sridhar.
"In Krishnagiri, the programme retention rate is over 95% with less than 5% of girls dropping out. Most importantly, the initiative has created a conducive ecosystem in which the girls are being encouraged to achieve their full potential," says Anuradha Suvarna, head, Corporate Partnerships, Project Nanhi Kali.
The second approach focuses on providing quality primary-level education to non-school-going girls (6-14 years) up to class five, and then mainstreaming them. Through its partnership with IIMPACT, Titan has set up 349 community-based learning centres across 14 districts in Uttarakhand, Uttar Pradesh and West Bengal, reaching out to 10,470 girls.
"We aim at continually improving our interventions on field towards keeping girls in the process of education," says Shantanu Ghosh, deputy head, Donor Relations, IIMPACT. "The Titan Kanyas are gradually becoming more confident and aware of their rights taking initiatives like calling helplines to prevent early marriages in their communities," says Santhi PS, project coordinator, CSR, Titan Company.

Reach and Impact
Benefitted over 17,332 girls
400+ Titan Kanya learning and academic support centres

Trained and certified around 1000+ teachers
Over 90 percent of Titan Kanyas returned to learning centres after the lockdown
390 Titan employees have been supporting 610 kanyas
*Policy brief on girls' education released by the Right to Education Forum
Learning in the Covid crisis
Prolonged school closures due to the pandemic have increased dropout rates and disproportionately impacted girls by putting them at risk of early marriage, early pregnancy, poverty, trafficking and violence. A holistic approach going beyond education is Titan's solution to protect girls from these impending risks.
"Firstly, it was important for us to ring-fence the Titan Kanyas from dropping out or abuse due to school closure and other socio-economic impacts of the pandemic," says Sridhar, adding, "We extended funding to our partners beyond the programme to ensure families of the kanyas were supported. We also ensured every single partner, big or small, received funds, and teachers received their salaries even though no classes were held."
Titan also reached out to families and communities in villages to find ways of restarting the programme despite the challenges. Currently, the programme is being conducted in smaller groups with all the safety protocols. With learning around the world moving online, Titan has ensured that its kanyas move with the world.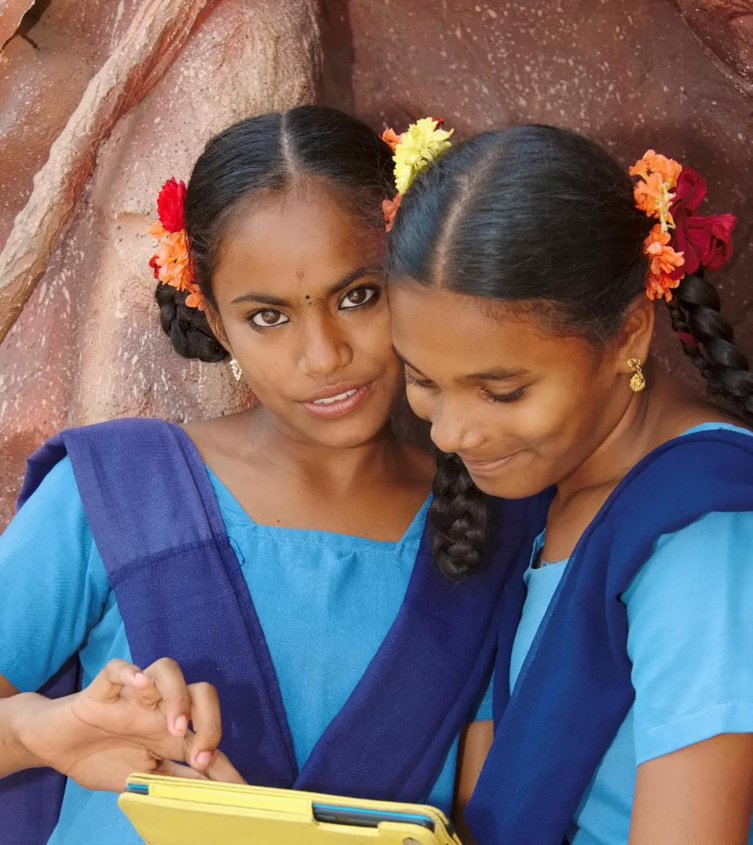 Titan Kanya 2.0
To improve learning outcomes, Titan launched an adaptive learning programme called Mindspark. Powered by artificial intelligence and backed by 20 years of research on children's learning, Mindspark has been reviewed by researchers at Harvard, Stanford and Massachusetts Institute of Technology (J-PAL). Personalising every child's learning journey as per their learning capacity, Mindspark improves the child's reading and listening comprehension, logical thinking, analytical and quantitative skills. With the curriculum aligned to the state boards, grades 1-5 are taught English, mathematics and the local language, and grades 6-10 are taught science, besides other subjects.

Over 5,000 school-going girls in Tamil Nadu's Tiruvannamalai district have benefitted. "This initiative has helped us significantly during the pandemic, as the pre-loaded programme on tablets can be introduced even in the remotest locations," says Sridhar.
To improve learning outcomes among Titan Kanyas and to extend the benefit to boys, Titan has introduced initiatives like Science on Wheels programme, which is benefitting over 7,405 students and teachers from experiential learning in physics, chemistry and biology. A professionally designed sports curriculum is integrated with the programme to ensure physical fitness. Besides, training in soft skills like safe (good) touch and unsafe (bad) touch, awareness about menstrual hygiene and sanitation is also imparted. The company intends to introduce the Titan Kanya scholarship programme for the higher education of girls.
Titan has started a 'Train-the-Trainer' programme and a certification programme for the science and mathematics teachers in Krishnagiri. "We are now in the third year and have trained around 1000+ teachers from government schools in India," says Sridhar. It does not stop there!

A multi-thematic approach
In 2014, Titan launched an offshoot of Titan Kanya programme called Kanya Sampoorna. "We asked ourselves what more a girl needs beyond education in her journey to empowerment. This made us look at her complete lifecycle, starting from her health as an anganwadi (day-care centre) child to taking care of her learning through her primary, middle and high school years until she is engaged in a livelihood," says Sridhar.
Kanya Sampoorna implemented in Cuddalore in Tamil Nadu and Yadgir in Karnataka enables one lakh girls to lead a dignified and productive life by increasing their access to quality healthcare, education and livelihood.
The ecosystem
"The critical success factor behind the programme is working closely with all the stakeholders to make the programme self-sustaining," states Sridhar, adding, "The larger Titan family, including employees and associates, support the company's efforts by sponsoring the education of Titan Kanyas and by volunteering. One of our associates skated for 100 days along the nearly 6,000-km-long Golden Quadrilateral to raise funds for and spread awareness about educating the girl child."
"The smile that this initiative brings to each beneficiary's face brings a smile of satisfaction to our face," says Ms Alphonsa Jacob, CSR officer, Titan Company.
The positive interventions of the Titan Kanya programme have brought about a gradual but perceptible change in mindset among parents and students.
—Arushi Agrawal