April 2020 | 1255 words | 5-minute read
Smartphones, internet searches, browsing the news and plenty more of a similar, digital bent are not terms one typically associates with women in India's villages. Yet these have become familiar for many millions of the country's rural womenfolk thanks to a long-running and continually inventive effort centred on getting them internet-educated.
The internet saathi (or friend) programme, a collaboration between the Tata Trusts and Google that kicked off in 2015, has at its heart an idea plain as day: using digital technologies for social transformation. Internet saathi has translated that idea into reality through an initiative where the results have been eye-popping.
Under the programme, more than 69,000 rural women in 248,700 villages in 18 states of India have been trained to teach some 25 million rural women like themselves what the internet is about and how to use it to improve their lives. Internet-enabled devices, usually smartphones or tablets, are the tools of instruction and the learning, in keeping with the medium, happens in quick time.

The saathis are rural women with basic literacy and they are signed on for the programme with the help of local NGO partners. These women are trained and equipped to educate other women to use the internet as well as social media tools. Over a six-month period, each saathi must train at least 600 women from two-three villages. The saathis connect through WhatsApp groups and meet once a month to exchange notes and share their experiences.
The reason why rural women are the focus of the project is simple: they, more than any other demographic in India, have always been on the losing side of the so-called digital divide. India has been connected to the internet since 1995 but — as a survey done 20 years later revealed — only one in 10 rural internet users in the country was a woman.

Everyday discrimination
This statistic could have been a reflection of the everyday discrimination that rural women face within the family and in the community. It was also a telling detail about how these women were being left behind in a world where the internet is becoming ever more powerful and influential.
"India is one of the fastest-growing markets for internet usage, and it has the widest gender gaps in this usage," says Neha Barjatya, who heads the Foundation for Rural Entrepreneurship Development (FREND), an associate organisation of the Tata Trusts.
Something had to give and it has. Change has come on the back of big leaps in technology and infrastructure, falling prices and rising penetration, and growing awareness of how smartphones and the net can be harnessed to good advantage. The government has played its part and then there are initiatives such as internet saathi, high on potential and on-field outcomes.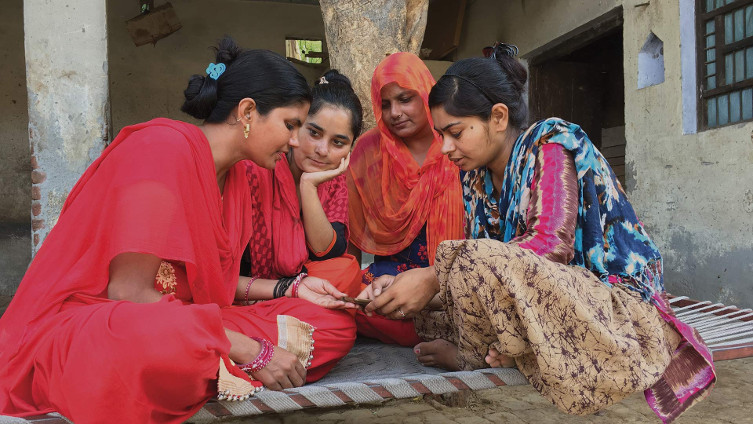 Internet saathi is based on the 'train the trainer' model. Google has provided the technology, smartphones and internet connections, while the Trusts have brought their vast experience in rural interventions to the table. The most critical of the components that make the programme a success, however, are the saathis themselves.
Rohini Shirke is an example. A resident of Adulpeth village in Maharashtra's Satara district, Ms Shirke did not have a smartphone until she became a saathi in 2014. Since then she has been using the internet to promote her modest beekeeping business even as she instructs village women on how to be net savvy.
As a saathi, Ms Shirke has helped her village sisters promote micro-businesses such as poultry rearing and tailoring. Her prominence in the community has led to her being nominated by the women in her village to contest the local panchayat (village council) elections. "I would like to help poor and undereducated women become independent," she says.
"The saathi is the most digitally literate person in the village, someone who's looked up to for advice," says Ms Barjatya. "The reason the programme has worked so well is that it has become an integral part of the community. The saathi sees digital literacy in the specific context of the needs of the women she is training." Internet saathi started with a pilot project involving about 5,000 villages in Rajasthan. The link between digital literacy and income generation came to the fore immediately, with around 40% of participating women saying that they soon found additional ways of earning more money, as well as new ideas for investing this money.

"We identified digital literacy among rural women as a focus area," says Raman Kalyanakrishnan, head of strategy at the Tata Trusts. "We realised that the internet could become a vital life skill for these women." And that's how it has turned out.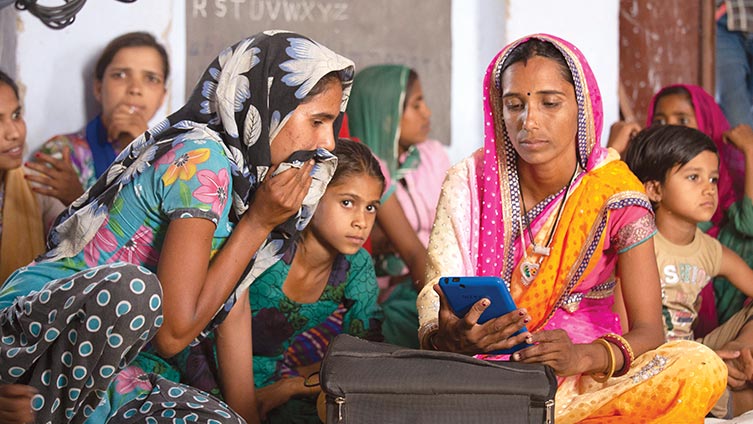 FREND has been crucial in embedding the programme, not least by connecting beneficiaries to livelihood opportunities. It has been a journey of discovery for the learners and the teachers in equal measure. It has been fun, too, with the women warming up to the net in a hurry.
Beyond seeking out means to enhance their income, the women in the programme have begun to better understand the world around them. Accessing government welfare schemes, net banking, news and more has become commonplace and the difference this has made is obvious.
A different education
"The internet has been available to rural audiences for long, but it was used mainly for entertainment and to browse social media," says Mr Kalyanakrishnan. "These women were able to find uses that were more beneficial to them in their daily lives. The programme has provided an alternative to the education they never received," adds Ms Barjatya.
Getting the women to sign on has, however, been a task sometimes. Jyoti Som, a 23-year-old saathi from Akhepur village in Uttar Pradesh's Meerut district, trained 460 women in four villages between July and November 2018. "Some of the women I approached were reluctant to participate. It took time and several visits but I eventually convinced most of the women," she says.
Digital literacy and internet access are a form of liberation for rural women, many of whom are restricted by tradition and prejudices. "We have seen caste and religious barriers come down in some of the villages where this programme has been running," says Ms Barjatya. "Saathis who come from Dalit families are now treated with respect."
FREND has also been able to establish a revenue model in the programme by setting up a marketing and data collection platform. The saathis gather information on women and children, water and sanitation, and nutrition for external agencies. They have also been instrumental in collecting vital data for the 'aspirational districts' initiative of NITI Aayog, the central government's policy think tank.
FREND, which has been a trusted implementation partner for the Trusts, generated revenues of 71.2 million in 2018-19. "We would like to see FREND grow and become a financially sustainable organisation over time," says Mr Kalyanakrishnan. The internet saathi programme is the bedrock on which that sustainability will be built.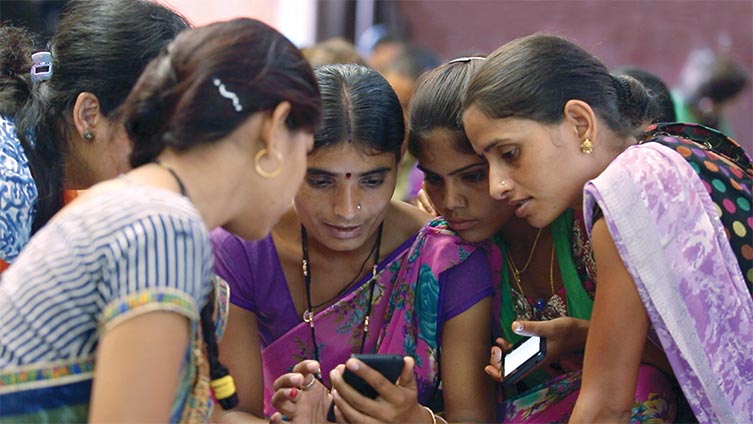 The programme itself continues to stay apace as more villages and their women get covered. The objective is to create a network of 100,000 saathis across 300,000 villages by September 2019 and the Trusts and their partners are well on their way to achieving that. Clearly, India's rural women have found a guide to help them discover a whole new world of possibilities.
—Vikas Kumar
Source: Tata Trusts' Horizons, September 2019 issue