March 2022 | 1238 words | 5-minute read
The way we use maps has changed the way we travel. So, why is it that we can step out of our homes and know where the nearest cab is, but a district collector cannot step into the district and know which schools need teachers? That is also a demand-supply question. That's also something you can triangulate on a map," asks Poornima Dore, head, Data Driven Governance, Tata Trusts.
A passionate advocate of the power of data, she says, "The real power of the data story lies in how it can be leveraged by philanthropy, industry, and government to attack development problems with the same kind of precision. It helps to bring a certain level of granularity in terms of identifying which pockets need more work and track these."
She then circles right back, "People in leadership — a district collector or a municipal commissioner — are like CEOs with a lot of information on their plate and trying to balance competing demands. We are glad to have leveraged risk capital to design and deploy technology tools that can help leaders focus their efforts and move the development narrative forward."
The Data Driven Governance portfolio was formally constituted by Tata Trusts in 2016 to build and socialise such tools. The team has since been focusing on developing technology to approach complex problems and make them easier to address. The result is the DELTA (Data, Evaluation, Learning, Technology, and Analysis) Framework — a data collection and analysis platform to carry out data-intensive planning that supplements decision-making.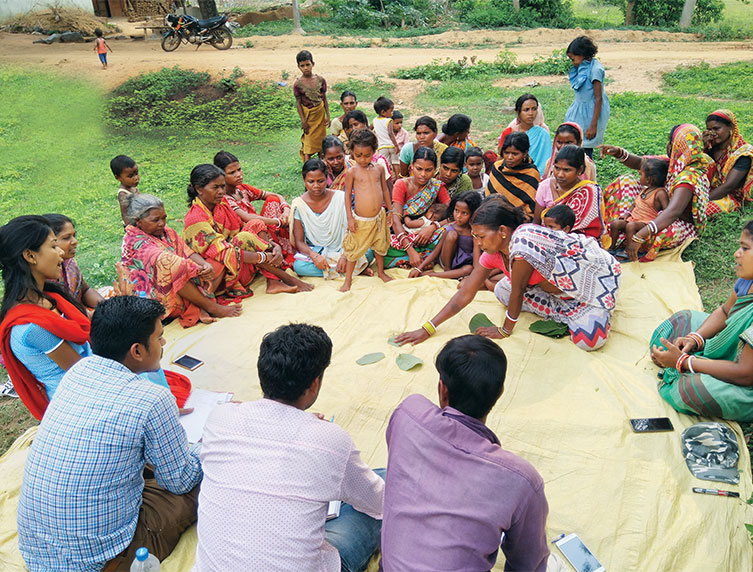 How it began
The story began in 2014 with the Sansad Adarsh Gram Yojna, a government mandate for every member of parliament (MP) to adopt and develop a village annually. Srinivas Kesineni, the MP from Vijayawada, Andhra Pradesh, had adopted the village of Gollamandala. When the Trusts offered to leverage their pan-India presence to build development plans for the village, MP Kesineni took up the offer.
While the Trusts used pen-and-paper participatory research appraisal tools — deployed for rural development in India for more than 60 years — they also turned it into an opportunity to demonstrate how data could be leveraged for planning and development. It was so effective that in 2015, Mr Kesineni approached the Trusts to similarly map every village of his constituency.
"That added up to 264 gram panchayats (GPs) with 10 lakh population," says Paresh JM, a programme manager, Tata Trusts, who was part of the project. "Traditional micro-planning, which was done in Gollamandala, is time-consuming. It would have taken a team of 12 to 15 people at least 21 days to cover each village; mapping the entire constituency would have taken at least nine months. We needed to make it quicker, and digitisation was the answer."
The team commissioned an app that pared down the data collection process for each village to 8 days, and the entire process to just three months. "This was the first ever use of digital in micro-planning in India," he adds. "Tata Trusts was not only the first to make a foray into this but also to execute it on a massive scale. This was also the first, very basic DELTA tool; it only allowed us to digitise data collection."
The work in Vijayawada led to requests for Balasore in Odisha, covering 2 blocks and 590 villages; Chandrapur in Maharashtra, covering 3 blocks and 3 lakh people; and Noamundi in Jharkhand, mapping 18 GPs. The team approached each new project as an opportunity to add another layer of sophistication to DELTA. In Balasore, they also digitised the planning process of the village development plans (VDP). In Chandrapur, they further modified the tool to link the VDPs to government schemes.
By 2018-2019, when DELTA was deployed for the micro-planning of Tata Steel's Jamshedpur-Kalinganagar Corridor — 3.66 lakh people in 450 villages, spanning 270 km from Odisha to Jharkhand — it was evolved enough to capture data for 150+ indicators and map requirements to the United Nations Sustainable Development Goals. A monitoring dashboard was also set up to track the progress of the VDPs with each village and institution being geo tagged.
It has also been adopted by state governments like Maharashtra for their Village Social Transmission Programme, and nationally by the NITI Aayog to monitor performance across Aspirational Districts of India.
Coding transformations
DELTA is equipped with a mobile app for data collection, survey builder, mechanisms for data updates and data migration, and dashboards for indicators and action plans.
DELTA Plus helps catalyse greater public participation and tackle the issue of last-mile linkages. Piloted in Balasore and Chandrapur, it initiated community-driven identification and prioritisation of development issues, created ownership of the plans among locals, and facilitated the tracking of VDPs.
DELTA Ace is a capacity building initiative to strengthen governance systems by enabling decision makers to leverage data for citizen-centric development. It is enabling India's first 100 city data officers to lead the vision of DataSmart cities.
Built @Tata Trusts
The DELTA Framework was developed in-house by the Trusts. At the heart of its architecture is its intent — maximum reach, maximum impact. It has a future-forward composite architecture that allows the framework to respond to changing technologies and demands with agility, makes it easily scalable and broadens the scope of usage.
"We created an agile system of smaller segments that can work in isolation or as a whole. It is configured in a manner that doesn't require the skills of another vendor to deploy it, thus, reducing the cost burden," Dr Dore says. "It is also shared with others through a no-cost licence template."
Through all of this, the team has been cognizant of data privacy. DELTA doesn't collect personally identifiable information unless critical to a project.
The future
At the five-year mark, the biggest legacy of the portfolio is that data driven governance has entered the psyche and even the language of the governmental stakeholders with whom they have worked.
"DELTA has helped create solid proofs of concept. We're not just evangelising a process; we've entered into partnerships with the government and proven it on the ground," Dr Dore says. "As a result, the Smart Cities Mission has made data driven governance an important pillar. The Ministry of Statistics and Programme Implementation is considering digitisation of the National Sample Survey data collection. But if I had to pick one big game changer, it would be the census of India going digital. We've been continuously talking to the government about it, as it will help decision makers get access to information much faster than the 5-6 years it currently takes for the data to be processed and become available."
"Many factors play a role in this," she adds, "but we've had a catalytic role in underscoring the clear proof of concept that digital data collection at scale across remote geographies is possible."
Meanwhile, at the Trusts, the Data Driven Governance portfolio is in the process of being repositioned as Analytics, Insights, and Impact and being deployed as a horizontal function. It will look at how information can be used better for programming and impact across portfolios.
Dr Dore says, "Data driven governance has already started occupying centre stage in social development if you look at how many of the government infrastructure or tech infrastructure conversations are advancing. There is a huge capacity-building story here, and the next 10-15 years are critical."
—Monali Sarkar