June 2021 | 824 words | 3-minute read
A vibrant corridor connects two industrial hubs of Tata Steel, wherein Tata companies and the Tata Trusts facilitate holistic development along this 280-kilometer-long route that stretches from Jamshedpur (Jharkhand) to Kalinganagar (Odisha).
The central idea underpinning the corridor is that different stakeholders — businesses operating in the area, state and local governments, NGOs and civil society institutions — could work together to resolve key social issues and bring about comprehensive development, enhanced social, natural and cultural capital, and empowered community governance institutions in this traditionally backward area.
The Tata Steel Foundation team narrowed down the approach to five focus area:
Social capital (i.e. the communities' enhanced potential to formulate and take charge of their own development agenda);
Natural capital (i.e. increased natural wealth in terms of the quality of soil, foliage and water);
Human capital (i.e. better health and education, where the vulnerable feel empowered and participate in the overall development process);
Cultural capital (i.e. strategies to leverage the unique culture of the community and work towards promotion and upkeep of their rich cultural heritage like language, art, music, food which are an enduring influence on the society) and;
Economic development (i.e. enabling access to channels and facilities that could provide fillip to individual and collective economic growth)
Work on the corridor began in 2019, and some of the impacts thus far are enumerated below.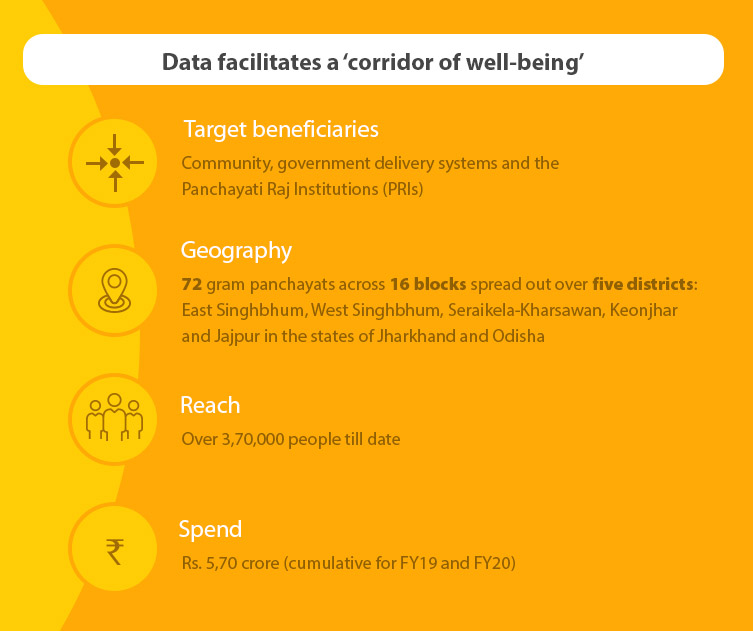 Impact
Village development plans for 440 villages have been created through participatory micro-planning exercises. Support has been extended to panchayats to understand existing development gaps and chalk out necessary interventions.

60 Anganwadis at Kolhan have been rejuvenated infrastructurally to re-engage meaningfully with children and the larger community.

PRI members and traditional tribal leaders attended 34 Gram Sabhas organised in the panchayats.

'Sarkar Apke Dwar' programmes have brought district administrations and panchayats together.

91 Persons with Disabilities in Japur received support to avail of their disability certificates and learn about relevant government schemes.

Community workshops have been held with experts on effective grassroot governance and small-scale entrepreneurship.

5 districts saw orientation sessions and discussions with senior district officials. Interactive platforms have been set up with PRI members and the community.



Data driven governance and the Tata Trusts
A critical success factor in the development of the corridor thus far has been the role of data-driven governance within. It was recognised that, in order to plan and implement projects effectively, track the progress of the various social, environmental and economic initiatives, and ensure that the words 'corridor of well-being' were not empty rhetoric, there would have to be a focus on data management. And this is where the Tata Trusts stepped in! Its Data, Evaluation, Learning, Technology and Analysis (DELTA) framework was created to support development actors in planning, implementing and monitoring the various initiatives and enabling better decision-making.

DELTA supports the collection and analysis of data on individuals, households and institutions, and it has been used in the Maharashtra government's Village Social Transformation Mission and the NITI Aayog's Transformation of Aspirational Districts programme. In December 2018, the NITI Aayog released its first DELTA ranking — a significant move that helps rationalise performance benchmarking.
For the Jamshedpur - Kalinganagar Development Corridor, a monitoring dashboard has been set up to track progress and data has been captured for over 150 indicators that are mapped to the United Nations' Sustainable Development Goals.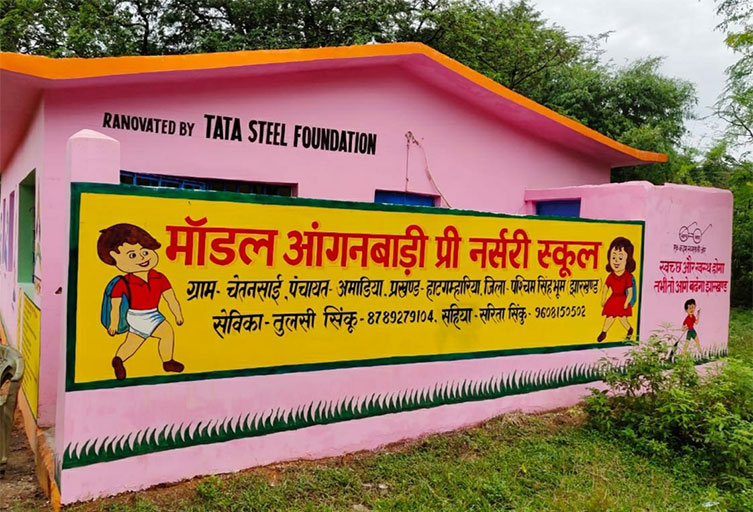 The way ahead
The work on the corridor thus far has created a momentum, and the focus of the near future will be to ensure that this is maintained. To do this, Tata Steel proposes to form an institution, the Corridor Collective, wherein different development actors and stakeholders can join hands to sustainably address common societal problems along the corridor. The Corridor Collective aims to: 
Define common goals for all partners 

Establish transparency in all processes 

Develop a 'theory of change' to make development more effective and sustainable 

Set up equitable processes for continuous stakeholder engagement 

Connect with key people at local, national and global levels

Constantly evaluate the effectiveness of partnership, its decision-making processes, and the extent to which it reflects the views of and is trusted by all the stakeholders
Another important aspect of the plans ahead is that of enabling and enhancing the capacities of the panchayats along the corridor. One way of doing this will be to select and support a cadre of Corridor Fellows — grassroots workers who can take on leadership roles, assess ground realities, and identify and help leverage development projects based upon communities' needs. The Corridor Fellows will be expected to design and execute initiatives that benefit communities, and link communities with other stakeholders such as the government, local companies, academia, and other civil society institutions.

In all this, Tata Steel sees its own role within the corridor as a mobiliser and convener, fostering strong relationships and equal partnerships between stakeholders.
Source: Touching Lives by Tata Sustainability Group