January 2023 | 1766 words | 6-minute read
Watching a barren piece of land getting transformed into a state-of-the-art cancer care hospital; being able to provide affordable treatment to a vegetable vendor who would have left it mid-way otherwise; watching a family pick up their father after a successful treatment from our hospital — there have been multiple moments in this journey that are etched in my memory forever," says Dr Sanjiv Chopra, Chief Executive, Cancer Care Programme, Tata Trusts, as he looks back at the five years of the programme.
In a span of five years, the Cancer Care Programme has served to significantly impact the long history of cancer care by the Trusts. The journey began in 1931 when Sir Dorabji Tata founded the Lady Tata Memorial Trust for research into leukaemia and other related blood diseases in memory of his wife, Lady Meherbai Tata, who succumbed to the disease. He also envisioned the establishment of the Tata Memorial Hospital, which was commissioned by the Sir Dorabji Tata Trusts and set-up in Mumbai in 1941 to provide modern cancer treatment to all. The administrative control of the hospital was handed over to the government in 1962, setting an example of an ideal collaboration between private philanthropy and the government.
Over the years, it grew from 80 to 600+ beds, treating over 60% of its patients free of cost. In 2011, the Tata Medical Center — a cancer hospital and research centre — was established in Kolkata to provide care and treatment to the cancer-stricken in the east, north-east as well as neighbouring countries. Here too, as much as 75% of its facilities are earmarked to serve the underserved and underprivileged.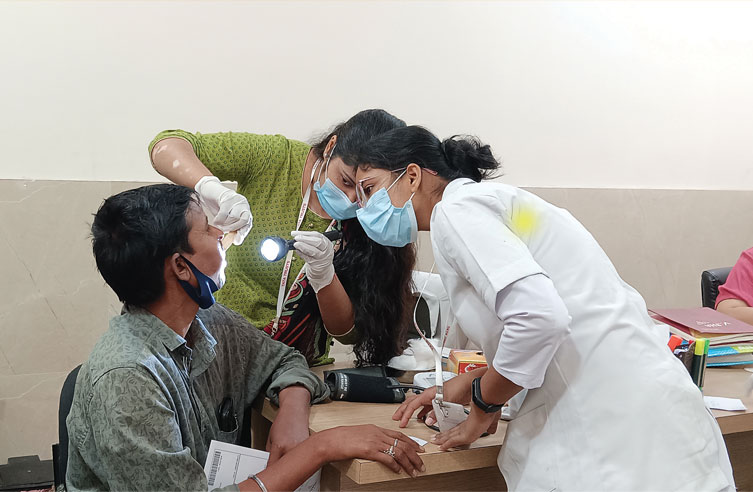 However, when the cancer-related mortality in India doubled between 1990 and 2016, Tata Trusts stepped up its commitment to provide holistic service to the nation — from preventive to palliative care — and amplified its efforts in line with its vision to ensure that cancer care is available, accessible and affordable for all. It led to the launch of Cancer Care Programme in 2017, with a rapid roll-out of cancer-care facilities across the country by championing an innovative approach
India's growing cancer burden: As per the Indian Council of Medical Research's National Cancer Registry Programme, the recorded incidence of new cases in 2022 is 14.6 lakh with estimates suggesting that the actual incidence could be well over 1.5 to 3 times the reported numbers. It is also estimated that there will be a 12% increase in cases between 2020 and 2025.
Pioneering a revolutionary idea

Nearly 70% of cancer cases in India are detected at a later stage, making treatment and saving lives a challenge. This, coupled with the fact that cancer facilities are concentrated in the big cities necessitated a revolutionary approach. The Tata Trusts addressed the lacunae by developing a one-of-its-kind Distributed Cancer Care Model (DCCM). Built on four pillars, it aims to overcome hurdles limiting reach, diagnosis, treatment and the accompanying financial burden.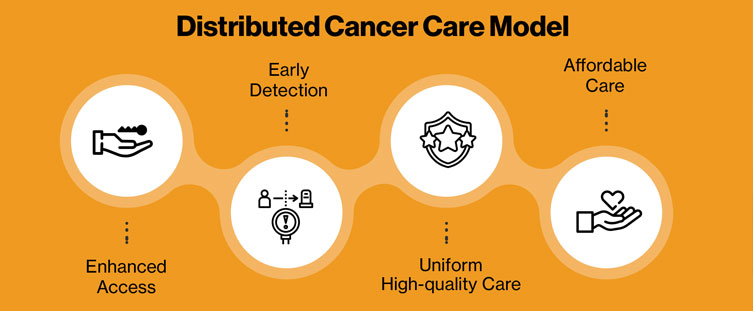 "Cancer is a debilitating disease; the treatment is long, and both patient and the caregiver/s take this arduous journey together," says Dr Chopra. "Our objective is to lessen their burden and ease their trouble by providing quality care, which is affordable and easily accessible, so that they don't leave the treatment mid-way. Also, with awareness and periodic screening, it is possible to identify most common cancer types in early stages, treat patients and save lives."
Level 2 aims at creating dedicated units, equipped with comprehensive oncological as well as allied facilities, which are linked to government-run medical college hospitals as well as multi-specialty hospitals. The Trusts joined forces with the Assam government to set up the Assam Cancer Care Foundation through two hospitals — the Dibrugarh Cancer Centre and the Barpeta Cancer Centre. The Alamelu Charitable Foundation, (ACF) an initiative supported by the Trusts, set up the Sri Venkateswara Institute of Cancer Care and Advanced Research (SVICCAR) in Tirupati, Andhra Pradesh. The Trusts also commissioned the Ranchi Cancer Hospital and Research Centre, a joint initiative of the ACF and the Government of Jharkhand. Moreover, capacity augmentation was undertaken at the Indian Railway Cancer Institute and Research Centre in Varanasi and the Lady Meherbai Tata Memorial Hospital in Jamshedpur. Currently, three greenfield centres are being developed at Chandrapur in Maharashtra, and in Silchar and Diphu in Assam.
"We are hopeful that with our multipronged efforts, we will be able to play a significant role in bringing cancer screening and care closer to people's home and bring down the healthcare cost." - Dr Sanjiv Chopra, Chief Executive, Cancer Care Programme, Tata Trusts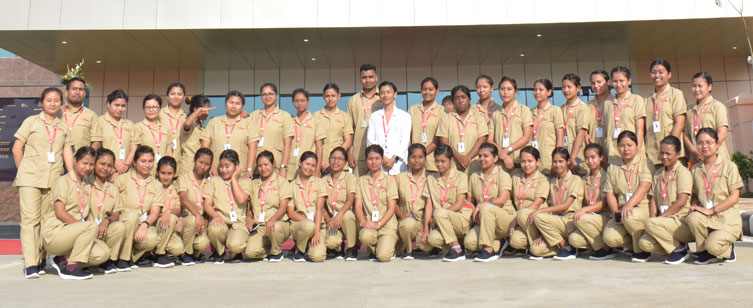 Level 3 focusses on creating diagnostic, day-care radiotherapy and chemotherapy units that are annexed to district-level hospitals. Five such centres have already been set up in Assam at Tezpur, Jorhat, Lakhimpur, Kokrajhar and Darrang. In addition, a nuclear medicine and radiation therapy unit has been set up at Cachar Cancer Hospital and Research Centre in Cachar, Assam, and another in Mangalore, Karnataka, at the Yenepoya Teaching Hospital. Foundation stones for seven more centres have been laid in Assam at Dhubri, Nalbari, Goalpara, Nagaon, Sibsagar, Tinsukia and Golaghat. Through these efforts, Assam has emerged as the premier state for cancer care — in service of the north-east, which reported the country's highest incidence as well as mortality due to cancer in the National Cancer Registry Programme 2020 report.
Level four focusses on outreach initiatives, which includes increasing awareness, community screening and home-based palliative care. This is an important agenda, as it aims to drive early detection of cases and, thereby, stage down cancer. Group companies like Tata Consultancy Services, Tata Communications, Trent, Voltas and Tata Capital have also come forward to collaborate in this mission to leverage group synergies. With their support as well as those of other like-minded corporates who have partnered in this mission, the outreach program network has been facilitated further.
Providing the best for one and all
Pillar 2, which aims to provide uniform high-quality care, all units developed under the DCCM model are part of the National Cancer Grid (NCG) — a national network of cancer centres that provide care, training and education as well as undertake research. Technology has been leveraged for faster action by way of virtual consultations, remote radiology and pathology reporting as well as virtual tumour boards. This is an important step in improving the doctor-patient ratio, which was estimated to be at 1:2,000 a few years ago as per healthcare reports.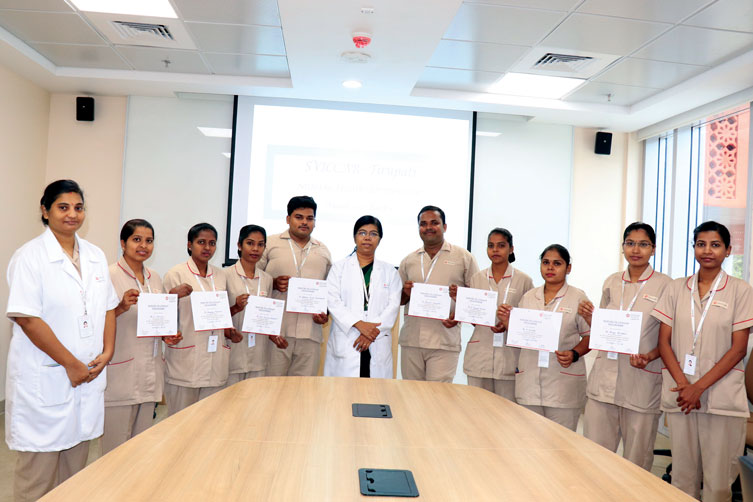 Skilling and training for greater impact
A critical success factor in the crusade against cancer is the availability of trained personnel. Therefore, a comprehensive resourcing strategy has been deployed to recruit the best healthcare professionals through referral networks, placement consultants as well as from nursing and medical colleges.
Oncology fellowships and certificate programmes have been rolled out, and for further optimisation of resources, programmes that are recognised by the National Skill Development Corporation and Atomic Energy Regulatory Board have been selected to upskill and cross-skill the existing workforce.
Lightening the load
Cancer treatment is expensive and majority of the cancer- stricken crumble under its load, necessitating the third pillar of affordable care. To ensure that patients do not drop out from treatment due to financial constraints, hospitals are empanelled with various health insurance/assurance schemes from state and central governments. In addition, policy advocacy for greater coverage in insurance schemes as well as negotiations in drug procurement are on-going efforts to reduce cost for patients.
A stitch in time
The fourth pillar, early detection, aims to improve cancer outcomes by providing care at the earliest possible stages, thereby, improving chances of survival, remission and reversal. Various efforts are being undertaken at the grassroot levels to promote awareness on causes of cancer, screening, prevention, treatment and palliative care. Healthcare and frontline workers are being trained on screening and awareness under the National Programme for Prevention and Control of Cancer, Diabetes, Cardiovascular Diseases and Stroke. Law enforcement agencies, education departments, NGOs and other agencies have been on-boarded to spread awareness on tobacco control initiatives.
The most common cancers of India: Cancers of the lung, breast, lip and oral cavity, cervix uteri, stomach, ovary, colorectal and esophagus are the most prevalent in the country, accounting for almost 47% of all cases and 25% of deaths due to the disease. 
To down-stage cancer, free Swasth Kiosks for screening have been set up in collaboration with government medical colleges and district hospitals in multiple locations in Assam as well as in Maharashtra, Jharkhand, Odisha and Andhra Pradesh. 
A mobile medical unit with a mammography machine has been commissioned in SVICCAR, Tirupati to reach remote areas, wherein free screening for oral, breast and cervical cancers as well as other non-communicable diseases is provided.
Striving for a better tomorrow, today
The initiatives under the DCCM model are expected to generate results over a period of time that will translate to a three-fold increase in diagnosis and reporting of cancer cases; reverse the mix of early to late-stage diagnosis from 30:70 to 70:30; reduce the cost of travel, stay and pocket expenses considerably and bring down travel time for treatment by at least 50%.
"I am most inspired by the vision of reversing the late detection trend of cancer in the country. We are hopeful that with our multipronged efforts, we will be able to play a significant role in bringing cancer screening and care closer to people's home and bring down the healthcare cost," says Dr Chopra.
- Munira Patel