October 2022 | 2021 words | 8-minute read
Nitturu Khadervalli was looking for reassurance, an inclination and a willingness by the other side to understand the predicament he was in and to explain the path ahead. A small-time contractor from Rajampet village in the Annamayya district of Andhra Pradesh, Mr Khadervalli was not asking for much, but he had not found that sort of support during the initial days of the nerve-wracking period since his wife, 46-year-old Ameenamma, was diagnosed with breast cancer.
It was a friend who told Mr Khadervalli about the then upcoming Sri Venkateswara Institute of Cancer Care & Advanced Research (SVICCAR), the state-of-the-art cancer facility in Tirupati in Andhra Pradesh that became functional in May 2022.
Ms Ameenamma has been undergoing treatment at SVICCAR for the last two years, from the time it was a day-care centre, and she is on the mend. The prognosis is a positive for her, as also the fact that the cost of her care is subsidised and, not least, that the hospital and its staff are every bit empathetic.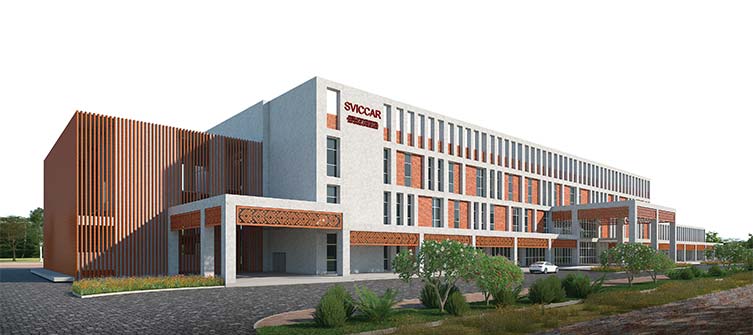 "The doctors, nurses and other staff members are exceptional," says Mr Khadervalli. "Their approach is different and there is an emotional connect; hats off to them. Financially and mentally, we are more at peace." The expenditure factor, always a burden when cancer strikes, was fundamental for Mr Khadervalli, who has spent in excess of Rs 1.4 million so far on Ameenamma's treatment, a hefty chunk of it borrowed from friends and family.
Compassion, affordability and quality of care are the defining characteristics of SVICCAR, which was created by the Alamelu Charitable Foundation (ACF) at a cost of about Rs 1.8 billion on a land parcel leased by the Tirumala Tirupati Devasthanams (the trust that manages the Tirumala Venkateswara Temple). Established by the Tata Trusts, ACF collaborates with various state governments and like-minded organisations to develop an all-inclusive cancer-treatment network that includes therapy, accessibility and top-notch infrastructure and personnel.
The setting up of SVICCAR is a big help for cancer patients and their caregivers from Tirupati and the wider Rayalaseema region. This was an expanse in sore need of such a facility and its coming has lessened the ordeal of people like Vineela Reddy, whose father, 59-year-old Janardhan, suffers from lung cancer.
Ms Reddy, who runs a mobile phone shop in Pileru town in Annamayya district, is struggling to cope with the reality that her father has stage-three cancer. The only relief that shows in her pained demeanour is from not having to travel far from home to take care of him. "The staff here are good and the hospital is nearby; that's a respite," she says. "The doctors are optimistic that he'll survive for a further five years."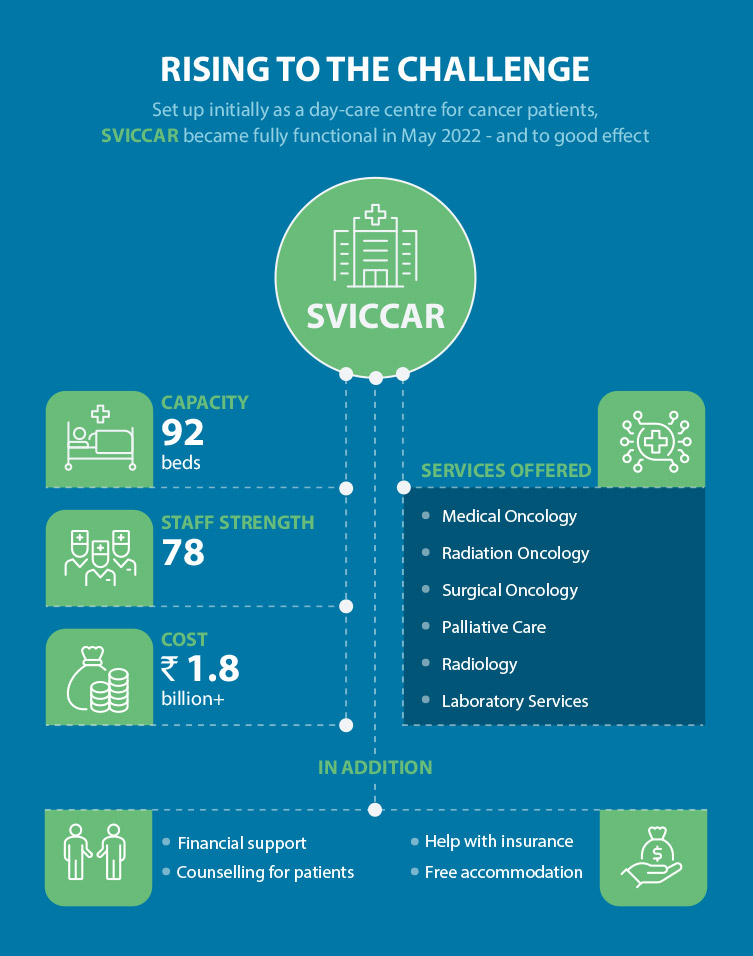 Heartbreak and hope
Heartbreak stories of the kind are not uncommon in cancer hospitals, but hope springs eternal when the environment makes it easier for patients and their loved ones to deal with the psychological trauma caused by the disease. SVICCAR strives to do that and Ms Reddy is appreciative of the care and treatment her father gets. "I'm very close to him and there's only me to be here for him," she adds. "The chemotherapy he undergoes has side effects and he has trouble managing the pain. And I have these thoughts flooding my mind … it's so difficult."
For all the dread that cancer evokes, there are countless instances of the condition being tamed and cured. Tirupati-based contractor Ratnakar Reddy (name changed), certainly expects his wife, who has early-stage stomach cancer, to be hale and hearty once again, and he is just as certain she is receiving the best care possible.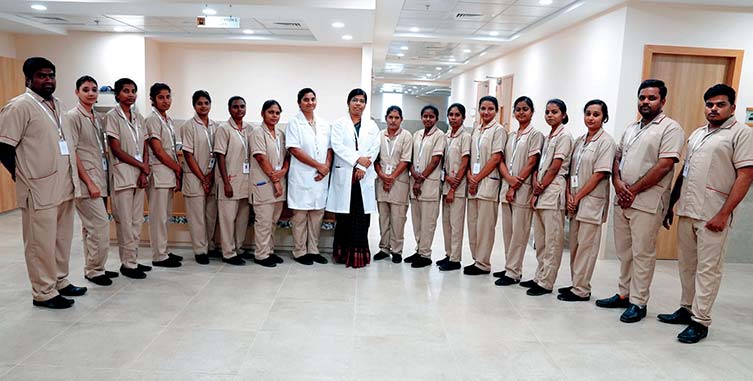 "I was at ease when I heard this is a Tata hospital; that's why we came here," he says. "I knew this place would not chase the money — not that money is an issue for me — and I knew my wife would be in safe hands. We were upset when we first heard the cancer news but not anymore. I just wish more people get to know of SVICCAR."
Vijaykumar Naidu, an ex-serviceman from Cherlopalli village, also in Annamayya district, is as sure about the hospital and what it offers. His mother, 61-year-old Sarojamma, is battling second-stage stomach cancer and her chances of making a full recovery are better than ever. "Everything is available here at a concessionary rate and it's run like a military hospital, disciplined and efficient," he says. "Also, unlike some big hospitals, the staff come to you, they speak to you, they explain things to you."
Crafting a culture of treatment and care that stands apart is central to the objectives of SVICCAR. "Our aim is to bridge the gap in terms of accessibility and affordability in cancer care, to make the hospital a hub that caters to what has been till now an underserved region," says Shivakumar Hiremath, the medical superintendent of SVICCAR.
Contributing to the cause
Dr Hiremath, who retired as a major from the Indian Army Medical Corps — he also had a stint with Tata Coffee — is steeped in the values that SVICCAR swears by. "We are not a corporate entity and that spares us the pressure of being profit-driven," he notes. "Our focus is on meeting a felt community need and on contributing as much as we can, to helping this region and the nation in the fight against cancer."
Spreading the cancer care net to cover Tirupati and its neighbouring areas is the immediate priority for SVICCAR, but Dr Hiremath foresees a time in the not-too-distant future when the hospital begins catering to patients from elsewhere. "We expect to be operating at full capacity soon and we expect to reach every last person who requires cancer treatment in this region," he adds.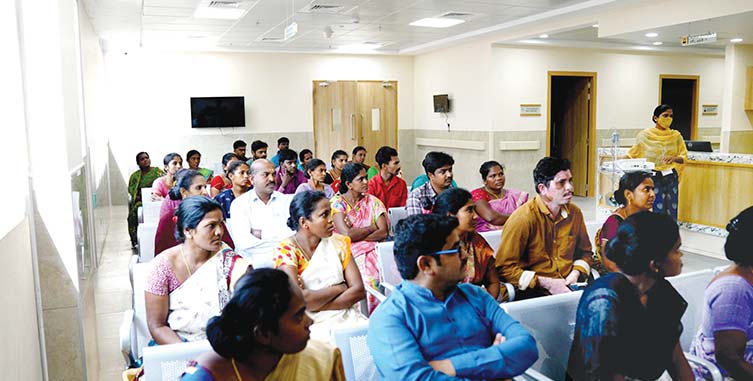 With 92 beds, 78 professionals on its rolls — 14 doctors and 25 nurses among them — the best of equipment and a spectrum of services, SVICCAR has started on a sound footing. The financial viability of the hospital is not in question and this will get a boost once it receives an approval for Aarogyasri, the health insurance scheme of the Andhra Pradesh government.
"Given the volumes we are anticipating, our revenues should enable us to be financially viable," says Dr Hiremath. "The point is, we will not turn back patients. We intend to tap donors, just like we have with a local philanthropist who has given us access to a building that we use to accommodate, free of cost, patients and caregivers coming from afar. We need such patrons because our charges for the economically weak are nominal."
A daunting challenge for SVICCAR is finding competent personnel in adequate numbers. "The non-technical professionals are not a problem but the actual healthcare providers — doctors, nurses and technicians — are a different and ever-challenging matter," says Dr Hiremath. "It is difficult to get experienced professionals for hospitals in smaller cities and towns.
"Also, there are hardly any oncology-trained nurses out there. We control what we can, so we get people with reasonable potential and we train them. We try to match the best in terms of pay packages, but there's no way I can compete with a hospital in, say, Ireland that pays five times as much."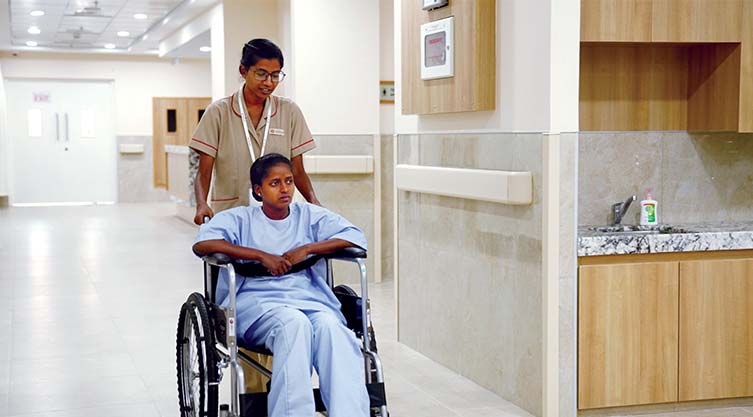 The salary balance applies to doctors, too, though perhaps to a lesser extent. "Again, it's tricky. We are satisfied with our current team but we are facing challenges in expanding the team," adds Dr Hiremath. "What helps are the fellowships we offer and the support we receive from hospitals in the Tata cancer-care network.
"What we are trying to build is a hospital of repute and quality, so that we can attract top-class professionals. I believe that is important, because once we become a centre of excellence, people would be motivated to come and work here. Being an institution of renown in the healthcare sector means you can almost automatically entice talent."
Modest beginnings
SVICCAR will surely overcome this challenge, just as it has so many since beginning its existence as an ad hoc day-care centre in January 2020. "Back then we had limited facilities and, right after, we were hit by the Covid pandemic, which made the situation worse," says Nageswara Reddy, a medical oncologist who has been with the hospital for more than two years. "Now we have the exposure and we have created an identity for ourselves."
Dr Reddy is at pains to emphasise that SVICCAR is but one piece in a much larger cancer- care ecosystem. "As a country, we have to fight against cancer unitedly. The toughest challenge is the attitude of people, and this is seen in each and every aspect with cancer patients. Take the attitude towards risk factors; so many of us make light of these or ignore them altogether. But one must remember that it's not as if a person dies as soon as cancer strikes. This is a prolonged disease, a chronic ailment and a disabling condition. People have to understand that and awareness campaigns are critical in the context."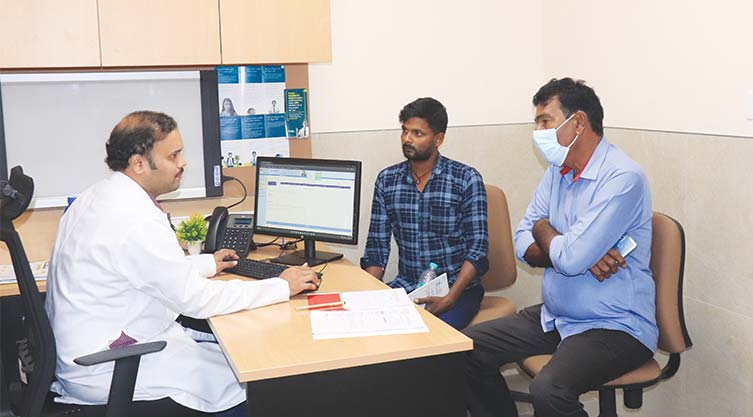 Dr Reddy is positive about SVICCAR's potential and its ability to deliver on that potential. "Firstly, we have the Tata name and that's a big plus. We will, in time, have in place a range of modalities in treatment and care under one umbrella, from complex surgeries to bone marrow transplants to clinically oriented research. And we will add to our outreach efforts in cancer prevention and early detection."
On the nursing front, SVICCAR has already made significant advances, despite the disadvantages of location and a relatively paltry talent pool to choose from. "Finding competent nursing personnel is hard and Tirupati being in an extreme corner makes it more difficult still," says Jeslin Snekha Prabha, who is SVICCAR's nursing superintendent and previously served as a captain in the Indian Army's Military Nursing Service. "We have to depend on local recruits mainly and we have to seek out nurses with experience of caring for cancer patients, which is easier said than done."
Specific nursing skills
The nursing fellowship programme run by the Tata Trusts cancer care initiative feeds a critical need for SVICCAR, but there's more to it than that. "Oncology demands specific nursing skills," says Ms Prabha. "It's not just about theory and practice; there is an extra amount of compassion required because the treatment of cancer patients is typically an extended process. Also, few want to be oncology nurses; the distress and the deaths can be overwhelming."
The 'advanced research' slice in SVICCAR's name has not got off the ground as yet but this will shift into gear sooner than later. "The technology advances happening in cancer care are extraordinary and this aids research in diagnosis and treatment," says Dr Hiremath. "We will definitely play our part here. Tirupati has a lot of research institutions and that makes it ripe for collaborative endeavours."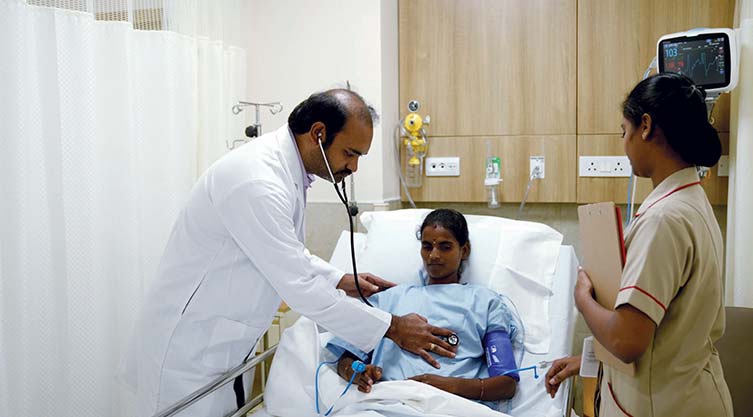 SVICCAR could also, down the line, get involved in postgraduate medical education in niche areas such as radio diagnosis and radiation oncology. "With research itself, I don't think of it as a way to increase our income, but as a way to get new lines of treatment for patients who cannot afford expensive procedures," says Dr Hiremath. 
As for how SVICCAR will evolve in the years ahead, there is a second phase in the pipeline. That translates into an expansion of facilities and services. "There will come a time soon when there is a space crunch and we have to plan for that," adds Dr Hiremath. "Additionally, we are looking at treating blood cancers and paediatric cancers and we want to build accommodation facilities for outstation patients and their care givers and, of course, for our doctors and nurses."
—Philip Chacko
Source: Tata Trusts' Horizons, October 2022 issue