February 2023 | 1572 words | 6-minute read
We live in a world in which one's value diminishes with every birthday. This steady denigration of age is particularly insidious in its judgement of older women.
It was this thought that prompted Bachendri Pal, recipient of the Padma Bhushan and Padma Shri awards, and mentor and founder of the Tata Steel Adventure Foundation (TSAF), to conceptualise and lead the FIT@50+ Women's Trans Himalayan Expedition for women over 50. The expedition, which began in March 2022 and finished in July, reiterated the message that age was no bar for a determined woman.
And Ms Pal has always been a determined woman. Having made history as the first Indian woman to climb Mount Everest, she sought to keep raising the bar for herself.
She says, "The ascent of Mount Everest was my first adventure. Since then, as part of TSAF, I have been part of numerous expeditions. After retirement, I couldn't bear the thought of giving it all up."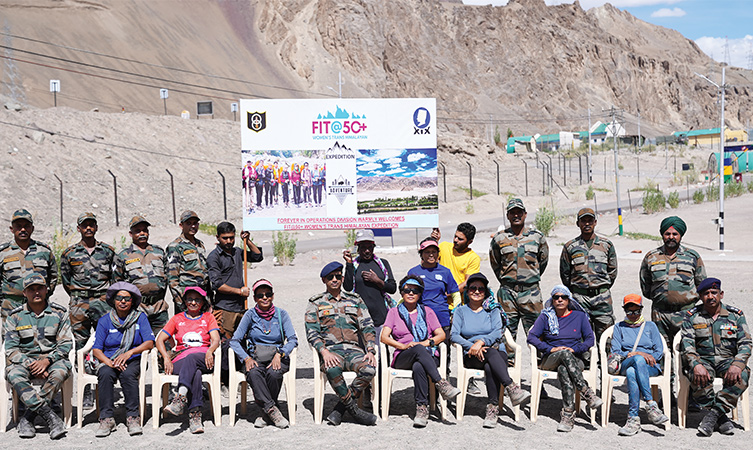 One of Ms Pal's early expeditions included the First Indian Women Trans Himalayan Expedition from Arunachal Pradesh to Siachen in 1997. Hemant Gupta, Head, TSAF, says, "It was a pathbreaking expedition as it was the first all- women expedition of its kind. This time around, Ms Pal thought that planning an expedition with the age group of 50+ women would motivate a lot of people to focus on their fitness." 
The expedition, planned originally for 2020, was postponed on account of Covid-19. In collaboration with the Ministry of Youth Affairs and Sports, under the FIT India banner, the expedition was flagged off from Delhi on March 8 on International Women's Day, with Ms Pal as the expedition leader.
The Indian Army, the Indo-Tibetan Border Police Force and the Sashastra Seema Bal supported the team in terms of logistics and route. Tata Sports Club was the fitness partner. Vistara, the official airline partner, flew the team from Delhi to Arunachal Pradesh and back to Delhi at the end of the expedition. TraQ by Titan Company was the time partner, while Tata AIG General Insurance insured the team. Some non-Tata companies offered equipment and nutritional inputs.
Crafting the expedition
When the government launched the FIT India movement in 2019, to inspire citizens to embrace an active lifestyle, Ms Pal saw it as an appropriate banner under which to conduct her expedition. She visualised an expedition so magnificent in its reach that all but the bravest would quail to take it up.
Over several conversations, Ms Pal, along with Mr Gupta and senior leaders at Tata Steel, ideated the FIT India Trans Himalayan Expedition, a journey of 4,841km. The route for the five-month- long expedition started from Pang-sa-u Pass in Arunachal Pradesh, entering Bhairb Kunda in Assam, then going to Jaigon and reaching Zuluk via Nagarkantha at the border of West Bengal and Sikkim. From there the expedition traversed through Sikkim from Nathang Valley, Nathulla Pass to Gangtok, covering Chitrey, Kala Pokhari and Sandakphu (11,930ft) in Singalia sanctuary.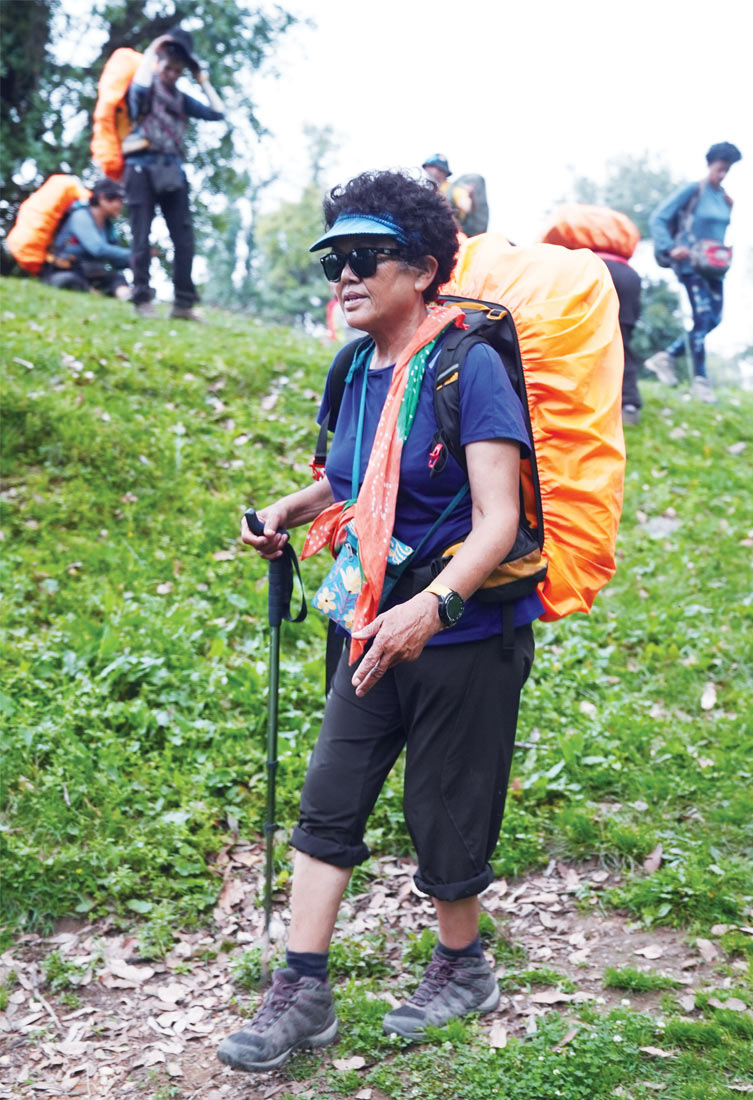 The team then moved into Nepal, entering Dhaulagiri range and covering Salpa Pass, Lamajura Pass (11,500ft), Deorali Pass (9,240ft), Mali Pass AL (7,900ft) and crossed Thorang La (17,769ft) around Annapurna Massif. From western Nepal the trail went to Jumla and entered Kumaon district in Uttarakhand through Darchula (Nepal). From here the expedition passed through Kauri Kal (12,000ft), crossing Lamkhaga Pass (17,320 ft), one of the toughest passes, which connects Kinnaur district of Himachal Pradesh with Harshil of Uttarakhand. The expedition concluded at Drass. The route included 35 passes, including Pharangla Pass, the highest pass at 18,300 feet.
Team building exercise
Knowing that the expedition would be rigorous and exacting, Ms Pal reached out to mountaineers she knew and formed a team of 12 women. They were retirees from diverse backgrounds, including the corporate world, education, army, and even housewives.
The women included deputy expedition leader Chetna Sahoo (54), Savita Dhapwal (53), Chaula Jagirdar (64), Gangotri Soneji (63), Payo Murmu (57), Dr Sushma Bissa (55), Shamala Padmanabhan (64), Major Krishna Dubey (59), Bimla Deoskar (54), Vasumathi Srinivasan (68), and L Annapurna (52). Like Ms Pal, Ms Sahoo and Ms Dhapwal too are Mount Everest summiteers. The team also included Mohan Singh Rawat and Randev Singh, two TSAF instructors certified as wilderness first responders, who formed the support team.
Additionally, there were 40 women, from the same age group, who joined the expedition for short stretches. They were selected from the applications sent in response to a message on TSAF's website and social media handles. One such woman was 76-year-old Geeta Patel from Florida, USA, who joined the expedition while crossing Lamkhaga Pass. Later, she told Ms Pal that if she had known about the expedition earlier, she would have signed up for the whole expedition. The team took special care to walk at the pace of these newcomers, so they didn't feel demoralised at being left behind by the professional climbers.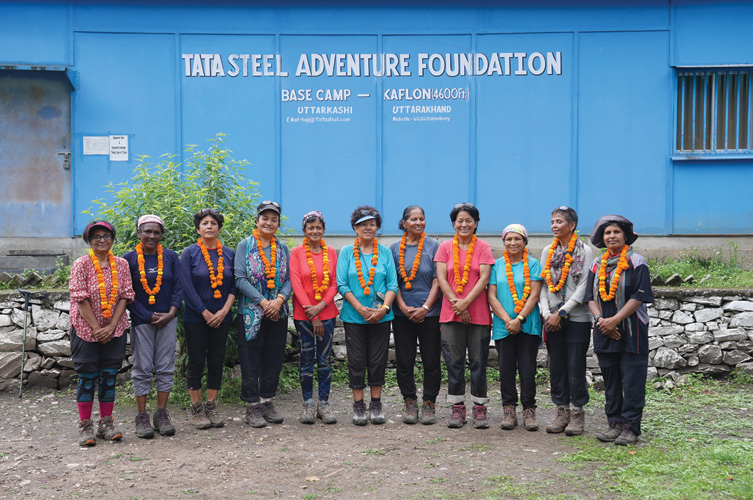 Rebuilding strength
From the very beginning, Ms Pal spelt out the challenges inherent in the expedition. Participants would have to walk long distances carrying their own luggage (about 15kg), not an easy task at this age. They would also have to spend five months away from home, crossing dangerous passes.
Ms Pal says, "I knew they could do it. They had the qualities of patience, tolerance and resilience. Mentally they were strong, but physically, age had taken a toll."
It was necessary to work on regaining physical strength that began with a nine-day preparatory trek in Uttarkashi, where the basic fitness of the women was assessed. The women were also informed about their responsibilities. Team members handled accounts, procurement of rations, maintaining daily logs of the expedition, clicking photographs. They were also told to walk and climb stairs for long hours, to build their stamina and strength.
Ms Pal herself began a rigorous walking regimen to get accustomed to long hours of walking at higher altitudes. She walked 25km every day in preparation for  the  expedition.  As she reported the hours she clocked on a daily basis on their WhatsApp group, team members felt encouraged to report their progress too.
Ms Pal warned them that the first month would be particularly painful. She says, "I warned them that if they wanted to control the pain that would afflict them, they should work on strengthening their bodies here while they were still in their comfort zones."
The first month was as painful as Ms Pal had warned it would be. Nearly everyone expressed doubts about their abilities. The team walked approximately 20km every day. It was a huge strain, and people suffered aches. After a month, everyone's fitness levels improved and the aches disappeared. The team members were quick to appreciate Ms Pal for her efforts in keeping them focused on their goal.
A mountain of a challenge
Team members faced several challenges through the course of the  expedition.  The  difficulty posed by the weather, ranging from extreme heat and cold to heavy rains and strong winds, was compounded by the menace of mosquitoes and leeches. Mr Gupta says, "In the face of all these difficulties, the team showed commendable endurance. None of them gave up."
People got used to the daily routine, which consisted of long treks through the day, and then helping with cooking and doing the dishes. They were totally committed to playing their part, putting up the tents every night and folding them each morning. Ms Pal says, "Even though we had the funds, we operated on a minimum budget."
At one point in a remote village in Nepal, it wasn't possible to get vegetables. But Ms Pal had knowledge about forest greens, which were available in plenty. She says, "At first they were hesitant to try the greens, but later I came to know that they even posted on social media that they had eaten 12 types of forest greens during the expedition." Another time, the team, too exhausted to walk any further, ended up sleeping close to a graveyard. Ms Pal chided those who were nervous. She said, "The dead were people like us. Tomorrow we might be dead." Such conversations helped to boost their morale.
A powerful ally
An endeavour of this stature demands an ally of worthy mettle. TSAF requested the Indian Army's Army Adventure Wing to support the team, particularly in remote and isolated locations. The Army honoured their request and supported the team throughout the expedition, except for the Nepal stretch. Ms Pal says, "I don't think anyone else has had this privilege before. The Army was our backbone throughout this incredible expedition. We were prepared to rough it out, but in certain places, they refused to let us, citing security restrictions. At such times we slept in army camps and ate in their mess." Mostly the team pitched tents on the camping grounds.
Following an accident in Lamkhaga Pass, Army paramedics accompanied them. Everywhere they went, they were felicitated by the Army band.
An incredible adventure
Ms Pal says, "Nothing could testify to the truth of the old adage, health is wealth, as the sight of women in their 50s, 60s and 70s successfully returning from this expedition, which was an adventure of a lifetime. It reminded us all that as long as there is life, we must neither give up living nor dreaming." 
—Cynthia Rodrigues