July 2022 | 1455 words | 5-minute read
When Tata IPL 2022 opened at the Wankhede Stadium — home to the Tata End — on March 26, 2022, there was a lot more at play than just cricket.
It was a moment that encapsulated the Tata group's long, underexplored connection to the sport that has the country's heart. A connection that began with our Founder Jamsetji Tata and peaked in January 2022, when the Tata group became the title sponsor of the Indian Premier League (IPL) for its 2022 and 2023 seasons.
Desh ka pitch
It was Jamsetji Tata's belief in sports as a force for good that seeded the Tata culture of supporting sports and sportspersons who excel in them. He had a special interest in cricket and was known to engage with the sport internationally and at the domestic level. From hosting the first English cricket team to arrive in India at his residence, to supporting local teams like the Kathiawar Cricket Club, to helping build infrastructure like the Parsee Gymkhana in Mumbai, he did it all.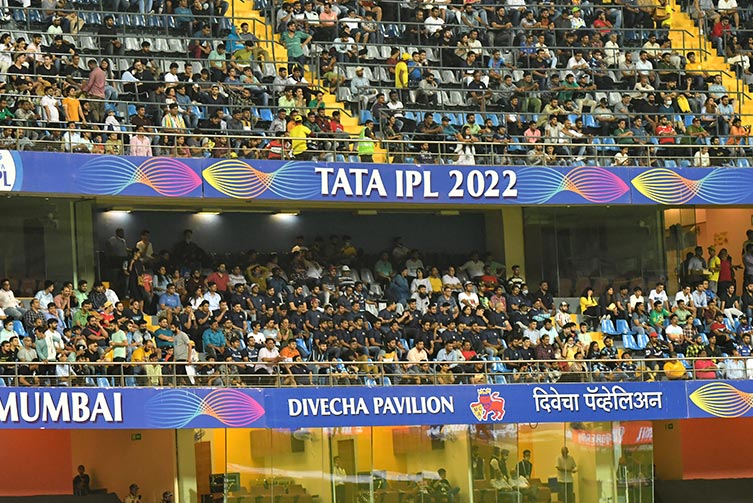 Jamsetji's passion for cricket passed on to his son Sir Dorabji Tata, who distinguished himself as a cricketer at the University of Cambridge and went on to captain the cricket 11 at Parsee Gymkhana. He also became a patron of the Indian Gymkhana, England's first multi-ethnic cricket club. His wife, Lady Meherbai Tata, became the first female member of the club in 1923.
The legacy has been carried forward by Tata Sons and Tata companies by supporting cricketers as well as the ecosystem around them right up to the IPL.
Tatas @IPL
The Tatas are no strangers to IPL. The association goes back to 2009, when Tata Consultancy Services became the first company to join an IPL team as technology partner.
"IPL is the most successful cricket league in the world that supports 'Made in India' businesses. IPL's association with Tata defines everything that brand IPL stands for. Tata's philosophy of keeping the country and consumers first resonates with IPL's objectives of showcasing India as a home of world-class sporting events. Like Tata, IPL cuts across the diminishing boundaries of caste, creed and culture in India. We are hopeful that this partnership strengthens the core values of Tata and the IPL."—Hemang Amin, interim CEO, Board of Control for Cricket in India
In 2018, Tata Communications powered the remote production of IPL, marking the first time that a sports series of this scale had been produced remotely in India. Tata Motors has also been associated with IPL since 2018, displaying a hero car in the stadiums each year.
India's biggest sporting event
Powering it to the next level with the title sponsorship this year was the understanding that nothing matches its scale or reach in India. "Tata IPL is the biggest sports and media property in our country," says Harish Bhat, brand custodian, Tata Sons. "The cumulative viewership in a season is about 750 million+ Indians. No other sports property in India comes anywhere close to offering that kind of media reach."
He added, "Also, the IPL viewership is inclusive. 52% of the audience is male and 48% female; that kind of even split for a sports property is difficult to obtain. Even the age profile is a roughly even split: In the past years, 20% of the people watching were below 14 years, 17% between 15-21, 17% between 22-30, 16% between 31-40, 14% between 41-50, and 16% were more than 51 years. From all these perspectives, for a brand like Tata, with presence in multiple industries and consumer segments, this was a very good fit."

Beyond the Tata End
Tata Sons was among those who stepped up to help the Cricket Club of India cover the construction costs of Brabourne Stadium in Mumbai, which opened in 1937.
In 1939, Tata Steel built its own cricket ground, the Keenan stadium in Jamshedpur.
In the 1970s, when the Bombay Cricket Association proposed to build a stadium of its own, the Tatas announced a contribution that was honoured with the north side of the revered Wankhede Stadium being christened the Tata End.
There is a touch of Tata in the country's major stadiums from Kolkata's Eden Gardens, India's oldest cricket stadium, to Ahmedabad's Narendra Modi Stadium, the world's largest cricket stadium. Both have been strengthened with Tata Steel.
Four of these stadiums — Wankhede, Brabourne, Eden Gardens and the Narendra Modi Stadium — served as playing fields for Tata IPL 2022.
Adding value to India's most valuable brand
The partnership added value to both Tata, India's most valuable brand, and brand IPL.
"Cricket is a good way of making the brand youthful and connecting with young India," said Mr Bhat. Tata IPL also served as an effective launch pad for the Tata Neu app and raised awareness of Tata Punch from Tata Motors. It enabled these new brands to get the kind of wide attention, salience and recall that otherwise takes a long time to develop. It can also serve as a launch pad for other group companies who wish to utilise it.
Mr Bhat added, "While all our product and service brands advertise throughout the year, the Tata brand also needs to be active and salient across media. Tata IPL did that brilliantly. You just couldn't miss the Tata presence during a match; it came out loud and clear through the Tata branding, the commentators and the on-ground presence of Tata Neu and Tata Punch. Together, they painted a halo of excitement around the country's most trusted and valuable brand."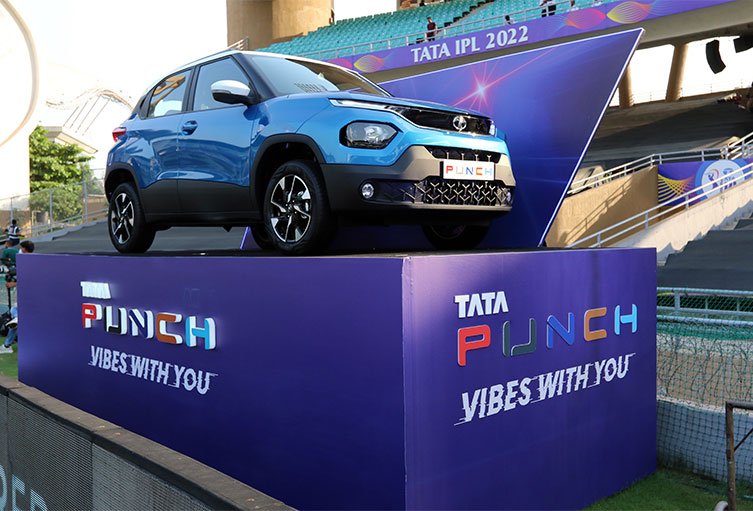 Lasting connects
Tata IPL 2022 saw significant brand activations.
The Tata IPL trophy was brought to the Wankhede Stadium for the first time in a Tata Punch, India's 1st sub-compact SUV. Tata Motors also unveiled the Punch Kaziranga edition at Wankhede Stadium to support the conservation of Kaziranga National Park. It remained on display at all the stadiums as part of the campaign. Every time a ball hit the car or fell near it, the company contributed 5 lakh to Kaziranga.
On-air advertisements were executed in two phases. The first conveyed the plethora of Tata brands available on the Tata Neu app, and the second communicated the rewarding aspect of shopping on Tata Neu. Tata Neu boxes across stadiums became a coveted experience, as access was won through a contest. The contest also increased engagement on the app. Television integrations included promos, all-day branding and special segments where cricket legends and popular show anchors promoted the app as a fun experience.
The group centre Tata Sons brought the series to a close with a flourish, airing a specially created film, showcasing the values that drive the Tata group to put the community and nation first.
Packing a Punch
Tata Motors has experienced this impact as an associate sponsor since 2018. "Associating with IPL provides unmatched opportunity to get visibility and awareness of our products and mother brand," said Rajan Amba, vice president, Sales, Marketing and Customer Care, Tata Motors Passenger Vehicles Ltd. "We have associated with IPL by showcasing our highest-selling C-SUV the Nexon, the premium and safest hatchback Altroz, and our flagship SUVs Harrier and the Safari. This year, we showcased our recently launched Punch, which is correlated to the audience demographics strongly."
The car maker has always clocked an uplift in brand awareness and consideration for their complete portfolio, not just the showcase car, during Tata IPL. This year, the upgrade to title sponsor and increased visibility due to Tata IPL happening with an audience after 2 years brought increased exposure opportunities on-ground and on-air. "We are seeing unprecedented bookings. Our overall portfolio sales have seen multi-fold increase," he added.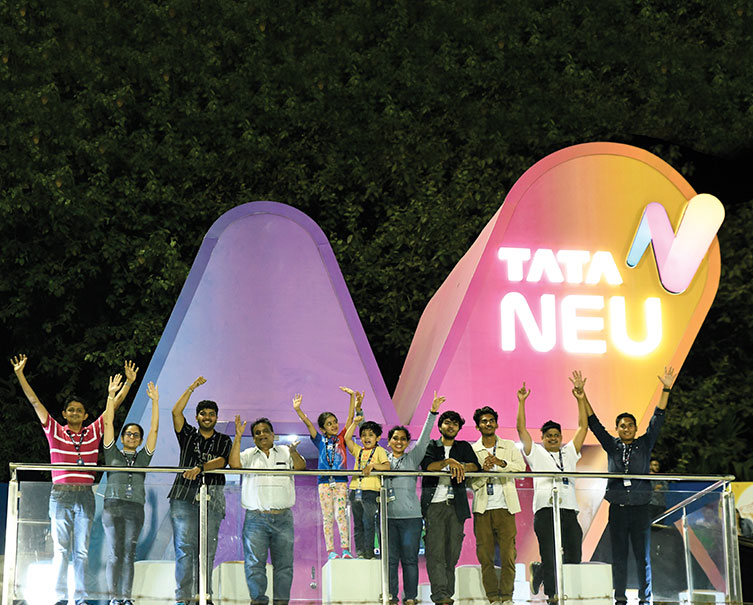 A timeless sport, a timeless brand
By the time the season closed — at another stadium with a Tata connection (See 'Beyond Tata End') — the country had seen what makes Tata unique through a combination of a 154-year-old brand (Tata Sons), a 72-year-old brand (Tata Motors), and a newborn (Tata Neu).
"It is representative of how the Tata group has been at any point in time. Tata is a timeless brand, and there's a match with cricket," said Mr Bhat. "The first Test was played in 1877, less than a decade after the Tata group was born. The first one-day was played in 1971. And IPL, with the T20 format, is just about a decade old. All three forms of cricket are still popular today, much like Tata brands. Cricket reflects the same kind of ethos that Tata group has; both are timeless."
Now, on to Tata IPL 2023.
—Monali Sarkar