March 2020 | 1130 words | 4-minute read
Solely relying on landfills to dispose of waste is somewhat like sweeping unresolved issues under the carpet. Exploding landfills around the world aren't the only reason to avoid dumping everything in them. The biodegradable waste in these pits emits methane, a greenhouse gas that contributes to climate change.
Even though most countries continue to consign waste into landfills, Tata Global Beverages (TGB) in Australia is exploring the recycling of its spent coffee grounds (SCGs), an inevitable waste generated in the process of brewing coffee. Australia dumps 40 percent of its waste, a total of 21.7 million tonnes, into landfills, according to the National Waste Report.
Finding a solution
Planet Ark has proposed the idea of product stewardship for spent coffee grounds whereby businesses in the coffee industry take responsibility for the waste that its products generate; this responsibility can help to minimise the product's negative effect on the environment.
The concept held tremendous appeal for Map Coffee, a TGB brand in Australia. Conscious of its social responsibility, the brand was eager to find a solution to the disposal of SCGs, one that did not come with a heavy environmental cost. Beau Boundy, senior brand and sustainability manager, TGB, says, "We began our search for a partner who would offer the best advice on sustainable manufacturing, packaging and waste disposal for the Australasian region."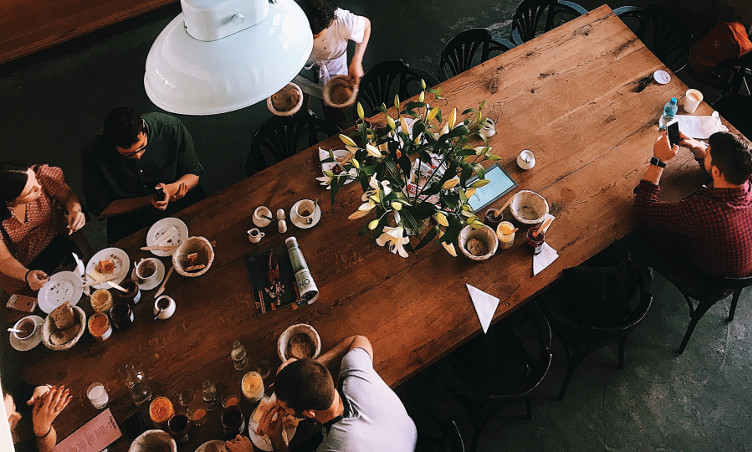 Driven by the desire to generate less waste and more resources, the company's search led to the Planet Ark Environmental Foundation, an Australian not-for-profit organisation, which has been advising TGB on sustainable choices for manufacturing, packaging materials and waste disposal from its products.
Map Coffee agreed to become a part of the Coffee 4 Planet Ark programme, along with four other firms that chose to partner with the non-profit body on this initiative. In fact, as a founding partner of 'Coffee 4 Planet Ark', TGB helped in creating the trial programme for coffee grounds collection and repurposing with Planet Ark. The other four companies that participated in the programme were Grinders Coffee, Lavazza, Allpress Espresso and Genovese Coffee.
From waste to resource
Spent coffee grounds, which contain valuable chemical compounds, can be converted into new materials with useful properties. The programme, therefore, began in earnest by collecting SCGs at source.
To begin with, logistics partners picked up SCGs from cafes in Sydney and Melbourne; subsequently moving to large collection centres that generated more than 30kg of SCGs each per week per pickup, to enhance the programme's viability. This step reduced both the cost and carbon footprint towards collection.
In the programme's initial phase for TGB, the collected SCG waste was taken to an industrial worm farm for composting, but the step became unviable as the quantity of collected SCGs increased. Currently, the spent coffee grounds haul is being diverted to an anaerobic digester, run by Yarra Valley Water in West Melbourne, to generate electricity and produce fertilizer.
"Although these are lower value resources, they are a much better alternative to landfills. Our core competencies revolve around creating delicious good natural beverages, while giving back to the community. The nature of the coffee business is such that waste is an essential part of the coffee-making process; it just cannot be eliminated. What we did was to work towards converting the waste into a resource, while eliminating the methane pollution created from coffee grounds decomposing in landfills," says Mr Boundy.
Like most industries, the coffee industry too worked on a linear model of consumption where resources were taken from the earth, used and later discarded, most often in landfills. This dependence meant that all the energy and resources that had been used over the evolution of coffee from the coffee estate to the cup were irretrievably wasted.
Mr Boundy adds, "With this programme, we are contributing to the circular economy, from manufacturing to consumption and recycling and back into manufacturing, thereby reducing the dependence on landfills."
The idea is to convert coffee waste into a resource, one that would play a significant role in other manufacturing processes. Even though this effort is still at the R&D stage, the teams are already looking into using coffee as a resource for creating building materials and a new technology of battery.
Mr Boundy says, "We are working with the imaginative and inventive team at Sustainable Materials Research and Technology Centre, University of New South Wales, to develop world-first end uses for pure coffee grounds. The research team has already created a tile made from SCGs for household use." Studies are underway to use SCGs in low carbon steel manufacturing and lithium battery manufacturing. It's really exciting to be at the forefront of this kind of R&D.
Impressive results
In 2019 alone, Map Coffee managed to more than triple the amount of SCGs collected weekly and diverted over 4,500kg of coffee grounds from the landfill, thereby saving over 2,500kg of carbon dioxide equivalent (CO2-e) emissions from entering the atmosphere). In all, they diverted almost 6,500kg of SCGs from the landfill, saving over 4,000kg of CO2-e emissions from escaping into the air.
Overall, the programme was able to divert over 14,000kg of SCGs from the landfill, removing over 8500kg of carbon dioxide equivalent (CO2-e) emissions from the atmosphere, which is equivalent to saving the grounds from over 550,000 regular cups of coffee.
Level two
The next stage of the Coffee 4 Planet Ark programme will involve inviting stakeholders within the coffee industry to invest an annual sum in order to fund R&D initiatives to find a viable, higher-value end-use for coffee grounds.
Planet Ark Environmental Foundation looks forward to a widespread engagement with coffee manufacturers across Australia, thereby making the programme the world's first large-scale coffee waste collection system. The non-profit body is also asking other major players in the Australian coffee industry to join the initiative in order to take the programme to other cities and towns as well.
The community at large is also showing a keen interest in the programme. According to a survey, 100 percent of the existing participants were in favour of the programme continuing, with 62 percent of participating café respondents saying they would opt for a coffee that was part of the programme.
The Coffee 4 Planet Ark has already created a significant impact in the trial edition and has the potential to be recognised by the Australian Government as a best practice Product Stewardship programme through registration as a voluntary product stewardship scheme. Planet Ark has proven to be effective at product stewardship in other categories, headlining the highly successful 'Cartridges 4 Planet Ark' where over the last 16 years over 41 million printer cartridges have been diverted from landfills and recycled.
Coffee 4 Planet Ark might be a small step towards our overall sustainability goals, but its results and future scale are anything but small.
—Cynthia Rodrigues