February 2021 | 2325 words | 9-minute read
That India is a land of cultural diversity is evident from its wealth of art forms and heritage that have existed since pre-historic times.
Each of the country's 28 states and 8 union territories reflect a unique identity through their notable architecture, arts and crafts, languages, dance and music, textiles and more.
Over the years, the country's rich patrimony has been neglected due to several factors including lack of encouragement and shunning of local talent. Tata Trusts is committed to the themes of conservation, art education and performing arts under its broad Arts and Culture portfolio.
"To support the arts in India is to support the millennia-long cultural traditions that form our intricate past, and the contemporary art practices that will inform our future. The creation of art, and participation in it, is a crucial part of any community's development and a strong conduit for its expression," says Deepika Sorabjee, head, Arts & Culture, Tata Trusts.
In less than five years, this division has successfully launched over 20 programmes and has made a difference to the lives of thousands of people.
Safeguarding India's treasures
The conservation projects of Tata Trusts aim at restoring and preserving India's built heritage, art and films. The team is also building a talent pipeline of skilled conservators and documenting unique preservation practices.
The conservation work at the Quli Qutb Shahi Heritage Park in Hyderabad and Humayun's tomb in the heart of New Delhi are two such projects that stand testimony to Tata Trusts' commitment to the restoration and repair of these architectural masterpieces. The Trusts are also involved in compiling a specifications manual, helmed by the Aga Khan Trust for Culture (AKTC), that will establish specifications and ratings for built heritage projects in India.
Renewing the Mughal mausoleum
Not many are aware that the majestic Taj Mahal drew its inspiration from Humayun's tomb, the first garden tomb to be built in the Indian subcontinent in scale and complexity second to none. Four centuries of weathering and neglect caused decay of this grand monument's exteriors and interiors, with broken arches, missing tiles and latticework, chipped and faded paint, motifs, engravings and inscriptions.
In 2008, Sir Dorabji Tata Trust partnered with AKTC for the conservation of the Humayun's Tomb, which was one of the major conservation efforts being undertaken under the Nizamuddin Renewal Initiative (started in 2007 through a unique public private partnership between Aga Khan Development Network and civic bodies in Delhi). The idea was to restore this mausoleum to its pristine glory, while promoting the socio-economic and cultural development of the local community.
The colossal restoration work involved training craftsmen in the ancient skills of firing tiles and making lime mortar, as well as training conservation experts and architects in the use of 3D laser scanners which were deployed for the first time in India. Conservation architects from Uzbekistan were brought in to work with local conservationists, to fabricate the precise shades of green, lapis blue, turquoise blue, yellow and white using clay, quartz, different soils and chemicals, for the tiles on the tomb's canopies, arches and walls.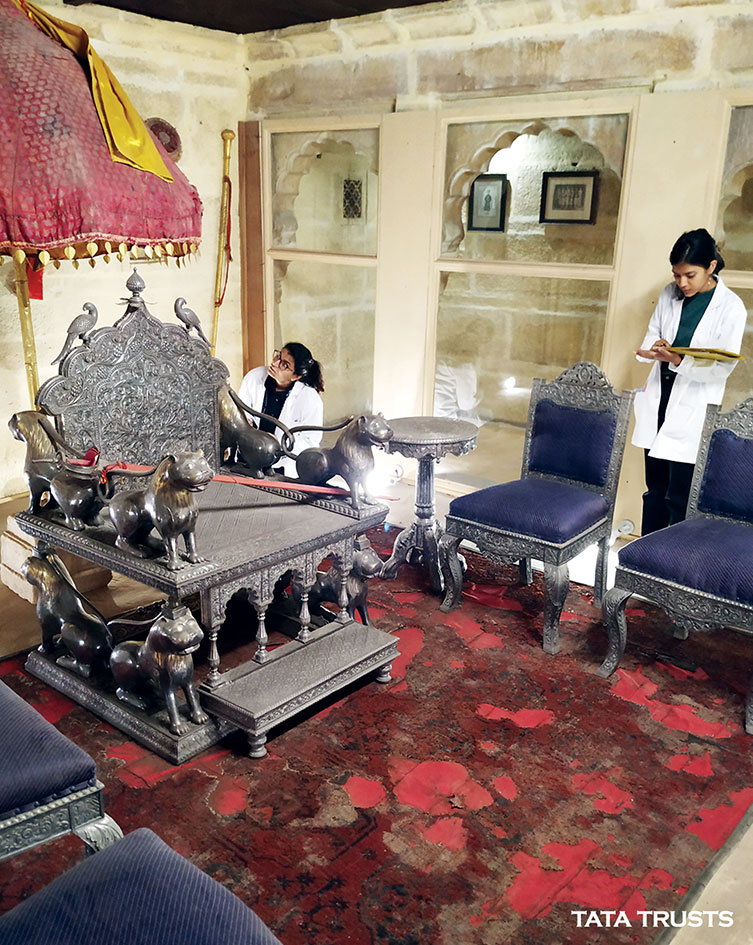 The project adhered to the highest standards of conservation, involving surveys, documentation, detailed architectural drawings, in-depth research and peer reviews, thereby setting a benchmark in Indian conservation that is today followed by conservationists across the country. This UNESCO World Heritage structure was inaugurated on September 18, 2013, by Dr Manmohan Singh, the then Prime Minister of India, and is today a popular and much visited site by international tourists.
The Trusts are also supporting AKTC's efforts in setting up the conservation gallery at the upcoming Humayun's Tomb site museum, which displays the monument's architectural features, records of the restoration and conservation work as well as objects from the National Museum and the ASI.
Restoring dynastic glory
In July 2020, despite the pandemic-induced lockdown, craftsmen from Madhya Pradesh, Rajasthan and West Bengal resumed their conservation work on the Great Mosque and the tomb of Abdullah Qutb Shah, both 17th century monuments located in the Qutb Shahi Heritage Park in Hyderabad.
In 2012, Sir Dorabji Tata Trust and Allied Trusts partnered with AKTC to co-fund the conservation of nine major monuments in the Heritage Park including the Great Mosque; the tombs of Sultan Quli Qutb Shah, Jamshed Quli Qutb Shah, Ibrahim Quli Qutb Shah, Muhammad Quli Qutb Shah, Hayat Bakshi Begum and Abdullah Qutb Shah; the badi baoli (the step well), and the hamam (communal bathhouse with separate sections for men and women).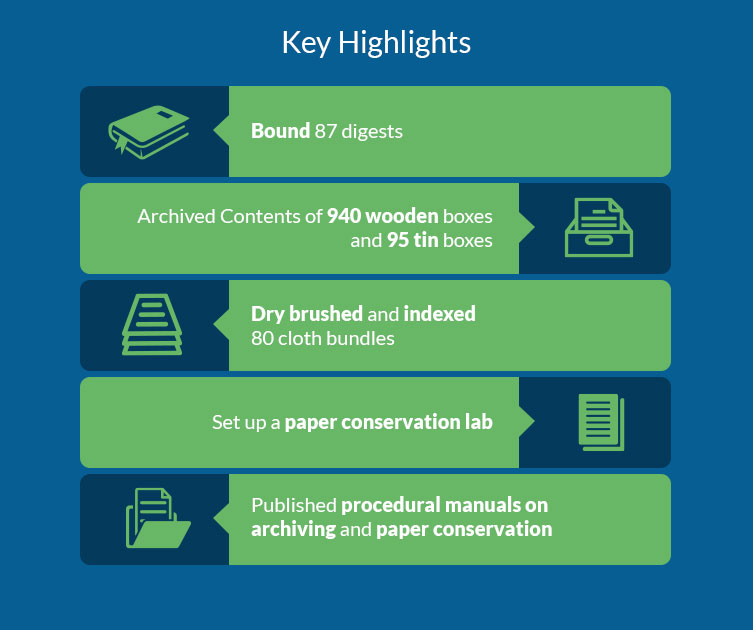 The restoration work entailed reverting to traditional materials — lime, stone and wood to restore the monument's original features. The project's completion, slated for August 2020, has been delayed due to the pandemic and will now be completed in December 2020.  The Qutb Shahi Heritage Park has created employment pportunities for craftsmen; on completion, it will generate increased income through visitor footfalls. This non-profit public-private partnership effort is the largest ongoing conservation effort in India.
Enhancing knowledge
Tata Trusts has launched a four-year Tata Trusts Art Conservation Initiative (TTACI) programme, in collaboration with five institutes (see table above), to focus on training conservators, organising training courses in specific materials and conducting field surveys of smaller collections, towards attracting funding for future conservation projects. Besides establishing a master's degree in art conservation, the initiative proposes to build a framework for art conservation in the country. The 10-day training course in specific materials, held last year, has been redesigned into an intensive six-month modular course that will be offered in the coming years.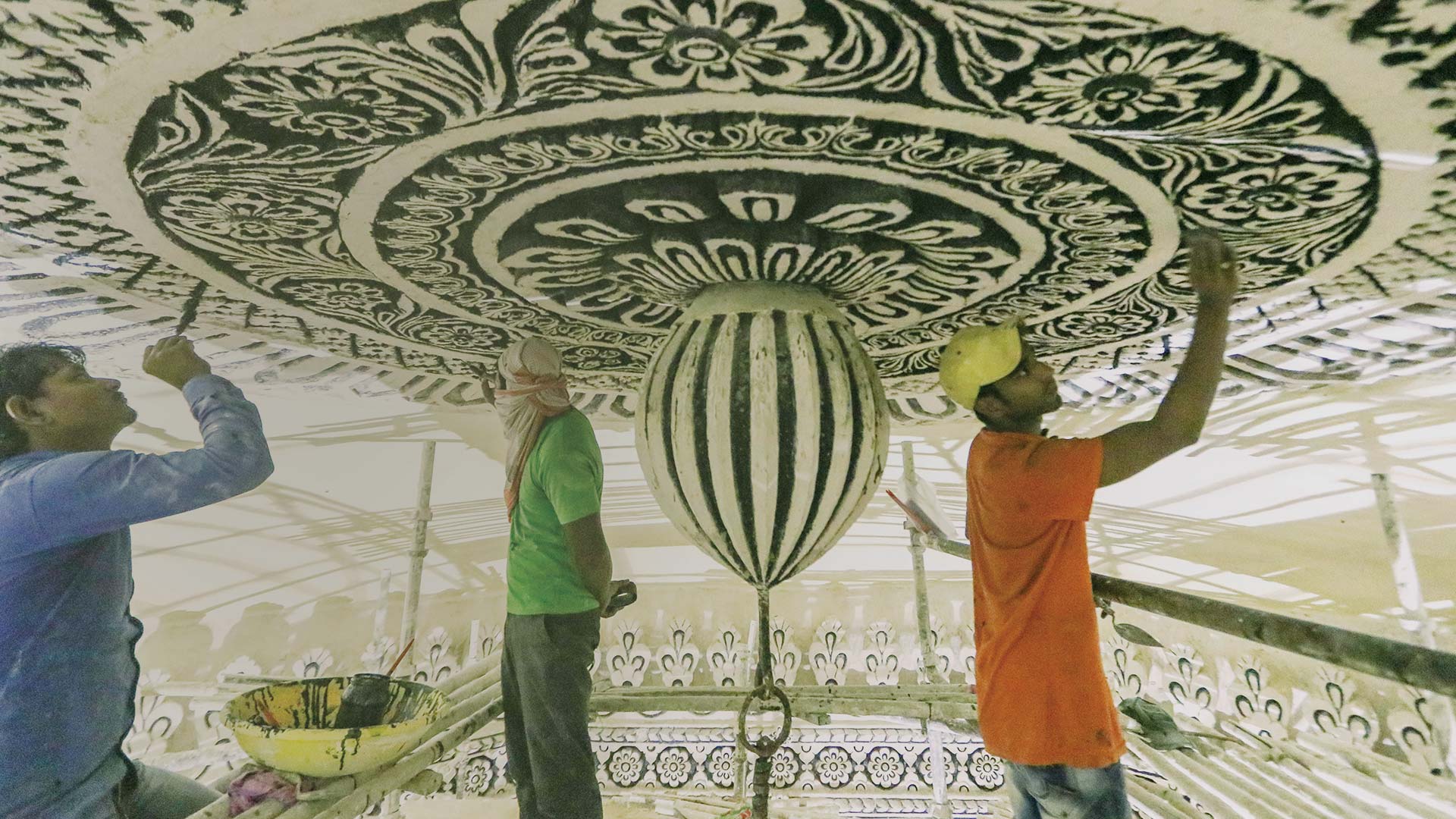 Preserving police history
The Mumbai Police Archives in the historic Fort area of the megalopolis is another noteworthy project of Tata Trusts' Arts and Culture division in collaboration with the Mumbai Police Foundation. The project, conceived by a former Police Commissioner of Mumbai who was keen on setting up a police museum, will reflect Mumbai's political history through the eyes of the police force.
A team — comprising archivists, paper conservators, as well as police volunteers trained in the best practices of paper conservation and manual archiving — perused through hardbound books, letters and more than 80 digests to archive the history of the city's police force from pre-independence times. The work involved sifting through records as old as 1914 on the day-to-day happenings in the police administration and in the city. It included detailed surveillance notes on nationalists, communists and the mafia; chronicles of key city events like mill workers' strike, bandobasts, shoot-outs and more. The HIMSHACO institute, Nainital, provided guidance on paper conservation, while Eka Archiving Services Pvt Ltd, Delhi, imparted training on documentation and cataloging.
Nurturing performing arts
In performing arts, the Trusts have partnered with institutions and communities across the country to support traditional and contemporary expressions in music and dance. These include the Dhrupad Sansthan in Bhopal for music, Attakkalari Centre for Movement Arts (dance) in Bengaluru, Kattaikuttu Sangam for theatre in Kancheepuram, Ambedkar University Delhi (AUD) for contemporary dance, Shankar Mahadevan Academy (SMA) in Mumbai for classical music and National Centre for the Performing Arts (NCPA) in Mumbai — established through a generous grant made by the Tata Trusts — for multi-arts.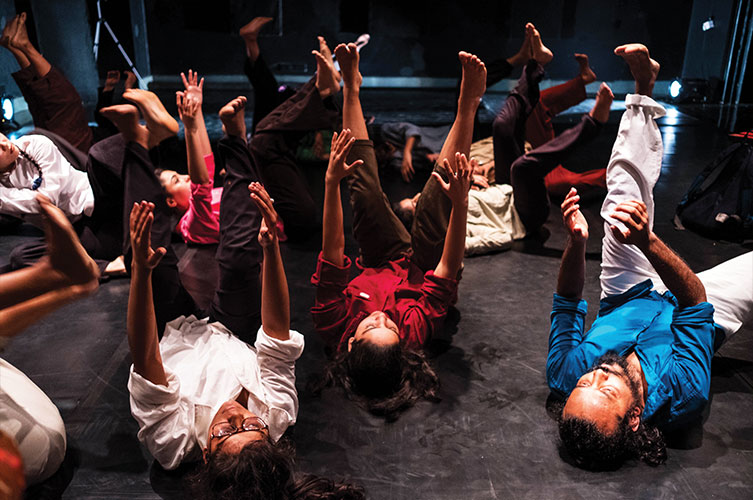 Tuning in
In 2017, Tata Trusts in collaboration with the SMA set up the Inspire India Program (IIP) to assist talent, mostly children and young musicians from marginalised communities, to excel in Indian and western classical music and pursue a career in it. This Mumbai-based community project operating from community learning centres — located at DS School in Sion, the Govandi Education Society in Govandi and Shri Sanatan Dharma Vidyalaya in Chembur East — provides the same learning opportunities to underprivileged students as those imparted to regular students, but at a fraction of the cost.
The project, now into its third year, has recorded significant pre-registrations for classes in the Govandi and Chembur centres, which is largely attributed to the impact created by the Sion centre. However, in the wake of the Covid-19 crisis, the centres have shifted to the online mode of learning music. What's remarkable is that despite these challenges, 50 students participated in Sangam, the annual music programme organised by the SMA for students worldwide, which was held online for the first time in August 2020.
IIP crescendo
1600+ students, aged between 4–82, have enrolled in programmes for learning Hindustani vocals, bhajans, folk and popular music and lost lullabies

2 senior students were trained as community music educators

5 music advocacy outreaches conducted

33 students cleared the Trinity College London exams in guitar and piano in the last two years, with 9 students receiving distinction
Putting on those dancing shoes
The Trusts has been promoting contemporary dance by helping dancers expand their horizons to perform at corporate events, national and international festivals, participate in dance residencies, conduct dance therapy workshops, classes and self-run dance studios.
In 2002 a corpus grant was given to the Attakkalari Centre for Movement Arts for training young dancers in contemporary dance. Subsequently, the centre's 'Way of the Masters' programme helped facilitate the transfer of knowledge between contemporary dance practitioners and masters of older folk forms of dance, namely Kootiyattam, Chhau, Kalarippayattu, Thevarattam and Silambam.
To promote traditional dance education as a professional skill, Tata Trusts entered into a two-year partnership with AUD to offer a master's in performance practice (dance). The course's inter-disciplinary curriculum combines theory and practice with core and optional subjects, thereby integrating physical training, choreography, critical thinking, inter-disciplinary studies and professional development.
The course offers structured studio sessions with visiting choreographers and dance practitioners for a duration of three-to-five weeks across the four semesters. The fundamentals of body movement, the body in relation to space, technique in dance and a two-week class on dance therapy are part of the course, along with working knowledge on lighting, stage presentation, production and networking. The students also attend a dance residency course at Adishakti Laboratory for Theatre Arts in Pondicherry, while undergoing Kalarippayattu training.
At the end of the semester, the students performed at the dance studio in AUD's Khirkee campus to an audience of students and faculty from other departments, as well as Delhi's creative literati. Attending several national and international performances in Delhi helped them understand contemporary trends in dance production and techniques.
Fifteen students of the 19 (out of the 42 applications received) graduated in december 2020, becoming the first batch of the masters in performance practice (dance). Despite the lockdown, online classes commenced in April 2020 and the students were able to complete the last leg of their master's programme by converting their annual dissertation presentations to an online format.
Five students were invited to participate in the 7th Dance Education Biennale — a platform for student-dancers from across Germany and the world, which was held in Hamburg in early 2020.
Key projects
Students' Biennale (2016 and 2018 editions) with the Kochi Biennale Foundation
Establishing the 1947 Partition Archives in three universities in north India
Pedagogical exhibitions — 'State of Architecture' (2016) and 'State of Housing' (2018) by Urban Design Research Institute
'India and the World: A History in Nine Stories', a landmark exhibition at CSMVS, Mumbai, in partnership with the British Museum and the National Museum, New Delhi
Master's degree in Performance Practice (Dance) at Ambedkar University, Delhi
Higher education in the arts
To enable professional avenues in the arts sector, Tata Trusts has engaged in supporting newer methodologies of learning and teaching the arts, using a multi-disciplinary approach including exhibition platforms, direct fellowships to artists and post-graduate programmes with a focus on supporting tertiary art education.

Students' biennale
The Arts and Culture division of Tata Trusts has been supporting multi-disciplinary projects through academic interventions and practice-based programmes under its arts education initiative. It has sent over 700 aspiring students of fine arts from across 55+ colleges to the Students' Biennale which runs parallel to the Kochi Biennale. In the 2016 and 2018 editions of this exhibition platform, the Trusts supported students to work with 21 curators and exhibit their works of art. The curators conducted workshops across colleges in India and worked with teams of students to help them put up their works at the biennale. In addition, in the 2018 edition, five educators introduced interventions in traditional art curricula at various art schools.
The Tata Trusts Students' Biennale national and international awards is a platform providing opportunities to these promising artists and curators. The beneficiaries of the awards were given the opportunity to participate in two national and three international residencies and travel to Venice and Amsterdam to learn contemporary art trends. Tata Trusts has also supported the Kochi Biennale Foundation's Video Lab in producing 400+ videos of art works, artists' interviews and workshops.
Finishing touch
The Arts and Culture division's interventions in the domain of conservation, performing arts and art education encompass the modern and contemporary as well as the historical. Besides being well conceived, each project is also of significance to local communities and their economies. "Most of our programmes, in collaboration with partners who add value and attract the best talent, are pioneering ones in the particular sector or art form. We hope that establishing models, through the highest standards in practice, will help encourage others to fund the arts, a sector that receives little funding either from the government or through corporate social responsibility initiatives," says Ms Sorabjee.
Notwithstanding the fact that most of the artistic endeavours necessarily involve human contact, the Covid-19 lockdown situation has given the Tata Trusts' Arts & Culture team an opportunity to reflect, consider priorities and recalibrate the projects to address the new normal. 
—Farah Dada