April 2021 | 864 words | 3-minute read
Last March when employees went to work-from-home (WFH) due to the lockdown brought on by the novel coronavirus pandemic, most of them, including employers, thought it was a matter of a couple of weeks before they would return to office.
A year later WFH has become an inseparable part of the new normal way of life.
This photo feature attempts to portray what the new normal of working from home entails for Tata group employees in different parts of the world.
Indu Brahmani, Rallis India Ltd, Bengaluru, India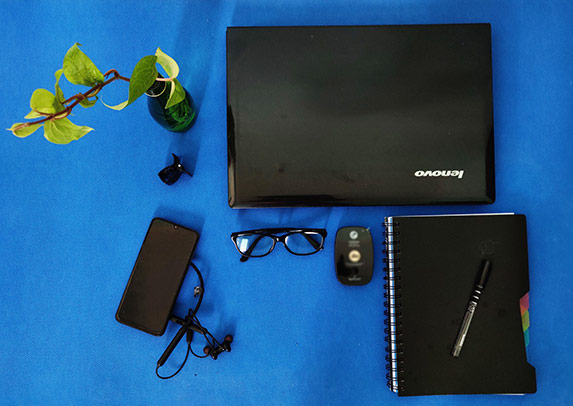 "I would say that work-from-home allowed me to follow my interest in plants, as I could manage office work, take care of my plants, and blog to some extent," says Brahmani, an active plant blogger for whom growing plants is not just a hobby but also something that adds colour to her world — the work-related setup in black juxtaposed with the verdant green.

Archana Mani, Tata Services Ltd, Mumbai, India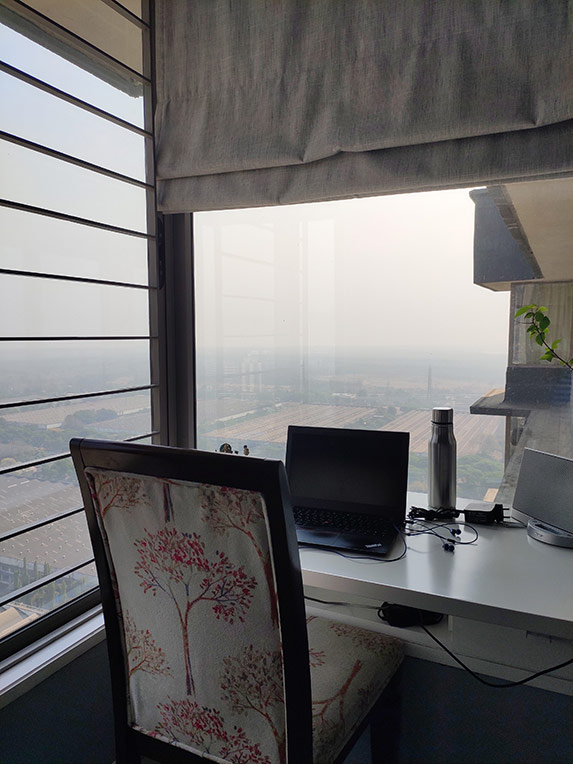 "When it's cool and not so sunny, I sit near the window. ... It gives me a view of the mangroves. Late evening is on the chair and footstool. It's a more comfortable space. Sunny days are reserved for the sofa with my tea."
Jon Frear, Tata Motors Design, Coventry, UK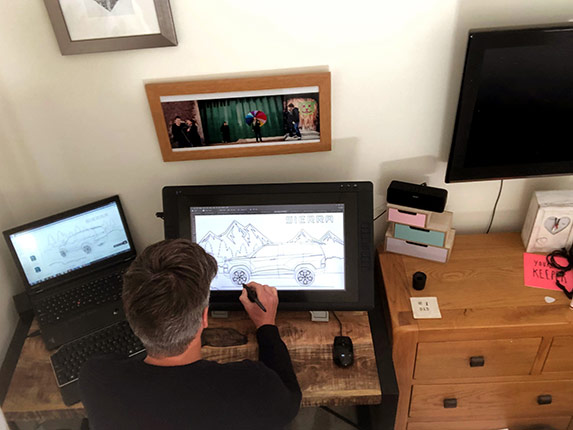 Jon Frear has "a dedicated working space similar to being in the studio", where he can still be creative but in close contact with his colleagues. WFH cuts travel time to give longer, flexible hours which can also be tiring. He misses "the face-to-face contact with colleagues and the efficiency of being able to talk to people in person."
Bibek Khandelwal, Tata Steel Long Products Ltd, Joda, India
Nature and workplace go alongside for Khandelwal whose workspace is in the midst of lush green trees by a riverside. He calls it his "stress free zone" and rightly so!
Alka Soam, Tata Consultancy Services (TCS), Edinburgh, UK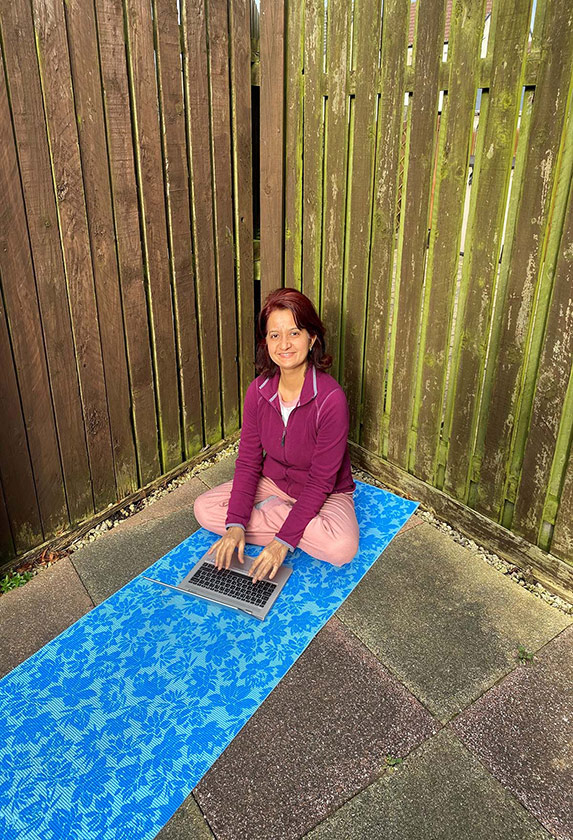 Alka's WFH mantra is simple – "Stretch a little, work a little!"
Arka Roy Chowdhury, Titan, Bengaluru, India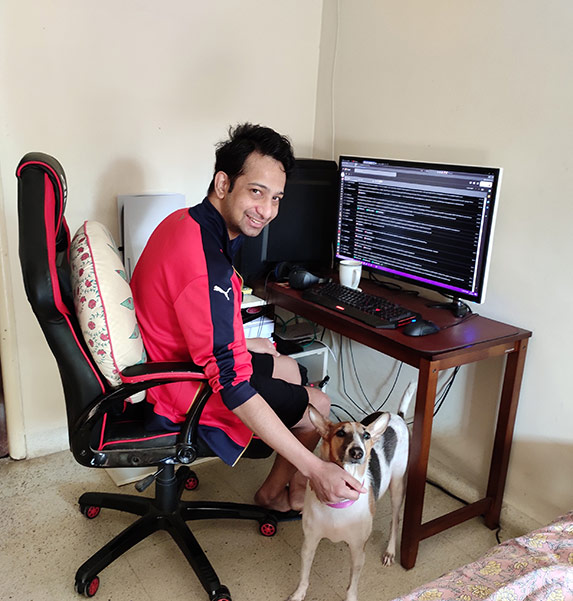 Titan's Arka has a number of pro-tips that help him cope with "morning madness" as mornings, he says, are "prime fire-fighting periods". His list includes investing in a good chair with lumbar support, a large screen for eye-strain mitigation, a sturdy pair of headsets and shifting base to a desktop instead of a sofa or bed for better posture. Not to forget, moral support courtesy his K-9 unit — his pet, Popo.
Ankush Srivastava, Tata Communications, Gurugram, India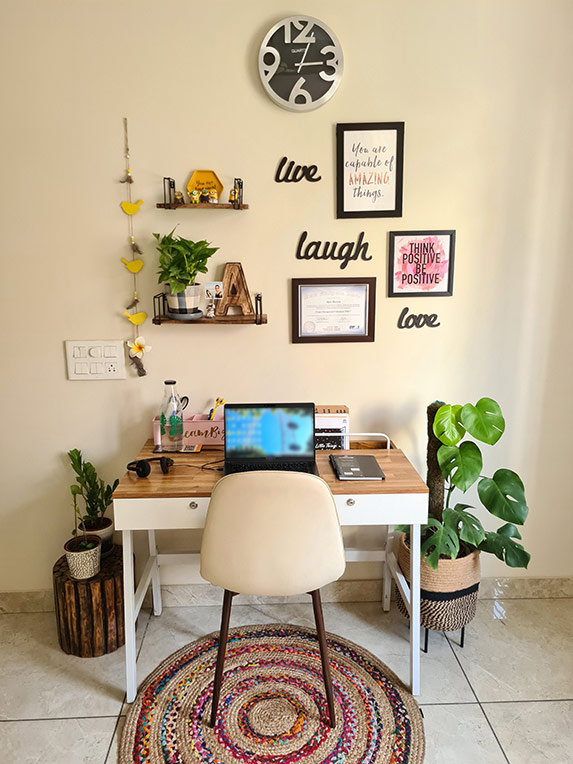 Ankush and his partner took up the challenge to create an office-like atmosphere at home, which exudes "a positive vibe" to start the day. What better than a sun-filled room with plants and a motivational wall of achievements!
Ramya Sivaram, Tata Communications, Chennai, India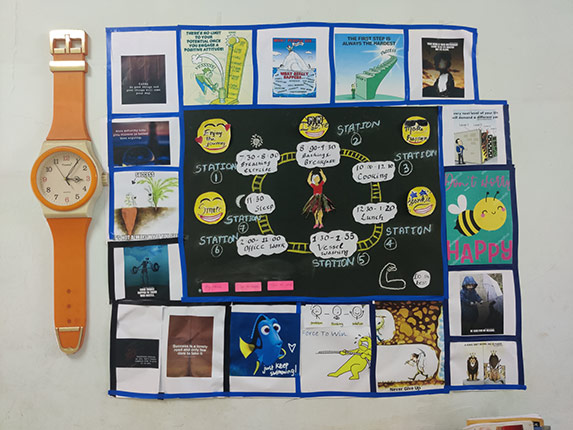 Ramya decided to match creativity with some serious organisational skills to make the most of this "precious time". Chalking out a clear work plan, with inspirational posters for effective time management and her daily routine mapped like a railway track, she ended up learning a new life skill also — cooking!
Ujvala Amol Chalke, Tata Communications, Mumbai, India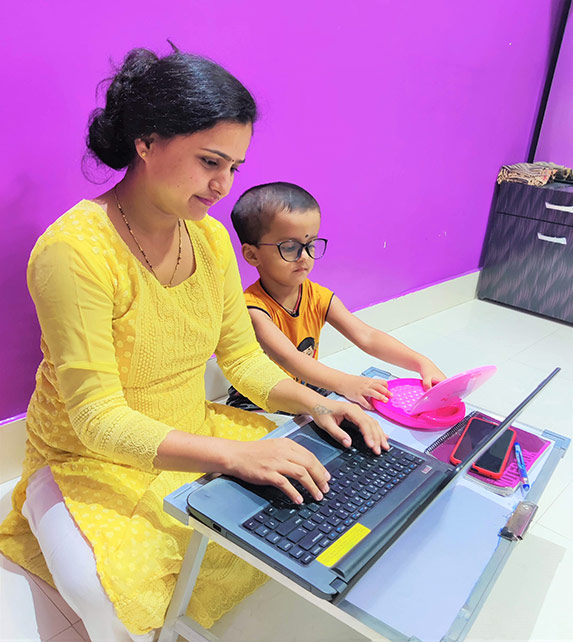 "Loving my job doesn't make me any less of a mom!" affirms Ujvala for whom WFH has brought in a great work-life balance without compromising on either her professional or personal commitments.
Renuka Shetty, Tata Sons, Mumbai, India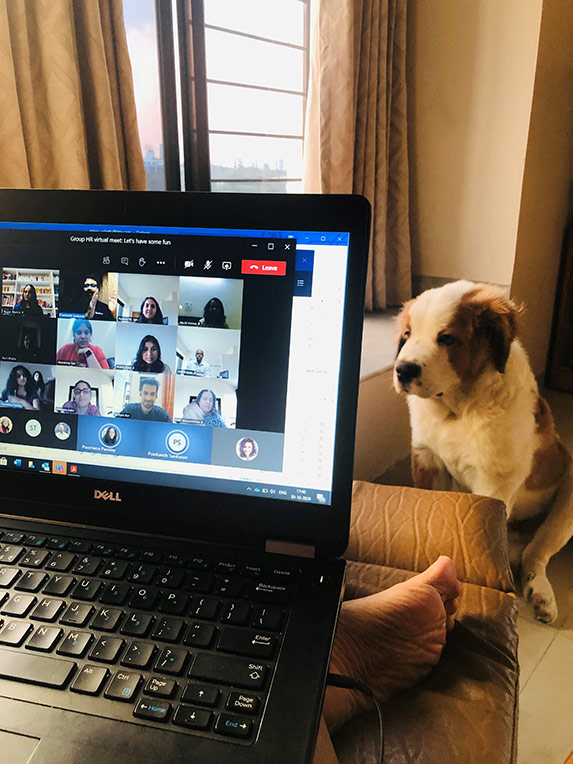 Renuka, who battled Covid-19, shares how being connected to her workmates during this most difficult of times ensured that she "got the best care" and a support system that was "always there" with her, albeit virtually.
Suhail Adam, TCS London, UK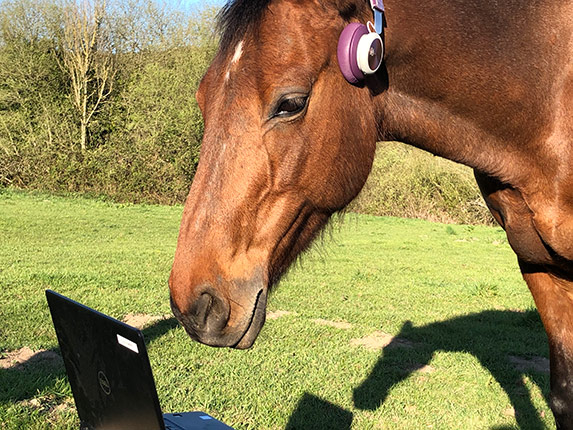 TCS' Suhail reminisces about "WFH to the point where even our pets started working with us!" 
Rohan Patki, Tata AutoComp Systems Ltd, Pune, India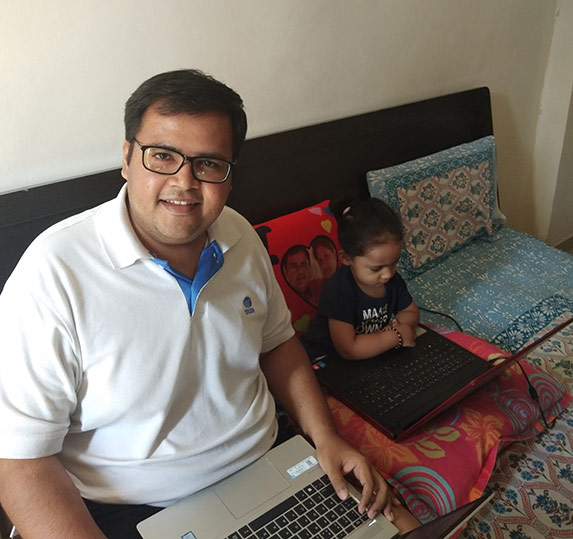 Rohan might "miss a cup of coffee and face-to-face meetings with colleagues", but one ought to believe him when he says, "It's a great experience working with my future CEO!"
Andrew Rosi, Tata Communications, New Jersey, USA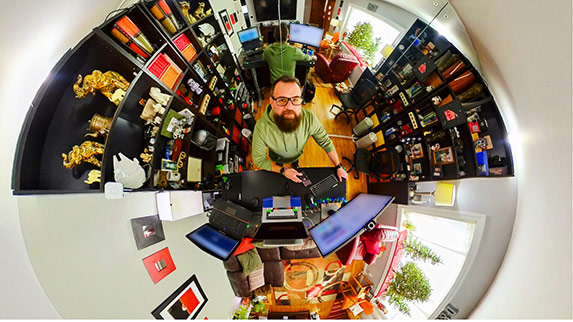 Andrew has a "dedicated workspace", complete with a motorised desk to help him alternate between sitting and standing. This little world is where he spends most of his waking hours and calls it his "daily bubble universe". What's more is that being a shared space, it has automated lights which glow, alerting others that he's on a call.
Navjot Singh Gill, TCPL, Mumbai, India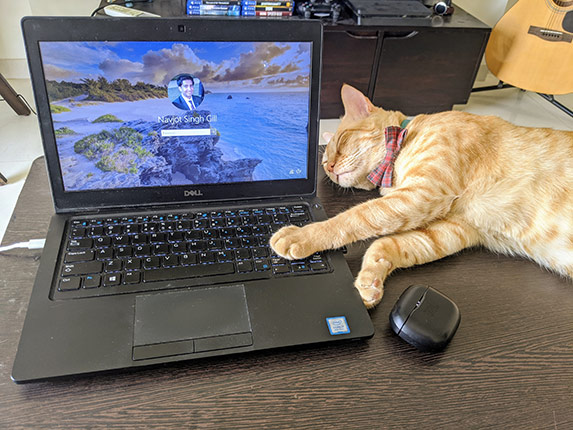 Navjot Singh Gill's cat, Rebel, shows what he thinks of Navjot's work.

Debojyoti Basu, Tata Steel Long Products Ltd, Jamshedpur, India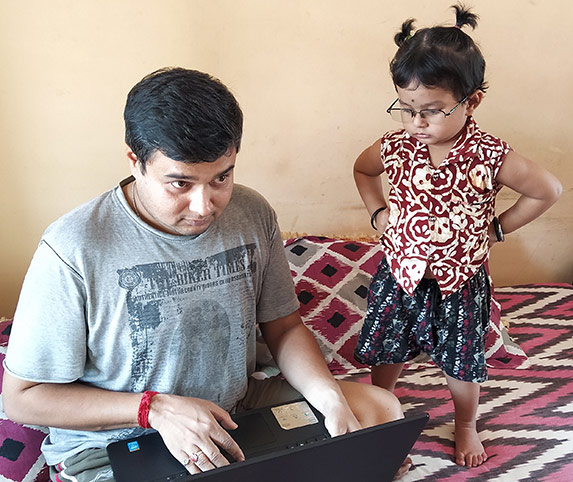 Tata Steel's Debojyoti echoes almost the same sentiment as Rohan, but he claims, "My new boss is even more demanding!"
Rachel Wellfare, Tata Consumer Products Ltd (TCPL), Eaglescliffe, Stockton-on-Tees, UK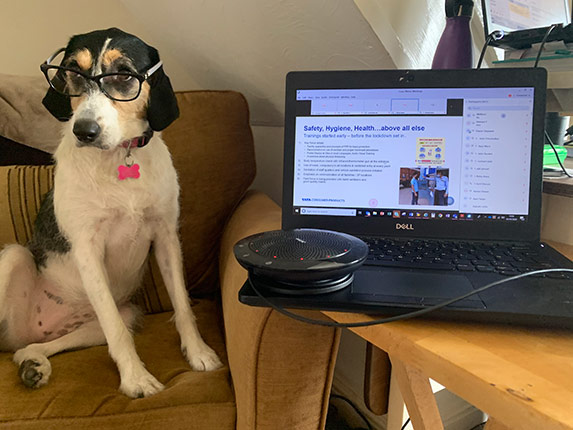 TCPL's Rache Wellfare's dog, Lottie, listens in sincerely to the Leadership Connect.
Mohankumar TS, TCS Siruseri, Chennai, India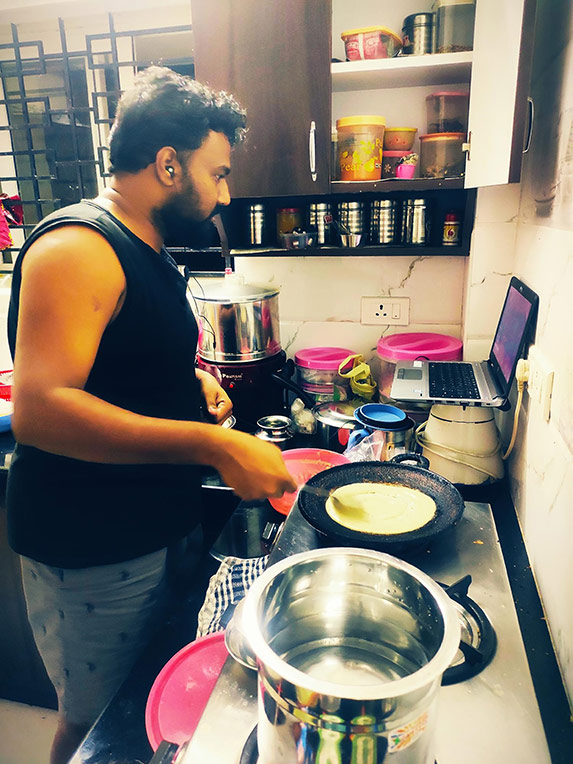 TCS' Mohankumar claims "sheer work-life balance" has been achieved. Well, quite literally!
Kiran Bains, Tata Chemicals, Ahmedabad, India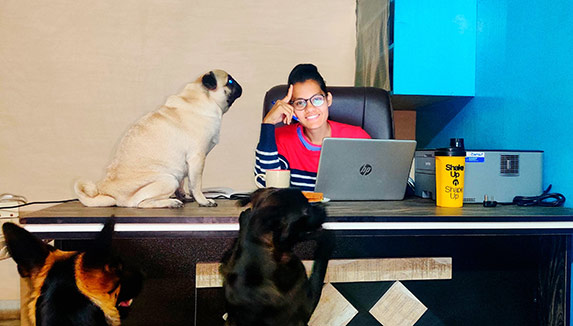 Kiran Bains worries, "My new co-workers are not following social distancing!"
Rajesh Kumar Kuswaha, Tata Communications, Hyderabad, India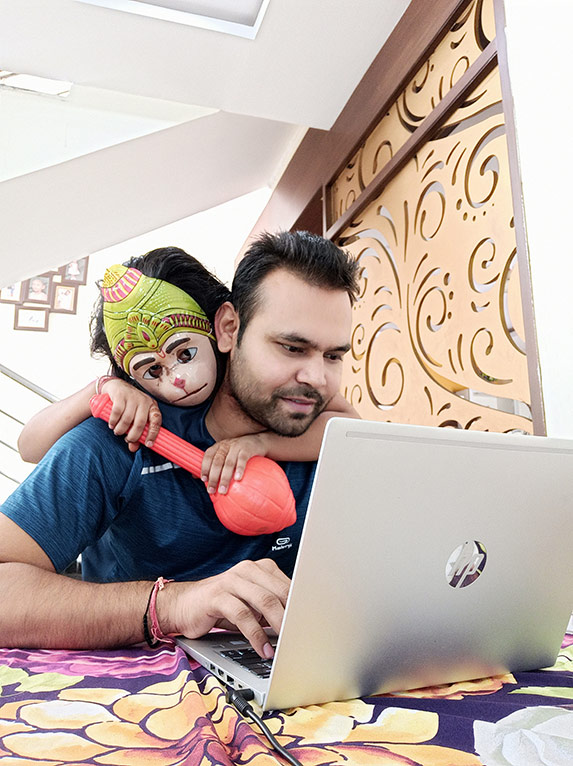 For Rajesh Kumar, who feels that "kids give us a new dimension of working", being able to spend more time with his daughter makes WFH that much easier!

Rayson Tan, Vistara, Gurugram, India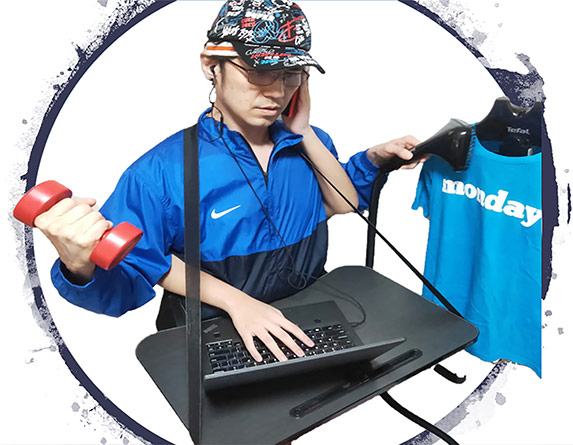 Acing at multitasking, Vistara's Rayson calls it "bringing my A game on!
—Tejal Pandey