October 2019 | 1264 words | 5-minute read
Tania Roy Chowdhury
Deputy general manager, Infrastructure, Aerospace & Defence, Tata Sons, and co-founder, Tantra Theatre Group
I have been a lover of all things 'literature' from a very early age. Theatre, poetry recitals, music, films and books have been a very important part of my school and college years.
But once I started my corporate career, I suddenly felt a void. I went to watch plays and performances, but my involvement with the performing arts was limited to the audience only. So, in 2016, my husband and I decided to take the plunge and founded Tantra Theatre Group — a performing arts platform for corporate professionals, to further our love for live performances, storytelling and theatre.
Running a theatre group along with a day job can be very demanding, needing prioritisation and sacrifices, but the fulfilment of being able to pursue one's passion makes it worth it. A very hectic weekend, filled with stage rehearsals, auditions and script reading prepares me to focus much better on work in the week ahead than a free weekend without much to do (though I do need some of those too, to unwind and catch up on 'me time').
Work stress starts building when one keeps dwelling on it. A passion that significantly occupies mindspace in the non-working hours, trains the mind to compartmentalise better and not let stress from one area spill into the other. For me, theatre is that avenue.
Managing a theatre group is almost like an entrepreneurial pursuit, and has taught me valuable lessons on team management, problem solving, program management, and digital marketing among others. It has also enabled me to take a more creative approach at work and think of out-of-the-box solutions.
Career highs and lows will always be there. If career becomes an all-consuming part of one's life, it becomes difficult to handle the lows. A compelling hobby or passion helps you cope when there are hiccups in your professional life.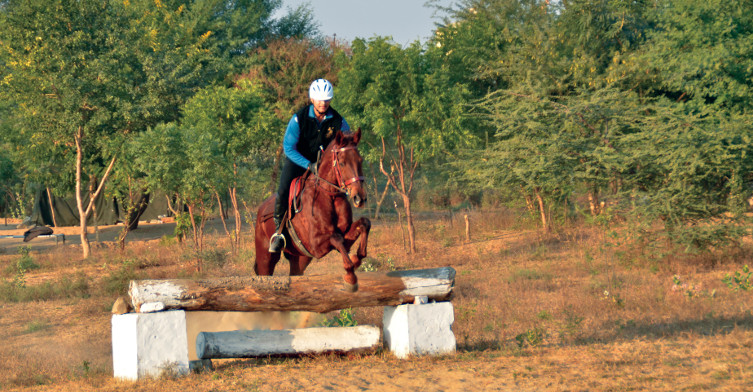 Digvijay Singh
General manager, Taj 51 Buckingham Gate Suites & Residences and St James' Court, and equestrian

I ride cross country, do obstacle jumping and play polo. I am also attached with the Queen's Cavalry in London, as a civilian support rider, to a regiment named Blues and Royals.

My days are squarely divided between my three passions — my horses, my work and my family. Of the three, it's the first that helps me juggle. What has drawn me towards horses since childhood is their magnificence and the mutual bond between sapiens and horses, which is as ancient as civilisation.
Horses are my mentors. They can be gentle and strong at the same time, and I keenly observe and cultivate their qualities in my life and work.
It is a sport and discipline that helps garner leadership skills. When I ride, I have to be with my horse from the time I enter the stable — putting on the bridle and leathers, saddle and stirrups — to the post-ride grooming and feeding. This also helps me reduce stress as it is a meditative activity.
It also builds up good stress as it makes me competitive and careful. Accidents are common, and I have had my share of broken bones that taught me and only made me better and more understanding.
Passions, whatever they may be, are therapeutic. They can help us ride over the unknown fears of our subconscious mind. We tend to excel in things we are passionate about, which manifests a sense of self-confidence, making us sharper, deeper and progressive.
Pursuing a hobby brings happiness and satisfaction, which reflect on our overall well-being. Those who cultivate a passion along with earning their livelihood are truly blessed. You wean out from work at a particular age, but not your passion; it stays. In fact, it helps you juggle your challenges.
Ari-Pekka Repo
Lead developer, Tata Consultancy Services, Finland, and drone racer
I had been doing all sorts of aviation sports and building model aircraft, and I always wanted to put cameras on board. When the first-person view videos appeared on the internet a few years ago, I had to try them.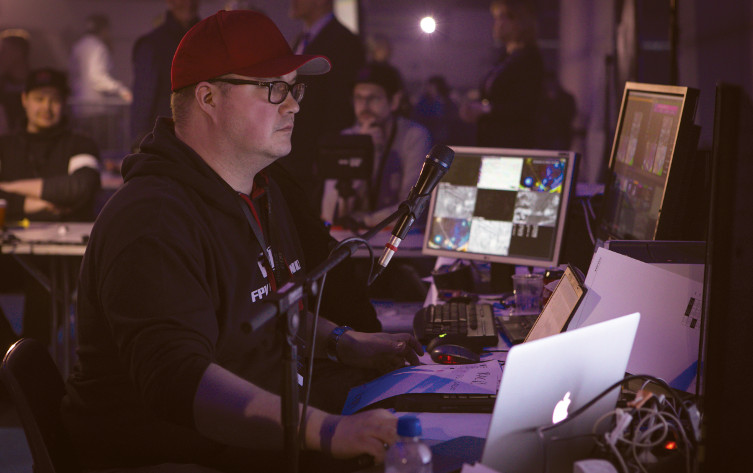 Unlike the drones used in photography, which basically hover overhead, racing drones reach speeds of 150kmph within seconds. They can spring from the ground level to tens of metres in the air within a fraction of a second. I was hooked. It was all I had imagined it would be.
What has kept me in the sport is the great community. Flying is also a great way to reduce stress.
Running a drone racing event, however, is probably one of the most stressful things I have ever done. But the flying and the organising balance each other well. Even though the initial thought after every event is 'never again', I soon find myself planning the next.
I like challenges, and drone racing has given me the opportunity to grow in areas that would not have been possible otherwise. It is very important to have activities outside work and family to maintain a balanced life. Sometimes it may be hard to find time for everything, but it is worth it.
Ashok Krish
Global head, Digital Workplace, Tata Consultancy Services, and musician & writer

There are two kinds of motivation that tend to work for any individual to do anything — extrinsic and intrinsic.

The former has a lot to do with your job, salary, social responsibilities and duties. Purely looking at the world through the lens of extrinsic motivation is a recipe for extreme stress.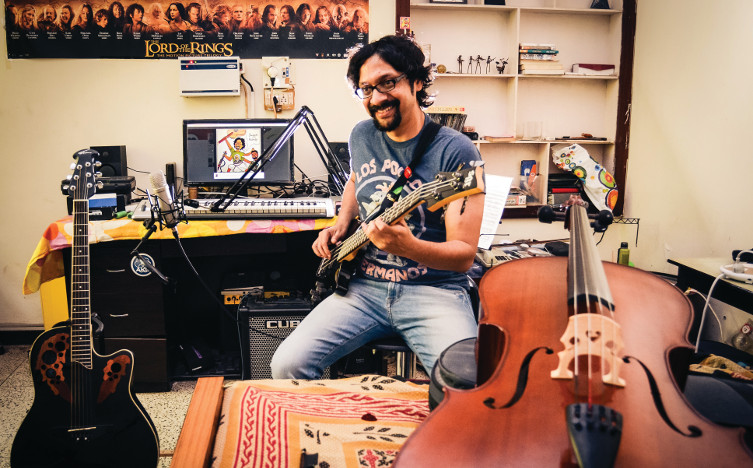 The latter relates to the things you do because they feel good. There is satisfaction in the journey of learning as opposed to saying that I have learned something, so I will earn more money with it.
In my personal experience, an activity you do for the sheer joy of doing it, without an end goal, significantly contributes to holistic well-being because your brain is going about it without the stress of an outcome. You do badly at your job, you will lose your job. But in this case, at worst, the music will turn out bad, and no one will listen to it.
Music and writing are my constants. I started with the violin and went on to learn western classical piano, the cello and the guitar. Since I travel a lot, I can compose music, mix when I am in flight or while sitting in a hotel. It allows me to break up my hobbies into smaller chunks of time.
I also tend to pick up a new hobby every six months or so. At this point, they are urban terrace gardening, growing my own food and cooking.
I have made sure my office environment also allows for creative pursuits. There is a guitar lying around. If I am unable to solve an engineering problem, I take a break, play some music and often find that I am able to clear up my mind in a way that helps me see the problem in a different light.
Just keeping it in the office has motivated some team members to pick it up during breaks and go learn it seriously. Sometimes it's not just your passions, even the environment around you can inspire you to pick up hobbies, and that has a positive impact on your overall well-being.
Everyone needs to make sure that they don't let their creative side go once they reach a class 10 or 12 or an entrance exam because that's your ticket to keeping yourself relevant in a world that's being disrupted on a daily basis.
—As told to Monali Sarkar