October 2019 | 637 words | 3-minute read
Her chief concern is the drinks she makes for her guests should be made so well that they enjoy every single sip. This is the ever-smiling B Imali Jayashani Perera, tending the bar at the coffee shop at The Indian Hotels Company Limited's (IHCL) Gateway Hotel Airport Garden in Colombo, Sri Lanka.

Imali says her focus is on hospitality and drinks, adding quickly, "I think the most difficult part of bartending is reading the guest correctly and serving them the right drink." Imali joined IHCL as an intern in 2015, after completing a specialised course in tourism management. One of the topics covered briefly in the course was on the theoretical side of bartending, which had piqued her interest back then too. Says the 28-year-old Imali, "If I hadn't got a break at this hotel, perhaps, I would not have had a chance to pursue my interests in this field."
A keen learner, she wants to master the technique of crafting cocktails by learning everything about liquors, flavours, ingredients and the bar-kit tools to create delectable drinks, as well as learn about the lite bites to go on the side.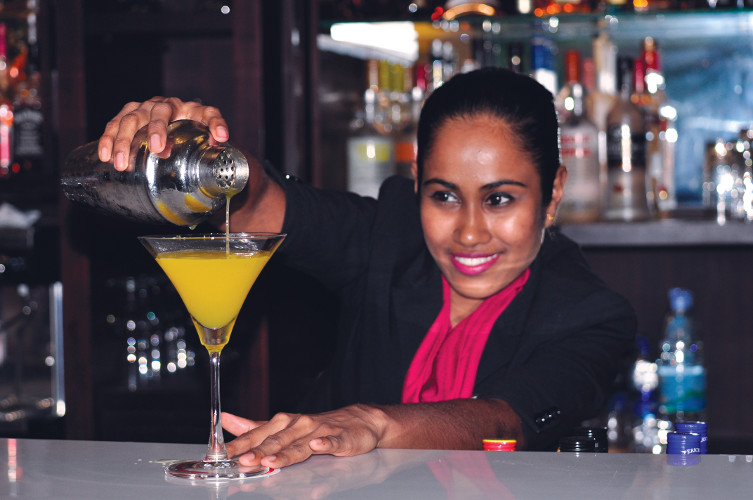 Winning laurels
Not many women aspire to be bartenders in life. Not only did Imali choose it as a career, but she has also won accolades at the various bartending competitions she has participated in.
"When I expressed my desire to take part in the competitions, the hotel management was very supportive and encouraged me to do so", says Imali. "For the 2 months preceding the competition, I worked long hours. I would finish my usual morning shift, and then for the next 5 hours solely focus on bartending without taking any days off."
Although Imali participated in the contest's Classic category, it was her approach to the competition that was quite unusual.
Speaking about her experience at the 26th National Bartender Championship, where she won the top spot in the Negombo zone last year, she says, "In the first round, I did a cocktail with rum. I wanted to do something new, something different." For the round on serving the cocktail with a twist, Imali experimented with different liquors, used playing cards as unusual coasters to serve drinks, and even changed her attire.
Imali has also won the semi-finals in the Classic category at the 26th National Bartender's Competition 2018, and the bronze medal at the Vodka Cocktail Championship in 2018.
Off the beaten path
Does being a woman make her job tougher? Imali doesn't think so. "In fact, there is a novelty to the profession, as not many women join the bar community, particularly in this part of the continent," she says.
Besides, certain rules and regulations could be at the core of the disparity in gender representation. "I think it's not the job itself that makes a difference. There is no difference in men or women having the ability to do the job better. I think it is a matter of attitude. By being good at my job, I can, perhaps, set a good example for aspiring female bartenders in the region," she adds.
On any role models she looks up to for inspiration, she says everyone is her role model. "When I research online about bartending, I do not consider a person's name, age, gender or nationality. I only consider their talent; I learn everything I can from them, from bartending facts and tips, to various region-specific bartending accents. If I learn from them, they are my role model."
She is someone who doesn't believe in resting on her laurels and is looking forward to participating in more competitions and events this year. A live cocktail preparation and presentation and featuring in some videos are a few things already in the pipeline.
Imali believes in raising the bar for herself and that is why she is always trying to compete with herself. This strong woman says, "If you do what you love and are dedicated, then you can achieve the impossible!"
—Namrata Narasimhan