January 2021 | 777 words | 3-minute read
Dharmendra Tiwary, chief coach at the Tata Archery Academy (TAA) in Jamshedpur, is a man who lets his bow do the talking for him.
Mr Tiwary was recently awarded the prestigious Dronacharya Award 2020 by the President of India, Mr Ramnath Kovind, for his contributions to Archery-Lifetime. He is the third TAA coach to receive this honour after Sanjeeva Singh and Purnima Mahto.
Working as an assistant coach at the academy since its inception in 1996, he says, "I give the credit for my award to Tata Steel for all the support that the company has given. I also owe a big debt to my father, who encouraged me, and to the government, the Sports Authority of India, the Indian Archery Association and the Jharkhand sports department."
While Mr Tiwary had some success as an archer in recurve archery, it was as a coach that he has had the greatest success. He has trained over 250 archers including Arjuna awardees Jayanta Talukdar, Rahul Banerjee, Dola Banerjee, Chekrovolu Swuro and Atanu Das, as well as Padma Shri awardee Deepika Kumari.
"I would like to see my students win at the Olympics."
His pupils have made him proud, having participated in 7 Olympic Games and winning 4 World Championship medals, 3 Asian Games medals, 7 Asian Championship medals, 7 Commonwealth Games medals and 14 Youth World Championship medals. In all, TAA students have won over 300 international medals, and more than 1000 national medals.
A slow start
As a boy, Mr Tiwary was devoted to yoga and cricket. He trained in archery in 1985 at the Archery Training Centre in the Burmamines area of Jamshedpur. From 1985 to 1993, he played at Jamshedpur Women's College. He won three gold medals in the junior national archery championships, in the team and individual events, during 1987-88. Having played in the senior national archery championships in 1993, a debilitating injury in the hand forced him to consider retiring from the sport he loved.
Confused about what the future would hold, he says, "I didn't know what to do next." Fortunately, better prospects opened up. Archery coach JG Banerjee invited him to coach at the Jamshedpur Women's College. In 1994, he took up this assignment and enjoyed being a trainer.
Some of his first students were Jhanu Hansda and Jiva Jarika of Jharkhand Police. When both began to compete at the international level, Mr Tiwary began to feel more assured about his ability to coach.
A few months later, he received a call from Sanjeeva Singh of Tata Steel, who had already made a name for himself in the field of archery. Mr Singh told him of Tata Steel's plans to start its own archery training centre and invited Mr Tiwary to take on the role of assistant coach.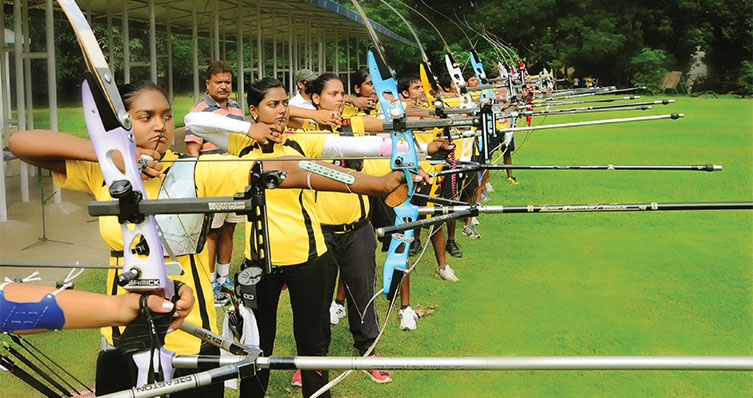 Mr Tiwary says, "In those days, archery was not very popular in Jamshedpur. At the request of Mr Singh, we began going to schools in the city, giving demonstrations and inviting interested children to come to the JRD Sports Complex on Sundays. A number of youngsters began coming regularly for training."
Changing fortunes
As the efforts of the coaches and students began to bear fruit, the game also began to earn popularity in the city. The management of Tata Steel began to take a keener interest in their efforts and began promoting the sport. By then, Mr Singh had taken up full responsibility as head coach. Mr Tiwary became the assistant coach.

In 2001, says Mr Tiwary, "When Mr Singh received a promotion and was transferred to another department, I became the chief coach and Purnima Mahto became the women's coach."
Eye on the target
At TAA, the day begins at 6am. By 7.30am, the coaches put the students through rounds of physical fitness, yoga and eye exercises. Breakfast is followed by some hours of intense practice up to noon. The session is resumed in the evening.
Senior coaches Mr Tiwary and Ms Mahto observe the students at practice and correct mistakes in technique and look into their physical fitness and related aspects, while the two junior coaches keep the equipment in good shape and put the students through the paces. The coaches also accompany players on tournaments.
An honour deserved
Mr Tiwary now has his eye on another worthy target. He says, "I would like to see my students win at the Olympics."
An unassuming person, Mr Tiwary is transformed on the field. It's his passion for the game that won him the Dronacharya Award. Mr Tiwary says, "This award is a great honour for coaches in sports training and development. I feel heartened to have my life's work commended by the government."
—Cynthia Rodrigues