November 2019 | 797 words | 3-minute read
One of the lesser known heroes of the Mahabharata is Eklavya, a poor boy who learned to excel in archery, without any formal training, merely by watching Guru Dronacharya, the royal guru, at work.
Sanjeeva Singh's start in archery is no less inspiring. This senior vice-president and head of corporate relations at Tata Realty is an Olympian who also learned archery by watching other archers.
Power of a dream
Studying in a boarding school, Sanjeeva focused on academics and sports. After his Class X exams, he got an opportunity to volunteer at the IX Asian Games in New Delhi. Posted to the archery ground, his task was to help arrange logistics for the players.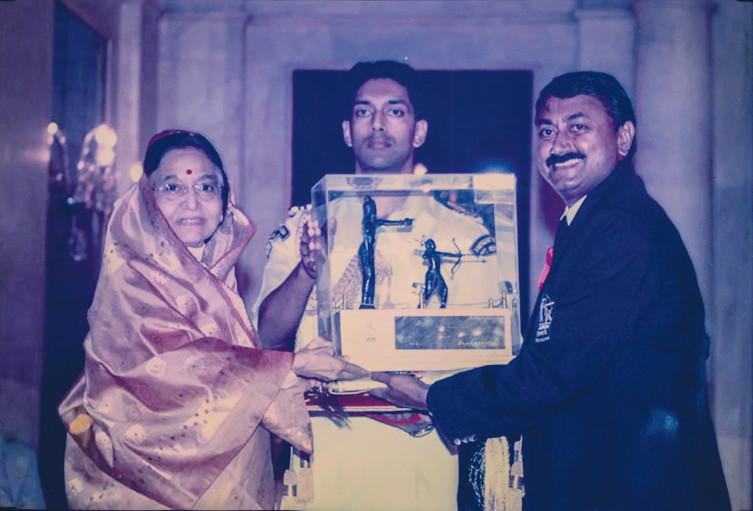 "I used to watch the Korean, Chinese and Japanese archers and coaches at their practice sessions. I learned much by observing and talking to them," he says.
At the opening ceremony, Sanjeeva and other volunteers were seated in the front row. "The entire stadium broke into applause at the sight of the Indian contingent, with Maharaja Karni Singh as the flagbearer," he recalls. "Awestruck, I promised myself, 'Someday I will carry the Indian flag'."
At his request, an uncle, returning from London, brought him a bow. Sanjeeva started practising diligently every day. He became the state champion of Uttar Pradesh and then won a medal at the Nationals. He also won several international tournaments.
In 1983, Sanjeeva joined the Birla Institute of Technology, Ranchi, for his BTech in mechanical engineering. But his passion for archery remained unabated. Sanjeeva won several awards and the National Scholarship for Studies and Sports.
Momentous decision
During campus recruitment, Sanjeeva decided to join Tata Steel as the company was willing to let him play for the country.
In 1996, on receiving the Arjuna Award, Sanjeeva decided to retire from active play after having won 56 medals (including 20 gold) in his national and international sports career and having authored a book titled Modern Archery – Precept and Practice. But he wasn't ready to drop his bow yet. India's poor showing, at 14th place, at the 1996 Olympics in Atlanta, USA, prompted him to take up coaching. He says, "I wrote to Dr JJ Irani, mooting the idea of an archery academy. He liked the idea."
The Tata Archery Academy was set up in 1996, for scouting talent, inducting and training them. Within four years, the trainees were winning medals.
Under Sanjeeva's guidance, the archers received physical, mental and technical training and were groomed on etiquette and English speaking. They were enrolled into schools where they completed the Class XII exams alongside their graduation from the academy. Sanjeeva also conducted meets in Jamshedpur to offer students exposure to international and national tournaments.
In 2004, at the World Championship in New York, Sanjeeva saw the game of compound archery. He saw its potential for tribal archers who couldn't do well at recurve archery. Buying a compound bow, he started learning anew, ignoring those who laughed at him. By 2005, he had become the national champion in compound archery. Supported by Tata Steel and Jharkhand Archery Association, he began teaching others the new skills he had learned.
In 2007, the Indian team won at compound archery at the Asian Championship. The critics were effectively silenced.
The Tata Archery Academy held sway from 1998 to 2009, creating such champions as Paltan Hansdah, Jayant Talukdar, Rahul Banerjee and others, and earning Sanjeeva the Dronacharya Award in 2009. He says, "A player plays for the country. But a coach uplifts the community. My experience as a coach has been very satisfying."
New innings
After winning the Dronacharya Award, Sanjeeva moved to Delhi where he worked with Tata Power Delhi Distribution as the head of business excellence. Archery took a backseat for a few years as he won the JRD QV award for the company. He then moved to Tata Housing in Mumbai.
Sanjeeva was appointed National Observer by the Government of India in 2017. He has implemented policies to scout and train talent and is working to develop archery in India. He mentors coaches and has helped set up archery academies and centres of excellence in Gujarat, Jharkhand and Jammu and Kashmir. He is also working to set up a centre of excellence for archery in a tribal village in Bhinar outside Mumbai.
His retirement plan is to set up a national school for archery, which will focus on academics too. His wife, an educationist, will help him run the school.
With all his work responsibilities, Sanjeeva spends all his off-duty time working towards his passion. For this Eklavya-turned-Dronacharya, it will be bullseye when Indian archers make waves on the world stage.
—Cynthia Rodrigues
Photograph by Tejal Pandey