May 2019 | 1012 words | 4-min read
As a young boy, Clarence Lobo used to play football for his school. If you had asked him then what he saw himself doing in life, he would have unhesitatingly spoken of a career in football. "Football is my first love," says the senior technician at Tata Power. "It was the game I saw myself playing all my life."
Yet it was hockey that transformed his life and earned him the Dronacharya Award 2018, a national honour given to India's best sports coaches.
How it started
Lobo's elder brother Gilbert was already playing hockey for Tata Power when Clarence won himself a place on the company's football team. On one fateful day in 1989, the sports commanding officer, Kher Singh, was short of players for a hockey match. Spotting Clarence, he asked him if he played hockey. "A little," Lobo replied.
The footwork and agility he displayed netted the team one goal and impressed Mr Singh. It was at Mr Singh's insistence, that Lobo began training: football in the morning and hockey in the evening. He was still confused about where his vocation lay. But slowly, he says, he stopped playing football, and began focusing entirely on hockey.
Over the next few years, Clarence played hockey for the senior Bombay team and was even part of the Indian hockey team for a few years. "I was the standby for two tournaments with the Indian team until I got injured. My knees required surgery," he says.
Following the surgery, Clarence put all his energies into playing for Tata Sports Club in various tournaments. It was in 1993 that Clarence received an offer to coach the Tata Sports Club team, and that, he says, "was my turning point."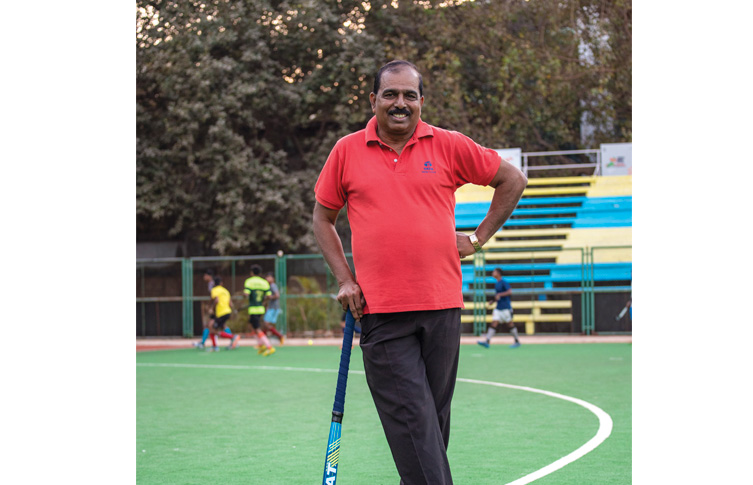 "I went on to become the Bombay coach for the nationals," he says. "In 1998, I became the junior India sub-junior coach. I also coached the under-21 squad for the World Cup. Thereafter I coached the senior team for over 8 years."
Through it all, he has led teams to several reputed tournaments, including one World Cup, two Champions Trophy tournaments, one Olympics, one Commonwealth Games and one Asian Games. One psychological boost that never fails to energise players, Lobo says, is listening to the national anthem.
Coaching style
Lobo owes his coaching style to Ric Charlesworth, Australian hockey legend and a former technical director for the Indian hockey team. He picked up a lot from Charlesworth's style while working as his assistant during a few tournaments. He was also influenced by Cedric D'Souza, who he describes as the best Indian hockey coach.
"A good performance on the field is a mix of 50 percent of teamwork, 25 percent of fitness and technical ability, and 25 percent of tactical moves," Lobo says."These are elements you build over time, but the most important thing is to motivate the players and get them to gel. As a coach, I need to know the playing style of my players and that of the competition."
A good coach, he adds, puts his players through the paces during training, but remains calm during the match: "A coach who shouts while the game is on is wasting his breath. The players are worked up and can barely hear over the noise in the stadium. The right time to talk to them is during half time."
The other crucial thing that sets a good coach apart, he notes, is creating an atmosphere where players want to play and perform to their fullest capacity. He recalls one time when his Tata Sports Club team lost a match: "They couldn't face me; they felt as if they had let me down."
Lobo, however, had never considered applying for the Dronacharya Award until several friends and well-wishers advised him to do so. The application had to be endorsed by letters of recommendation from players he had coached. The testimonials from his "boys" turned out to be a listing from the hockey hall of fame with names like Dhanraj Pillay, Viren Rasquinha, Dinesh Tirkey, Sardar Singh and Sandeep Singh — recipients of honours like the Khel Ratna, Arjuna Awards and Padma Shri.
Beyond the field
Currently, Lobo coaches the Tata Power, Maharashtra Police and the Comptroller and Auditor General's office teams.
The coaching of the police team, in particular, is close to his heart as the players often come from economically backward backgrounds and hail from the interiors of Maharashtra. He trains them for the All-India Police Games, where he has led the team to two victories. Winning a medal in these games assures the players a promotion.
Lobo also helps them to improve their English-speaking skills, because, above all, he believes that a coach must manage his players, going beyond perfecting their game to resolving their conflicts and problems.
Lobo hopes to busy himself with more such efforts post-retirement. He says, "There is nothing like sports to build one's personality. I would like to join an NGO and teach kids to play hockey."
Power Play
Lobo says Tata Power has played a significant role in his success, "granting me leave of absence for tourneys, even for as long as six months to participate in international tournaments."
The Dronacharya Award might have catapulted this friendly, unassuming man to the headlines but he remains humble and grounded, much like the game that is such a big part of his life. He still plays for the company's senior team, competing in the Bombay League tournaments, and adds,"On my last day of work if Tata Power is playing a match, I want to be in the squad."
Text by Cynthia Rodrigues