March 2019 | 1459 words | 6-minute read
It is impossible to live in India and not feel a warm sense of emotion about the Tata brand. Every Indian home has a Tata connect, and mine is no exception — Tata Steel beams were used to build our home; I grew up drinking Tata Tea; Tata Salt is ubiquitous in our kitchen. Consequently, it was only a natural extension that when I had to decide between the options I had for my first job, the Tata sway prevailed.
For the marketing teams inside the group, this reputation is a tremendous asset. Over the years, we have been expanding it outside India into our key markets across the world, and this global momentum is starting to gain recognition. In January 2019, Brand Finance, the world's leading brand valuation firm, adjudged that the Tata brand had increased in value by 37 percent to $19.5 billion and listed it as one of the world's top 100 brands.
As a major driving factor within this, Tata Consultancy Services (TCS), which turned 50 the year the Tata brand turned 150, was also recognised as the fastest growing brand in the information technology industry for this decade. It is also now among the top three in its industry worldwide.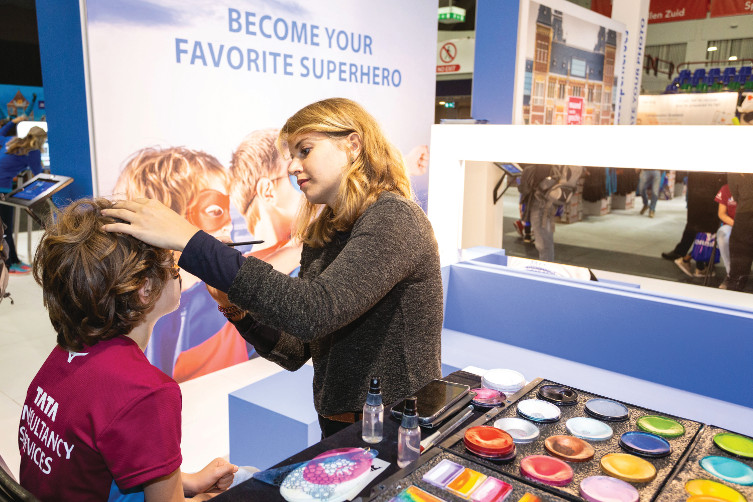 Evolving Strategy
While there are many facets to building a brand, in TCS' case, our largest investment has been towards our global portfolio of marathon sponsorships. The company's armoury of sports sponsorships now includes 12 premier running related partnerships and an exceptional one on motorsports in Japan — TCS Nakajima Racing.
When TCS' marketing department was formalised as part of its IPO in 2004, it started a humble foray into leveraging sports both to boost its brand and to engage its stakeholders. In 2008, on an underlying successful client partnership, TCS became the technology partner to Ferrari's Formula1 racing team.
Our team flew to Maranello, Ferrari's home town in northern Italy, feeling tremendous pride on seeing our brand on the fiery red Ferrari car being driven by Felipe Massa and Kimi Raikkonen. "For the first time, an Indian brand will appear on the Ferrari. It's historic," Luca di Montezemolo, the chairman of Ferrari and Fiat, told reporters.
In 2009, TCS forged a partnership with the Rajasthan Royals cricket team, entering the Indian Premier League. It was followed shortly by sponsorship of the Garmin Cervelo cycling team, which took part in the Tour de France. All these properties successfully engaged hundreds of the company's clients, while strengthening its brand presence.
The Starting Line
Meanwhile, a different transformation had started to take root in TCS. Tata Sons Chairman Mr N Chandrasekaran, who was then the COO of TCS, decided to take up running to improve his health. Ambitious in everything he does, Mr Chandrasekaran set his first target sky high — running the full 42km Mumbai Marathon in 2008. As he clocked up marathons across the world, it started to inspire many others in TCS to reverse their sedentary stances.
Soon, the company launched a programme called 'Fit4Life' to encourage employee wellbeing. Today, the programme is one of the world's largest fitness initiatives with 189,000 TCS employees (27 percent of the Tata group's employee strength) actively participating in it.
We discovered that running as a sport had several unique advantages: it is inclusive, participative (unlike Formula 1 and others where you watch, here you can be part of the action); emotionally rewarding and deeply engages the local community. Hence, TCS made a strategic choice to realign its entire sports sponsorship strategy.
In a string of bold moves, the company signed up as a partner to the world's leading running events. Starting off as an associate sponsor to the Mumbai Marathon and the TCS World 10K in Bengaluru, the company signed its first international partnership in the form of the TCS Amsterdam Marathon in 2011. And there was no looking back. Today, TCS is a partner to running events in some of the world's leading cities including Boston, Canberra, Chicago, Lidingö (near Stockholm), London, Manila, Melbourne, New York, Singapore and Sydney.
In Japan, the TCS Nakajima racing sponsorship has an engaging motorsports season in many cities, with India's famed racing legend Narain Karthikeyan at the helm.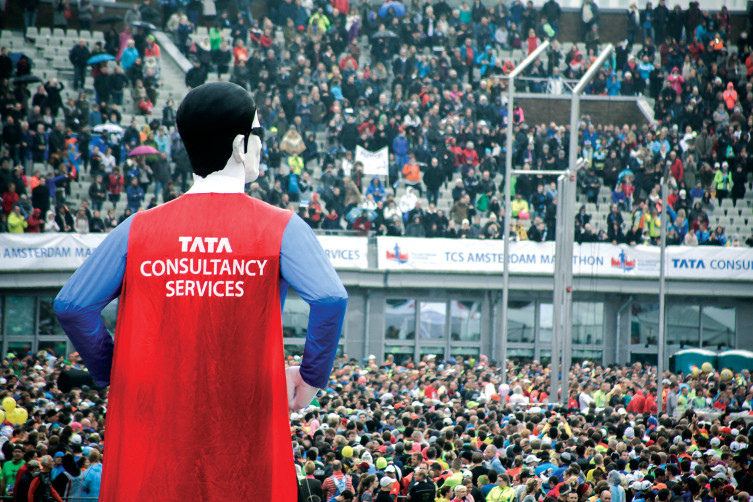 (Im)measurable Value
With over half-a-million runners across the 12 properties and a worldwide audience of 2 million street spectators and 1 billion households on television being exposed to the TCS brand, the sponsorship platform has proven to be a distinct success. Almost 96.8 percent of the 300 clients polled in the Netherlands said that TCS' brand was now significantly stronger in their country based on these sponsorships. In New York, TCS received an 81 percent unaided brand recall as the title partner to the iconic NYC Marathon.
More importantly, they helped create a sense of community. In 2018, 3,300 of TCS' clients and 10,400 of its employees participated in these events, thereby setting a new high.
These events have also served as a vital platform to demonstrate TCS' digital capabilities and technology prowess. The mobile apps, developed by TCS for most of these races, saw 1.2 million downloads worldwide, setting a new world record in London and New York.
Through the app, the entire running and spectator experience has been transformed. One of the most popular features on the app is the ability to 'Track a runner' real time, which has allowed families and supporters to follow their runners on a digital map and find and greet them just as they finish. The heartwarming scenes of family members greeting their loved ones during the emotional high of crossing the finish line is a great example of how technology enables a supremely human moment.
In New York, TCS also provides data analytics, with elite runners' performance biometrics like heart rate, breathing rate, pace and cadence seen on live TV for the first time ever. The insights from this will help runners improve their performance and is one more step in enabling the TCS NYC Marathon towards its mission to become the world's most technologically advanced marathon.
The inevitable corollary of the sports sponsorships is that TCS' marketing and communications teams have won over 20 awards for the use of technology in our marketing campaign, including a 2018 Gold Stevie® for Mobile Marketing Campaign of the Year and the Yahoo Sports Technology award.
While all these numbers are impressive, it does not even begin to capture the sheer goodwill our company earns for helping promote wellness and supporting what is every city's top sporting event of the year."The TCS New York Marathon has become synonymous with the spirit of the city," said Bill de Blasio, Mayor of New York city, at the event's press conference.
Doing It The Tata Way
An often-unknown fact about marathons is the positive synergies they accrue for the local community besides the economic benefit that the hosting cities gain through these platforms. NYC, for example, is estimated to gain over $400 million due to increased visitors, tourism, spending, occupancy rates and taxes.
The 2018 London Marathon raised £63.7 million for charity, setting a new world record for a single day charity fundraising event. In Sweden, the funds raised by TCS at the TCS Lidingöloppet run helped enable a new sensory room at the Astrid Lindgren Children's hospital. Enabled by TCS, runners at the TCS Amsterdam Marathon have raised over €1 million over the years for the VUmc Cancer Center Amsterdam (CCA), allowing them to secure vital equipment like the Vectra Polaris machine that helps better diagnosis and selection of immunotherapy for its patients.
Geert Kazemier, director of the VUmc CCA Foundation, said: "I am very proud that TCS chose VUmc CCA to be the official charity of the TCS Amsterdam Marathon. Because of their support, the entire cause of cancer research gets both more funding and more attention."
TCS also supports blind runners in the Netherlands and indigenous runners in Australia. To acknowledge the role of teachers in society, TCS invited 50 teachers from across the United States and Canada to take part in the TCS NYC Marathon.
And Miles To Go...
Speaking at the World Economic Forum at Davos this year, along with a panel of other chairpersons and CEOs, Tata Sons Chairman Mr Chandrasekaran said, "It takes years to gain trust. Then a brand becomes valuable. As a next step, it can move on from being valuable to being respected. And finally, it can go to a stage of being revered. That to me is the journey every company should be on."
Who better than our own marathon man to show the path of the long-distance journey our brand is on. The TCS marathon strategy is a big leap ahead, but a long and rewarding road still awaits us as we look at global leadership on the brand front.
Author Abhinav Kumar is chief marketing and communications officer, global markets, at Tata Consultancy Services.