June 2023 | 1105 words | 4-minute read
It was a sight that unnerved hockey enthusiasts — star Indian forward Dhanraj Pillay being marked by two or three players from the opposing team. But the player, nicknamed Toofan (tornado) for his extraordinary pace, would break the opposition's lines, change direction without losing speed, and sally forward with the ball towards the goalpost. The ease with which he could control the ball, his aggressive attacking techniques and creative playing style made him one of the world's best strikers in the 1990s.
"When you represent your country, it's like you are going for war. You don't want your country to lose. Hockey is the fastest game that can be played in 70 minutes. You have to be on your toes every minute," he says. 
Making of Toofan
"I got the name Toofan while playing for the Indian team. My father and three older brothers were all hockey players. They were very fast forwards. I also mastered speed," says Mr Pillay. "Coach Joaquim Carvalho, who spotted me when I was playing in Mumbai, would train me every day. Training went on from 7am to 9.30am, then 2.30pm, followed by practice with the team at 4pm, and then another round of training till it got dark. Carvalho Sir put me through speed, strength and agility training. I used to train for seven to eight hours every day." This rigorous practice helped him in later years, enabling him to remain unfazed when marked by opposition players.
"You will find clippings where two or three players are marking me, even then I'd score a goal or make a penalty corner," he says. "All that skill comes from practice. At the 2002 Champions Trophy, I was dodging six to seven players. I passed the ball and Prabhjot Singh scored the goal. I had that kind of speed and was confident of dodging any player at any time." He was declared the Player of the Tournament at that Champions Trophy.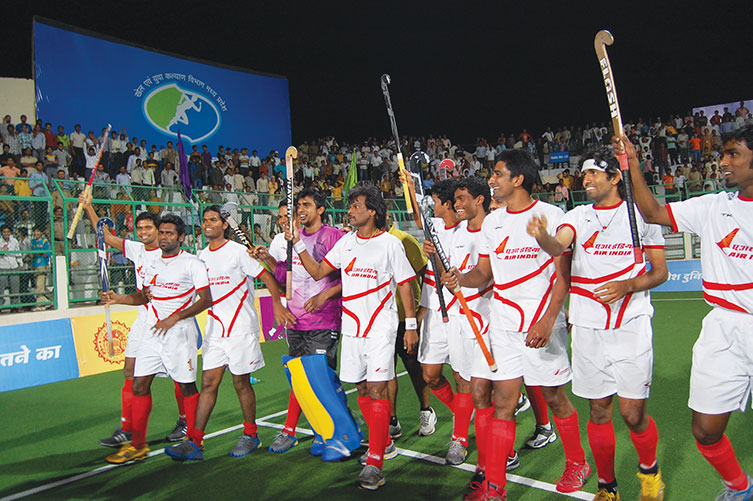 Hockey in the blood
The fourth of five sons, Mr Pillay was born into a hockey-loving family in Khadki, near Pune. "Hockey is in my blood. My older brother Ramesh was an international hockey player. We idolised him and I was inspired to start playing hockey seriously. At that time, we struggled to find equipment. So, I'd play barefoot, with discarded balls and broken hockey sticks glued together," he says. When Ramesh moved to Mumbai, he invited his younger brother along. "From 1985 to 1987, I represented Maharashtra state from Pune," says Mr Pillay. "Ramesh saw that I was improving and invited me to practise with him in Mumbai, where I got noticed and was offered a job. When you start playing hockey, you represent your state. Then a multinational company or organisation sees how good you are and offers you a job or contract."
Donning national colours
At age 20, Mr Pillay was the youngest of 50 players to be picked for the India camp. It was the prelude to his selection for the national team. "I was selected to play at the 1989 Alwyn Asia Cup in Delhi, my international debut, where India won silver," he says. "It was an honour to represent my country. Before long, I was rubbing shoulders with the legends of Indian hockey, like Pargat Singh, Jude Felix, Mark Patterson, etc."
Receiving his first national jersey was an emotional moment for him. But his brother, Ramesh, reminded him of the responsibility it entailed. "He told me that to represent your country is very easy, but to sustain your position for a long period takes a lot of hard work and sacrifice."
His brother's advice helped Mr Pillay withstand the pressures of living in the spotlight. While his exploits on the field were marked with victories and defeats alike, Mr Pillay never let it mar the dignity of the flag he played for. "We won't always win, but we can learn from our losses," he says. "We must play our best and celebrate our victories and accept our losses with grace."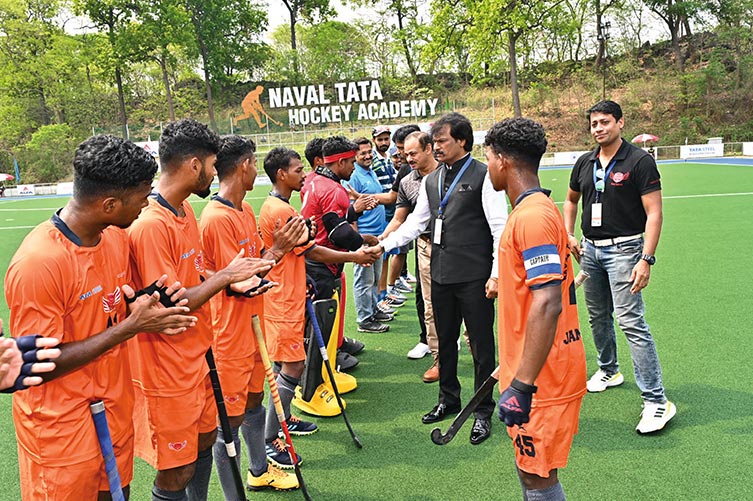 A series of firsts
Over the years, Mr Pillay came to be a player the team, and the nation, could rely on. Under his captaincy, India won the 1998 Asian Games after a gap of 32 years — he was the leading scorer in the tournament that year — and the 2003 Asia Cup — India's first victory in the history of the cup. 
A grateful nation expressed its appreciation through a host of awards like the Arjuna Award (1995) and the Padma Shri (2000). But the award that means the most to him is the Khel Ratna Award (1999-2000); he was the first hockey player to receive one. "I was in Europe then, playing for a German club. I requested the authorities to allow my mother, the woman who taught me to work hard and stay humble, to receive the award on my behalf," he says. "It was a special moment when I saw the video clip of my mother receiving the award from the President of India."
"If you are loyal to your calling and give it 100%, success is yours."
"I can proudly say that I am the only hockey player to represent my country at four Olympics, four Asian Games, four Champions Trophy tournaments, and four World Cups. I played 339 matches and scored 170 goals. I give all the credit to my brother Ramesh, and my coaches Joaquim Carvalho and Tony Fernandes, who coached me when I was playing for HC Lyon in France."
In a career spanning 15 years, a part of which was spent working and playing for Indian Airlines and Air India, he played for clubs in England, France, Malaysia, Germany, Bangladesh and Hong Kong.
Hanging up his boots
The hockey legend retired after the Athens Olympics in 2004, at the age of 36. He set up the Dhanraj Pillay Hockey Academy and ran it for 10 years, before closing it for lack of funds. 
Later, the Sports Authority of Gujarat (SAG) invited him to coach the state team. As Technical Director and High Performance Director for SAG, Mr Pillay took on the challenge of turning the team around. "We started to see good performance and a few players went to the India camp. It was a big achievement," he says.
Mr Pillay is currently the Joint Secretary of the Air India Sports Promotion Board, managing the western region, and helps the Air India hockey team and other sports teams. The spirit that marked his time on the turf continues unabated. "If you are loyal to your calling and give it 100%, success is yours," he says. "You need to have discipline, dedication and determination, and be willing to play hard till the last whistle."
—Cynthia Rodrigues