April 2021 | 1142 words | 4-minute read
The value of sports as a tool for the betterment of life is ingrained in the DNA of Tata Steel. The seeds were sown when the Tata group Founder, Jamsetji Tata, in a letter to his son, Dorabji, enjoined him to earmark space in the new city they were building for playing fields.
Dorabji paid heed to his father's words and set the foundation for Tata Steel's sporting commitment. In later years, Tata Steel created the infrastructure for several sports, particularly football, hockey, archery and kabaddi, opening up opportunities for local communities. The company also supported a number of sportspersons, whose exploits earned them 1 Padma Bhushan, 11 Padma Shree, 1 Khel Ratna, 1 Dhyan Chand, 6 Dronacharya and 42 Arjuna awards.
It was this commitment that led to Tata Steel being recognised as the 'Best organisation contributing in sports through CSR' at the FICCI India Sports Awards 2020. Sourav Roy, chief, Corporate Social Responsibility (CSR), Tata Steel, says, "Sports allows for an expression of one's inner self, emotions, talent as well as traditions; and a full expression of oneself, in turn, lays the foundation of confident, strong-willed individuals."
The same sentiments are echoed by Jiren Xavier Topno, head – Tribal Culture and Urban Services, CSR, Tata Steel, who says, "Sports implants discipline and hunger for victory in a person. Tribal sports, promoted by Tata Steel Foundation, endeavour to bring out the cultural values ingrained in them."
Tool for transformation
The effort of harnessing sports to improve the lives of young people began as a way to keep them occupied. Ashish Pandey, executive – Sports, Tata Steel Rural Development Society, says, "The motive behind running our sports centres is to mobilise the communities in which we operate, especially tribals, and enable them to use their energy constructively."
Tata Steel's army of people working in various areas of community service have their ear to the ground. They bring word about any community that requires support for playing a particular sport. Mr Pandey says, "We then do a recce of that place to figure out the facilities available there, and how we can support them. We also understand which sport the people have an inclination for."
Mr Roy adds, "Every place has its organic talent and we tap into that ability." The company's yearly feeder centres are the foundation of the infrastructure. They are the first point of contact for youngsters looking to make their mark in sports. Tata Steel also runs biannual tournaments for all four sports, where scouts from elite teams and academies such as Jamshedpur FC and Tata Football Academy pick up cadets with potential in different age categories.
The best performers, a small percentage, find their place in the elite academies that Tata Steel has created for these sports. These students have their boarding, lodging and training needs taken care of by the academy.
For the rest, other opportunities open up in the form of institutions created by the government, army, etc, that are looking out for good players. Mr Roy says, "Some of our children have gone to academies in Chandigarh and Kerala. Our coaches travel with them and prepare them for the trials. Children who demonstrate competence in sports can also explore a career as a coach or in sports administration."
Tata Steel has coaches on its roster to nurture the trainees. In turn, these coaches benefit from being part of the steel major's sporting ecosystem.
Equal opportunities
Sports presents a fantastic opportunity for girls who don't otherwise have a chance to make their mark outside the four walls of their homes. Parents are often reluctant to send their daughters out. Tata Steel's ecosystem, with the comfort of role models like Deepika Kumari and Purnima Mahto who hail from the community and have made it big, inspires parents to let their girls opt for a sport.
Mr Roy says, "A few years ago, we realised that Jharkhand did not have a state handball team for women. So we started training some girls informally. Today, those girls are on the Jharkhand state handball team."
Participation impact in 2019-20
Tata Kolhan Super League 2019: 27,088 participants

Archery tournament: 1427 participants

Joda Inter-village tournament (volleyball, football, inter-school athletic meet): 347 participants

Grassroots and Youth Football Festival, Kalinganagar: 520 participants

District and Block level tournament in collaboration with District School Sports Association, Kalinganagar: 1625 participants
Promoting indigenous sports
Games are an integral part of tribal culture. Mr Roy says, "We see indigenous sports as a marker of tribal identity. We encourage tribal sports like Kati, Sekkor and Chur in a manner in which the community continues to own the sport and the outcome."
Tata Steel has introduced a codification of rules that would help govern how these sports are conducted. The team conferred with elders of tribal communities to understand the rules of the sports and the fundamental native beliefs linked to them, as well as the support that was required to enable them to flourish.
Tata Steel now organises and co-sponsors the Kati League, inviting 10,000 tribal youngsters from Jharkhand and Odisha to compete in Sekkor at the village and block levels. These players are preparing to compete within the Naga wrestling ecosystem.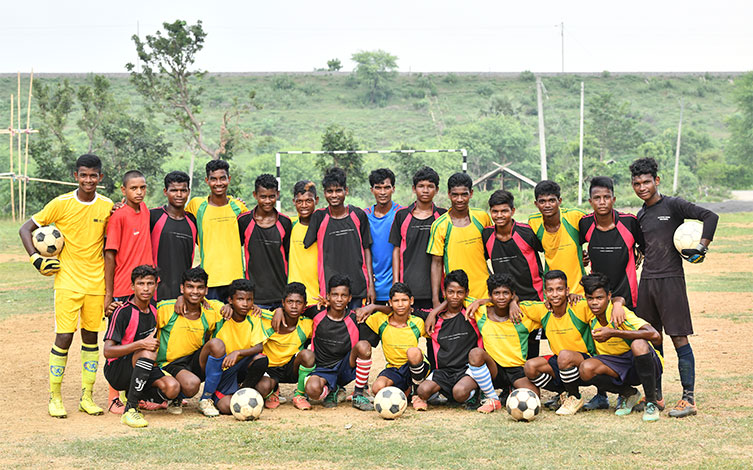 All-round development
Beyond training youngsters for a sports-related career, Tata Steel is also paying attention to their educational needs. Mr Roy says, "We introduced the bridge education system for the benefit of those kids who needed help before they entered the formal education system. We encourage children to aspire to attain a degree because the reality of sporting excellence is that not everyone will be successful at sports."
The coaches make sure that every child is enrolled in school. Those who have dropped out of school or have not been enrolled are made to attend school regularly. The coaches who interact regularly with the children act as mentors. The children also go through leadership and skill development camps where they learn valuable life skills. Even if a child fails to make it to the professional level in a chosen sport, they could still make a success of their lives.
Another aspect that Tata Steel is serious about concerns nutrition. The youngsters benefit from the nutritional supplements that they receive. The children are also mapped by their height and weight to ensure that none are malnourished and that all are growing well.
Power of sports
Nelson Mandela once said, "Sport has the power to change the world. It has the power to inspire, it has the power to unite people in a way that little else does. It speaks to youth in a language they understand. Sport can create hope, where once there was only despair."
For the communities living around Tata Steel's business operations, the sporting infrastructure offered by the steel major is a huge opportunity, giving young children the launch pad they need to soar into a better future.
—Cynthia Rodrigues