December 2018 | 529 words | 2-minute read
On a sunny November afternoon, we decide to go on a shopping trip of a different kind. We head to the Star Market outlet in South Mumbai. A part of Star, a multiformat retail chain that is a unit of Trent Hypermarket Pvt Ltd (a Tata-Tesco enterprise joint venture), Star Market aims to offer a one-stop destination for customers to fulfil their monthly and top-up household needs.
As we step into the 7,500sqft air-conditioned store, which celebrated its first anniversary in December 2018, the ambience is set up to tempt. Grabbing a shopping cart — conveniently stacked to get buyers started —we make our way into the wide shopping aisles that ensure you don't bump into other shoppers.
What We Found
While this may not be the biggest Star Market, the tall shelves here are neatly and intelligently stacked with every conceivable household item; the spread includes both local and international brands across price points that cater to a wide range of customers. The store also meets the modern consumer's preference for healthier and all-natural healthcare, personal care and food products. There is a special selection of organic food, which can sometimes be difficult to come by.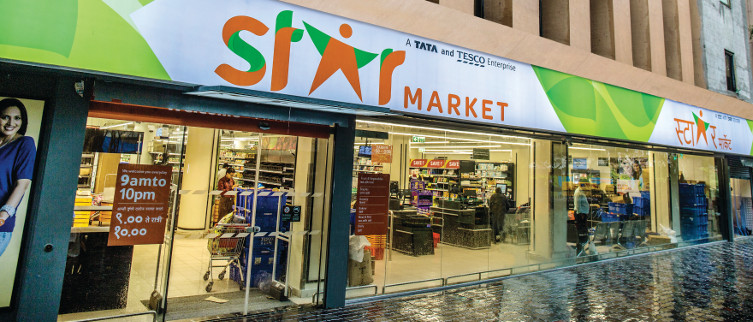 The best value proposition of the Star multiformat stores is the fresh, high-quality produce, which includes exotic produce as well as GAP (good agricultural practices) certified foodstuffs. This Star Market is no exception, with shelves stocked with fresh produce that is directly procured from the farmers.
Then, there is the unique range of home brands across categories, including FABSTA. The newest Tata brand for food and beverages offers products from the familiar tomato ketchup and papad to coriander-mint sauce, tomato-date chutney, and they are exclusively available at Star stores.
The live counter for meat, poultry, seafood and dairy is a non-vegan's delight as is the cheese counter that is stocked with everything from the classic cheddars to the more modern specialty cheeses.
With an abundance of items, competitive pricing and a slew of special deals — like offers on leading brands, cashbacks on marquee food brands and a loyalty programme that incentivises customers on their monthly spends — Star Market is not only offering its customers value for money but engaging them in new ways to transform the in-store shopping experience.
The staff are polite, patient in the face of numerous queries, helpful enough to answer questions even on aisles they were not manning and willing to find out anything they may not know the answer to. When asked for products that were not available, they always have a helpful alternative.
Green Nod
Five check-out counters and four separate quick check-out counters ensure that you don't have a long wait. The experience also stands out because of the bio-safe compostable bags they use and the ongoing plastic bag buyback campaign, which keeps in touch with the Tata ethos of giving back to society.
While there are numerous options for grocery shopping, it is the attention to every detail from entry to check out that probably sets Star Markets apart. And, as it turns out, they didn't need a heads-up after all.
—Ketayun Bamji & Namrata Narasimhan