May 2021 | 713 words | 3-minute read
For most of us, dishwashing is drudgery. One look at a sink stacked with dirty dishes — greasy plates, oily pots and pans, and teacups with dregs — can be off-putting. And, you wish you did not have to soil your hands to clean them. Well, the Voltas Beko tabletop dishwasher fulfills your requirements by getting dirty dishes spotless.
Pandemic pushes demand
According to news reports, the demand for home-cleaning consumables — detergents, brushes, mops, and sundries — grew by over 45% during the pandemic. Sales volumes for cleaning appliances — vacuum cleaners, washing machines, and the hitherto low-selling dishwasher rose by 25%. The dishwasher segment by itself is witnessing a 200% year-on-year growth in sales.
Traditionally, India had never been a large market for dishwashers. Before the lockdown, only 1% of category A households had invested in them. Among other reasons, lack of space, kitchen layouts, and a perception that dishwashers could not clean utensils used for Indian cooking held back families from making this purchase.
The Voltas Beko tabletop dishwasher has challenged this notion. A bestseller in its category, its compact size (55x50x59.5cm) is ideal for an average city kitchen. The model under review — the 8 PS Portable Countertop Dishwasher DT8B — has powerful waterjets with up to 70 degrees that can clean oil, turmeric, and other Indian masalas and has just the right loading capacity that fulfills the requirements of a small household.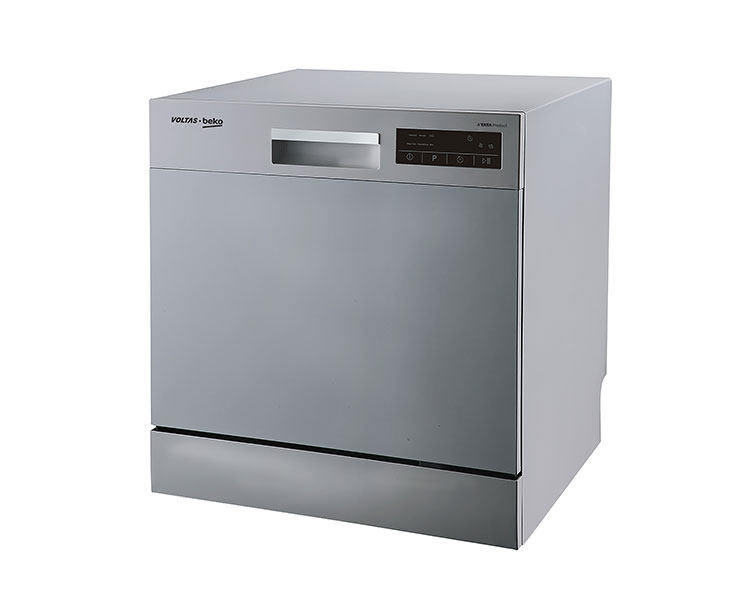 The setup
We purchased a Voltas Beko dishwasher. The machine was placed in the 3x10 feet utility area outside the kitchen and as per the technician's recommendation, we set it up on a stand with wheels, as the water outlet requires to be at a height to allow an easier outflow of water.
For dishwashing, a specific detergent, salt, and a RinseAid solution is required. The detergent comes in two options: powder form to be filled up for up to 20–30 washes or a tablet to use per wash. The salt helps soften the water and prevents limescale. There are convenient slots to pour in these cleansing agents and a funnel (thoughtfully provided) to crush the salt. The technician who visited us also showed us how to place the utensils and cutlery and manage the settings.
Using it
The operating panel is simple. The least soiled utensils — cutlery, plates and cups — can do with an 'Eco-wash' or a 'Mini' wash, with a one-and-a-half-hour running time. The heavily soiled vessels need an 'Intensive' wash cycle, which runs for three hours. The 'Normal' cycle — likely to be used by most users — has a two-and-a-half-hour run.
We loaded the dishwasher with four fine china plates, one ceramic bowl, three small serving bowls, one five-litre pressure cooker, a medium-sized non-stick kadai (wok), a non-stick skillet, six spoons, and two forks. We also placed a stainless-steel pot, which had milk residue and tea fragments stuck to the bottom. As there was still some space, a few drinking glasses and a tadka (tempering) pan was placed too. Wood, aluminum, copper and non-microwavable plastic cannot be put in the dishwasher.
The verdict
After exactly two-and-a-half hours, the indicator beeped. As advised by the technician, we waited for 20 minutes for the machine to cool down.
The outcome: 100% clean and warm dishes. The water temperature in the 'Normal' cycle ranges from 45 degrees to 68 degrees (while rinsing).
We were a little worried about the kadai as we had used it to prepare fish, but it came out with zero odour and squeaky clean. So was the pan which had been used for brewing milk and tea. The rinsing was so thorough that we didn't find any droplets except for a few in the pressure cooker.
Shift to the dishwasher
The Voltas Beko DT8B is a really good buy for a small family. Besides, the machine is compact; even if you don't have space, a stand can help you roll it away after use.
It is reasonably affordable, with the pricing available on www.voltasbeko.com. Your monthly consumption of detergent, salt and solution could range between Rs 500 and Rs 800. Contrary to popular perception, dishwashers consume less water than manual washing.
A generation ago, the washing machine freed up time for more productive pursuits. In the post-pandemic world, the dishwasher promises to do the same.
—Haroon Bijli