September 2022 | 776 words | 3-minute read
Walking into the casino of the notorious Russian mafia boss Valentin Zukovsky in the movie, The World Is Not Enough, James Bond, the fictional British secret service agent, sports his special X-ray sunglasses to zero in on the rogue's henchmen, thereby getting a head start before confronting the don himself.
If Q's (for Quartermaster, a fictional character in Bond films) inventions ensured James Bond rarely ventured on a mission without the right gear, Titan Eye+, the EyeCare business from Titan Company, is equalling it technologically by revolutionising the eyewear market with its smart, trendy and hands-free glasses — Titan EyeX.
Smart tech to my rescue
I'm just about to enter the Titan Eyeplus showroom at High Street Phoenix, a busy mall in the heart of Mumbai, when my mobile rings. Balancing my shopping bags, I try to dig out the incessantly ringing device from the depths of my handbag, feeling quite flustered at not being able to lay my hands on it pronto. Well, I needn't feel so uptight any longer!
With my all-new Titan EyeX frame, Titan EyeX-692C — a unique code number allotted to each pair — I just need to double tap the right temple of my smart frame, to hear the voice of my 5-year-old daughter on the other end without even having to hold my phone. Honestly, it made me feel as if I was armed with gadgetry from a Bond film.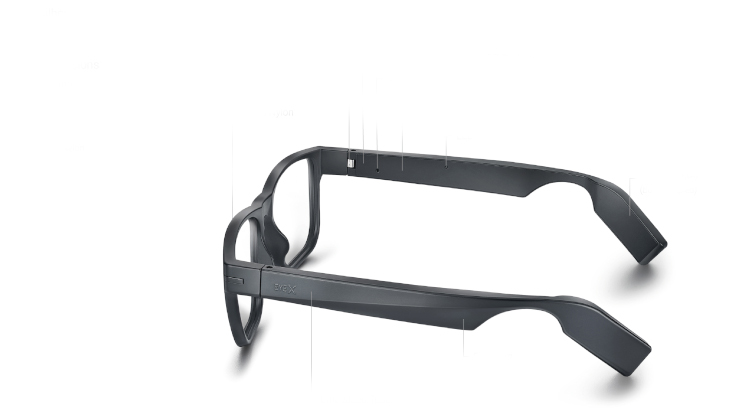 The two-minute call was clear and unobtrusive, even as I typed away on my laptop while talking to her. Equipped with Bluetooth version 5.0 with True-wireless, open-ear speakers and dual array microphones with active noise cancellation and clear-voice-capture technology, enabling minimisation of ambient noise and ensuring optimum sound quality during calls, my Titan EyeX-692C frame clearly isn't a regular prescription eyewear, but a smartwear that goes way beyond providing just vision clarity.
Tech guide
Connection: 5.0 Stereo Dual Mode Classic and Bluetooth Low Energy (BLE)
Audio: Stereo True-wireless (TWS) with open ear audio; Clear Voice Capture (CVC) noise and echo cancellation with adaptive Noise Dependent Volume Control (NDVC) technologies
Controls: Capacitive sliding touch on both left and right temples
Battery: Up to 4 hours battery life for continuous use
Build: Microchip powered by Qualcomm processor with built-in Bluetooth
Compatibility: Android or iPhone with BLE support
Much smarter
Equipped with not just visual but hearing acuity as well, I could enjoy music on the go without having to plug in earphones; moreover, I could change the music track by just sliding my finger forward and backward on the right temple of the frame and control the volume by using the touch controls on the left. With Titan EyeX's open-ear wireless audio, I could enjoy music and yet be aware of my environs, which makes it safer for outdoor use.
The built-in pedometer is a wonderful feature that helps me keep track of my daily step count and the calories burnt and is particularly helpful for someone who has never traded her traditional wristwatch for a fitness band.
Even clicking selfies is more fun. Focusing the phone camera, I just swiped forward on the left temple to click the picture. Titan EyeX not only serves as a timekeeper and weather forecaster but also assists in switching slides with a single swipe while making a presentation, along with a built-in tracking feature to trace the glasses should they be misplaced. Besides, its IPS4 rating assures protection from dust and water.
The EyeX App that supports the EyeX frame is available on both Android and iOS-based devices.
My personal assistant
Designed to work with virtual voice assistants like Siri, Alexa, and OK Google, I just need to double tap on the right temple of my Titan EyeX-692C to activate them. Besides, the audio-notifications functionality enables me to set an eyecare routine that gives my eyes the much-needed rest from continuously gazing at the screen. The only nudge needed was activating the 'Blink Reminder' and the '20-20-20' rule on the app, to prevent eye strain.
With the built-in online eye assessment tool, I could easily test myself for colour vision deficiency, astigmatism and even check my prescription number without visiting the ophthalmologist.
The look
I found Titan EyeX to be stylish, comfortable and lightweight. The frame's midnight-black colour — with inconspicuous buttons, charging ports, and an uncluttered design — imparts a certain appeal and style. Wearing it straight for eight hours, the frame's ergonomic square full-rim design along with the gently contoured temples ensures that comfort is not compromised — making it a compact irresistible all-day wear.
Priced at Rs 9,999 (cost of prescription lenses extra), Titan EyeX is truly a game-changer just like the company that has invented it! 
—Arushi Agrawal