January 2019 | 1580 words | 6-minute read
It was in 1932 that JRD Tata undertook India's first air service flight and went on to become the pioneer of civil aviation in the country. Today, nearly 87 years later, the Tatas are still making strides in aviation.
From Tata Air Lines and the long-since nationalised Air India to strategic joint ventures with AirAsia Berhad and Singapore Airlines (SIA) for AirAsia India and Vistara, respectively, Tata has constantly reached for the skies. The two joint venture airlines operate independently with their respective business models — low-cost (AirAsia) India and full-service (Vistara).
Vistara scaled up its operations significantly in 2019 by adding nine Boeing 737-800NG aircraft to its fleet and taking the final count of aircraft to 31 which helped the airline expand its network by more than 50%.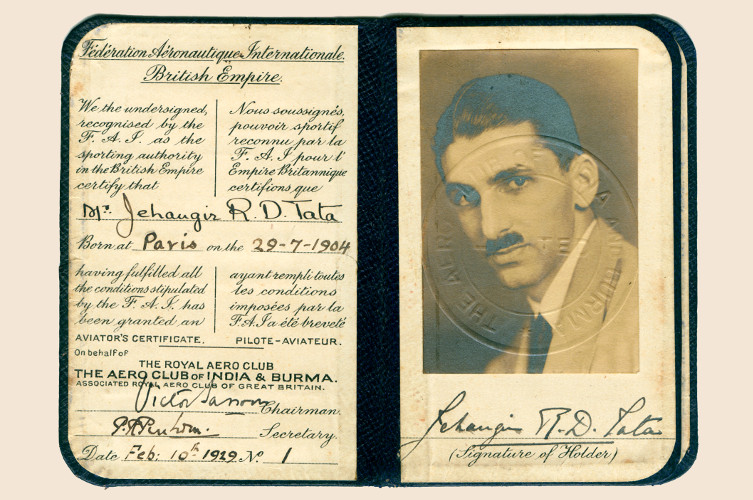 AirAsia India commenced operations in 2014 and has 23 aircraft; it flies to 21 destinations across India with 630+ weekly flights. Into its fifth year of operations, AirAsia India has ambitions now to connect more tier II and tier III cities within the Indian subcontinent and a long-term view of going international. 
Spreading its wings
After the shutdown of another Indian airline, Vistara and AirAsia India took the opportunity to expand their domestic operations by launching new routes. With 31 aircraft today, Vistara flies to 27 destinations across India and abroad, and operates over 1200 flights a week.
Vistara is now poised to expand to other geographies across the world as it prepares to add 10 more aircraft by March 2020 to its fleet, including the wide-body Boeing B787-9 that will be used for long-haul operations. The airline has ordered 6 such aircraft in addition to 50 new aircraft from the Airbus A320neo family (including Airbus A321neo) that will join its fleet in the next four years.
Commenting on the airline's expansion plans, Leslie Thng, CEO of Vistara, says, "In the next two to three years, I would say that in terms of ASK (available seat kilometres), domestic operations would still be acquiring a larger proportion compared to international, as we would continue to expand our domestic operations. If you extrapolate further, going five years down the road, we could possibly look at a 50:50 ratio."
Meanwhile, the amendment of the 5/20 rule enabled Vistara to go international before completing five years of operations, the first Indian airline to be able to do so.
The 5/20 rule earlier restricted Indian carriers to fly abroad until completing five years in operations and having a fleet of 20 aircraft. However, the rule was amended in 2016, permitting Indian airlines to fly on international routes if the airline had 20 aircraft in its fleet. Vistara inaugurated its international operations with flights to Singapore, Bangkok and Dubai in August 2019.
In line with its efforts to provide an extended worldwide network to its customers, Vistara expanded the scope of its existing codeshare agreement with Singapore Airlines and SilkAir to include international flights.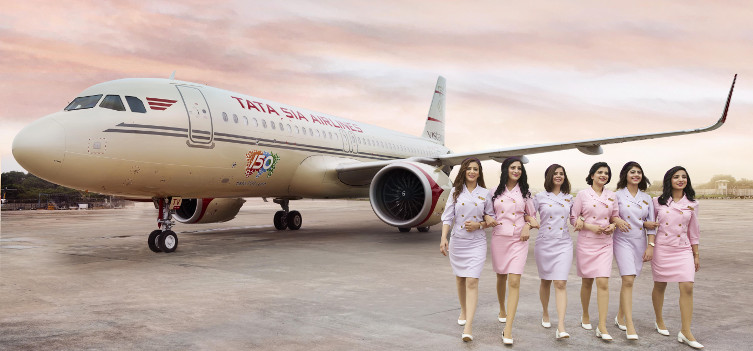 As part of the extended agreement, Vistara will add its 'UK' designator code to SIA- and SilkAir-operated flights between Singapore and eight destinations in India, namely Ahmedabad, Bengaluru, Chennai, Cochin, Hyderabad, Kolkata, Mumbai and New Delhi. Vistara will codeshare on services to more than 40 destinations in the SIA and SilkAir network across Asia, Oceania and the United States.
AirAsia India too has some ambitious plans. From the current 23 aircraft, it hopes to scale up to 40 by March 2020. Having completed five years of flying domestically, it is hoping to get approval to start flying internationally by the end of 2019. 
Mr Bhaskaran says, "Indian aviation has been in a bright spot in recent years, and for the last 10 years it has grown by an average of 20 percent y-o-y. AirAsia Berhad brings in great domain understanding of running a low-cost airline and has been recognised as the world's best low-cost carrier by Skytrax for 11 years in a row (since 2008)."
Customer-centric focus
AirAsia India and Vistara's journey so far has been phenomenal. While the former is building a brand with a highly efficient service and superlative customer experience, Vistara has now become the highest-rated airline on consumer platform TripAdvisor and airline ranking platform Skytrax.
Vistara has introduced several industry-first services which include pioneering the concept of Premium Economy in domestic skies and launching a three-class configuration (including Business and Economy Class cabins); introducing the first value-based frequent flyer programme, Club Vistara, which is the fastest rewarding and least restrictive; opening a signature lounge at T3 Delhi airport; installing robot RADA to assist travellers at airports and bringing Starbucks coffee on-board for customers in the two front cabins. 
Vistara also became the world's only airline to assure a window or an aisle seat to solo women travellers and provide complimentary arrival assistance that includes baggage claim and arrangement of transportation from the airport by authorised service providers upon request. It is also the first Indian airline to provide sanitary napkins on all domestic flights.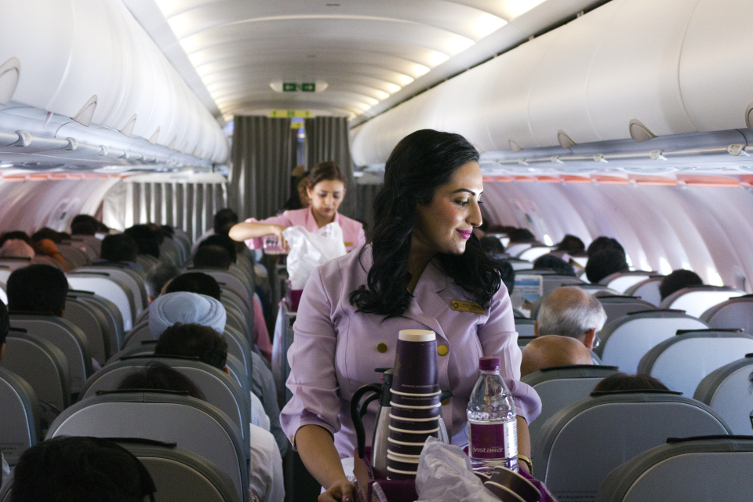 AirAsia's 'Santan Menu' offers a variety of meals. For the last few months, the Directorate General of Civil Aviation (DGCA), Government of India, has placed AirAsia India, second in the On Time Performance (OTP) rankings. The airline has also topped the charts for the least number of passenger complaints. 
"As a part of the tourism and travel industry, where consumers are at the core of our business, we aim to curate promotional campaigns that resonate with the masses and help establish personal connections. With the aim of promoting tourism in India, we recently conducted travel fairs in Jaipur, Visakhapatnam and Bhubaneswar. As one of the most preferred low-cost carriers, we urge flyers to visit these travel fairs and avail exciting offers," Mr Bhaskaran adds.
Getting on with the times
Vistara is positioning its brand as an airline with a global, contemporary outlook and an Indian soul. Mr Thng shares, "Our awards and accolades speak for this: whether they are by Skytrax or a consumer platform like TripAdvisor or celebrated travel publications like Conde Nast Traveller. These awards affirm that our product and service are world class and help us create more awareness of our brand."
In this day and age, passengers insist on accountability which means swift redressal of grievances by airlines. "We have deployed a single window support system to cater to their requests through our digital channels. We have dedicated teams, who use the best social media listening and monitoring tools to keep a track of consumer sentiments and reach out to them to help with their queries and concerns. We have also introduced AVA(chatbot) as part of an update to our website and mobile apps. AVA, available in eight languages, will assist on live chat, responding to inquiries instantly," Mr Bhaskaran says.
What lies ahead
Infrastructural challenges such as runway shortage, metro cities needing two airports and lack of airports in tier II and tier III cities persist. Operational issues like slot constraints and capacity constraints also impede the growth of the Indian aviation ecosystem. The government's increased impetus on infrastructure improvement and the initiatives rolled out by the Ministry of Civil Aviation are encouraging.
Mr Bhaskaran says, "While the growth story has been fantastic with some significant improvements in the overall infrastructure supporting the growth of aviation, yet most airlines have not been very profitable. However, all indicators are lining up to show continued growth in Indian aviation over the next decade."
Mr Thng concurs, "We're very hopeful that these steps coupled with the growing demand for air travel in India will elevate the country's position in the global market."
Another determining factor is pricing. India is an extremely price sensitive market. In such a scenario, high airport charges and other operating costs limit passenger demand which is then captured by other modes of transport. 
"In the Indian context, the pricing strategy of AirAsia India is in line with the low-cost players operating in the aviation landscape. The whole pricing policy is based on the concept of unbundling the product so that a low price point could be offered for the most basic flying service and all ancillary services can be availed at an additional cost. This makes a plain vanilla unbundled flight easier on the pocket and doesn't force the passenger to pay a higher price," Mr Bhaskaran adds.The aviation sector is set to expand and with it are the ambitions of the Tatas.
Did you know?
Vistara has flown more than 5 million customers in the last one year, while the fleet size has also expanded significantly. 

With 31 aircrafts today, Vistara flies to 27 destinations and operates 170 flights per day. 

AirAsia India has flown a total of 191,074:26 (Hours:Minutes) since its inception. 

AirAsia India has 23 aircrafts, reaching 19 destinations with 165 flights. 

In 2015, AirAsia unveiled an aircraft named 'The Pioneer', with livery dedicated to JRD Tata. 

In 2018, Vistara introduced 'Vistara Retrojet', which resembled the aircraft used in the 1940s by Tata Airlines. 

Vistara is the only airline to offer the choice of Premium Economy class for travel between India, Dubai and Bangkok, in addition to Economy and Business Class. 

Vistara is the only airline in South Asia and Southeast Asia to offer freshly brewed Starbucks coffee onboard. 
—Esther Cabral