January 2023 | 1853 words | 7-minute read
In 2012, when Tata Starbucks Ltd opened its very first store in India, tucked into a stately colonial building in Mumbai's exclusive downtown area, hundreds of eager customers queued up, waiting patiently in the sticky October heat for a taste of the international brand.
The world's largest coffeehouse chain had taken its time making its debut in the country; back then, it had approximately 17,600 branches in 61 countries already, but none in India. This was largely because the Seattle-based coffeehouse and roastery reserves giant was seeking the perfect partnership for a market as complex as the one in India. And they'd finally found it in the Tata group.
Today, a decade later, the thriving 50:50 JV between Tata Consumer Products Ltd and Starbucks Corporation has over 300 stores across 36 cities in India and continues to be bullish with its expansion plans in the country. "We remain deeply committed to scaling our footprint in the Indian market through increasingly innovative and relatable offerings that address our consumers' constantly evolving appetite, while also continuing to deliver value and enhanced in-store and online experiences for consumers across India," says Sushant Dash, CEO, Tata Starbucks. "Tata Starbucks has always gone beyond the cup to create positive experiences that make our customers return to our stores time and again. Over the years, we have led the Indian coffee industry in pioneering a premium coffeehouse experience while setting new benchmarks in being socially responsible, strengthening communities and being one of the most loved coffee brands in India."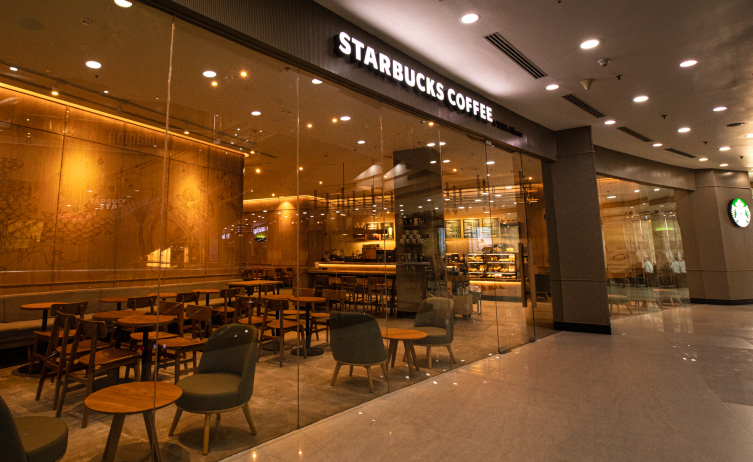 Changing tastes, celebrating tradition
India has always been a tea-drinking nation, barring regions in the south. So it was, when Tata Starbucks entered the market 10 years ago, though the then $230mn café landscape in the country was slowly evolving. At a time when coffee was still seen as an occasional drinking experience, it was important for the company to establish the iconic and cherished Starbucks experience known around the globe, thus leading change in the food and beverages topography in India.
"With time, the nation's taste for coffee has continued to develop," says Mr Dash. "In the last five years alone, we have seen a growing appreciation for premium coffee, where customers are looking for high-quality brews and beans, whether it is from across the world or single origin coffee."
Apart from introducing the savvy, well-travelled Indian customer to Starbucks' greatest international hits, with a diverse food and beverage menu, Tata Starbucks' has always celebrated beloved local flavours as well. Even as the first store was opened, Starbucks' iconic muffins enjoyed shelf space with tandoori paneer wraps, and the brand has periodically introduced products and flavours that are especially suited to the Indian market. 
Most recently, Tata Starbucks piloted its smallest beverage size, Picco (6oz or 175ml approximately) in four cities — Bengaluru, Gurugram, Indore and Bhopal — following customer research that indicated Indian customers consume smaller cups of coffee and tea. "Introducing Picco ensures our signature offerings are available in a size that customers are both familiar and comfortable with," says Mr Dash. "In the same vein, we've also added flavours like Filter Coffee, Masala Chai and Cardamom Chai to our menu since these are very popular with our customers in India."
Additionally, Tata Starbucks has a new food menu that includes bite-sized and shareable food items that are a mix of Indian and international flavours, like Mushroom and Cheese Tart, Spinach and Corn Quiche, Bhuna Chicken Puff, Very Berry Sandwich, Hazelnut Triangle and Mushroom Onion Profiterole.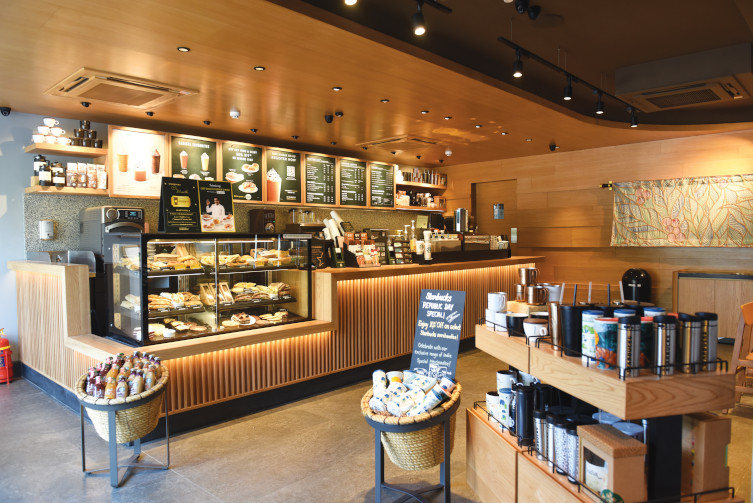 A fast-expanding market
There is no question that the Starbucks brand has performed exceptionally well in India. The country is one of the fastest growing markets for Starbucks globally, which currently operates 300+ stores in 36 Indian cities. Tata Starbucks achieved its highest expansion in India in FY21-22, with the opening of 50+ stores and 76 percent growth in revenue amounting to Rs 636 crore in sales. The momentum continued in FY22-23, with the opening of 32 stores in 10 new cities, including Jalandhar, Patiala, Nagpur, Anand, Calicut, Raipur, Dehradun, Udaipur, Bhatinda and Kolhapur.
"For over a decade, Tata Starbucks has delivered a world-class coffeehouse experience for our partners and customers across India," says Mr Dash. "We've continued to invest in our green apron partners, scale our presence through a thoughtful approach to store growth, and deliver locally relevant product innovation that excites our customers. In a dynamic and young market like India, we serve close to 3.8 lakh customers every week, and the member base for our loyalty programme, My Starbucks Rewards, witnessed a growth of 20 percent last year, which is close to 1.4 million customers. This is a living testament to the trust and love the customers have for us. We will continue to thoughtfully expand to cities where our customers wish to see us and become the neighbourhood store in newer markets."
The company has also been diversifying its portfolio with different store formats as part of its expansion strategy. In cities where the brand already has a strong presence, like Bengaluru and Mumbai, smaller footprint stores are growing, while new formats like the shop-in-shop store, highway stores and airport stores are also coming up.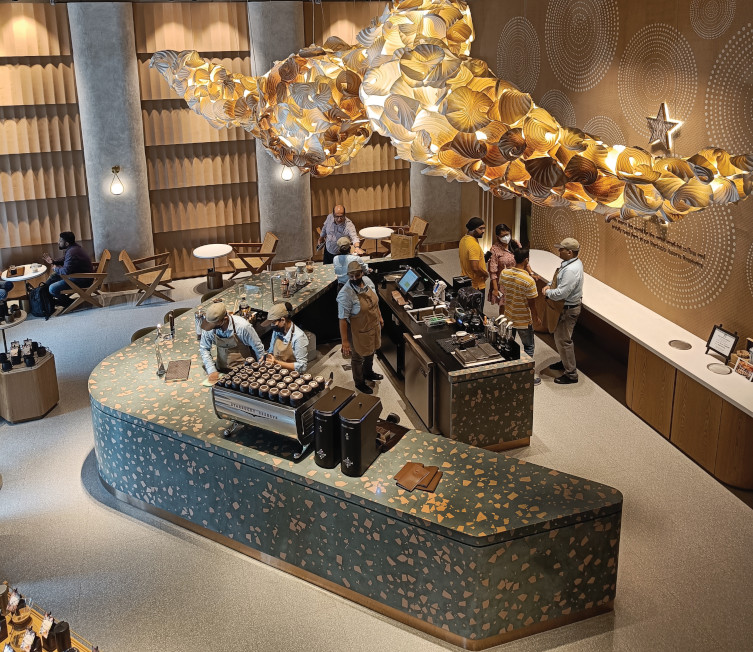 The Reserve experience
Tata Starbucks began its India journey with its flagship store in Mumbai's Fort area. It seemed only appropriate to the company to launch its very first Reserve store in the country, in the very same location.
The stunning 5,200 square feet space boasts artistic accents like the vibrant floor-to-ceiling mermaid mural with a stunning augmented reality experience, and an eclectic, locally-crafted sculpture that hangs moodily over the terrazzo bar. At the bar, are Starbucks' coffee masters serving up some of the brand's eternal favourites, as well as more exclusive concoctions.
"With Starbucks Reserve®, the brand is responding to a more advanced consumer appetite and preference towards coffee," says Mr Dash. "There has been a rise in coffee enthusiasts who are evolved and well-travelled, and it's our privilege to give them the best that the globe and our country have to offer."
Connecting with customers in the third (and fourth) place
Globally, Starbucks has provided its customers the liberty to customise their beverages, which has been a part of the authentic Starbucks Experience in India as well. But while store ambience, products, and the fact that it serves the world's top three percent Arabica, have been some of the primary ways that Tata Starbucks differentiates itself from other café players, the brand is aware that all these qualities — barring one — can be replicated by competitors.
"The key for us is our people," says Mr Dash. "Through their expert coffee knowledge and handcrafted beverages, our partners create the Starbucks Experience. Our partners, who wear the green apron and stand behind the bar, welcome you with a smile and know what you really want. That's the secret ingredient of Starbucks that makes us an aspirational yet warm brand; our partners make the 'Third Place' come alive across our stores and give customers a feeling like home."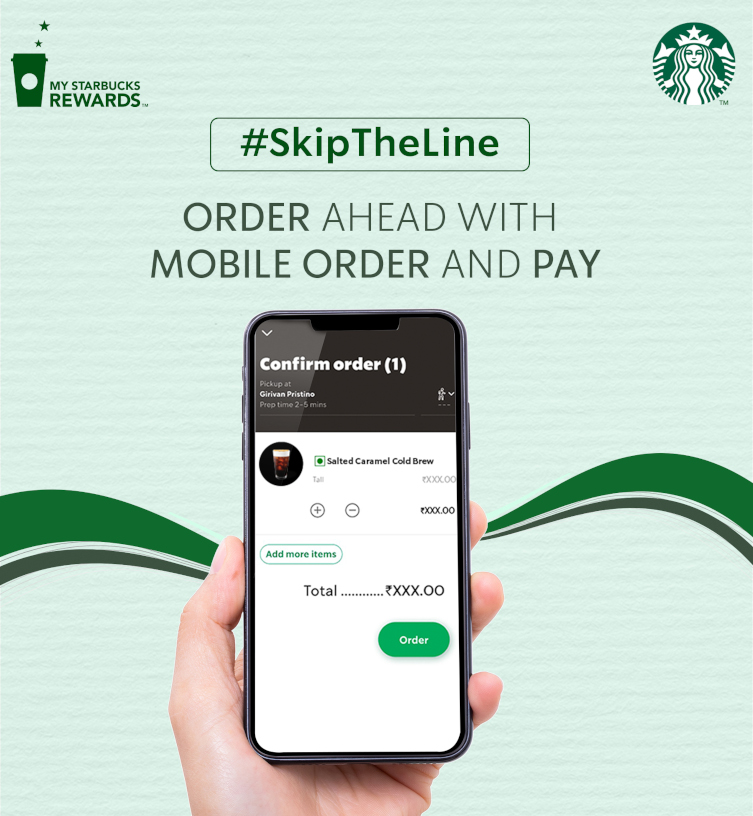 As a brand that puts such great emphasis on the 'Third Place' and connecting with customers, Tata Starbucks had to pivot and be relevant in the 'Fourth Place' — digital — when the pandemic hit in 2020. The brand focused on its delivery operations by investing in packaging solutions to deliver the best experience to customers, while continuing to expand its store footprint, and launching a series of digital initiatives.
Starbucks' Mobile Order and Pay (MOP) app, which offers customers the convenience of pre-ordering and contactless transactions.

The WhatsApp-based 'Scan-Order-Pay' solution that allows customers to make orders and payments through their phone.

Starbucks customers can also order their favourite beverage on delivery platforms like Swiggy and Zomato.

The brand partnered with Tata CLiQ Luxury (June 2021), Flipkart (October 2020) and Tata CLiQ (June 2022), to offer customers signature Starbucks merchandise. This supports the brand's vision of offering customers more ways to engage with the brand across digital channels, thus strengthening its e-commerce presence across India.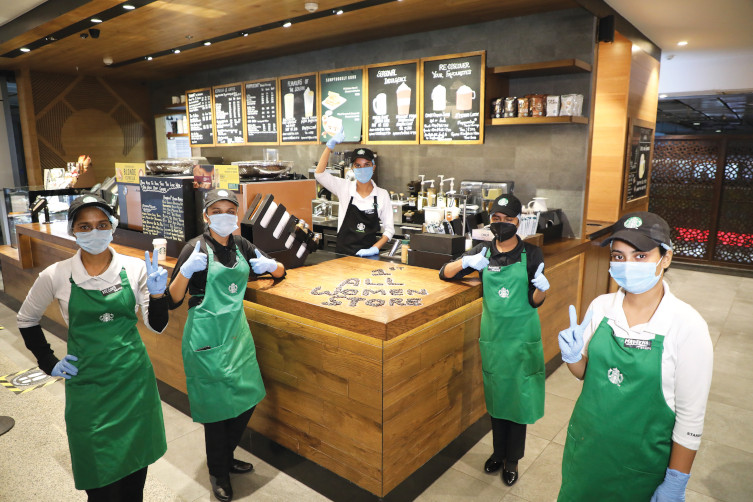 Nurturing partnerships
Tata Starbucks' mission and values reflect the brand's fundamental principle: 'Everyone is welcome!' Globally and in India, the brand has always championed diversity, inclusion and equity. By 2019, Tata Starbucks had achieved gender pay parity and today women make up almost 38 percent of its workforce (up from 14 percent in FY14).
Tata Starbucks' diversity initiatives have included Brew of Balance, which has, over the years, created flexible employment opportunities for talent returning to the workforce after a career break. The company offers enhanced bonuses to talent internally, to encourage them to share references. The company also promotes hiring 'second career' women through the Tata Second Careers, Inspiring Possibilities (SCIP) platform.
Additionally, during the pandemic, the company realigned and reassessed priorities by conducting extensive training sessions (especially for store partners) that were a blend of virtual classroom training and self-paced learning. The Starbucks Global Academy, a key learning platform, was also extended to families of partners, as well as vendor partners.
To the next 10
Tata Starbucks is optimistic about the future of the brand in the country, and is pursuing its long-term aspirations with specific commitments, including continuing with several of its current endeavours.
"The vision is simple," says Mr Dash. "To inspire and nurture the human spirit — one person, one cup and one neighbourhood at a time. We want to create a culture of warmth and belonging, where everyone is welcome, deliver our very best in all we do, hold ourselves accountable for results. And the results make it clear that customers in India are excited to engage with our brand. We are committed to further growth in India and are excited about the tremendous potential this market has to offer. The future has never been brighter for Tata Starbucks."
—Anuradha Anupkumar
Also Read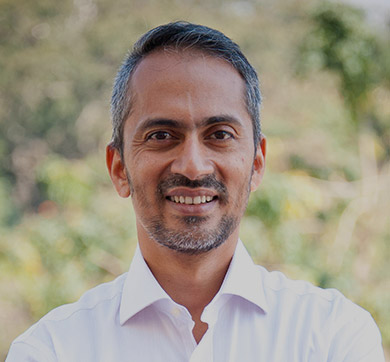 Leadership
Coffee Connects
Sushant Dash, CEO of Tata Starbucks, on building a deep sense of connection with customers.
Diversity
Breaking The Glass Ceiling
All-women setups at Infiniti Retail, Tata Power and Tata Starbucks are an affirmation of women's identities and contribution to society.