August 2022 | 1471 words | 6-minute read
On the face of it, the all-women customer care centres and stores run by Tata companies are no different from those where men and women share workspace and responsibilities. What sets these centres apart is the quiet yet powerful impact they have had on the mindsets of the workforce and customers alike.
In a situation in which a whopping 2 crore women disappeared from the Indian workforce between 2017 and 2022, leaving only 9 percent of the eligible population employed or looking for work, as reported by the Centre for Monitoring the Indian Economy, the all-women setups are an assertion of women holding on to their identities, an affirmation of their contribution to society, an acknowledgement that there is nothing that women cannot do.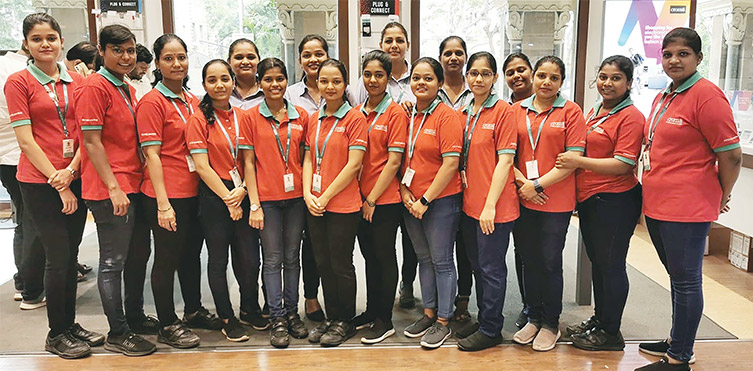 Croma
This is the underlying belief behind the two all-women stores run by Infiniti Retail's retail chain, Croma. The first all-women store opened in Chennai in January 2020, and the other in Mumbai in March 2021 to mark the occasion of International Women's Day.
The launch of the all-women stores embodies the organisation's focus and commitment towards driving diversity. Ravishankar Basavaraju, head, HR, Business Partner, Infiniti Retail, says, "We've always had women managing stores at various levels, especially at the customer interaction level. We, however, wanted to underscore the truth that women could manage not just a few positions in the store, but the entire store."
At the outset, certain stereotypes had to be overcome because roles such as warehouse in-charge at stores had predominantly been managed by men. The company set about the task by first looking into the safety and security aspects.
Mr Basavaraju says, "We ensured that the store location was well connected to the railway station and bus stops. We also tied up with a transportation vendor and a security team to ensure that women working after 8pm would be escorted home by a security guard."
With the safety aspect addressed, it was now time to find the right candidates for the roles. Mr Basavaraju says, "We circulated the news internally and first gave the opportunity to our women employees to take a transfer to the all-women stores. Hiring from outside was done only for positions where we could not find a suitable candidate in-house. For instance, the warehouse in-charge was brought in from outside."
The process of interviewing and onboarding candidates went off smoothly, and the Chennai store transitioned to an all-women store. History of sorts was made without much ado. While the company could make hiring decisions for its own staff, it was necessary to bring the brands (which deployed their staff to Croma stores) on board with the idea too. To make an impact, the brands too had to be willing to assign only women to the all-women store.
"Hiring is the easiest piece. We will keep fine-tuning our policies to make it easier for women to not only stay with us but also feel encouraged to build a career with us."—Ravishankar Basavaraju, head, HR, Business Partner, Infiniti Retail

While the performance of the store was comparable to similar stores in the region, Croma felt heartened by the show of support from customers who wrote in to say that shopping at these stores was a welcome experience. Besides, it sent out the right message to society that retail was an enriching, challenging and a happy place for women — an encouraging message for women from small towns who aspired to make a career in the retail industry. 
Today, with 55 women employees in the two stores (an additional 38 deployed by brands and 8 by vendors), Croma's all-women stores are doing well. With the current diversity ratio at 20 percent, the company is targeting a ratio of 28 percent by 2025. To achieve the target, the company plans to focus on three areas: hiring, retention and advancement. "Hiring is the easiest piece," says Mr Basavaraju, adding, "We will keep fine-tuning our policies to make it easier for women to not only stay with us but also feel encouraged to build a career with us."
On career progression, the company is drafting a mentoring programme, besides seeking inputs from the Bridges programme, jointly managed by Titan, Tata Starbucks, Tata Consumer Products and Infiniti Retail, where the objective is to cultivate mentoring relationships that provide mid-junior women employees with guidance and support in their career journeys.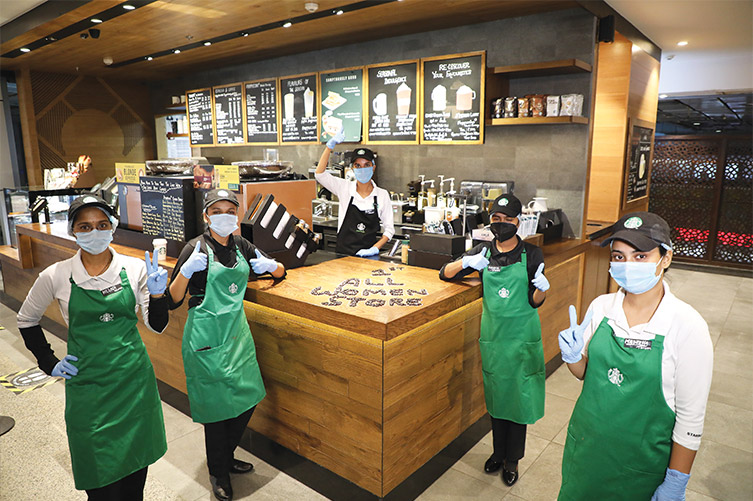 Tata Starbucks
With 11 stores staffed with 100 percent women employees (partners) across India, Tata Starbucks has shown that it is serious about gender inclusivity at the workplace. The company opened its first all-women store in Delhi in 2020. Heartened by the enthusiastic customer response, it set up 10 more stores in Mumbai, Pune and Bengaluru, and there are many more in the pipeline.
Nabamita Banerjee, head, Partner Human Resources, Tata Starbucks, says, "Women representation at the workforce is skewed in India. Additional levers are required to be able to provide equitable opportunities to women. Our all-women stores make a statement and go a long way in battling misconceptions around gender that a store cannot be run only by women. Our all-women stores, in fact, encourage women to work with pride and dignity in our cafés."
The biggest advantage of these stores is that they free up bandwidth, enabling the organisation to hire more women to work in the other stores. State laws require company arranged transportation facilities to pick up and drop women working on night shifts. This limits organisations with a dispersed store model from employing women beyond a certain threshold for stores located at malls and high streets. Nevertheless, the company provides transportation to all-women-run and other stores to navigate these challenges.
"Our ultimate goal is...to create opportunities for women to assume leadership roles."—Nabamita Banerjee, head, Partner Human Resources, Tata Starbucks

Women hired to run all-women cafés manage store functioning at all levels, including sales and inventory management, store closing procedures along with other key processes to ensure safety and security of partners and customers. Knowing these new skills paves the way for their career progression. "Our ultimate goal is not just to achieve 40 percent gender diversity by the end of 2022 (currently women make up 36 percent of the Tata Starbucks workforce) but also to create opportunities for women to assume leadership roles," adds Ms Banerjee.
What makes the offering sweeter for women are the company-led initiatives that bolster the culture of diversity and inclusion. Tata Starbucks also offers facilities like extended maternity leave, a five-day work schedule, flexible part-time employment model, childcare assistance, mentoring programmes and sabbatical leave.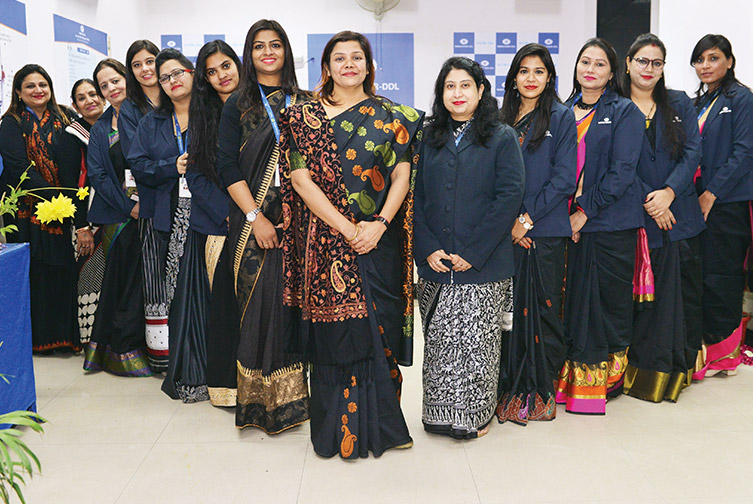 Tata Power
The power sector has been largely male dominated. The decision to proactively work towards gender inclusivity and women empowerment prompted Tata Power to set up its first all-women customer relations centre (CRC) in Andheri, Mumbai, in July 2018, a first for the industry. The centre had women not only in positions such as managers and customer relations executives but also in the roles of security guards and housekeeping staff.
Subsequently, Tata Power set up three additional all-women CRCs at Borivali, Khar and Ghatkopar suburbs of the city. Tata Power Delhi Distribution runs two all-women customer care centres in North Delhi, with the first inaugurated in December 2018 and the second in January 2019. Each centre is managed by a 10-member-women team that performs the roles of customer relationship executives, customer care supervisors, and cash collection staff. Besides, Tata Power Ajmer Distribution and Odisha Distribution companies have also set up their own all-women CRCs. The Sambalpur customer care centre is part of Tata Power Western Odisha Distribution while the all-women customer care centres in Cuttack and Puri are part of Tata Power Central Odisha Distribution. At all these centres, women personnel, trained to handle all aspects of customer service, render assistance in filing new power supply applications, receiving monthly bill payments and addressing customers' concerns and queries among other things.
The rationale behind setting up these centres is the belief that women are generally more instinctive, patient, gentle, caring and empathetic. These attributes enable women to handle their tasks with aplomb, particularly when dealing with irate customers. Nilesh Kane, chief, Distribution (Mumbai Operations), says, "They are our ambassadors, creating awareness among customers about our utility and helping us enhance business. We acknowledge the strength of our workforce and encourage them to take ownership in performing their duties."
Apart from product and process knowledge and soft-skills training, women selected to run the all-women CRCs are imparted training on the Tata Code of Conduct and the Prevention of Sexual Harassment policy. Soft skills training and product and process knowledge are the other elements that ensure their readiness for the new roles. The all-women CRCs serve the dual purpose of serving the customer better and empowering women to assume leadership positions by giving them challenging roles that help to hone their leadership qualities.
—Cynthia Rodrigues