November 2021 | 736 words | 3-minute read
My over-the-top (OTT) content consumption has spiked exponentially since the pandemic struck the shores of India, compelling us to remain indoors, and I'm certain that's also the case with most of you.
At first I was thrilled as I watched my favourite shows and movies to my heart's content; but the binge-watching phase didn't last long, as I got bored of it all; and then ended up spending hours watching similar kind of content on a particular app alone.
The Tata Play Binge range
A few months later, I learnt about Tata Play Binge+ and was curious to find out for myself, the experience and convenience of watching both linear channels (broadcast via satellite) and OTT content from popular apps on Tata Play Binge+ smart set top box (STB).
With three Binge products in its stable, namely Tata Play Binge on Amazon Fire TV Stick-Tata Play edition, Tata Play Binge+ and Tata Play Binge mobile application, Tata Play is pampering its subscribers like no other direct broadcast satellite service provider. The first two products — Tata Play Binge Fire TV Stick and Tata Play Binge+ — are for those who wish to consume their favourite OTT content on a TV screen instead of watching it on their smart phones or tablets, or even for those who don't have a smart TV yet!

Unboxing and installation
Tata Play Binge comes with the Tata Play edition of an Amazon Fire TV stick and remote. Once plugged into your TV, select the applicable HDMI port and watch live TV or OTT content from popular apps. This product offers OTT content as an add-on service to the Direct-To-Home (DTH) connection, which makes it a great proposition for the new-to or occasional OTT viewer.
The Tata Play Binge+ product consists of an Android STB and remote, with a one-time cost of Rs 2,499 for new subscribers and Rs 1,999 for existing Tata Play subscribers who wish to upgrade their set top box. In this product, the switch over from live TV to OTT and vice versa happens seamlessly over the remote. This is a huge convenience for viewers who are habitual channel flickers and consume a fair share of both OTT and live TV.
Both Binge and Binge+ come with a one-month free subscription of Binge app (which includes access to 10 OTT apps) and Amazon Prime Video. Subsequently, subscribers pay a monthly charge of Rs 299 and Rs 129, respectively, in addition to the monthly live TV subscription.
The installation experience is smooth and user friendly. The Tata Play Binge+ STB is sleek; the remote is simplified and ergonomically designed, with well-spaced buttons. Thumbs up, all you need is a steady and high-speed Wi-Fi connection to enjoy uninterrupted viewing!
Why Tata Play Binge
Binge is a bundle of 10 popular OTT apps: Disney Hotstar Premium, Sony Liv, Zee5, Eros Now, Voot Select, Voot Kids, SunNext, Hungama, Shemaroo Me and Curiosity Stream, covering a wide variety of quality content.
The Tata Play Binge+ is a strong contender from other options such as Amazon Fire TV stick, Google Chromecast, Airtel Xstream Box and Dish SMRT Hub. After doing some quick math, I figured that the cost of purchasing a Fire TV stick and Android STB is comparable, but the combined subscription cost for availing Amazon Prime and the other bundled OTT apps works out as a far better deal than having to subscribe to each of these channels individually, making Tata Play Binge+ a strong value proposition.
As for the viewing experience, Binge's content curation across apps on its home page stood out as a clincher. It was a refreshing change from having to scroll recommendations app-wise on my Fire TV stick. I found myself spending much lesser time scrolling and getting down to actual watching far sooner than before.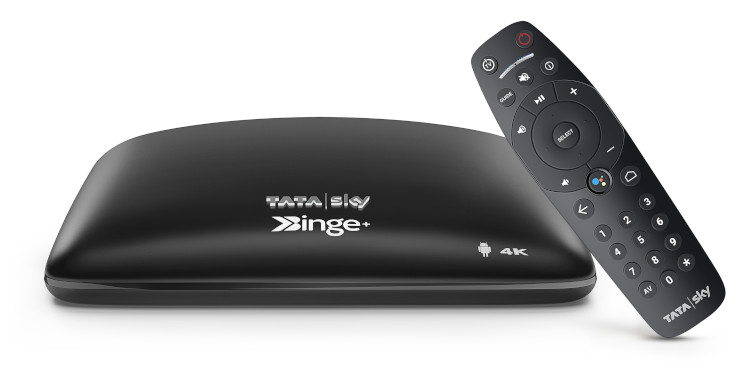 The sweetener is the Binge mobile app, which comes as a companion app to enable on-the-go viewing; what's more, it's also available for non-Binge customers at a nominal monthly cost.
The only missing piece in this product, however, is the exclusion of Netflix. This is a big whammy given Netflix's viewership and content popularity; its exclusion from the Binge apps might leave customers wishing for more.
Nonetheless, Tata Play Binge+ provides value for money by offering the best of both direct-to-home channels and OTT, along with well curated content that's easy to access and seamless to flick. 'Isko laga dala toh life definitely jingalala!'
—Munira Patel
Photograph: Getty Images