June 2022 | 968 words | 4-minute read
All work and no play can make anyone dull. It is play that rejuvenates and renews us. Knowing the value of play and acknowledging the full range of services in its portfolio, Tata Sky Ltd (Tata Sky) recently announced a new innings for itself after 15 years of making life jingalala for its subscribers. Its new identity, Tata Play Ltd (Tata Play), is an acknowledgement of the company's growth.
MD Harit Nagpal says, "We entered a very commoditised market where we didn't have any exclusivity in terms of content, distribution, technology or pricing. And yet today, we have more than 1/3rd share of the market. This is because we always had our fingers on the pulse of our customers and strove to ensure that they got their money's worth."
Coming of age
Entering the market at a time when the unorganised cable operator held sway, Tata Play quickly created a strong presence in the home entertainment market. The company distinguished itself from its competitors on the strength of its active content and the personalisation it offered to customers. Spoilt for choice, customers turned to Tata Play for the fulfilment of their entertainment needs.
It was a winning proposition until the similarity in television content and emergence of OTT (Over The Top) platforms led certain consumers to turn away from television. Naysayers were quick to predict failure.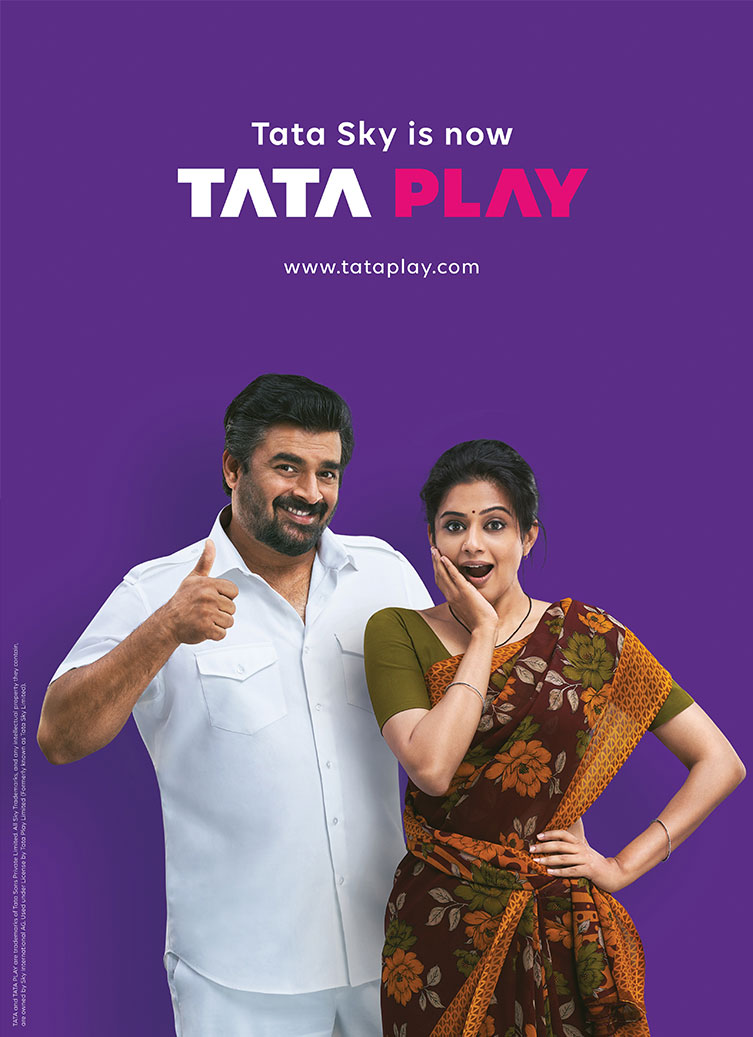 But Tata Play chose to listen to the consumer instead. Mr Nagpal says, "Our research and conversations with customers helped us see that even in homes where people were watching OTT platforms, they hadn't stopped watching TV." This insight convinced Tata Play of its relevance no matter how many OTT platforms entered the market. Consumers would still need Tata Play's services as an aggregator, not only to bring them the best deals but also to make content discovery easy.
This led to the creation of Binge, a platform that Tata Play perfected over the years, adding OTT platforms and services to its portfolio.
It was now time to go to the customer with a renewed and exciting offering, and what better way to highlight this than by refreshing the organisation and re-inventing itself. Tata Sky became Tata Play, emphasising the gamut of options now available to the consumer. With this change of name, the company made the shift from being a distributor of TV signal to being a distributor of content.
Focused effort
Behind the scenes, the company had been quietly working to sharpen its offerings and ensure customer delight. Tata Play was now ready to unveil its transformation on the strength of a brand name that emphasised its USP.
Mr Nagpal says, "Over the years, we've invested in our services to the point where we fail less and recover fast. We have invested in our equipment and workmanship and honed our service competency to such an extent that we feel driven to improve our efficiency. So when we planned the new identity, we decided to use the opportunity to highlight our best features."
The first evidence was the fact that Tata Play was now available in combination packs. The second offering was the waiving of the service charge. Mr Nagpal says, "The decision to offer service gratis puts the onus of keeping the business running at peak efficiency on the company. We have also discontinued the practice of charging a re-connection fee after temporary disconnection, even though the practice is permitted by the regulator. The company bears the financial impact, leaving the customer free to 'play' more."
Some milestones
2006: Tata Sky launches interactive services
2007: In May, package options are launched
2008: In October, Tata Sky+ with personal video recorder technology is launched
2010: True video-on-demand service is launched in April
2011: Tata Sky+ HD is launched in February
2014: Tata Sky karaoke service, a global first, is launched by the company in February
2015: Daily recharge is launched in April at Rs 8, the smallest denomination of recharge globally
2019: Tata Sky Binge is launched in May
2022: Tata Sky becomes Tata Play in January
Empathetic listening
These changes have come about as a result of what Mr Nagpal refers to as 'empathetic listening' on the part of Tata Play. This is a concerted, organisation-wide effort to capture the voice of the customer, and then act upon it. Aside from the one-on-one sessions that the MD himself has with customers, about 30 new recruits at Tata Play are made to listen to call recordings and to glean insights about customer pain points. These insights are then shared with the MD's leadership team and cascaded down until the entire company is aware of the issues that subscribers face.
Once the grievances are understood, Tata Play seeks to bring in the technologies and solutions that could redress those grievances. Mr Nagpal says, "There are multiple small changes that need to be executed every day to ensure customer satisfaction. Our entire team is sensitive to the voice of the customer."
As a consequence of this sensitivity, the company empowered customers to devise their own packs through the app, based on the genres and languages they wanted to watch and their choice of high or standard definition.
Digital tools are helping Tata Play resolve issues without visiting the customer's premises. The company uses software modules to reboot systems. Almost 60 percent of technical faults are repaired without sending a technician to the customer's house, lowering costs and enabling quicker repairs. The workmanship too has improved as the system no longer relies on manual judgement to diagnose problems.
Having widened the distance between itself and its competitors, Tata Play is not about to be complacent. Mr Nagpal says, "We are thinking ahead and have plans that will help us help the customer to 'play' more. After all, a brand is what a brand does."
—Cynthia Rodrigues