January 2022 | 1224 words | 5-minute read
Small and medium enterprises (SMEs) account for 90 percent of enterprises in India but their contribution to the country's GDP is under 40 percent, compared to 70 percent in developed markets. 
For Tata Tele Business Services (TTBS), which shifted its focus to enterprise solutions in the past three years, this presents an opportunity for exponential growth. 
Harjit Singh, CEO, Tata Teleservices, explains how the company is setting SMEs up for success. Excerpts from an interview:
Over the last 3 years, Tata Tele Business Services (TTBS) has shifted gears and is focusing on enterprise solutions. Can you take us through this strategic switch?
It is important to understand that five years ago, TTBS had a very different business focus. The objective then was to scale in the mobility space. The enterprise suite of services existed, but the scope and ambition of this business was smaller than that of the mobility business. The core fibre network and related infrastructure we created was primarily to provide mobility services across the length and breadth of the country but because of the natural symmetry between retail and enterprise clusters this network served both businesses well. When the group decided to exit the mobility business, we pivoted on the customer, product/services, network infrastructure/capability axis to create a business focused exclusively on enterprises as the end customer.
How is TTBS carving a niche for itself in the vast enterprise solutions market?
We are in a transformational stage in a sector that has immense potential and are making strides in the right direction. Definite progress has been made and in certain segments we are already the market leader.
We essentially provide the digital highways on which companies, big and small, run their businesses. Irrespective of their industry vertical, size and years of existence, companies need to create an ecosystem of suppliers, customers and employees that is always on — interconnected and responsive. Our voice, data, cloud and managed services serve to bind and connect this business ecosystem.
I've often said that we as telecom service providers underestimate the importance of the service we provide. If you look at many of the unicorn start-ups of today, they have shaped their business on a digital only model. These companies do not rely on a traditional brick-and-mortar infrastructure, to sell services or interact with customers. A digital model allows them to scale up instantly and bring their products and services to customers that were otherwise beyond their physical reach. In that sense, a digital model has allowed these companies to democratise their products and services to an ever-wider audience, and we, by providing digital highways to these customers, have acted as technology catalysts to make this growth happen for them. The goal for us now is to democratise our own technology/digital services by making them accessible to the entire small and medium enterprise (SME) ecosystem in the country.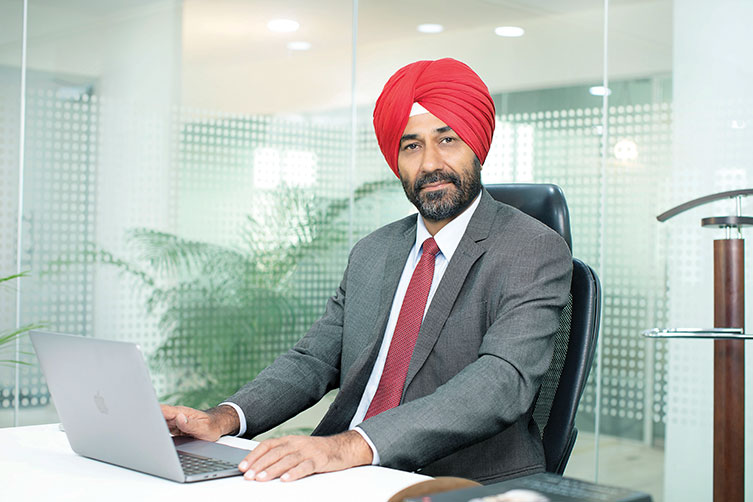 How is your business model different from Tata Communications, which also provides enterprise solutions?
Within the Tata group, we have two companies focusing on enterprises: Tata Communications and Tata Teleservices (under the brand TTBS). The former focuses mainly on serving the large enterprise segment, while we concentrate on the SME segment. Both the enterprise segments are large and growing. The two companies have so far followed this route and developed skills and capabilities conducive to their segments.
Although SMEs constitute almost 90% of the enterprise count in the country, their contribution to GDP is less than 40% currently. In developed markets, the contribution of SMEs to the GDP is in the range of 70%. We believe that the SMEs in India are poised for a phenomenal growth and the innovation that can potentially be unleashed by them would fuel the growth and development of our country.
How is TTBS customising its offerings to meet the service requirements of SMEs?
We are among the first companies in the country, in the telecom segment, to tap into the SME sector. We have a sizeable customer base and are putting in place building blocks that will allow us to grow exponentially in the next few years. We are expanding our product/service portfolio as well; we haven't restricted ourselves to offering connectivity only, but have started to offer adjacent services like collaboration, security, and SaaS (software as a service).
As most SMEs do not have high-level digital/IT skills in-house, we attempt to fill that gap in functional expertise through a consultative engagement process where we will bring our extensive experience to bear and showcase proven use cases within relevant industry verticals. For us to play this role effectively, we need to be adept at understanding the customer's business, clients, functional workflows and, literally, their entire business value chain. Towards this, we have begun strengthening our capability across dimensions so that we are competent enough to play this role of an outsourced IT function to SMEs.
What other services are you offering?
Besides secure connectivity, we have now started offering services such as video conferencing, cloud communication, marketing solutions and software-based networking solutions.
Our SmartOffice® solution is a complete office-in-a-box solution, which is equally relevant for start-ups as it is for established companies opening up branch offices. The solution is an attempt to create an office IT/connectivity bundle that includes, voice, data, Wi-Fi, and productivity applications.
In the pandemic, many SMEs adopted the hybrid work model with a sizeable staff working remotely. To ensure uninterrupted flow of business communication anytime, anywhere, we launched Smartflo, an ultra-flexible and advanced cloud communication solution suite. Smartflo allows employees, working in office or remotely, to access centralised resources in a secure manner. We have also partnered with Zoom Video Communications to provide video communication services to our customers.
Can you tell us about your association with Zoom Video Communications?
Our collaboration with Zoom is a win-win for both of us. Zoom is looking to widen its customer base and their product fits really well as it offers businesses a seamless and superior unified video communications experience on our state-of the-art, high-capacity digital connectivity network.
How are you developing your asset infrastructure?
We have a large fibre network of around 1,25,000km that runs through the length and breadth of the country. We have connected, perhaps, the highest number of business clusters, over 1 lakh buildings which house the businesses we serve, and this number is increasing daily. We have a large field team, about 2000 channel partners and 1500 enterprise personnel who interact with the customers directly, make them aware of our services, and generate demand that then translates into an order that is fulfilled and serviced efficiently. We are continually empowering and upskilling our field resources; at the same time, building digital capability across the value chain, from demand generation to service assurance and operations in order to make customer journeys faster, simpler and closer.
Is your customer experience platform a step towards strengthening your digital presence?
Ours is an intangible service. We have traditionally not demonstrated how our voice and data connectivity services would work or how good our service would be when compared with competition. The customer experience portal seeks to change this paradigm and provides our potential customers a first-hand experience of our products and services so that they develop a clear understanding of what our services can do and how they can benefit from our offerings, thus helping them to make informed decisions.
—Sanghamitra Bhowmik