September 2021 | 1,333 words | 5-min read
If you want to go fast, go alone. If you want to go far, go together." The latter part of this African proverb sums up the spirit of collaborative thinking and action that has taken Tata Consultancy Services (TCS) research and innovation far.
Tata Research Development and Design Centre (TRDDC) was ahead of its time: it was a pioneer in corporate-run research and development (R&D) when most other research was undertaken by government-run labs or university departments. Its success set the path for the expansion of research at TCS. 
Innovation centres
The early 2000s saw major research labs being set up, such as the Advanced Technology Centre (ATC) at Hyderabad, the Advanced Technology Applications Group (ATAG) and the Performance Engineering Centre in Mumbai, the Embedded Systems R&D group in Bengaluru and Kolkata and the iLab in New Delhi. The acquisition of CMC added an R&D centre in Hyderabad that focused on embedded software systems.
In 2004, the ATC launched a product suite that combined TCS' prowess in information technology and biotechnology called BioSuite™. Besides bioinformatics, the ATC broke new ground in computing in Indian languages and cryptography. It also conceptualised and led the initiative to develop Public Key Infrastructure (PKI) products like digital signatures.
The ATAG worked on mobility, broadband, speech and script technologies, and social innovation, including a collaborative research programme with Aalborg University in Denmark; the Performance Engineering Centre developed analysers, emulators, and technologies to aid in incorporating high performance within the software and system lifecycle; while the iLab worked on enterprise architecture and image recognition (computer vision) and early models of recommendation systems. 
The TCS Technology Innovation Lab was set up to undertake exploration in the then-emerging technologies such as software flexibility, grid computing, semantic computing, human-computer interaction and open-source architectures.
Research & Innovation as a strategic unit
In late 2006, during the silver jubilee of TRDDC's founding, the labs were incorporated into a full-fledged organisational unit, the Corporate Technology Office, headed by a chief technology officer. TCS business expected a pipeline of new business ideas from this unit.
Till then, TCS was incubating innovation internally — most of its products and projects were an outcome of iterative and collaborative internal research.
A decision was made at this time to launch an Open Innovation system. TCS already had research alliances with several universities worldwide. It now wanted to work globally with start-ups in emerging technologies.
"It was a big move to invite the 'not invented here' into a company that had creditably invented and innovated in-house."
The TCS Co-Innovation Network — COIN™ — was formally inaugurated at the silver jubilee of Tata Research Development and Design Centre by the then President of India Dr APJ Abdul Kalam.
According to K Ananth Krishnan, CTO, "It was a big move to invite the 'not invented here' into a company that had creditably invented and innovated in-house."
TCS COIN
The TCS management, their senior researchers, and consultants (particularly Prof Clay Christensen from Harvard Business School) believed that technology breakthroughs could happen anywhere in the world and that no single company, however big, could claim to do it all by itself. This was the vision behind TCS COIN.
Some of the early collaborations were with Purdue, Carnegie Mellon, and Georgia Tech in the US; and the Indian Institutes of Technology and Indian Institute of Science in India, as also other technology organizations and industry bodies. The research footprint grew wider and began to consistently contribute to mainstream TCS revenues. It was set for further evolution.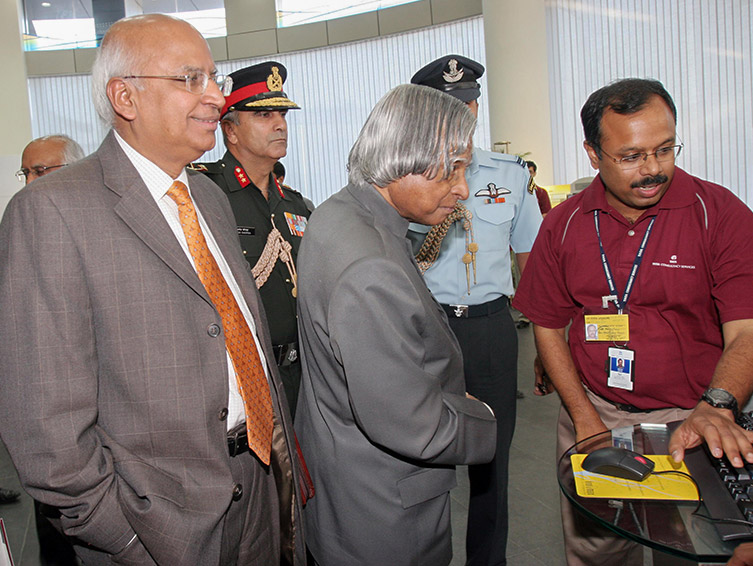 With COIN, TCS emphasized that it had the expertise to innovate internally, and the capability to go beyond as well. To have a clear understanding of 'when' to look for collaborative innovations, TCS segmented innovation into three categories: Derivative Innovation, Platform Innovation, and Disruptive Innovation.
COIN's collaborative network comprises the following six entities for leveraging the innovation potential: Academic Research; Emerging Technology Companies and Venture Capital Firms; TCS' Strategic Partners; other Tata companies; large and key customers; and government agencies and industry trade bodies.
One of the earliest COIN collaborations was with Stanford University in the field of privacy. The collaboration catalyzed the creation of a suite of data privacy tools. Another successful collaboration was the SHINESeniors project between TCS and Singapore Management University (SMU) iCity Lab. The three-year-long SHINESeniors pilot project, using a solution built by TCS Research, used sensors and digital technologies for non-intrusive monitoring of elderly individuals in Singapore in over 90 homes to provide personalized and sustainable care, empowering them to lead dignified and independent lifestyles. This project won Constellation Research's 2019 SuperNova Award in the category AI & Augmented Humanity.
Present and future
If the first 10 years — characterized by the setup and growth of TRDDC — laid the foundation of TCS research and innovation (R&I), it was the next decade-and-a-half that saw the expansion of the TCS research footprint. It kept pace, and in several projects and products, created multiple platforms for TCS' business growth in these years.
To get a representative snapshot of TCS' R&I contribution to business growth, launch this timeline.
Haroon Bijli, with inputs from TCS R&I. 
Part two of a three-part series on TCS Research and Innovation. Read part one here.