August 2021 | 1692 words | 6-minute read
Ajoy Chawla has spent over 30 years at Titan Company, spanning a journey from a Tata Administrative Services (TAS) officer to CEO of the company's Jewellery division, but none as tumultuous as the year gone by.
In this interview, he opens up about leading the Jewellery unit to profits and growth in the middle of a pandemic, his plans for the future and more.
Tell us about your experience of being at the helm in these unprecedented times
We were all set to chase an aggressive growth plan for FY21 when the pandemic hit. Surprisingly — I really don't know why — there wasn't any panic. Maybe because it was something that nobody could control, and everybody was in it together. It wasn't something we had brought upon ourselves nor was it unique to the jewellery business; the disruption was uniform. What also mattered was Venkat's (Mr CK Venkatraman, MD, Titan Company) calm approach. He brought alive for us the 'No Pressure, No Diamond' theme; sometimes high pressure situations like these are needed to bring out diamond-like qualities in people.
What gave me confidence was that I had taken over a fabulous and successful team. Their strategic thinking and execution agility are outstanding. They faced the challenge head on. We had developed the theme of 'Fitter, Faster, Stronger, Together' just before the pandemic. It turned out to be apt for this situation.
I also had to think of the well-being of the entire ecosystem, from employees to franchisees, vendor partners and their karigars (craftspersons). When you start thinking about 20,000 people, you stop worrying about anything else. You only focus on how you can reduce anxiety and build an atmosphere of positivity.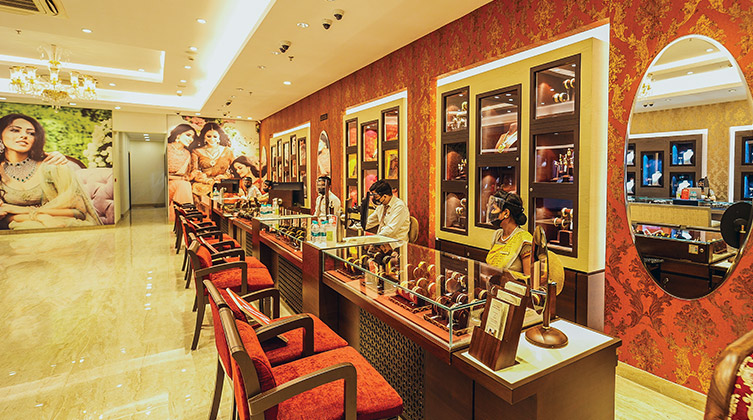 How did you overcome the challenges of running a 'touch and feel category' business during the pandemic?
We had embarked on digital transformation through endless aisle and omnichannel, but it was evolving slowly. What triggered a leap was Akshaya Tritiya, a big gold-buying occasion, which fell in the first month of the lockdown. In FY20, we had done pure online sales of nearly Rs 25 crore in the year. We decided to see if we could achieve this during the Akshaya Tritiya period by leveraging our network in conjunction with a large online thrust.
"This digital leap contributed Rs 1,600 crore, about 9% of our total sale of Rs 18,000 crore in FY21." 

We started live chats on our websites, helping customers make online selections via video or telephonic calls. We did Rs 30 crore worth of sales in a week; something we had not done in an entire year.
We deployed endless aisle everywhere, allowing buyers to see inventory from anywhere in the country. We set up video calling centres across all stores to enable customers make purchases from the comforts of their homes. And in cases of expensive pieces, where customers prefer to touch and feel the product, we started joint selling, where a central team warms up a lead before moving the customer to the store for the final transaction, leveraging the store team's product knowledge, customer relationship building skills, and strong selling expertise.
This digital leap contributed Rs 1,600 crore, about 9% of our total sale of Rs 18,000 crore in FY21. We have now created a separate business team for omni and online, and 'digital and remote' has become a formal growth engine.
What were the buying trends during the pandemic?
Tanishq always had trust as a Tata player but during the pandemic, safety became a competitive advantage. We established a gold standard of safety protocol in our stores and acquired new customers because of it.
People still see gold as an asset, but there is an increased demand for lightweight jewellery. Many of our new design collections were lighter and we are working on a gold alloy innovation that enables us to make lightweight jewellery more easily. Further, with above-the-desk trends due to work from home, our product team has prioritised earrings and neckwear for everyday wear in lower price bands.
Another trend was that people had missed milestones and celebrations and other avenues of spending like travel and eating out had reduced. So, they were willing to spend on jewellery. We saw good traction in the middle (Rs 1 lakh to Rs 2 lakh) to upper middle (Rs 2 lakh to Rs 5 lakh) price points. We achieved 100% buyer recovery in studded products in Tanishq and Zoya, the luxury brand, by Q3.
In Q3 end and Q4, we also saw a lot of wedding buying — a deferred demand from Q1 — playing out the way we had anticipated.
What was the lowest point in this journey and what was the comeback moment?
We had been cruising towards our goals in the second half of FY20; but for those last two weeks of March 2020, we would have achieved them. We also had to trash our new business plan.
For me, the comeback came with Venkat's 'No Pressure, No Diamond' theme and a webinar I attended in late April. It pointed out that this would be a K-shaped recovery and the choice of which group you will belong to is with you. Every battle is indeed first won in the mind! For the division at large, it came when we hit the first Rs 1,000 crore of the year in June, within a month of a graded unlock. The energy and self-belief that unleashed was a turning point.
Why did Tanishq push ahead with the launch of its first international store during the pandemic?
The Dubai store was scheduled to open in March 2020. Since it is part of a larger strategic market entry and the store was ready, we decided to go ahead. Seeing how well it is doing, we are looking at opening more stores in the Middle East.
We even opened a Zoya store, our first in South India, in the middle of the lockdown, which has also exceeded expectations.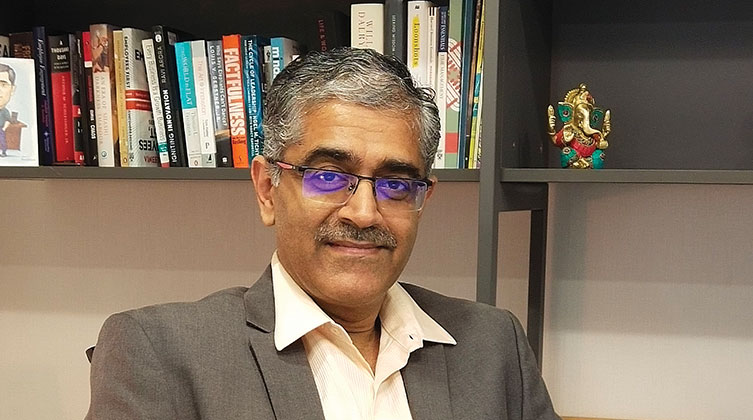 TAS to CEO
What's your view on the TAS programme and its impact? 
Many good leaders have emerged from this programme and significantly benefited the group.
TAS has undergone many changes since I joined it in 1990. It has evolved to include stints in community development, wider opportunities to work in international markets, etc. Recently, our group CHRO led the TAS office, with some of us participating, in evolving a TAS Reset to make it even more relevant to the group's needs. As with any initiative, there is always more we can do to keep this flagship group leadership development programme at the top of its game.
How do you look back on your 30 years at Titan Company?
It's been an awesome ride learning from terrific leaders like Xerxes Desai, Bhaskar Bhat, Harish Bhat and now Venkat. I have had the opportunity to work across watches, jewellery, eyewear, fragrances, sarees and many functions — sales, marketing, retail, profit and loss management, supply chain, strategy, new business development — and now as CEO of the largest division.
Titan is a dynamic company, always experimenting with the new. It's given me a chance to lead several new initiatives: Relaunching Raga and Xylys (watches); incubating new categories like Taneira (sarees) and Skinn (fragrances); and nurturing Mia, Zoya and Caratlane (jewellery) into powerful brands.
Above all, Titan has a people-driven culture, empowering and encouraging managers to innovate. I have had a lot of fun here while growing into a business leader.
Has the Covid era impacted your brick-and-mortar store expansion plans?
During the pandemic, our presence in 215 cities, many of them tier-3 or tier-4, proved that we were well hedged. Different geographies and different town classes behaved differently, which was beneficial. When Mumbai, Delhi and Chennai markets were shut, those like Uttar Pradesh, Bihar and Odisha were open. When those shut, others reopened. We also realised that being closer to the consumer works well; it's turning out to be a huge trend.
Our retail teams are organised into 11 regions across the country, so we played the game market by market. Each regional business manager became a mini-CEO of his market and everybody in corporate served that market based on the demand. This strategy of deep penetration and regionalised play has added greatly to our competitive advantage.
The omnichannel strategy plays out well for jewellery. We want to accelerate and get to 300 cities as quickly as we can. We opened 26 stores in FY21 (compared to 36 in FY20). In FY22, we are hoping to open 35 stores.
Mr Venkataraman had spoken about making "substantial improvements around people, processes, place and planet" in the jewellery business. Where does the division stand on this now?
The journey is broken into three parts: gold sourcing, diamond sourcing and jewellery manufacturing.
100% of our gold is recycled or LBMA (London Bullion Market Association) gold, which is not just high quality, high purity gold of international standards but is also mined from ethical sources.
The journey to ensure that every diamond consumed in our value chain, by us or vendor partners, comes from site holders or mining companies who follow ethical practices is work in progress. Not only are we pushing our vendor partners to buy only from these sources but are even offering to buy it for them.
For jewellery manufacturing, we insist that every vendor partner follows a certain jewellery manufacturing protocol — classified as cottage, basic, standard and world class, basis the 4P (people, place, process, planet) framework. Our own manufacturing facilities are world class, adhering to international benchmarks. In FY22, we intend to move all our partners into the standard category, adhering to a rigorous framework of dedicated and ergonomic workspaces, dignity of work, and pollution free processes among others.
What's the business outlook for FY22?
The pandemic's second wave has disrupted Q1, but if we pick the threads from last year's learnings, our ability to bounce back is high. We will keep refining and course correcting, depending on how things play out. Like last year, we want to at least exit the second half of the year at the run rate we would have wanted to exit at if the second wave had not hit us.
—Monali Sarkar