July 2019 | 871 words | 3-minute read
The Tata tradition of establishing institutions that would benefit India began with Jamsetji Tata, who was instrumental in building the Indian Institute of Science in Bengaluru. His sons Sir Dorabji and Sir Ratan Tata followed faithfully in his footsteps, willing large portions of their wealth towards the work done by the Sir Dorabji Tata Trust and the Sir Ratan Tata Trust respectively.
When JRD Tata assumed trusteeship of these organisations in 1932, a new era of institution building began. One of his first initiatives was the Tata Memorial Hospital, which today, is the leading centre for cancer care in the country.
Tata Memorial Centre

JRD played an active role in establishing the Tata Memorial Centre (then, Tata Memorial Hospital). The minutes of the meeting on November 13, 1937, reveal that the trustees debated whether the hospital should have 32 beds or 50 or more. The trustees were understandably concerned about keeping the expenses of treatment to a manageable level; they hadn't even considered research. 
At that stage, JRD came up with his own vision for the hospital: "This hospital should be able to carry out the triple objects of treatment, research and education. We should treat research almost as important as treatment."
In 1941, when Tata Memorial Hospital was inaugurated, Sir Roger Lumley, Governor of Bombay, said, "This hospital will become a spearhead of the attack on cancer in this country, providing not only a centre where specialised treatment can be given, but also one from which the knowledge of new methods of treatment and diagnosis will go out to doctors and hospitals throughout the country." 
Almost eight decades later, Sir Lumley's words continue to be true of the Tata Memorial Centre.
Tata Institute of Fundamental Research
In 1943, a brilliant scientist from Cambridge spoke to JRD Tata of his desire to establish an institute for fundamental research in India. Dr Homi Bhabha said that if such an institute was established, he would remain in India instead of returning to Cambridge or Princeton after the war, and would train a highly qualified team of Indian scientists. 
Encouraged by JRD, Dr Homi Bhabha promised that when the time came for nuclear energy to be applied for power production, India would not have to look abroad for experts. Indeed, TIFR would emerge as the "cradle of India's atomic energy programme", in Dr Bhabha's words. "If the Atomic Energy establishment at Trombay has been able to develop so fast, it is due to the assisted take-off which was given to it by the Institute in the early stages of its development."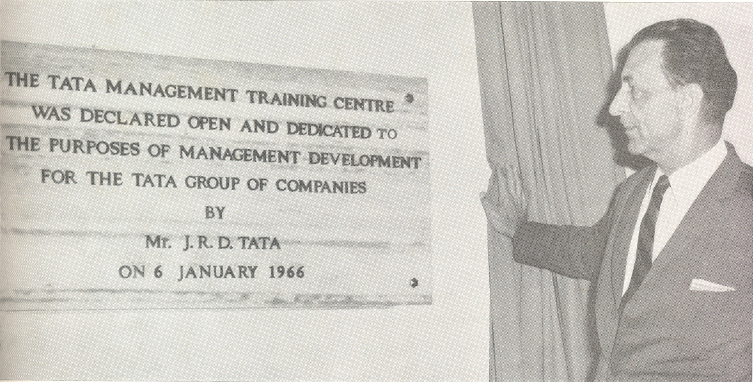 Tata Management Training Centre
"Trained managers are vital to the economic development of the country," said JRD Tata, as he inaugurated the Tata Management Training Centre in Pune, in 1966. "We realised that this business of executive development was one of the most crucial, essential, and at the same time, one of the most difficult elements in providing continuity and efficient management."
TMTC was started as Tata Staff College in 1956. Today, the Centre, housed in a heritage  structure, designed by renowned architect George Wittet, and surrounded by sprawling lawns, is the learning and development arm of the Tata group human resources organisation. TMTC aims to facilitate the development of leaders among capable managers.
National Centre for the Performing Arts
When Jamshed Bhabha, a trustee of the Sir Dorabji Tata Trust, proposed the building of a centre for the arts, many trustees expressed skepticism. Not JRD. He said, "While we want to build a prosperous society we do not want it to be merely a materialistic society."
The NCPA was established because JRD Tata and Jamshed Bhabha believed that the time had come for India to have a world-class, all-encompassing centre for the arts. Since it was established in 1969, it has more than lived up to expectations. It counts among its mentors, leading lights in the arts, like Satyajit Ray and Yehudi Menuhin, and several legendary artistes have performed here, lending it an almost iconic status.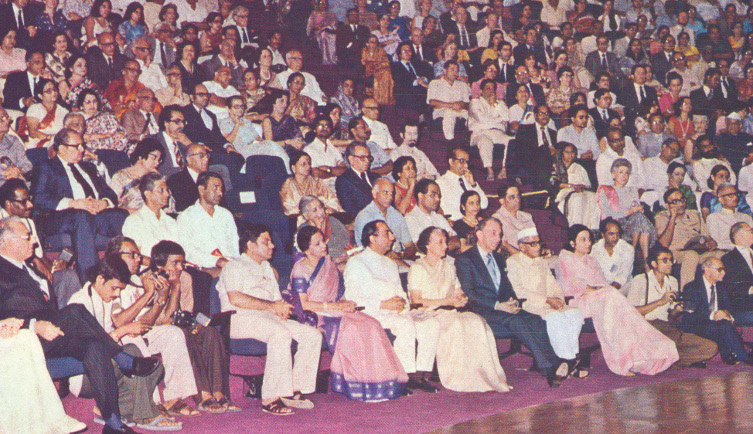 Tata Central Archives
JRD realised the need for a central archive of the Tata story in 1953, after the airlines were nationalised, and he was seeking some information.
"The first time I was particularly struck by this fact was when government took over and nationalised the airlines. A year or two later, I asked Indian Airlines to try and separate their papers — may be even make copies if they wanted to — but there was no response. The records of Tata Airlines just disappeared except what was in my personal file. I felt guilty I did not do anything and realised what the lack of the history of Tata Airlines meant to me."
In 1989, on the 150th birth anniversary of Jamsetji Tata, JRD announced the decision to set up Tata Central Archives, and it was launched by JRD in Mumbai in January of 1991. In 2001, the archives moved to its current home, in the lush green precincts of Tata Management Training Centre in Pune.
Sources: Beyond The Last Blue Mountain and Tata Review