September 2020 | 780 words | 3-minute read
Imagine that you have decided to run a marathon. You train for months and are all set.
On race day, you start the run feeling great. Just past the halfway mark, fatigue starts to engulf you. By the 35km mark, you want to give up.
Suddenly, you hear your best friend, calling out your name and cheering you on. You instantly perk up. About 5km later, quite close to the finish line, you find yourself struggling again. And, you hear your friend, and your parents, cheering you on to "Go! Go! Go!" Adrenaline-charged, you lunge towards the finish line.
Taking a cue from this insight on how family and friends can be an instant motivation to a runner, Tata Consultancy Services (TCS) developed marathon apps.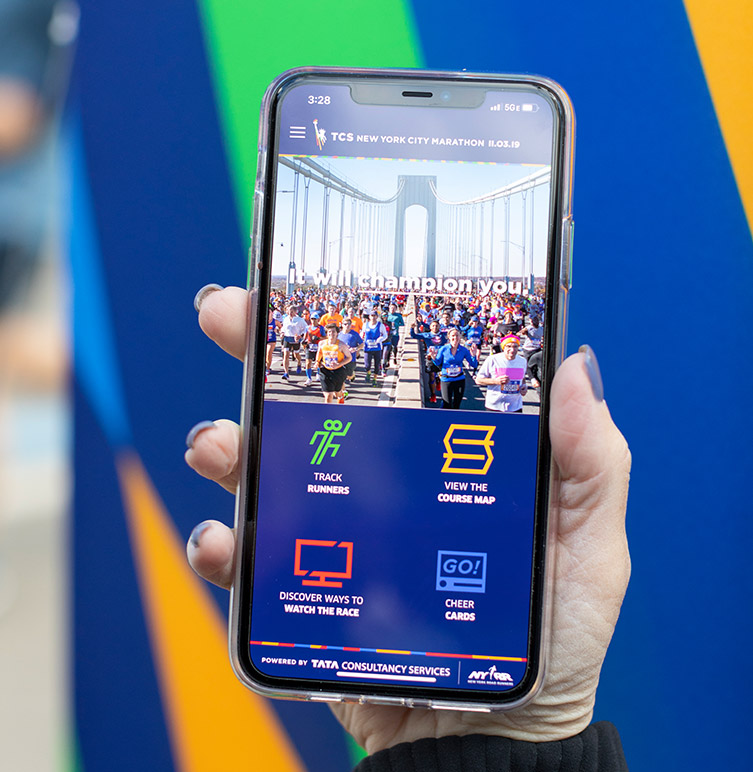 Creating app-eal
The TCS New York City Marathon course is point-to-point, stretching 42.195km (26.2 miles) from Staten Island to Manhattan through all the five boroughs of New York City. With 50,000+ runners and over 1 million onlookers, it is virtually impossible for the spectators to find their runner along the course. TCS solved this challenge by connecting spectators with data from the race-timing through a runner tracking feature in the app.
The race app is used at 13 TCS-sponsored endurance running events globally, including the TCS New York City Marathon, TCS Amsterdam Marathon, TCS Lidingöloppet, Tata Mumbai Marathon, Virgin Money London Marathon, Bank of America Chicago Marathon and Standard Chartered Singapore Marathon. Over 1.4 million people downloaded the race app in 2019, and the runner tracking page in the 2019 TCS New York City Marathon app had over 14 million page views!
The race apps also have features to drive fundraising, facilitate bib collection, enable spectators to plan out how to cheer along the course, and surprise and delight features through augmented reality.
Race apps have not only elevated the TCS brand but have also demonstrated that innovation, research, and technology constitute the core of TCS' philosophy. The app is a fine example of deploying digital transformation, by integrating Internet of Things, mobility, cloud, social and user experience for the benefit of society.
Adding value
Aside from the app, TCS sponsorships add value to the events. In 2018, TCS Interactive, TCS' global design and innovation agency, created Marathon City: Sprint to Win — the 3D game that combines a powerful creative vision with technological innovation — allowing people of all physical abilities, including wheelers, to cross the finish line by simulating an experience that is just as inclusive as the actual marathon.
In the two-player game, specially designed floor mats track footfall, while wheelers can lock into a purpose-built trainer like a treadmill. As you play the game, your on-screen 3D avatar moves towards the finish line. As racing wheelchairs can move faster than humans, the game equipment is carefully calibrated to ensure a fair and even race for all competitors.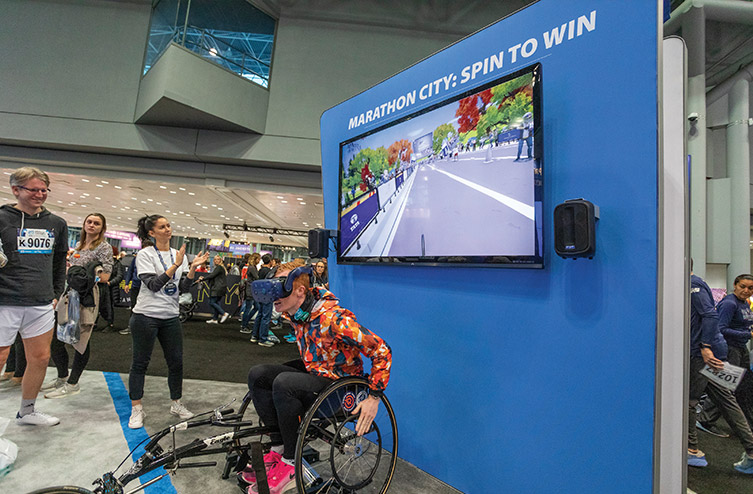 The game has been a huge success, garnering TCS Interactive two Innovista Awards and the prestigious Red Dot: Best of the Best Brands and Communications Design 2019 Award.
Building off the success of Sprint to Win, in 2019 TCS Interactive helped create an immersive wheelchair racing activation called Spin to Win: VR Experience. Users sit in a racing wheelchair, put on a VR (virtual reality) headset and experience what it is like to finish the iconic TCS New York City Marathon as a wheelchair athlete. Paralympic and World Marathon Majors Champion Daniel Romanchuk served as an ambassador for the activation. Through state-of-the-art technology, TCS is helping to build empathy and drive awareness of wheelchair racing.
From running to racing
Besides endurance running sponsorships, TCS sponsors the Super Formula Nakajima Racing team in Japan. Helping the team reimagine pit crew operation and automate data capture, dashboards and analytics for improved performance, TCS created and managed the team's mobile app that includes the race schedule, standings, social feeds and spectator gamification elements. TCS Japan's technical collaboration with Nakajima Racing was selected as a semi-finalist for Top Seed Innovation from 3,635 total submissions across TCS.

The proof of the success of TCS' innovation is TCS Nakajima Racing securing their first Super Formula win since 2010 at the Fuji Speedway in round four of the 2019 Super Formula series.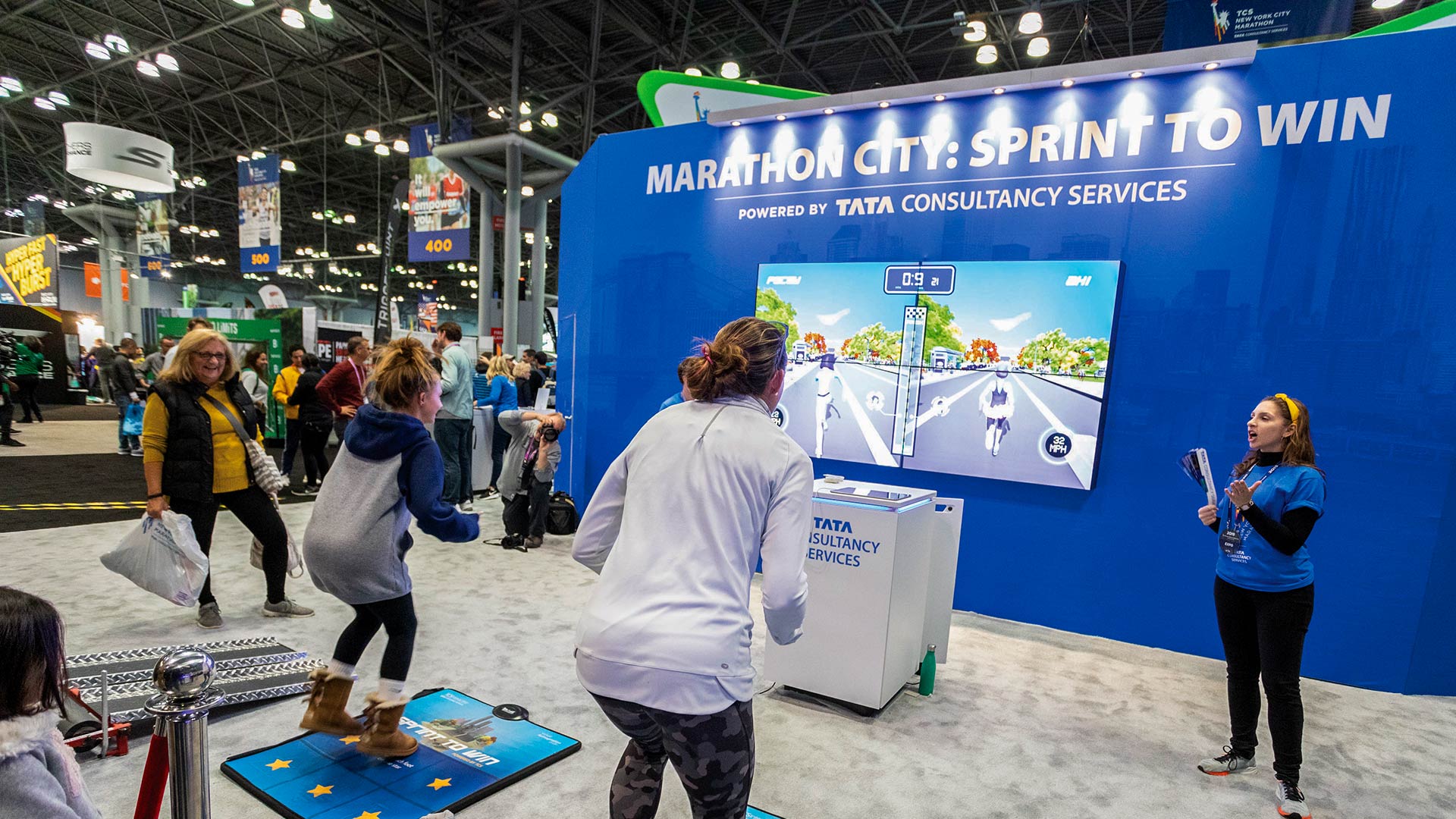 Setting benchmarks
The race app has earned TCS over 18 awards since 2016. TCS will continue to push innovation to meet and exceed the needs of the ever-changing world. We know that being there to support our clients, employees and communities when they need us the most is what helps us all be winners on the racetrack and in life.
The author, Michelle Taylor, is the head of sports sponsorships at Tata Consultancy Services.