June 2021 | 1058 words | 4-minute read
The Tata group's social responsibility initiatives extend to other countries besides India.
Tata group companies like Jaguar Land Rover, TCS and Tata Communications, among others, are immersed in initiatives ranging from using technology to work with school students in different countries to community outreach programmes in Africa.

Land Rover and the International Federation of Red Cross and Red Crescent Societies (IFRC) 
For over 66 years, Land Rover and IFRC have worked together to access remote communities, improve health and sanitation, support the homeless and assist at-risk communities in preparing for natural disasters.
The collaboration has reached over 1.12 million beneficiaries since it began, against a target of 1 million beneficiaries. Since 2013, 22 humanitarian projects in 25 countries have also received funding worth £10.75 million.
2019 marked a milestone for both partners — they agreed to a new three-year-long global partnership to focus on disaster preparedness and deliver humanitarian assistance and knowledge to remote and vulnerable communities, with projects based in Australia, Italy, India, Mexico and the UK. The second milestone was that the IFRC was one of the first organisations in the world to test the new Land Rover Defender at its global fleet base in Dubai.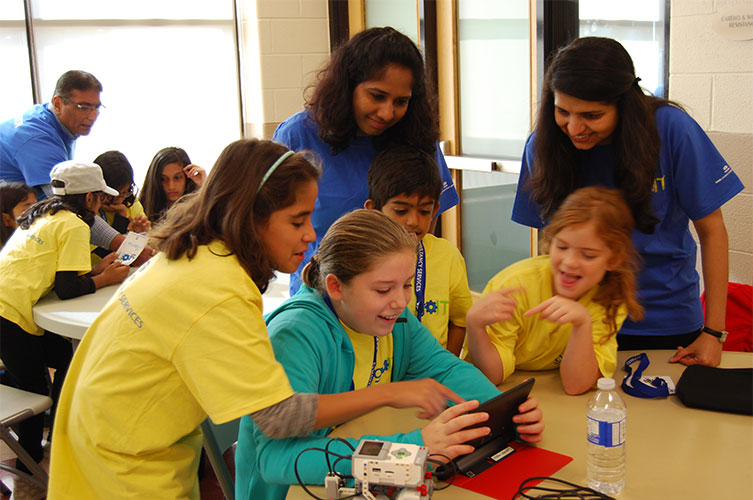 TCS' GoIT programme

Through the GoIT programme, school students are introduced to digital innovation and design thinking as a problem-solving framework, while troubleshooting designs, improving their ability to cooperate and coordinate, and refining their communication skills through public presentations.
Participants across the globe learn how to produce inventive technology-enabled solutions to real-life problems, then go a step ahead and benchmark their solutions against those existing in the market, before finally presenting their ideas to experts within the field.
The GoIT programme targets middle school students, including those from disadvantaged and under-represented communities. Over 75,000 students from Europe, the UK, the US, Latin America (LATAM) and Australia have benefitted from it till date.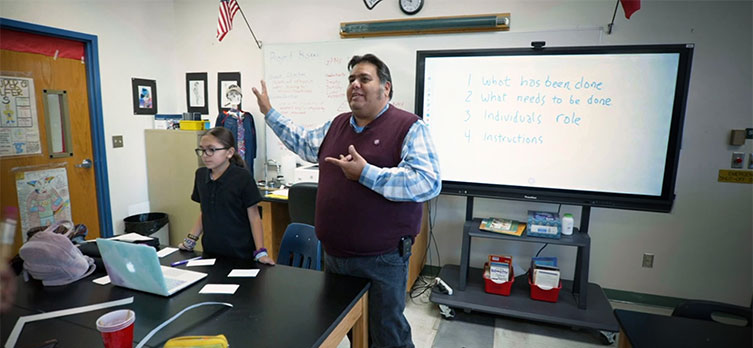 Ignite My Future in School by TCS

This initiative has been a pioneering effort to empower educators in the US through a transdisciplinary approach. Ignite My Future in School (IMFIS) integrates computational thinking with core subjects such as English, Math, Science, Art, and Social Studies. Students learn how to collect and analyse data, find patterns, break down complex problems, build models and develop algorithms. 

The programme also offers assistance throughout the year through:

Learning Leaders Network: A responsive and involved nationwide network of teachers. 
Community Nights: An immersive and interactive event for students, teachers and families to experience the curriculum.
Days of Discovery: In-person professional development training for educators to meet with programme experts and understand the curriculum. 
IMFIS is aimed at teachers, students, parents and school administrators, with an emphasis on youngsters from disadvantaged groups and under-resourced school districts. So far, the programme has reached over 670,000 students and more than 11,600 educators in the US. There are plans to activate IMFIS in other key geographies such as LATAM, Europe, and the Asia Pacific (APAC) region.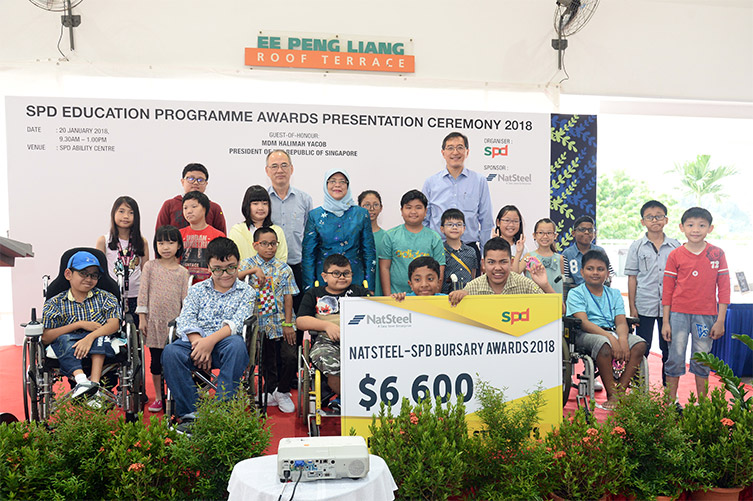 NatSteel's Bursary Award programme, Singapore
The Bursary Award Programme was launched in 2007 to enable physically disabled students to focus on their education in mainstream schools by alleviating the financial burden on their families.
In 2017, the programme expanded to include students with sensory disabilities. Through these grants, NatSteel aims to empower specially-abled students and enable them to focus on learning without worrying about finances. NatSteel has pledged 75,000 Singapore Dollars to the cause and 950 specially-abled students have been beneficiaries so far.
Tata Communications's Network for Teaching Entrepreneurship programme, Singapore

Targeted at mid-risk youth (between the ages of 15-19) from disadvantaged and underserved families, since 2016, Tata Communications' Network for Teaching Entrepreneurship programme (NFTE, pronounced 'nifty') in partnership with Halogen Foundation is dedicated to transforming street-smart youngsters into business-smart individuals.
NFTE teaches skills which are relevant to the real world, motivates students to stay in school, enables their self-confidence and helps them develop entrepreneurial skills through experiential learning. Students learn how to recognise opportunities for success, get industry exposure and are mentored in order for them to graduate with presentation, leadership and problemsolving skills. They also receive financial literacy skills, which help them develop sound financial management strategies. NFTE helps these youngsters continue their education and contribute to the economy by either running their own businesses or joining the workforce.
Tata Chemicals Magadi
The Tata Chemicals Magadi (TCM) operation is in a remote location with harsh climatic conditions in the Rift Valley, about 120km south of Nairobi (Kenya). The annual rainfall is just enough to support scanty vegetation of hardy acacia trees and pasture for roaming herds of livestock. The predominant ethnic group in this area is the Maasai, whose economic mainstay is livestock rearing.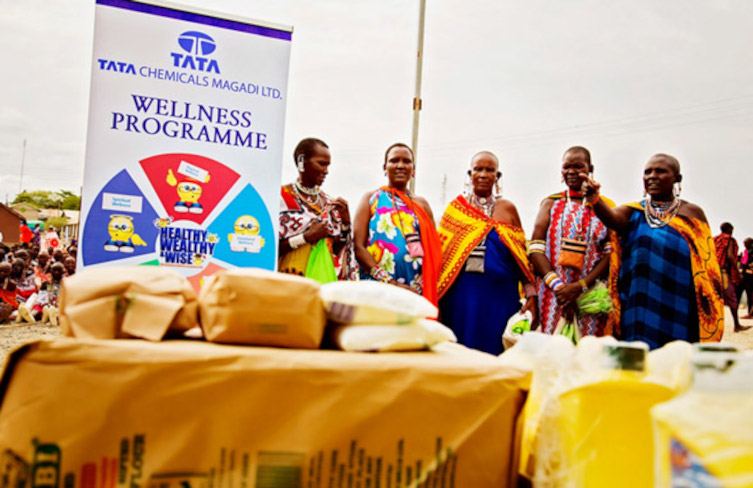 TCM's partnership with the community was strengthened after a severe drought in 2000, which wiped out a significant part of livestock, which the Maasai consider their wealth. TCM works with local community leaders and NGOs to provide vital inputs and support in critical areas. For instance, the company-supported hospital is the only one within a radius of 80km and it caters to a population of about 30,000 people. Currently, the local community comprises 60 per cent outpatient and 95 per cent of inpatient attendance. Despite TCM subsidising medical care, most patients still can't afford medical services. The spread of HIV has also put the hospital under increased pressure. 
In order to meet the community's rising medical needs, Magadi Hospital works with other partners on preventive measures. One such partner is the African Medical and Research Foundation (AMREF) clinic at Nkurumani, which receives financial and material support from TCM. The clinic closely works with Magadi Hospital and refers complicated cases to it. When the clinic runs short of supplies, TCM shares those available at the hospital. It also assists the local health centres by transporting drugs and medicine by rail.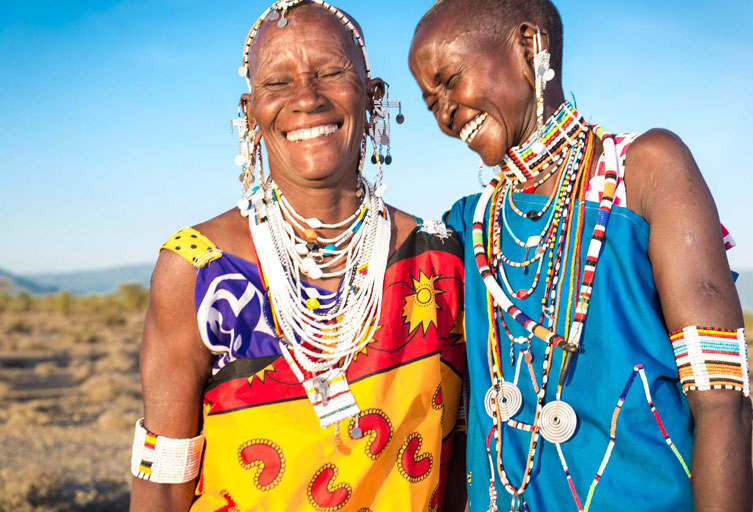 TCM is also part of the Maasai Integrated Development Partnership Project (MIDPP), an umbrella body which brings together various stakeholders including NGOs, the Kenyan government and the local community.
Source: Touching Lives by Tata Sustainability Group