November 2022 | 792 words | 4-minute read
What does it take to make a difference in the world we live in or the way we live? A great idea, a grand vision, a gigantic budget? Sometimes, all it takes is 'just a little change'.
Built on this simple thought, the third edition of Tata Imagination Challenge was launched on August 18, 2022, with a new peg – #JustALittleChange.
It was this spirit of 'just a little change' that led XIMB student Mayukh Mondal to participate – and win!
"Tata Imagination Challenge is all about making a small change that can help create a solution that can befit the masses. This inspired me to think, why can't my small idea bring about a big change, one that can be scalable and benefit all of India?" said Mayukh, who's idea of starting a smart metering infrastructure helped him become one of the 13 winners of 2022.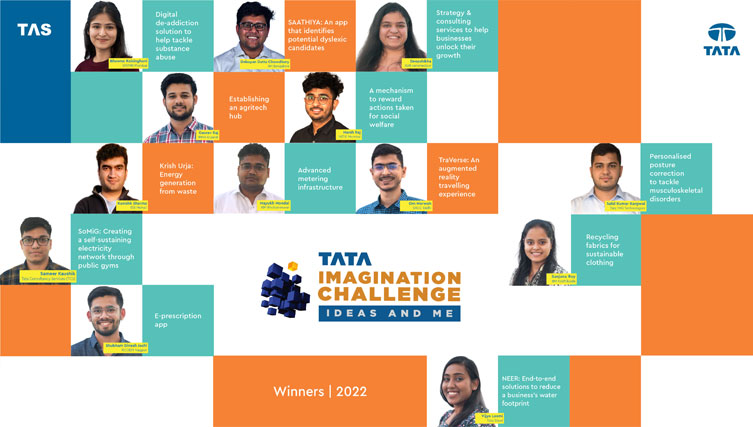 The competition
Open to college students from any stream and any year of study across campuses in India (Student track), and Tata employees worldwide (In-house track), Tata Imagination Challenge is one of the largest ideas fests of its kind. A total of 2,29,071 candidates registered for the competition, from 8,000+ campuses and 60+ Tata companies.
After three rounds of assessments, 50 finalists were invited to Mumbai on an all-expenses-paid visit to present their ideas before a jury of senior Tata leaders. 
The winning ideas covered a myriad topics, from sustainable use of fabrics to power generation from human kinetic energy, from water conservation to creation of an agritech hub, from developing a reward system for social work to smart solutions in healthcare, and much, much more. Each winner came imbued with the power of their ideas and inspired by the Tata ethos. 
A platform for your ideas
For Sanjana Roy, of IIM Kozhikode, Tata Imagination Challenge provided the right platform to do something about her growing concerns over textile wastage. 
"People are not recycling their clothes, and this is leading to 92 million tonnes of textile waste, of which only 1% is getting recycled," she said, adding, "My idea relates to sustainability in the textile industry. The main issue with recycling is that people don't know what fabric their clothes is made of. But the brands already know this. So, if they have a recycling set-up, it's very easy to create a circular economy."

For XLRI Jamshedpur student Deepshikha, the Challenge has become a family tradition. "Two years back, my sister participated in Tata Imagination Challenge and that's when I had thought that this was something I wanted to do too," she explained, adding that her idea involves employment generation for persons with disabilities. 
After winning the Challenge, Deepshikha now dreams of joining the Tata group. "I want to join the Tatas. I have stayed at a couple of IHCL hotels and experiencing 'Tajness' was amazing! I would really like to be a part of that team," she smiled.  
The Challenge is indeed one of the ways to join TAS, the Tata group's flagship leadership development programme. 
Winners receive a host of exciting opportunities and prizes, including accelerated entry into the TAS selection process (subject to TAS eligibility criteria), Rs 2 lakh cash prize each, visits to Tata companies, vouchers from Tata brands and nomination to Tata's flagship learning programmes.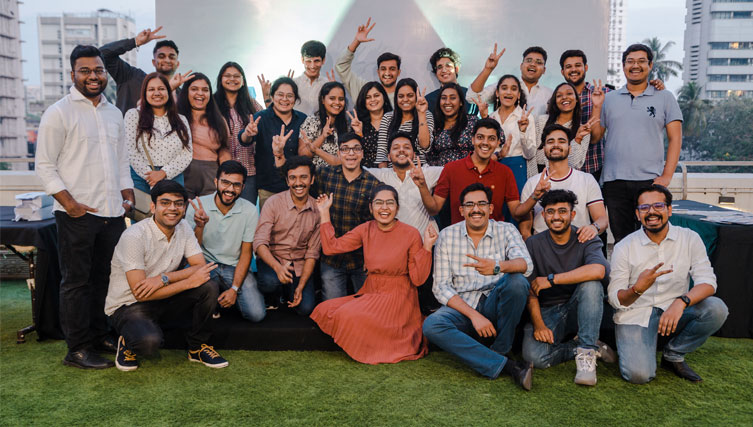 Winners (student track) 

Bhawna Raisinghani, SP Jain Institute of Management and Research (SPJIMR), Mumbai [Community and tech-enabled digital de-addiction solution to help India tackle substance abuse]
Debayan Datta Chowdhury, Indian Institute of Management (IIM), Bangalore [SAATHIYA: An app that identifies potential dyslexic candidates through a questionnaire and preliminary screening]
Deepshikha, Xavier School of Management (XLRI), Jamshedpur [Strategy & consulting services to help businesses unlock their next 10x growth by tapping into the power of accessibility and inclusivity]
Gaurav Raj, Institute of Rural Management Anand (IRMA), Gujarat [Establishing an agritech hub] 
Harsh Raj, National Institute of Industrial Engineering (NITIE), Mumbai [A mechanism to reward actions taken for social welfare] 
Kanishk Sharma, Indian School of Business (ISB), Mohali [Krish Urja: Energy generation from waste]
Mayukh Mondal, Xavier Institute of Management, Bhubaneswar (XIMB) [Advanced metering infrastructure]
Om Marwah, Shri Ram College of Commerce (SRCC), University of Delhi (DU), Delhi [TraVerse: An augmented reality travelling experience] 
Sanjana Roy, Indian Institute of Management (IIM), Kozhikode [Recycling fabrics for sustainable clothing]
Shubham Dinesh Joshi, Shri Ramdeobaba College of Engineering and Management (RCOEM), Nagpur [E-prescription app]
Winners (In-house track)
Sahil Kumar Kargwal, Tata 1MG Technologies [Personalised posture correction to tackle musculoskeletal disorders (MSDs)]
Sameer Kaushik, Tata Consultancy Services (TCS) [SoMiG: Creating a self-sustaining electricity network through public gyms]
Vijya Laxmi, Tata Steel [NEER: End-to-end solutions to reduce a business's water footprint]
-- Samhita Chakraborty