July 2021 | 871 words | 3-minute read
The most remarkable things can happen when the mere thought of work equals joy. 
For Vivek Vishwasrao, head of Biodiversity for Tata Power's hydro power stations at Khopoli, Bhira and Bhivpuri at Lonavala, Maharashtra, the joy at work is compounded as his workspace is a verdant 25-acre garden, set amid 36,000 acres of Tata Power's landholding in the Western Ghats, the mountain range running across the west coast of peninsular India.
Work satisfaction
On completing his master's in agriculture, with a specialisation in Horticulture, from the then Konkan Krishi Vidyapeeth (renamed Balasaheb Sawant Krishi Vidyapeeth), in Dapoli, Ratnagiri, Mr Vishwasrao was offered the post of assistant professor of Horticulture. It was a prestigious position. Not only was the young professor deemed a subject matter specialist, but also one whose inputs counted towards solving the problems of farmers. He had already shown great promise with his research on the propagation of cashew nuts.
Nonetheless, teaching was not where his heart lay. He says, "I gave up teaching a year later. I wanted to work in the field, do research work and understand nature fully."
Learning of an opportunity at Tata Power, Mr Vishwasrao applied for it and secured the job. Joining on September 1, 1986, his birthday, Mr Vishwasrao received an unexpected welcome when he opened the door to a small godown that was designated as his office. The room that was being used to store fertilisers and other gardening tools like pickaxes and spades hadn't been used in a long time. "As soon as I opened the door," he says, "a cobra fell to the ground in front of me. It had been hiding in the gap between the door and the wooden frame around it."
It was his first reminder that there would never be a dull moment for him from now on and that he had been blessed with an opportunity tailor-made for him.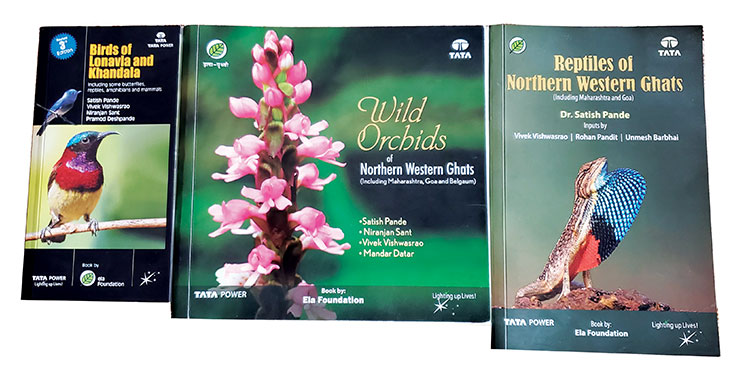 Growing a movement
Appointed as a horticulturist, Mr Vishwasrao's responsibilities grew over time to encompass other initiatives such as afforestation programmes, mahseer conservation, corporate social responsibility, biodiversity documentation, helping research students, liaising with government forest officials and addressing community concerns. On the retirement of his predecessor in 2005, he was appointed to his current post.
Even though Mr Vishwasrao is no longer a professor, he still takes pride in sharing the joy of his work. The classroom has shifted to the garden and the school and college students, scientists and academicians that flock there are the learners. He says, "The environment cannot be protected by a single person or organisation. It has to be a mass movement. That is why we share our knowledge with others, hoping to inspire others to take up the cause."
The mahseer programme of Tata Power is a stellar example of the work that a corporate can do to save an endangered species. The programme, started by Tata Power in association with the Central Institute of Fisheries Education, completes its golden jubilee this year. Mr Vishwasrao says, "Our target is to breed about 4 to 5 lakh fish every year. Till date, we have sent more than 15 lakh fish seeds to different states in India."
Conserving our green heritage
Mr Vishwasrao took it upon himself to document the biodiversity of the region. The wealth of information derived from this documentation includes data on the plants and trees growing in the garden, birds and animals — both indigenous and exotic — found there, along with their characteristics.
"When I came across a bird or tree that I could not identify, I used to take photographs or collect leaves and send them to experts to have them identified," he says.
He has authored several books in association with Ela Foundation and the Forest department, including Birds of Lonavala and Khandala; Wild Orchids of the Northern Western Ghats; Reptiles of the Northern Western Ghats and Seeds of Western India.
"The environment cannot be protected by a single person or organisation. It has to be a mass movement. That is why we share our knowledge with others, hoping to inspire others to take up the cause."

Mr Vishwasrao is confident that the documentation will serve as a guideline for strategy planning on conservation projects in the Western Ghats, which is rich in biodiversity.
He says, "Horticulture is a very vast field and learning is a never-ending process. Research, field observations, discussions with experts and constant reading help me to keep myself updated." Mr Vishwasrao has published a scientific paper on 'Soil and Plant Biodiversity Conservation' through the Romania Agriculture University.
Committed to the planet
His work means everything to him. The care he lavishes on the flowers in the Tata Power garden has won the company numerous prizes at various flower shows in Mumbai and Lonavala.
He feels encouraged by the support of the company's senior leadership. He says, "Tata Power has given me a free hand and has a strong environmental policy. We are committed to protecting and conserving the environment. The opportunity of working in 36,000 acres located in the Western Ghats, one of the 34 biodiversity hotspots in the world, is a dream come true for me."
—Cynthia Rodrigues