March 2023 | 2200 words | 8-minute read
Not many Tata Harrier and Tata Safari SUV owners know that their cars are built entirely by women—an industry first. For the past three years, over 1,700 women hailing from some of the remotest corners of Maharashtra have been building these cars at the Tata Motors Passenger Vehicles (PV) plant in Pimpri-Chinchwad, Pune, from scratch, including lifting windshields weighing 15kg. They have contributed to taking the total number of PVs produced annually from 1.5 lakh in 2020 to over 5 lakh in 2022.
In February 2023, the first batch of 80 women from the Trim, Chassis and Final-2 (TCF-2) assembly line will graduate from the Tata Motors' 'Earn and Learn' programme. In fact, every employee on the TCF-2 shopfloor today is a part of the 'Earn and Learn' programme delivered in partnership with the Nettur Technical Training Foundation. The programme ensures women continue pursuing self-growth and development while also being financially independent. The women receive both on-ground and technical training, preparing them for the job market.
"Tata Motors has always remained committed towards cultivating a culture of diversity and inclusion in the workplace," says Ravindra Kumar, President and Chief Human Resources Officer, Tata Motors. "The all-women TCF-2 production line was driven by a desire to transform the traditionally male- dominated automobile industry by placing women at the very heart of its operations."
However, what seems like a success story today, was a challenge from ideation to execution. Initially, when the idea of an all-women assembly line was mooted, it was met with apprehension. Will Tata Motors be able to get 1,500 women willing to work on the shopfloor? Will the women be able to stand and work for eight hours on a line? Will they be able to lift 10kg of equipment? The team soon realised that these were valid concerns, but the choice was to look for solutions and not stop at the problems.
A group of Tata Motors engineers took this up as a challenge. They made several structural changes to the old design model at the TCF-1 line. The company introduced manipulators and robotics, raised the height of some workstations, and redesigned certain lifts, tackles, and torquing tools — to be suitable to women employees who would go on to form the new TCF-2 assembly line.
The changes were not just structural, but also infrastructural. The interest in driving this dream to realisation came from the senior most leadership and the message was simple — first create the infrastructure. Washrooms and hygiene systems, safe residential options, a secure workspace, door-to-door transportation, cafeteria services with special attention to nutritional needs and medical facilities with female attendants were some of the initiatives.
That's not all. Tata Motors offers support and guidance to employees who wish to pursue an engineering or masters course.
With the success of TCF-2, Tata Motors 'Earn and Learn' programme has become a proven model of change and capacity enhancement that can be replicated. "We have received requests from other Tata companies to study this model and going forward we aim to hire 20 percent women across all our manufacturing plants," says Alok Singh, Pune plant head, Commercial Vehicles Business Unit, Tata Motors.
"We have to start at the bottom and build a pipeline of entry-level population today, so that five years down the line we have women leadership in manufacturing, and who can do this better than the Tatas?" adds Sitaram Kandi, Vice President, Human Resources, Tata Motors.
Finding agency as a woman: Farheen Siddiqui (27), Line Engineer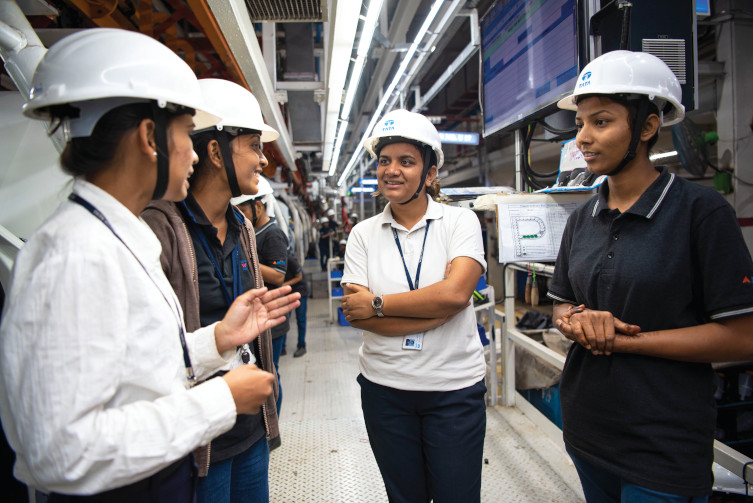 Farheen Siddiqui, four jobs old with a seven-year- long working history with some of the leading names in the automobile industry, is one of 15 line engineers who manages the shopfloor on the TCF-2 line at the Tata Motors' PV plant. When asked about the reasons behind the success of the all-women's assembly line, she is quick to pass on the credit to where it's due: "It's mainly because of the confidence that the organisation has shown in these girls, and the girls understand that."
Farheen's work experience gives her an edge while facing challenges like production pressure, quality issues and rejections. But at Tata Motors, managing 600-700 women at once throws up new struggles. "It's not very easy to put young girls in such heavy lifting jobs. It's the conviction, the confidence of the management," she reiterates. "When the top management tells them that they can do it, it really sparks a certain enthusiasm in them."
Having worked with organisations that tried to set up an all-women's line and failed, Farheen knows that the struggle is real. "What do girls need while working?" she asks. "They need hygiene, safety and a good work culture where they can feel inspired. Tata Motors provides this. That's what keeps them going every day." Little wonder the TCF-2 tagline 'Yes, we can!' is a daily dose of inspiration.
Born and raised in Jhansi, UP, Farheen is a mechanical engineer who chose to work in a core company. "In manufacturing, you see a product building from raw material. In other fields you can't really see the product; it's either a software or something intangible. The satisfaction that you feel from seeing the final product created from scratch is what has kept me going," she says.
Farheen's passion matches her ambition. Currently pursuing a Master's in Business Administration in Operations Management via distance learning, she intends to build a career in manufacturing. "There are very few women working in senior positions in manufacturing, but here at Tata Motors, the environment is very inspiring. I see myself as the shop head or the plant head or the CEO some day."
On a personal level, Farheen's current role has given her the agency that women in Indian society usually struggle with. Today, no important decision in her family is taken without her input, be it buying property or making an important investment of any other kind — a real socio-cultural shift that has larger, long-term impact on those around her.
From teaching children to building cars: Monica Rajendra Goswami (23), Team Leader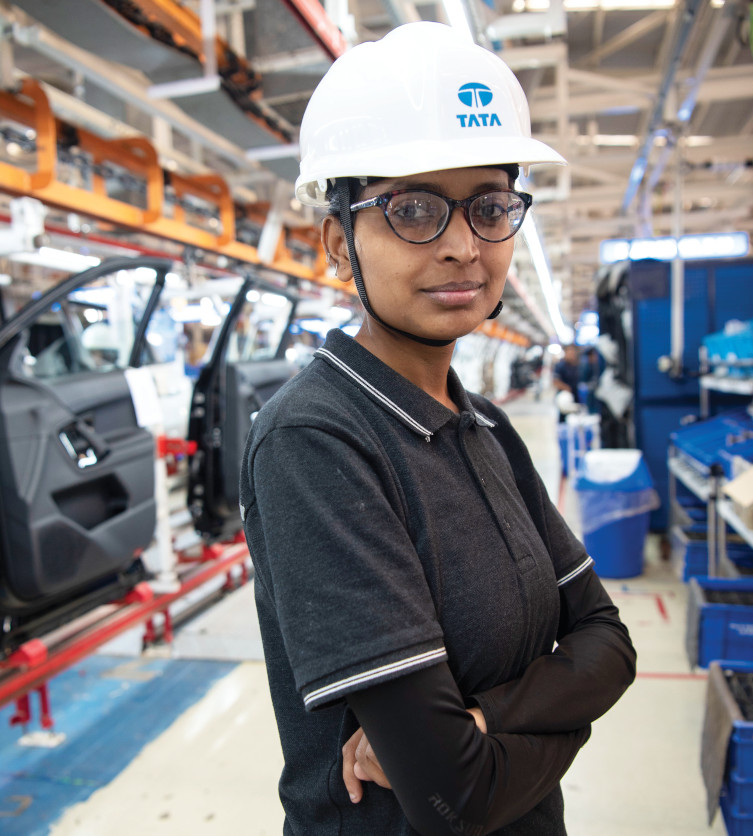 A year ago, a series of unfortunate events made Monica Rajendra Goswami make a career switch. After she lost her father during the pandemic and schools shut down, Monica, who used to give tuitions to the children in her area, found herself at a dead end. That is when someone recommended the Tata Motors two-year certificate programme, which would give her the opportunity to earn and learn at the same time.
Amidst naysayers, Monica stood her ground, and today she revels in her success and has become a role model to many.
Part of the inaugural batch, Monica along with her colleagues, rolled out the first car from the all-women assembly line of Tata Motors within a month of joining. She has learnt all about automobiles from scratch, beginning with assembling the brake system. Within a short span of time, she has taken charge of the entire assembly line's rejection and salvation process of auto components. "We look for the root cause of rejection. We then consult senior company officials and suppliers to gauge what we can do to reduce damage and salvage the components, saving the company huge costs," says Monica, who now leads a team of women.
Reliving her 11-month journey, Monica says, "The team has gone from making one car a day to 240 cars a day." Evidence of proving the naysayers wrong — Monica's brother too wants to work in the automobile manufacturing sector.
Monica believes women can help change the impression that it is a male dominated industry, "Today, we have women in every field. So, why not this?"
What gives her immense pride is when she sees a car that she has assembled on the road. She hopes to own a car of her own one day — perhaps a black Tata Safari.
Monica continues to teach disadvantaged girls in her free time every day — 20 of them across age groups — who want to follow in her footsteps. When she hears her six-year-old student state: "I want to study in the same college and work in the same company where you are working," Monica realises this is a reward in itself.
Trainee to team leader: Nikita Nikam (21), Team Leader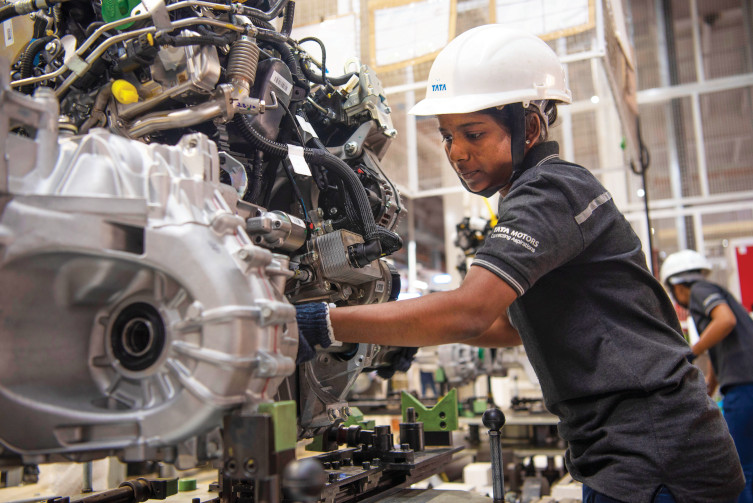 Bring a woman hasn't held back Nikita Nikam, or her growing career in automobile manufacturing. This young lady pretty much rolls up her sleeves, gets her hands dirty and is at the forefront of assembling engines at the Tata Motors' all-women manufacturing plant. Leading a team of 26 women in the underbody section of the assembly line, Nikita radiates a go-getter attitude. It was not always so.
Hailing from Satara district of Maharashtra, Nikita comes from a humble farming background. Though she held a diploma in Electronics and Telecommunications, it did not arm her with the requisite skills to be industry-ready for a job in the IT sector. "A friend told me about the 'learn while you earn' opportunity at the Tata Motors' all-women assembly line. It was a timely answer to my desire to build a career for myself," says Nikita. "We underwent rigorous training, not only in technical skills, but also in spheres that helped us adapt to working in a large industrial set up." It was not easy for her in the beginning. "With time my doubts faded, and work started becoming easy. I was constantly supported by senior leaders and my mentor, which helped me transition from a village set up to working in a big industrial unit."
"At Tata Motors, I always accept challenges," says Nikita, recalling an incident when she challenged her male colleagues. Being the champion for handling the rejection rate of damaged auto components, she along with her team and suppliers came up with a solution to salvage damaged engine radiators. "We were told to scrap the radiators as there was no way of salvaging them. But we salvaged the 10 damaged radiators by simply changing a screw — saving the company a large sum of money," says Nikita with great pride.
At every step, Nikita has proved herself. From a trainee to a team leader in a year, she aspires to become a line engineer, and complete her BTech in Electronics and Telecommunications while working at Tata Motors. Her family no longer pressurises her for marriage. "We have a two- wheeler at home. The fact that I make a four-wheeler makes my father proud."
Apart from being able to support her studies and her family financially, she counts the knowledge she has gained, the experience of working in a big industry, the opportunity to exercise management skills, teamwork and most importantly, being part of the larger Tata family, as her greatest achievements.
"I'd encourage young women like me to consider manufacturing as a career and recognise Tata Motors as a great place to work at if they want the opportunity, resources, and guidance to learn new things and be successful."
Improving continuously: Dhanashree Dipak Murbade (22), Super Team Leader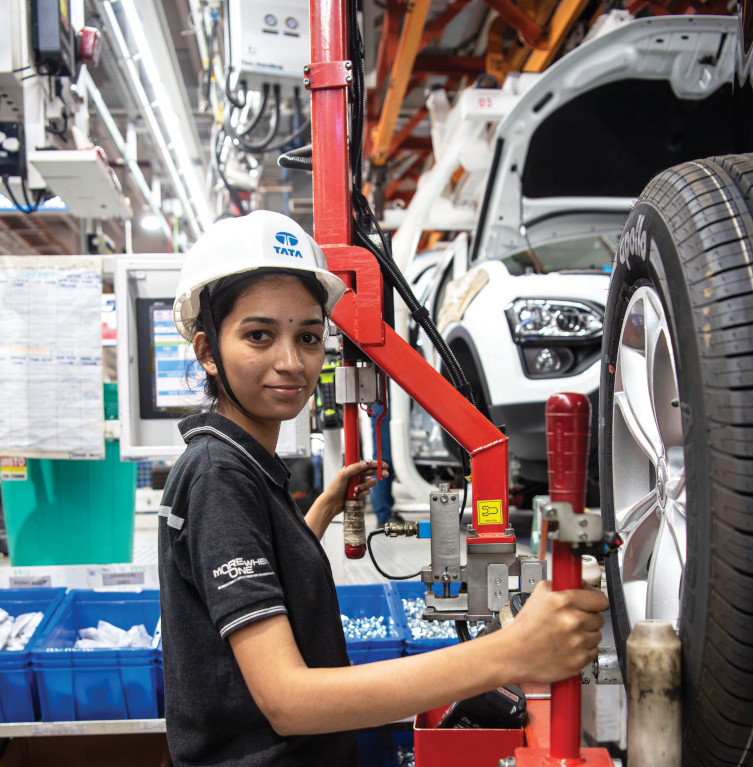 When Dhanashree Dipak Murbade had to pick between fear and learning, she picked the latter.
Referring to her early days at the Tata Motors Passenger Vehicle (PV) plant at Pune, Dhanashree recalls them being full of trepidation. Understandably so, if you're new to a profession and are being judged for your gender and every stereotype that it brings with it. Dhanashree's story of having fought the odds like several others at the all-women's assembly line isn't uncommon. But what is commendable is that Dhanashree, who started out as an operator when she joined the company a year and a half ago, is today one of the few Super Team Leads working on the shopfloor and managing groups of operators and TLs that lead these teams.
Originally from Murbad in Thane district, Maharashtra, Dhanashree holds a diploma in mechanical engineering and has prior work experience in administration. She was unable to pursue her higher education due to financial constraints. But with the job at Tata Motors came the opportunity to apply for a degree course, a huge factor in her staying on in the job, other than the fact that she enjoys the work immensely. The initial training she received on joining Tata Motors also played an important role in cementing Dhanashree's long-term commitment to the company.
Other aspects that have helped are more structural to the organisation, "Girls feel very comfortable working here, without being conscious of our bodies while working — moving, bending, stretching. Here we can work like no one's watching!" says Dhanashree. The joy of door-to-door transport that the company offers, provides comfort, safety, and security — making travel and working odd hours easier to handle.
Dhanashree is also grateful for the values she has imbibed through the Tata Motors shopfloor culture — the Japanese philosophy of Kaizen, a system of continuous improvement, and the 5S system, which she believes apply to both the professional and personal spaces. "Women do a better job because of the way they care for the home and family — thinking of every small thing, of savings, etc. They apply the same strategies at work — saving money for the company by working with diligence and efficiency. Women care for these cars just like they care for children," says Dhanashree.
—Arushi Agarwal and Tejal Pandey
Photographs by Tejal Pandey