January 2020 | 609 words | 2-minute read
Located mere steps from Mumbai's domestic airport, Taj Santacruz is the city's youngest Taj hotel. The hotel, which opened in early January 2016, is "a lot more than your regular airport hotel," share Santosh Shetty, director, food and beverages, and Nitin Mathur, executive chef, both of whom join us for our visit to the hotel's all-day diner, Tiqri.
The first thing that meets the eye as we walk into Tiqri, located in the hotel's atrium, is the majestic wall at the far end with the restaurant's centrepiece 'a tree of life' etched into it, using traditional Rajasthani tiqri or thikri work. The mirror or glass inlay technique artwork is from where the restaurant gets its name.
Standing tall at 60 feet, this is perhaps the largest tiqri panel in the world. It comes as no surprise that it took a team of artists from Jaipur, seven months to complete it. Tiqri, however, proves to be far from old-world, in both its food and décor.
Tiqri, with its elevated bar area, sprawling restaurant and an island kitchen in the centre, exudes a clean, contemporary vibe. The tables are comfortably spaced out — perfect for some quiet alone time, private conversations, or big group lunches.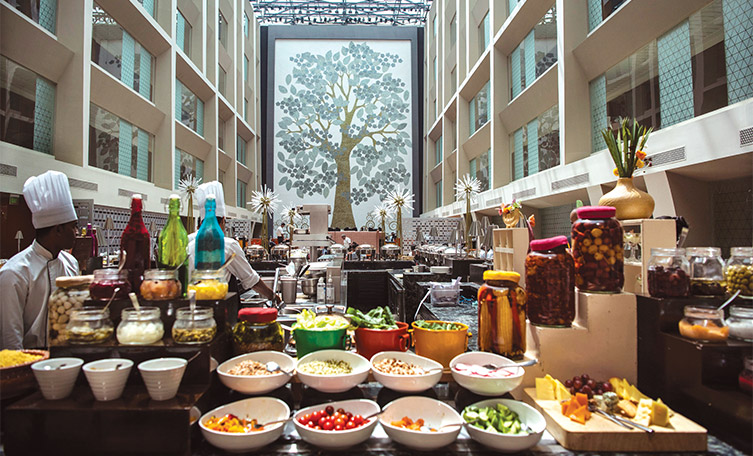 Around the clock
The food, however, is the real draw here. The extensive menu boasts variety in not just local cuisines, but also delicacies from around the world. While the special Mumbai and Maharashtrian food section will gladden any true Mumbaikar's heart, there's also global comfort food like mac and cheese and Thai curry to soothe the weary traveller's soul.
Between the daily buffet spread at the live kitchen and the seemingly endless options on the à la carte menu, we're truly lost about where to begin. Chef Mathur and Mr Shetty help us by recommending the must-tries.
The crispy serving of lotus stem is addictive, with its subtly spiced lightness and crunch, and is, quite understandably, a big hit with guests. The Mumbai toasty sprinkled with sev and served with a spicy green chutney brings pure joy.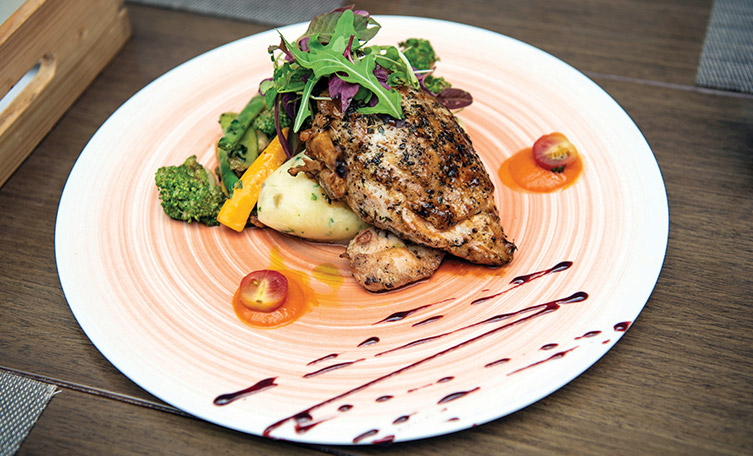 The kombdi vade, a traditional Maharashtrian chicken curry served with multigrain flat bread, feels like it came straight out of a home kitchen, while the creamy pav bhaji served à la fondue, transports you to the chowpatty beach.
The avocado and quinoa salad with rocket leaves and crumbled feta is highly recommended. If that isn't enough, the dark grey hummus with activated charcoal is delightfully unique. To wash it all down, we're served the Fizzy Fraise, a refreshing mocktail of fresh strawberries, grapefruit and orange chunks in ginger ale.
As we savour our favourites, Chef Mathur relates heartwarming stories from his stints in Taj hotels across India, during his 26 years with The Indian Hotels Company. "Today, guests are well-travelled and know their food well, what is authentic, what is not. This makes it more challenging in a way," he says.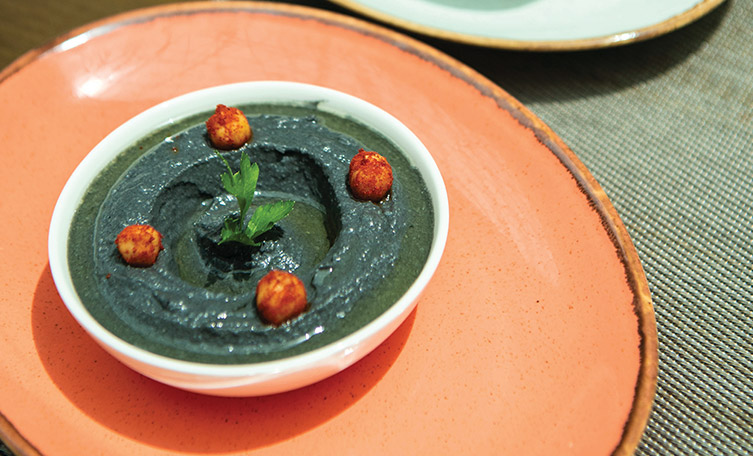 While most hotels serve from a sparser menu after midnight, Taj Santacruz clearly doesn't believe in disappointing its guests, whatever the time of day. Hence, everything on the menu is on offer 24x7.
The soundproofed interiors make you forget how close the tarmac really is, so a sound sleep is a sure follow-up to that sumptuous 3am meal. Of course, you needn't really be a guest at the hotel to enjoy the food here.
Carefully curated single-estate teas and single-origin coffees are aplenty, so coffee lovers won't be disappointed. Themed Sunday brunches and food festivals ensure there's never really a dull moment for anyone at Tiqri.
Text and photos by Tejal Pandey