March 2019 | 563 words | 2-minute read
Tucked away in an upscale part of the megapolis, Thai Pavilion at Vivanta President, Mumbai, is one of the first premium dining experiences of The Indian Hotels Company Limited and is synonymous with the best Thai food in the country. Two-and-a-half decades later, the restaurant is still rustling up exquisite meals amidst beautifully crafted Thai fretwork interiors and an upgraded marble-topped open kitchen.

Thai Pav, as its die-hard patrons address it, is an urban legend. It took an extensive cuisine and cultural exploration for the hotel, including chefs training on the streets of Bangkok to fine-tune their Thai culinary skills, before the Pavilion opened its doors in the early '90s to fine diners in Mumbai city.
As for me, I began my discovery of this fine dining place on Google, chiefly to satiate my craving for authentic Thai cuisine. Glowing reviews by celebrity journalists; on must-do lists of city historians; 5-star ranking by food websites; and, to top it all, what a Mumbaikar wrote on a food aggregator website caught my eye, "Don't leave out the Grilled Scallops, Foie Gras. Move on to John Dory fish in garlic sauce and … the curries…!!! And then stop. Go home. Come back the next week for some more…" There is no nuance there. No larger comprehension of menu design or Thai cuisine. Just an honest appreciation for good food and unbridled love for the brand, Thai Pavilion.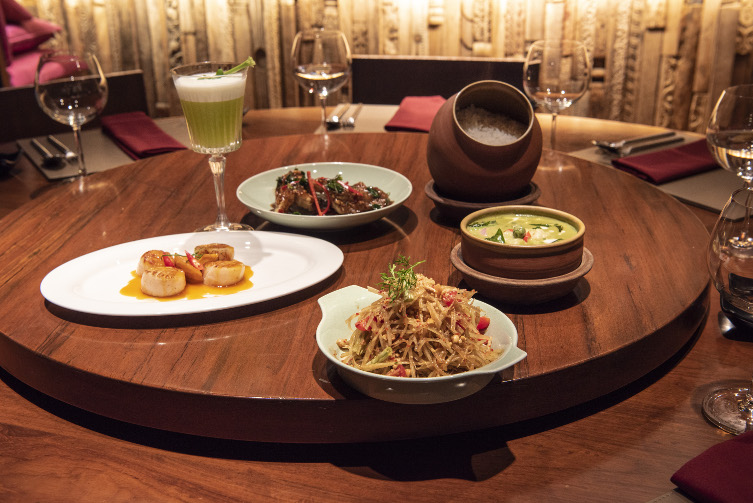 To take me through the ups-and-downs of the Thai cuisine journey, executive chef Uddipan Chakravarthy designed a tasting menu that traversed the many flavours with a balance and maturity that only experience can master. It began with the Som Tam (papaya salad) — crunchy and fresh — and ThaiMeUp, a refreshingly creamy drink to beat the Mumbai heat. This was followed by a sumptuous plate of Tempura Prawns with a piquant tamarind sauce, Thai Fish Cakes and a Kai Nam Prick Tow — each with a distinct flavour and texture. Adding excitement to the starters was the tray of condiments all made in-house using fresh ingredients and spices. A special mention of the tamarind and peanut sauce is a must for its wholesome creamy flavour..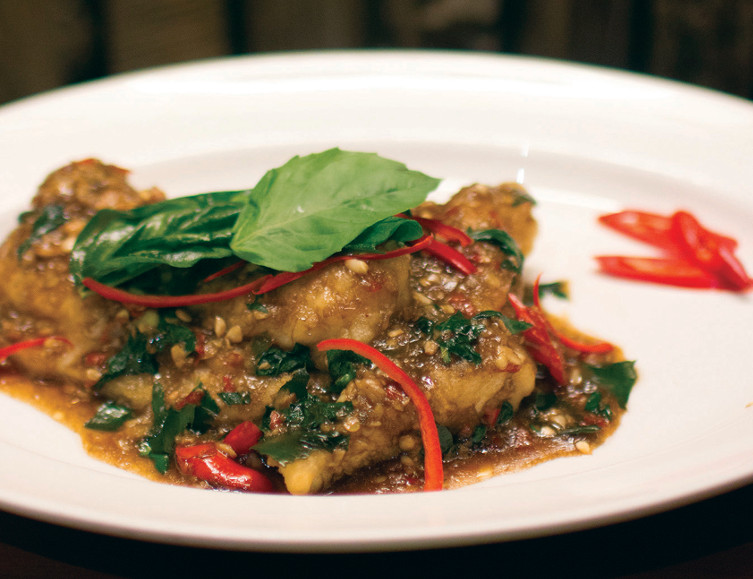 For the main course, I stuck to the basic: Thai green curry with jasmine rice, that wrapped me as if in a warm hug; crispy lamb with bell peppers and flat rice noodles added the drama and spice. Yet, the highlight of the meal was the subtle steamed John Dory in garlic sauce, bursting with taste, along with spicy prawn soup with lemongrass and bird's eye chilli and the diced water chestnut in coconut milk.
What sets Thai Pav apart? Fresh ingredients and flavours — making every mouthful mind-boggling, along with the passion and attention to detail with which the dishes are prepared. Its ambience — with a colourful glass topped bar, the private dining area with sunken seats, the perfect balance of traditional Thai art and contemporary interiors. Perhaps, it is all this and more!
And, above all, a clientele that has been returning for the last 25 years, including the Chairman Emeritus of the Tata group Mr Ratan Tata who is at his favourite table for lunch at the Thai Pavilion twice in a month!
—Sanghamitra Bhowmik