July 2021 | 2086 words | 8-minute read
There is a surge of energy coursing through the over-100-years-old Tata Power. The power generation, distribution, transmission and trading behemoth is raring to go. Refusing to let the obstacles posed by the pandemic get in its way, the company and its people have shown remarkable courage in ensuring that all systems are up and running and that subscribers remain assured of continuous power.
Dr Praveer Sinha, CEO & MD, Tata Power, says, "Our teams have shown tremendous resilience in carrying out their responsibilities, going beyond the call of duty. This shows the character of the company, how it has built itself. For us, it has been business as usual but under very difficult circumstances. All our plants have operated at full capacity. Our business and project sites have worked continuously."
New horizons
In April 2021, Tata Power reached out towards a new frontier, having taken over distribution and retail supply from all the four distribution companies in Odisha. Tata Power is now the sole service provider in the state, with a total base of 9 million customers in an area of over 1,50,000 sq km.
Dr Sinha says, "Prior to this, we had about 2.7 million distribution retail customers in Mumbai, Delhi and Ajmer. We supply electricity to industrial, commercial and residential customers across both urban and rural areas."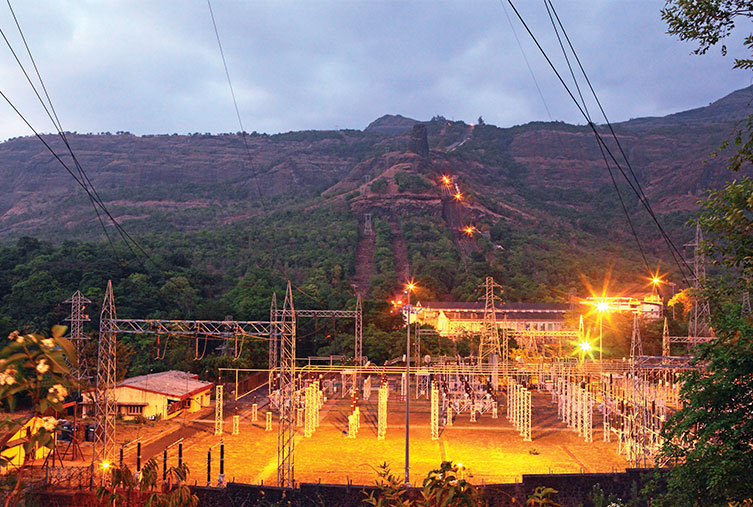 Odisha poses a huge opportunity for the company, not only for the scale of revenues it promises to bring, but also in terms of the steepness of the learning curve it represents. The experience to be gained in providing better customer service, better reliability and financial performance to the residents of the state could well serve as a template for Tata Power when it commits to taking on bigger distribution challenges.

Towards carbon neutrality
As a power company, Tata Power respects the inevitable strain on fossil fuels, imposed by the business. Dr Sinha says, "We are fully committed to becoming carbon neutral by 2050. No new greenfield or brownfield coal based plant will be added to our capacity. Once our coal based plants get decommissioned, we will become 100 percent renewable." The company is adding to its renewable capacity by focusing on businesses like engineering, procurement and construction (EPC) projects, solar rooftop and solar pumps.
Ashish Khanna, president – Renewables, Tata Power, sees the journey towards carbon neutrality as a marathon rather than a sprint. He says, "Tata Power considers renewables as a sustainable, long-term solution for clean energy. We have the distinction of being an integrated player in the renewables space, especially in the solar space. We are in the business of manufacturing from cells, not from modules. Our capacity, in totality, is 1.1GW."
The renewables business is also banking on its EPC contracts, where the order book stands at over 10,000 crore in the utility scale segment. Additionally, the company is also doing well in the rooftops, solar pumps and microgrid segment.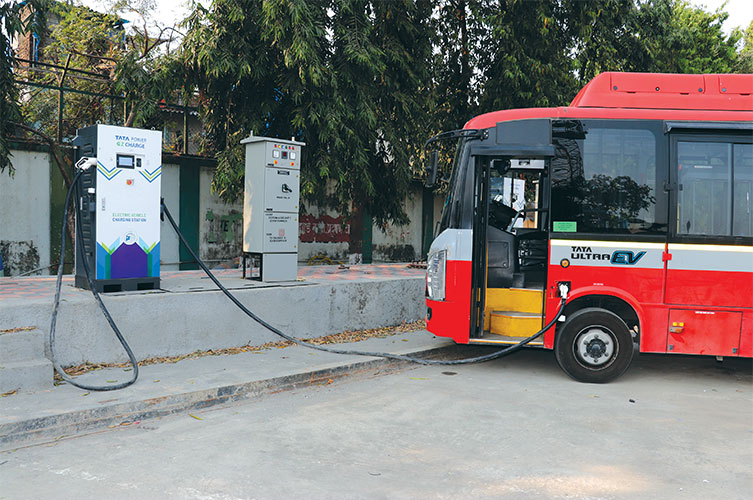 Harnessing technology
Technology is playing a big role in allowing the company to ramp up its power output. Dr Sinha says, "There are several benefits accruing from the adoption of digital technology and automation. Our operations become smarter and better, and we can manage our services in real time. Technology also helps us to empower our customers by putting important tools in their hands."
The renewables business is looking to technology to gain momentum. Mr Khanna says, "At each level of our business, we look to better technology. Innovation in terms of larger wafers, thinner glasses, etc helps us get more power from the same module. A lot of automation goes into the manufacturing itself."
Technology is also employed in project execution. High-end security systems have drones managing operations and maintenance. Most of the predictive maintenance happens at a network station far from the site. Improvement in output is sought through AI (artificial intelligence) and algorithms for both solar and wind projects. The customers are able to see on their smartphones how much power their rooftop or pump is generating.
Mr Khanna says, "Our investments in digitisation have gone well in the last one year. They helped us to remotely manage maintenance. We were able to forecast how our plants were going to work because our supply chain was badly impacted in the last year."
Customers of Tata Power's EV (electric vehicle) charging business are also benefitting from cutting edge technology. The Tata Power EZ Charge Digital platform, enables EV owners to locate, navigate, book, charge and pay with ease, among a host of other features on offer.
Wooing the customer
Taking note of the adverse effects of climate change, Tata Power is moving to dissociate itself from its coal-based business, while making a concerted effort to enter the B2C space.
Dr Sinha elaborates, "Disruptions in technology and digitisation of operations have changed the way our business operates, making it possible for us to reach out to the customer and empower them to generate their own electricity." This has paved the way for the company to enter a slew of new business areas such as solar rooftops, solar pumps and microgrids.
Dr Sinha says, "While our B2B business continues to be important, the B2C space represents a huge opportunity for us. We believe that we have the capability, domain expertise and customer insights required to become a services and solutions company for electricity." Key advancements in mobility are enabling another revolution in the shape of EVs, a field in which Tata Power has taken an early lead through its EV charging business.
One of Tata Power's new businesses involves the use of technology to help customers manage their energy consumption. Sandeep Bangia, business head – EV Charging, Home Automation & ESCO (Energy Service Company) says, "Our Home automation solutions, wherever installed, allow you to monitor and manage your energy consumption for not only the entire house but also room-wise, as well as for each piece of equipment — all through your mobile device."
Customers can manage their home equipment from their mobiles, even when they are not at home. Voice control is another level of convenience offered with Tata Power EZ Home. "Alexa, turn on the AC, please." No more walking up to the switchboard.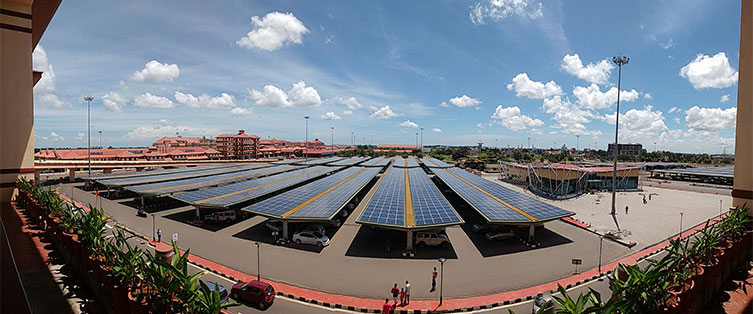 Soaking up the sun
Tata Power is one of the oldest players in the rooftop domain and the market leader for seven consecutive years. With an installed base of over 600MW, the solar rooftops business is a key piece of its operations. The company has already made inroads into more than 100 cities in India, where customers are benefitting from the onsite generation of electricity from their rooftops.
Ravinder Singh, chief, Solar Rooftops Business, says, "We mount a solar PV (photovoltaic) plant on the customer's idle rooftop to generate cheaper and cleaner energy than the power sourced from the discom. Depending upon the state and whether the customer is a residential, commercial or industrial user, the savings range from Rs 1.50 to Rs 8 per unit of electricity. The highest quantum of savings is earned by commercial and industrial users."
Customers have been quick to recognise the benefits inherent in the rooftop proposition, judging by the team's unexecuted order book of over Rs 700 crore from 13 key states in India. Generally, residential customers account for 10 percent of the business, with 75 percent coming from commercial and industrial customers, and the remaining from the government. In terms of number of transactions, residential customers account for over 80 percent.
Mr Singh says, "Our spread is virtually across India. The benefit of a solar roof is that the power you generate from it is the power that you would have had to otherwise buy from the discom. Generally savings start after five years for residential customers and after around 3 years or even earlier for industrial customers. The system has a lifespan of 25 years."
What is heartening about this growth is that it has continued through the pandemic. The focused campaign carried out in over 100 cities has yielded results, with the team serving 7000 customers in 2020 alone. Covid-19 has encouraged people to push for the adoption of green technologies. With work-from-home becoming a norm, the business has seen its top-line grow by 60 percent and the number of transactions nearly doubled during the last financial year.
Commercial and industrial customers have expressed interest in the opex (operational expenditure) option in which Tata Power installs the solar PV plant on the customer's roof for a period ranging from 10 to 25 years, and the customer pays for the units generated as a result. Customers can also opt to lease the equipment. At the close of the tenure, customers can choose to have the asset transferred in their name at a nominal value or have it taken back.
In India's hinterland or the rural market where the grid is not available for substantial periods of time, the potential off-grid solar rooftop offering creates value for the end user through the assurance and availability of electricity. Mr Singh says, "We even have systems running in Ladakh. Despite the climatic conditions prevalent there, solar power is their cheapest source of electricity."
Buoyed by its success, the team is now looking to scale further. Mr Singh says, "We want to increase our revenues. Over the next 5 years, we aim to go into 1000 towns, and scale the business up to 15 times its current size."

Electric vehicle charging
With its strong legacy of domain expertise in the energy sector, it was no surprise that Tata Power got into the EV charging business. Mr Bangia says, "When the narrative was building up about EVs being the future of mobility, it was a logical extension for us to be a part of this new world."
From setting up its first charging station in Mumbai two years ago, the business has come a long way, scaling up to 500 public charging points of various denominations in over 100 cities with more than 4000 home chargers. Additionally, about 85 ultra rapid chargers for electric buses are powering up the local transport in Mumbai, Ahmedabad and Jaipur.
Mr Bangia says, "Bus electrification projects are all-important infrastructure projects which test the mettle of our project execution skills, electrical domain expertise and charging expertise." The company is also striving to create buyer confidence in EVs by putting the charging infrastructure on highways and parking lots at airports, railway stations, malls, and so forth.
The future of mobility is electrical. Tata Power is busy laying the groundwork by working with car manufacturers to understand their growth plans and prioritise the deployment of charging infrastructure in those places. Mr Bangia says, "We have extensive plans to cover the country with one lakh chargers in over 200 cities. We are putting chargers on highways between hub cities, such as Mumbai-Pune and in tourist hotspots. We are keen to be a key player in the EV ecosystem and plan to deploy chargers even before the vehicles arrive. We are thus happy to enable India's transition to electric mobility by offering widespread charging infrastructure with world-class customer experience." In many ways, these efforts are forging the trails upon which the EVs will race in the future.
Pioneering tradition
Tata Power has a grand tradition of nurturing pioneering organisations for the group. In the same tradition, the company is supporting a lot of start-ups, including the Clean Energy International Incubation Centre in Delhi. The company is also working with Indian and global institutions to develop unique clean energy solutions. Dr Sinha says, "We expect these start-ups to achieve much not only in the Indian context but also globally."
More than a century ago, Jamsetji Tata had envisioned the company as providing clean, green and affordable energy to all. Hearkening to the Founder's dreams, the company is working in the space of universal access to energy to address the problem of energy poverty.
Looking ahead
Caught in the throes of the pandemic, Tata Power refused to cower down. The company worked quickly, unlearning and relearning, and adapting to the circumstances to ensure that customers were assured of uninterrupted power. The attitude reflected well in its financial and operating performance and earned it the approbation of customers and investors alike.
Now the company is preparing to improve its performance, chalking up ambitious growth plans that continue to centre on the consumer.
—Cynthia Rodrigues