November 2023 | 2184 words | 8-minute read
We do not claim to be more unselfish, more generous or more philanthropic than other people. But we think we started on sound and straightforward business principles, considering the interest of the shareholders our own, and the health and welfare of the employees, the sure foundation of our prosperity," said Jamsetji Tata, the Founder of the Tata group, providing an insight into the ethos behind the brand.
Driven by these principles, the group has grown into a global enterprise that has been ranked the Most Valuable Indian Brand in Brand Finance's India 100 report for six consecutive years. Under the leadership of N Chandrasekaran, Chairman, Tata Sons, the group has gained over $13 billion in value over the last seven years, going from $13.1 billion (2017) to $26.4 billion (2023). This is the first time it has crossed the $25 billion brand value marker — the first Indian brand to do so. The group also continues to be the only Indian brand to make it to the top 100 of Brand Finance's Global 500 report.
The strengthening of core businesses, embracing transformation across its diverse portfolio, with a focus on digitisation, sustainability, and supply chain resilience, and creating businesses of the future, have been the driving forces behind this growth.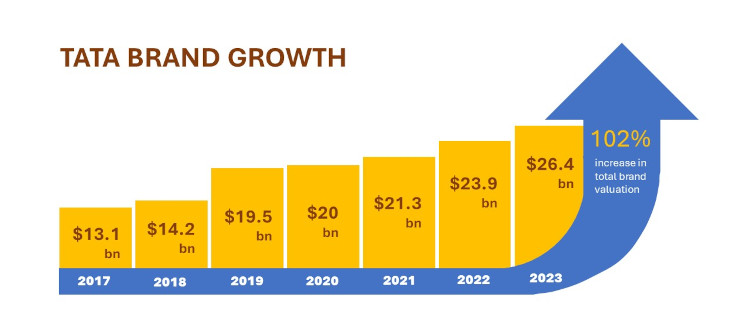 "Great brands are built on ideas that are simple, relevant to the customer base, compelling, and timeless."—Harish Bhat, Brand Custodian, Tata Sons
A number of Tata companies have also made it to the India 100 2023 list, most notably Taj as India's Strongest Brand, Tata Consultancy Services (TCS) as the Most Valuable IT Services brand and Tata Steel as the Most Valuable Mining and Metals Brand. Tata Motors, Tata AIA Life Insurance and Tata AIG General Insurance also appear on the most valuable list in their respective categories, with Tanishq securing its place among the top 10 strongest Indian brands. 
A trusted brand
In 2018, under the guidance of Mr Chandrasekaran, the group businesses embarked on a process of simplification, synergy and scale, "while the brand continued to focus on its core pillars of community, pioneering and excellence," says Harish Bhat, Brand Custodian, Tata Sons. "This has helped the brand create an emotional connection with the public through earnest and consistent actions, break into new ground and also ensure the highest quality of products, services and customer experience. All this has led to increased brand love, brand relevance and brand trust."
The ethos of 'leadership with trust' lies at the heart of the Tata brand. "The group's actions of fair or ethical conduct, providing very good quality of products and services, and contributing to the community have not been done for just one or two years, but for 155 long years," says Mr Bhat. "The trustworthiness that the brand has earned is the result of the toil of so many years of keeping all our stakeholders at the centre of the business, and serving them very well." The firm's values, encoded in the Tata Code of Conduct, outline how corporate citizenship can be integrated into business, guiding the actions of companies and employees. 
"I don't see a trade-off between ethics and the business — if anything, brands that are ethical drive more business in the long term and are more durable," adds Abhinav Kumar, Global Chief Marketing and Communications Officer, TCS. Taj too attributes its success to the trust it has built over 120 years. "Trust combined with our commitment to excellence, innovation, and creating exceptional experiences drives our growth," says Puneet Chhatwal, Managing Director and Chief Executive Officer, Indian Hotels Company Ltd (IHCL).
Meanwhile, Tata Steel prides itself on pioneering the branding journey of a commodity like steel, positioning it as a material of choice to gain a sustainable competitive advantage. "Tata Steel, an original Atmanirbhar Bharat story, epitomises the vision of nation building and commitment to a sustainable future," says Chanakya Chaudhary, Vice President, Corporate Services, Tata Steel.
A pioneering brand
Since inception, the group's pioneering spirit has been closely tied to India's needs. It believes that 'what is good for India is good for Tata', and has established new industries, and strengthened businesses through bold acquisitions and strategic partnerships. "One of the group's strengths lies in spotting future trends and needs, and filling gaps in the market," says Mr Bhat. 
Recognising India's unique opportunity to become a global manufacturing hub, the group is entering sectors like semi-conductors and electronics (through Tata Electronics), batteries (through Agratas Energy Storage Solutions) and next generation telecom network infrastructure (through Tejas Networks, Saankhya Labs and TCS). 
On the other hand, the adoption of the One Tata proposition has enabled group businesses to scale up and become key players in the global supply chain. Tata Motors is leading the EV revolution in India with support from group companies like Tata AutoComp Systems, Agratas, Tata Electronics, and Tata Power.
"Our mantra is to engage and work closely with all stakeholders, to create a win-win model and drive collective progress."—Chanakya Chaudhary, Vice President - Corporate Services, Tata Steel
For Tata Steel, innovation is integral to its very existence. Its focus on introducing path-breaking initiatives has been recognised on a global scale — three of its plants are designated as Global Lighthouses of the Fourth Industrial Revolution by World Economic Forum (WEF). "Our three-phased digital transformation journey — cloud, data, artificial intelligence (AI) — has already yielded positive results, with significant investments in the first two phases paying off," says Mr Chaudhary. The company has built FerroHaatTM, a first-of-its-kind app to organise steel scrap sourcing, and is investing in solutions beyond steel through its new materials business. It has also entered the consumer space with offerings like Tata Steel Aashiyana, an online home building platform.
For TCS, there is a need for heavy investment in R&D. "Technology cycles have been accelerating. We need to constantly understand new technology, shape them, and train our employees to stay current," says Mr Kumar. One of TCS' most successful AI products, IgnioTM, is used by many global corporations to improve internal processes. "With generative AI, technology is in the hands of the consumers. We've put in various sandboxes for experimentation and intend to train ~1,00,000 employees on generative AI technologies."
As part of their role as catalysts for development, companies across the group also partner with academia, startups and other players to conceptualise breakthrough solutions across industries. 
A people first brand
People have always been core to the Tata brand and it has consistently set benchmarks in employee welfare. As Mr Kumar puts it, "Employees are not a stakeholder, but the very heart of a business." Its strong employee value proposition, corporate culture and mission, and responsibility towards all stakeholders have made it an attractive employer brand. This is evidenced by four Tata companies making it to Randstad's Employer Brand Research 2023 report on the most attractive employer brands in India, with Tata Power taking the top spot. Others to make it to the top 10 include Tata Steel at No 3, TCS at No 4 and Tata Motors at No 10. 
"There are so many aspects that make TCS attractive to work for, including the Tata ethos of working for the community and volunteering opportunities that give employees a sense of pride and belonging," says Mr Kumar. "This is internalised by our colleagues and is translated in their work."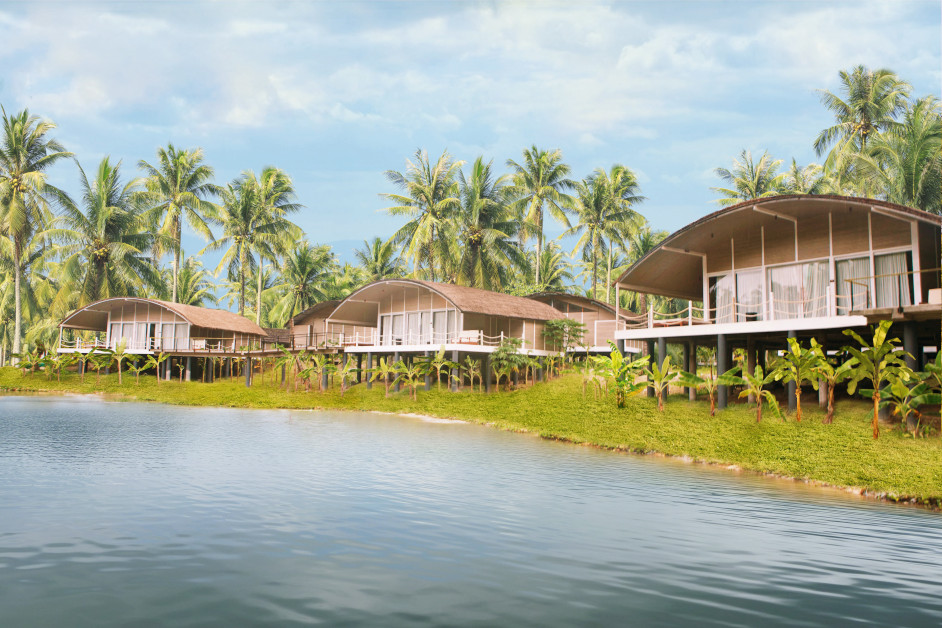 The group's ability to reorient itself, adapt to changing needs, and launch effective diversity, equity, and inclusion (DEI) practices across industries and geographies has helped it thrive for over a century. Tata Steel has been at the forefront of these initiatives and its nuanced DEI policies and efforts have been acknowledged by WEF with a Global DEI Lighthouse 2023 recognition.
"Brands or businesses that prioritise building strong, genuine relationships with their customers are more likely to succeed in capturing and retaining their attention."—Puneet Chhatwal, Managing Director and Chief Executive Officer, IHCL
For IHCL, its employees are the custodians of Tajness and its "efforts towards creating a diverse and inclusive workforce are encompassed within a comprehensive framework underpinned by diversity in hiring and an environment of inclusion and retention," says Mr Chhatwal.
A socially conscious brand
The Tata group's foundations are rooted in its social commitment to the greater good. Recently, its efforts to drive sustainability across businesses were brought together and streamlined under the Aalingana initiative. Driven by Mr Chandrasekaran's vision, Aalingana outlines the group's aspiration to secure the future by becoming net zero by 2045.
As part of Aalingana, the group is embedding sustainability into all aspects of its business strategy, focusing on driving decarbonisation of businesses, applying a circular economy approach, and conserving biodiversity –– setting targets in alignment with Science Based Targets initiative and the United Nations' Sustainable Developmental Goals.
Steel is a hard-to-abate sector, emitting 7% of global greenhouse gas emissions. Cognisant of its responsibility, Tata Steel is developing and adopting new-age technologies to reduce its carbon footprint. It has developed HIsarna technology to optimise steelmaking, which has the potential to reduce energy use and carbon emissions. It is experimenting with hydrogen injection and biomass in blast furnaces to further reduce emissions. Additionally, "we are setting up a 0.75 million-tonne long products steel plant with a scrap-based electric arc furnace in Ludhiana, Punjab, to recycle scrap and produce steel for construction purposes," says Mr Chaudhary. "And in our pursuit of enabling a future-ready sustainable supply chain, we have been experimenting with alternative greener modes of transportation, like multi-modal shipment and inland waterways." 
Meanwhile, "IHCL's Paathya framework is an integrated approach towards creating sustainable growth and a positive impact on natural ecosystems and communities," says Mr Chhatwal. "Our goals include 100% elimination of single-use plastic and wastewater recycling by 2030." This year, the iconic Taj Mahal Palace, Mumbai and Taj Bengal, Kolkata became 100% green, powered by renewable energy.

"The foundation of any brand lies in trust. Customers keep coming back to brands they have deep emotional relationships with, whose quality they trust, who they believe always act in their interest, and also in the larger interest to their community as responsible businesses."—Abhinav Kumar, Global Chief Marketing and Communications Officer, TCS
TCS too has pledged to become net zero by 2030 and is developing client solutions to optimise energy. "We have reduced our carbon footprint by 71% using the 2016 base and, in terms of Scope 1 and Scope 2 emissions, we have already attained carbon neutrality in most of our major markets," Mr Kumar says. "Besides, 55-56% of energy at our offices and data centres is obtained from renewable sources." 
A testament to the group's progress is its No 1 ranking in Asia Pacific in the GlobeScan SustainAbility Leaders Survey 2022 and No 1ranking in India in Brand Finance's 2023 Sustainability Perceptions Value index.
A sporting brand
The group has adopted sports as one of the ways to drive socio-economic change, leading to increased brand equity. It has nurtured and sponsored sports and athletes, establishing elite institutions like the Tata Sports Club, Tata Football Academy, Tata Archery Academy, Tata Athletics Academy, Naval Tata Hockey Academy, and Tata Steel Adventure Foundation Sport Climbing Academy. In 2022, Tata Sons became the title sponsor for the high impact Indian Premier League as part of its effort to increase consumer affinity. This year, it also sponsored the inaugural edition of the Women's Premier League, in keeping with the brand's commitment to be socially responsible and inclusive.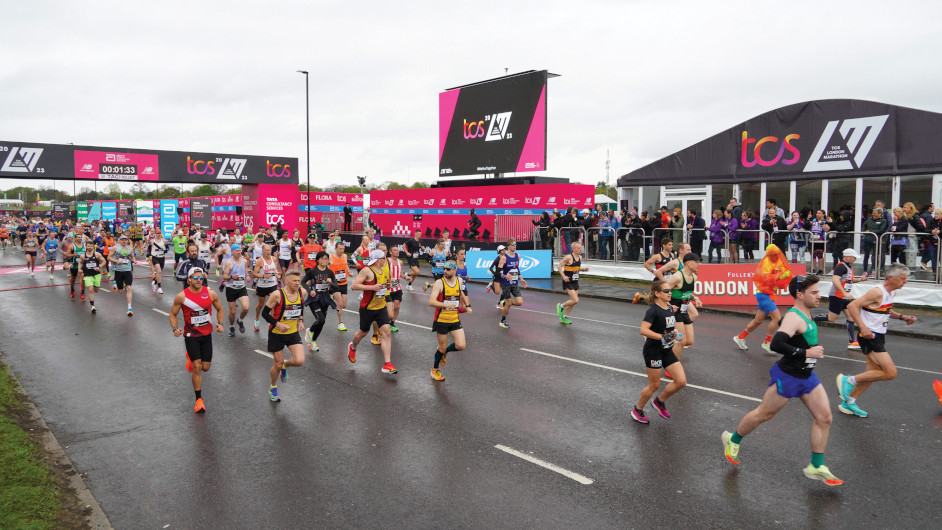 "Tata's association with sports keeps the brand youthful and establishes a connect with young consumers," says Mr Bhat. "While sports sponsorships provide relevant visibility to the brand, there are other benefits, too. For instance, marathons contribute to wellness and part of the registration fees are also contributed towards community causes."
For a company like TCS, sports sponsorships provide an opportunity to engage with the community, employees, and clients, while also showcasing technology credentials on racetracks and arenas around the world. The brand started with sponsoring one marathon in Mumbai and is now associated with 15 marquee marathon and running events around the world, enhancing the TCS and Tata brand globally. Tata Steel uses sports to empower the community, establishing state-of-the-art sports infrastructure for chess, archery, hockey, and football, organising sports tournaments, and creating world-class sportspersons. 
A future-proof brand
Over the last few years, the Tata group has undergone a big transformation, unlocking growth through strategic shifts that have helped it adapt to the ever-evolving global business landscape. Now, it is future-proofing businesses by addressing the opportunities presented by four mega trends — leading the transitions in digital and AI, energy, global supply chains, and talent — and is poised to lead India in its new growth story. 
—Esther Cabral and Khintu Saud