December 2021
If you are an employee of a Tata group company, TAS is the perfect take-off point for an accelerated career growth trajectory at the Tata group. Check eligibility details and processes below.
Application Process
The TAS In-House application process typically commences during the month December. Bookmark this page for announcements on TAS In-house; alternatively, you can visit Tataworld.com, the group employee portal as well as check your own company intranet and office noticeboards. 
Leadership Group Discussion: After the application process, shortlisted candidates will be invited to participate in leadership group discussions
Presentation Round: Candidates are further shortlisted to a presentation round where they will present on a designated case study given to them
Final Interview: Qualifying candidates will have an interaction with a senior panel from the Tata group
All the selection rounds for TAS In-house 2022 will be conducted digitally
Schedule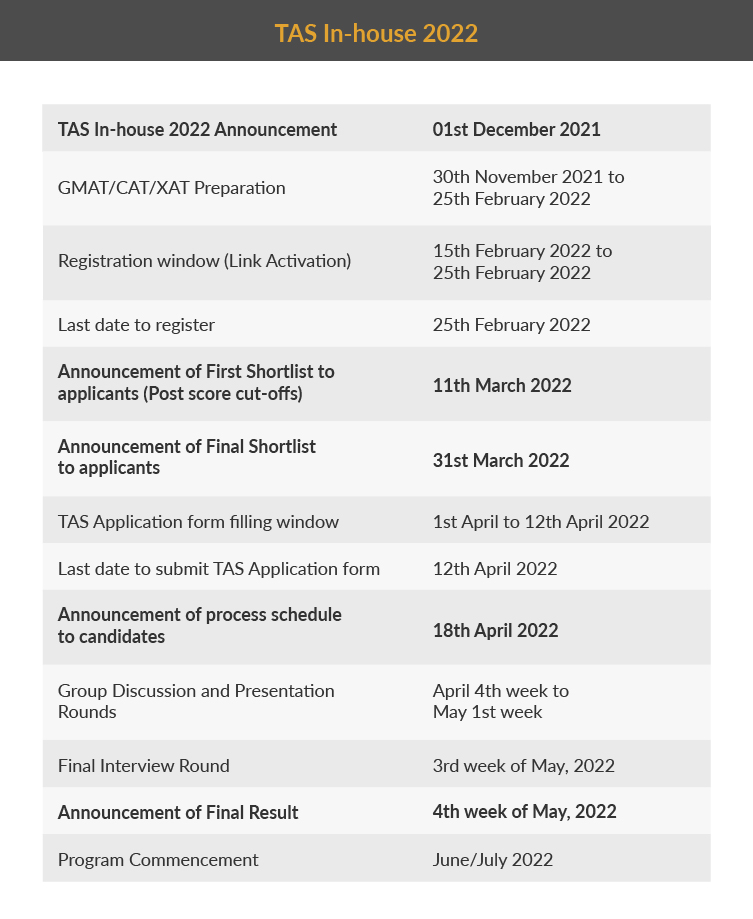 Download important dates [PDF]
TAS In-house 2022 Guidelines for Application

Interested applicants will have to register, with their official Tata email ID only, on this page. The application window will open on 15 February 2022. The deadline for registering is 25 February 2022, 11:59 PM IST.
An applicant can register only once. Applicants with multiple registrations/entries with varying details – name, GMAT/CAT/XAT score combinations, email IDs, etc, will be disqualified for the TAS In-house process.
Applicants should register on the website only once a valid CAT/XAT/GMAT score is secured. Applicant must pick one of the above-mentioned exam scores to submit. Multiple scores will not be considered.
In the first stage, applicants are only required to complete the registration process and not fill the TAS application form. The TAS application form needs to be completed only after the score cut-off.  Candidates will be informed via mail about when to start filling the form.
Kindly click on the above link to view the TAS In-house 2022 Guidelines. Interested applicants are requested to carefully go through the criteria while registering for the program.
Registrations for TAS In-house is now closed.