November 2019 | 975 words | 4-minute read
Few would connect the Indian space programme with the venerable Indian Institute of Science (IISc), but alumna Ritu Karidhal Srivastava has played a key role in the recent space mission – Chandrayaan-2.
Ritu who had joined the Indian Space Research Organisation (ISRO) after attaining a master's degree in aerospace sciences from IISc, was the mission director for Chandrayaan-2. She was also the deputy operation director for Mangalyaan, India's Mars Mission.
Srivastava's IISc-to-ISRO legacy is the latest chapter in the contributions that IISc — one of the key dreams of Tata group Founder Jamsetji Tata, fulfilled in 1909 by his heirs — has made to India's space dreams. The story began with Vikram Sarabhai, the father of India's space programme, and Satish Dhawan, described as "the true architect of ISRO" by former chairman AS Kiran Kumar. Both Sarabhai and Dhawan were IISc alumni.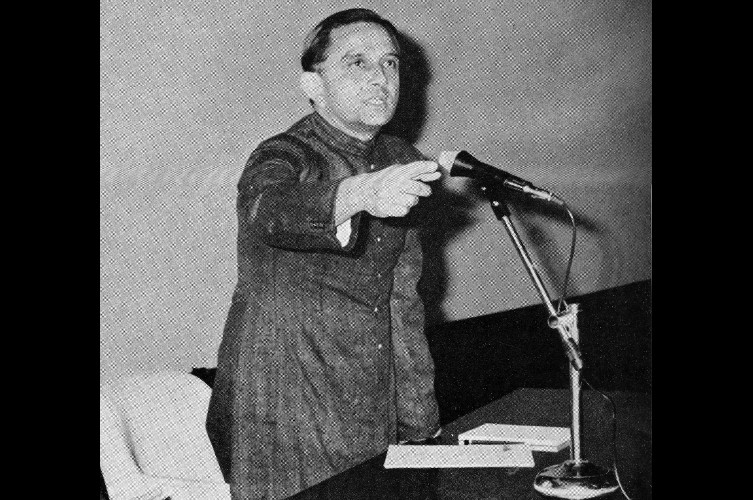 A world at war
IISc set up its Aeronautical Engineering department in 1942, during World War II. "It was the year that the Nazis were to begin acting on their horrific plan for a 'Final Solution', that the Japanese military strengthened its grip over Asia and inched closer to mainland India, invading Burma and the Andaman Islands, and attacking Sri Lanka; that the 'Manhattan Project' to develop nuclear weapons solidified, and that the British began bombing German civilians and industrial workers without restriction leading to devastating air raids like Operation Millennium and Operation Gomorrah that would go on until the end of the war," noted a report in Connect, an IISc publication.

World War II brought Vikram Sarabhai to IISc. He had completed an undergraduate degree in Physics and Maths at Cambridge. Due to the war, he had been allowed to work on his PhD in India under the supervision of CV Raman. The Nobel Laureate established the Department of Physics at IISc in 1933 and became the first Indian director of IISc in 1934.
It was at IISc that Sarabhai met Homi J Bhabha, the father of India's atomic energy programme, who had been made professor at the newly set up Cosmic Ray Research unit in 1942. The two bonded over their interest in cosmic rays. According to Amrita Shah's book, Vikram Sarabhai: A Life, Bhabha studied cosmic rays for the atomic particles they revealed while Sarabhai viewed them as tools to study outer space.
Sarabhai's vision
Sarabhai went back to Cambridge in 1945, after the end of WWII, to complete his PhD but returned to India in 1947. He set up the Physical Research Laboratory (PRL) for the study of atmospheric physics and cosmic rays and began pushing his colleagues towards a space programme for India.
"There are some who question the relevance of space activities in a developing nation. To us, there is no ambiguity of purpose," Sarabhai said. "We do not have the fantasy of competing with the economically advanced nations in the exploration of the moon or the planets or manned space-flight. But we are convinced that if we are to play a meaningful role nationally, and in the community of nations, we must be second to none in the application of advanced technologies to the real problems of man and society."
"Sarabhai," Shah wrote in her book, "dreamed of using space technology for applications in agriculture, forestry, oceanography, geology, mineral prospecting and cartography, with a strict focus on peaceful ends."
Birth of ISRO
By 1961, PRL had grown into a respected centre for research and development in space sciences. In 1962, Sarabhai was appointed chairman of the Indian National Committee for Space Research (INCOSPAR).
It was under Sarabhai's watch that India's first rocket launching station was set up in Thumba, a fishing village in Kerala, in 1963. The nation's first rocket was launched there that year.
In 1969, INCOSPAR became ISRO with Sarabhai still at the helm. He led India's space programme till his sudden death on December 30, 1971.
"Sarabhai," JRD Tata said, "will be remembered as the one who almost single-handed, launched India into the Space Age. His theoretical and experimental work in the Physical Laboratory at Ahmedabad, his creation of the Satellite Station at Arvi, of the Rocket Launching Base at Thumba, and other later projects still under development, are all significant landmarks in the history of Indian science for which the credit will forever go to VS."
Dhawan's direction
"When Sarabhai died suddenly… ISRO, peopled with young and passionate scientists but lacking in a formal structure that would ensure its continuity, would have to change drastically," a report in Connect noted.
Indian Prime Minister Indira Gandhi asked Satish Dhawan, the then director of IISc, to take over. Dhawan, who had studied aeronautics at the California Institute of Technology, had joined IISc's Aerospace Department as faculty in 1951. He became head of the department by 1956 and the institute's youngest director by 1963.
He agreed to take over at ISRO only if he could also continue as IISc's director; Gandhi agreed. "Dhawan inherited both Sarabhai's extraordinary vision and successes as well as the fledgling organisation's internal mess," the Connect wrote. "He brought to ISRO the tight structure it needed to handle the growth that was expected of it."
The report added, "Dhawan also brought IISc's Aerospace Department directly into the picture" by encouraging dissemination and absorption of expertise between academia and industry. "And in the process … placed the Aerospace Department in the forefront of Indian space technology."
IISc stars at ISRO
PS Nair, who worked on India's first satellite mission, Aryabhatta

Brahm Prakash, first director of the Vikram Sarabhai Space Centre

AS Kiran Kumar, former ISRO chairperson

K Sivan, current ISRO chairperson

PS Goel, former ISRO director

Ritu Karidhal Srivastava, deputy operation director of Mangalyaan and mission director of Chandrayaan-2
—Monali Sarkar