June 2020 | 622 words | 3-minute read
Life is better in a number of ways for 43-year-old Puri Bai, a resident of Gharat village in Rajasthan's Sirohi district.
She no longer has to carry water in pots from wells far from home; her family has a functioning toilet, which she herself built, having learnt the skill in a masonry class; she has access to microfinance as a member of the village self-help group; and she is part of a community that is more aware than ever before about how to improve its collective well-being. 
Ms Puri Bai is one of some 70,000 beneficiaries of the Tata Trusts' transformation initiative, a wide-ranging effort to create conditions for sustainable socioeconomic development in South Rajasthan.  Started five years ago, the initiative covers the Sirohi, Pali and Udaipur, three districts stymied in social development by demography, geography and shortages in education and healthcare.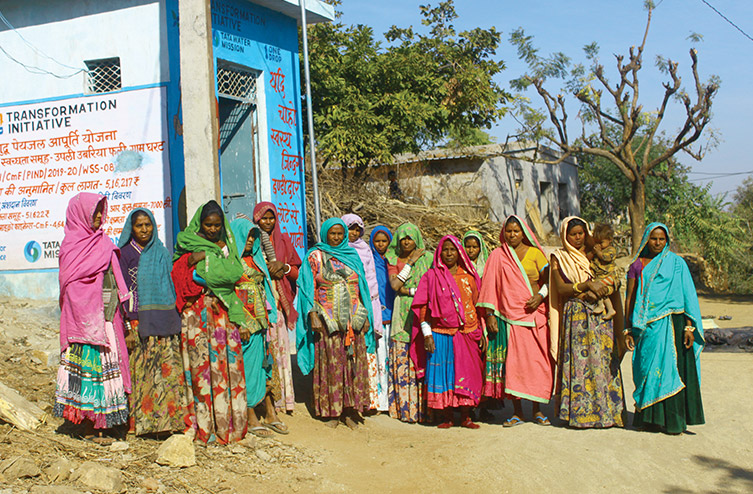 Broader partnership
The Trusts have been active in Rajasthan since 2007, principally through their associate organisation, the Centre for Microfinance (CmF), and through collaborations with Rajasthan government's departments for women and child development and rural development. It was the impact of this work that led, in 2015, to a broader partnership with the state government for the integrated transformation intervention.
For five years now, CmF has looked at holistic community uplift through programmes in education, health and nutrition, water, sanitation and hygiene (WASH), and skilling. The objective is to have these programmes complement ongoing interventions in livelihood and microfinance.
The integrated development plan has several components. The most impactful of these relate to income enhancement and food security. Farming households are encouraged to take up cultivation of unconventional crops like fennel, castor and vegetables. Modern farming practices — drip irrigation and soil treatment among them — dairy and goat farming are encouraged to enable households to supplement their earnings.
Another boost comes from organising farmers into cluster-level federations and producer companies to bring them closer to the market and, thus, find superior values for their produce. Women are organised into self-help groups that enable them to access finance.
Drawing youth into the employment net is another focus area. CmF has launched skilling initiatives such as Skill Mitra and Udyog Mitra to open up new employment and small business options for thousands of youngsters.
Under its health initiatives umbrella, the organisation is engaged in capacity building for frontline health workers in the Abu Road and Pindwara subdistricts, the biggest beneficiaries here being are women and children. CmF is also involved with helping arrange compensation and treatment for men who work in the local sandstone carving industry, toxic work that invariable leads to lung disorders..
WASH to wellness
Across homes, schools and anganwadis (child care) centres, CmF's WASH project focus on improving access to safe water and toilets, and encouraging basic hygiene habits. Another significant programme is in education, where CmF is helping improve learning outcomes for more than 50,000 students through interventions in anganwadis and schools (remedial education is also part of the mix).
For effective implementation and to spread its footprint, CmF works with a number of partners, among them Pradhan, Srijan, the Ambuja Cement Foundation, Doosra Dashak, Bodh Shiksha Samiti, the Foundation for Ecological Security and, not least, the state government.
Since 2018, CmF's work has received support from the NiTi Aayog, the Indian government think tank, which has classified Sirohi as an 'aspirational district' (one of 112 such districts across the country that have some distance to go to catch up with their more developed counterparts).
The integrated basket of interventions that forms the transformation initiative is helping to do what the Tata Trusts envisioned — create lasting impact and trigger sustained development in the tribal-dominated pockets of South Rajasthan.
—Gayatri Kamath

Photographs courtesy Ravi Kant

Source: Tata Trusts' Horizons, April 2020 issue