February 2022 | 1171 words | 4-minute read
In the aftermath of the economic devastation that followed the first set of lockdowns in India, it seemed the pandemic would extract the biggest sacrifice from one of the most marginalised communities of the country: migrant workers. Stranded and abandoned, the vulnerability stalking the previously - invisible existence of this demographic, was suddenly thrust into view.
The daily indignities and troubles of migrant workers, magnified by a virus that destroyed lives and livelihoods; the numerous stories of ruin and heartbreak; and the sheer scale of a tragedy that was mostly ignored — these formed the background that sparked Mission Gaurav, a programme launched by the Tata Trusts during the pandemic to reach out to those most in need.
Spread over six states and administered through 15 implementing organisations, Mission Gaurav works to ease the woes of migrants caught in the Covid crisis, people such as Sasidhar Bariha and his wife, Subidha, from Khurda district in Odisha. The Barihas could barely make ends meet, even in better times, with their meagre wages as brick kiln labourers. By June 2020, the couple were back home and, with no work or wages, at the edge of an abyss. Having someone lend them a hand was a lifesaver for the Barihas.
Mission Gaurav has supported more than 1.37 million migrant families like the Barihas with compensation or by providing them an alternative means of livelihood. This was organised through partner organisations in the field and shramik mitras (community mobilisers). One such shramik mitra is Smaraneeka Panda, who helped the Barihas find part-time work under a government employment scheme.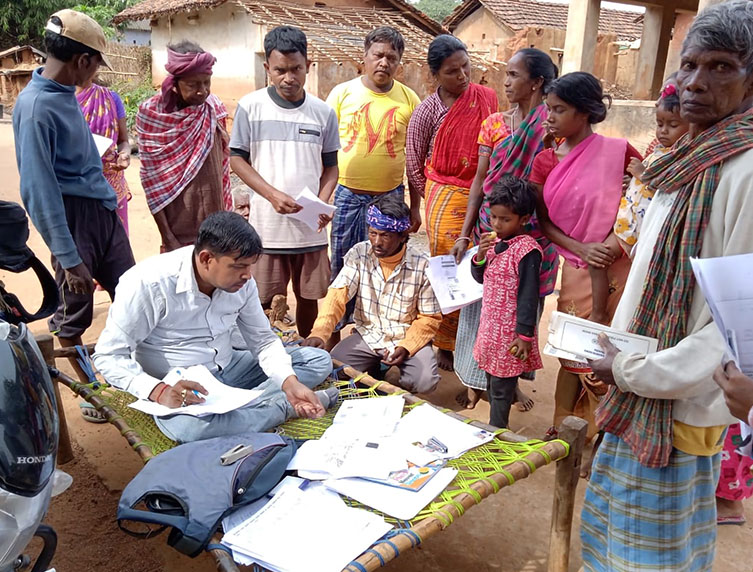 Where there's a scheme
The Barihas had at least each other to lean on. But there were so many others who had to fend for themselves. Dolly Bai from Mandsaur district in Madhya Pradesh, who belongs to a scheduled class community that already faces discrimination, lost her husband in an accident in June 2020 and was left with little hope of survival. She found a benefactor in Jan Sahas, a Mission Gaurav partner organisation in Madhya Pradesh, Chhattisgarh and Jharkhand.
Jan Sahas got Ms Dolly registered under a government scheme that entitled her and her family to aid and pension. She managed to get 
400,000 as accidental death compensation for her husband's demise, a cash benefit of 
5,000 to conduct his funeral and 
600 every month as pension. "We were down and out and I don't know what we would have done without Jan Sahas," she says.
Mission Gaurav has been financially backed through the corporate social responsibility (CSR) contributions of a clutch of Tata companies: Titan in Rajasthan, Jharkhand, Odisha and Chhattisgarh, Voltas in Uttar Pradesh and Trent and Tata Capital in Madhya Pradesh.
Although the Tata Trusts have long years of experience with migrant communities, the pandemic has created an unprecedented situation and no readymade roadmap to show a way out. "Migrant families were coming home under a cloud of uncertainty and there was no guarantee of income," says Shikha Srivastava, who heads the urban habitat and migration portfolio at the Trusts.
The pandemic also exposed the prejudice that migrant communities face — from employers, from upper castes and the better off in their villages as well as from the establishment. Over and above providing returning migrants with monetary support, Mission Gaurav also worked to combat entrenched biases in the system and create a sense of dignity for migrant workers.
The Mission also set its mind to providing migrants with livelihood opportunities and, importantly, on delivering government benefits. "People at the bottom of the pyramid have a lot of difficulty accessing the benefits due to them," says Ms Srivastava. "Getting families their due was the first step in rehabilitating them."

This meant mobilising local partnerships and networks and bringing them all under the banner of a single entity. The states worst hit by the returning-migrants emergency — Rajasthan, Uttar Pradesh, Odisha, Jharkhand, Madhya Pradesh and Chhattisgarh — were targeted to maximise the Mission's impact, and a flexible implementation framework was put in place.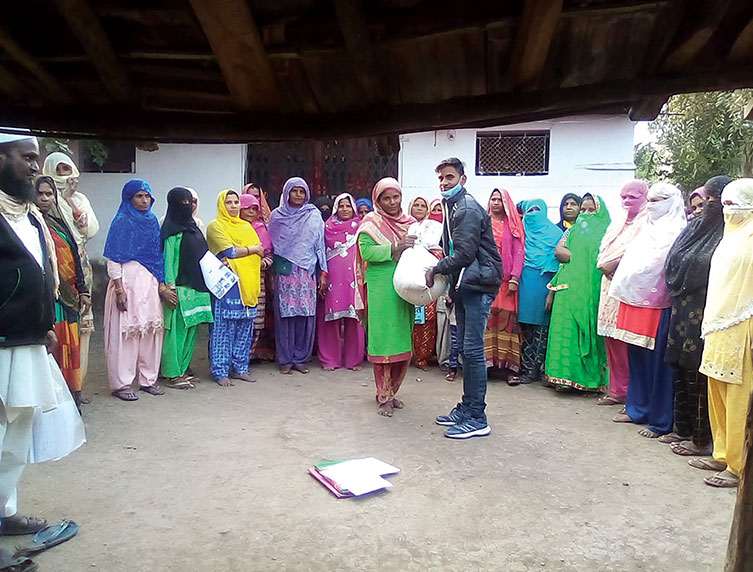 Silicosis is the villain
he lockdown has been tough on migrant workers and their families, no matter what sector they work in or which village they call home. Badaami Devi's story is harsher than most. A 40-year-old widow and mother of three from Suhava village, in Rajasthan's Ajmer district, she was struggling to make ends meet and pay off the debts of her deceased husband, yet another victim of the dreaded silicosis.
A deadly lung disease caused by exposure to silica dust, silicosis is rampant in Rajasthan's many stone-crushing units. Ms Badaami's husband, Ameen, used to earn 
250 a day doing this life-threatening labour, one of countless in a sector where work is contractual, informal and bereft of any sort of health insurance. These workers often contract silicosis and their families have precious little to fall back on when the inevitable fatality happens.
After her husband lost his job due to poor health, Ms Badaami spent everything she had on his treatment. When he died in 2017, she was left in dire straits. Ms Badaami began working at a stone-crushing unit but could not get regular work and was paid even less than her husband. Soon enough, she too contracted silicosis. "I had no money and I had no hope," she says. Mission Gaurav was a godsend for Ms Badaami, whose plight came to the attention of the Grameen Evam Samajik Vikas Sanstha, a local partner in the programme, when it set up a migrant relief camp in Ajmer. A community mobiliser with the Mission helped Ms Badaami file her claim for compensation for her husband's death. It took several rounds of government offices and persistent effort before she finally received Rs. 300,000 as compensation.
"I would have never known about the compensation or the claim process were it not for these people," says a grateful Ms Badaami.
Localised support
To carry out the groundwork, the Trusts tapped their vast network of shramik mitras and Apna Seva Kendras (ASKs), resource centres that enable migrants to access government entitlements, legal services and training in skills development. "We took the ASK model and made it more agile," says Ms Srivastava. "Instead of migrants coming to an ASK centre, we sent mobilisers to the villages to collect data and help families get their benefits."
Mission Gaurav was conducted in a single phase from August 2020 to May 2021. During this period, the Mission has gone beyond addressing the immediate needs of migrants while working to build their resilience to withstand future shocks.
With lockdowns being lifted and migrant labour flooding back to the cities and towns, Mission Gaurav is folding back its areas of intervention. But that's not the end of the road for the effort. "Mission Gaurav taught us to be proud of the work [migrants] do and to make them feel that too. That is its lasting imprint," says Ms Srivastava.
—Arundhuti Dasgupta