January 2022 | 899 words | 3-minute read
Did you know that nearly half the women of reproductive age and more than half of the children below 5 years in India have anaemia? Or that every year a quarter to half-a-million children go permanently blind as a result of Vitamin A deficiency (VAD) and two-thirds of them are likely to die?
India has a high burden of micronutrient deficiencies caused by vitamins A, B and D; iodine; iron; and folic acid. This leads to night blindness, goitre, anaemia, various birth defects, and serious physical and cognitive consequences, cutting across urban and rural populations and geographies.
"In India, health and nutrition have improved in recent decades, but progress has been uneven and inequitable. Micronutrient deficiency disproportionately burdens the poor — rural, tribal, or urban," says T Madhusudhan Rao, lead, Nutrition, Tata Trusts. "Fortification of staple foods to address micronutrient deficiencies in the masses is a cost-effective strategy with globally demonstrated health, economic and social benefits. One of the biggest advantages is that the addition of vitamins and minerals is done at the processing stage and consumers continue to buy and use the commodity as before. No change in dietary habits is required."
Tata Salt has a reach of 201+ million households a year across India, with its iodised salt**

Milk, fortified with vitamins A and D, reaches 110 million people in 26 states and union territories of India daily*

Edible oil, fortified with vitamins A and D, reaches 700 million+ Indians across 11 states daily*

Rice, fortified with iron, folic acid, and vitamin B12, reaches 10 million Indians across 10 states daily*

Double fortified salt, with iron and iodine, reaches 60 million+ Indians across 12 states daily*
*Based on Tata Trusts data as on November 1, 2021
**Based on TCPL data as on December 23, 2021
A pinch of good health
Food fortification is not a new idea in India. As early as 1953, fortification of hydrogenated oil with vitamin A was made mandatory. Salt iodisation started in 1962 under the National Goitre Control Programme, remaining under government control until the early 1980s. When private sector participation was finally permitted, Tata Chemicals immediately partnered with the government in the battle against iodine deficiency. The Tata group has played a pivotal role in India's nutrition journey ever since.
"Tata Chemicals pioneered the salt iodisation movement in India by launching India's first branded iodised salt in 1983. By highlighting factors like hygienic production, purity, whiteness, and salt as a soldier in the battle against iodine deficiency, Tata Salt set new standards for the salt category," says Vikas Gupta, global head, R&D, Tata Consumer Products (TCPL) — the new home of Tata Salt.
The fortification of salt with iodine was the first successful micronutrient intervention in India. Recent data shows that 92% of households across the country access iodised salt, and in 84% of them, the salt contains adequate amounts of iodine. According to the country's food regulator, Food Safety and Standards Authority of India (FSSAI), adequate salt iodisation in India has saved 4 billion IQ points in the last 25 years!
Tata Salt also undertook extensive research, spanning two decades, to address the burgeoning problem of iron deficiency in India, which increases the vulnerability to anaemia. They commercialised a new formulation developed by the National Institute of Nutrition in Hyderabad and introduced Tata Salt Plus as India's first brand of packaged iron-fortified iodised salt. It could provide up to 50 percent of the recommended daily allowance of iron."
At TCPL, we have identified health and wellness as one of the focus areas for innovation strategy," says Mr Gupta. "While we will continue to drive leadership with the salt category, other focus category for us is beverages. We have launched Vitamin C fortified Tetley tea and are working on new product platforms focused on health and wellness under cereals and pulses as well."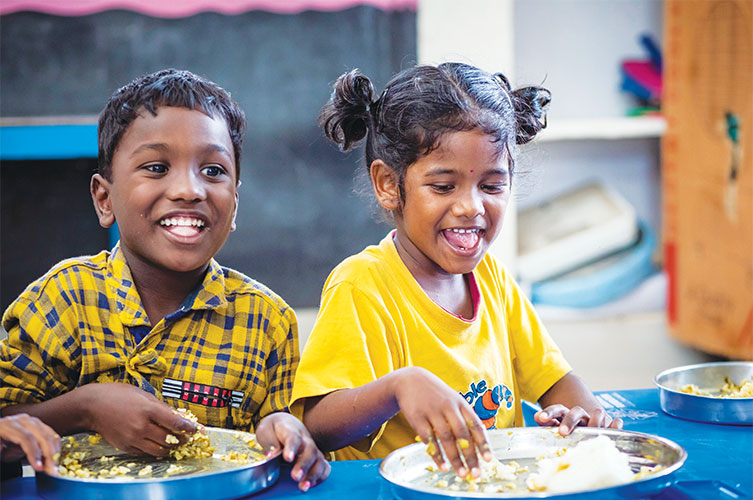 Fortifying staples
The momentum for food fortification was accelerated in 2016 when FSSAI established standards for fortification of rice, wheat flour, edible oil, double fortified salt (DFS), and milk. Tata Trusts, which was already working on India's malnutrition problem and had identified staple food fortification as an important intervention to tackle the high levels of micronutrient deficiencies in the country, immediately stepped in.
"Creating an enabling environment is a foundational task for scaling up and sustaining staple food fortification," says Mr Rao. "So, in 2016, Tata Trusts took the initiative to provide a single platform for government stakeholders; development partners; and industrial institutions, particularly food manufacturers, processers and fortification pre-mix makers to work together towards staple food fortification to improve nutrition security. The Food Fortification Resource Centre, housed at FSSAI headquarters in Delhi, was funded by the Trusts."
Tata Trusts not only supported the development of standards for fortification of rice, milk, and edible oil in the country but also helped with innovations and technology transfer. They partnered with the National Dairy Development Board to drive milk fortification. They facilitated the transfer of new technology for DFS from the University of Toronto to Indian companies. And a Tata Trusts-run pilot programme for rice fortification with innovative technologies in Andhra Pradesh has helped the government scale up rice fortification across the country.
"Micronutrient deficiency," Mr Rao adds, "affects health contributing to low productivity and a vicious cycle of malnutrition, underdevelopment as well as poverty. Food fortification, therefore, is crucial for India."
—Monali Sarkar