November 2021 | 1094 words | 4-minute read
What's common between the Limca Book of Records and Guinness World Records™, apart from the fact that they both applaud unique achievements? Well, the answer is TCS CodeVita!
In 2015, TCS CodeVita entered the Limca Book of Records as the largest team-programming contest. It had witnessed 197,000 student registrations followed by a stiff competition among 45,861 teams with over 236,900 code submissions. It was also the year when the contest recorded the highest participation in any team-programming contest in India. In 2021, TCS CodeVita Season 9 (2020 edition) won the Guinness World Records for being the largest computer programming competition with 136,054 participants from 36 countries.
Given the numbers and accolades, you'd be surprised that TCS CodeVita's journey began barely a decade ago. Back then, the Talent Acquisition Group (TAG) of Tata Consultancy Services (TCS) felt the need to create a digitised and gamified platform to attract the right talent.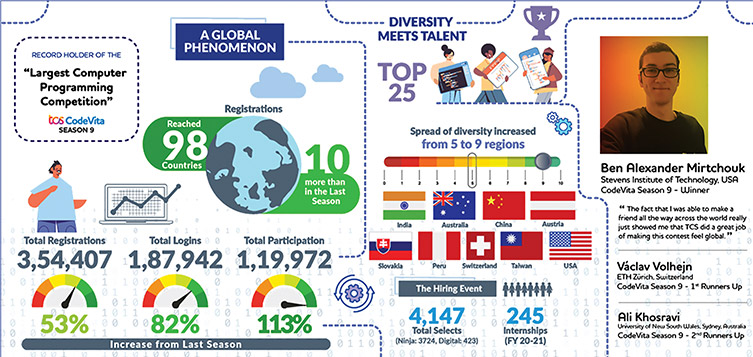 One sunny day, the bright minds of the TAG team along with the TCS Research and Innovation (R&I) team, while mulling over the prospect of coding being one of the growing foundational skills in a world driven by data and digital ecosystems, had a eureka moment — creating a programming contest for students. With the dual intent of providing young students a platform to showcase their computer skills beyond the realm of the academic threshold and giving TCS' human resources (HR) teams the access to right talent for today's new-age roles, TCS CodeVita was christened.
While it was initially enabled by TCS' R&I team, today the core teams for the successful execution of the contest are the Chief Technology Officer team, the HR team and the Corporate Marketing team.
What's in a name?
TCS CodeVita began as an internal competition called 'TCS Top 10' envisaged by a passionate group of researchers from the Performance Engineering team. However, after the contest was opened to the world, it had to be renamed. "We wanted a name that suggested many things — it was about code, it was exciting, it was nourishing, it was lively, and it was like a game or a puzzle. 'Vita', meaning life, was already associated in popular imagination with an energy beverage and a board game. Associated with 'code', the word added a zing to the term. 'CodeVita' came out of a quick brainstorming session from the R&I Marketing team based on some ideas from the Performance Engineering Lab," recalls Jaganathan Gopalakrishnan, head, TAG Branding India, TCS.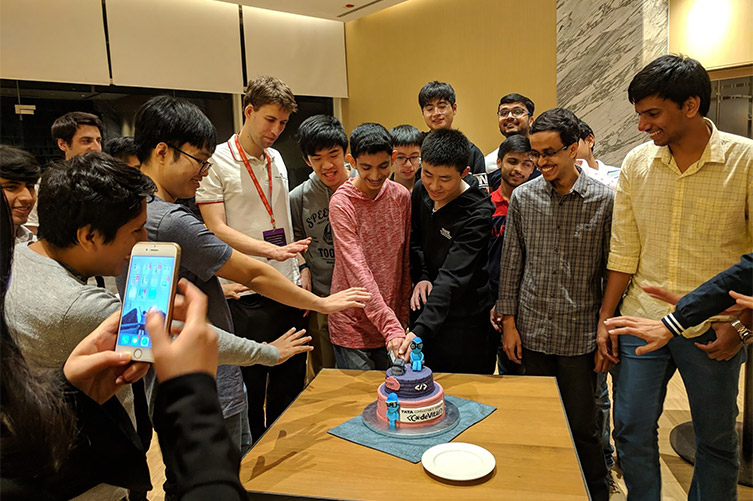 Contest framework
The 24-hour online programming contest is gamified into three rounds: Pre-Qualifier, Qualifier and Final. Through its complex yet flexible format, it enables students across the globe to solve intriguing real-life challenges in eight languages such as Java, PERL, Ruby, C++, C, C#, Python and PHP.
One of the key differentiators of TCS CodeVita is the originality and uniqueness of its questions, curated by a community of passionate and experienced TCS coders from The Philacodist Club. The questions range from being real-life based, domain-flavoured, miniaturised request for proposals to mathematical-geometrical, and algorithmic. All code submissions pass through an in-house robust plagiarism-detection tool to filter out any code infringements that might have been practised by the participant during the contest.
The ever-evolving contest, which attracts students from leading Indian Institutes of Technology, premier institutions and colleges, recently transitioned from team to individual participation. "There was a need from the business units to identify and spot individual talent, the right contributors of a team. By switching from a team to individual participation, the onus of solving real-life questions and winning now fell on each participant equally. Such an approach ultimately aided in the recruitment process, providing TCS with rich talent," adds Mr Gopalakrishnan.
What's more? The competition offers young coders the opportunity to win the coveted 'World's Best Coder' title and obtain a global rank along with a reward of $20,000.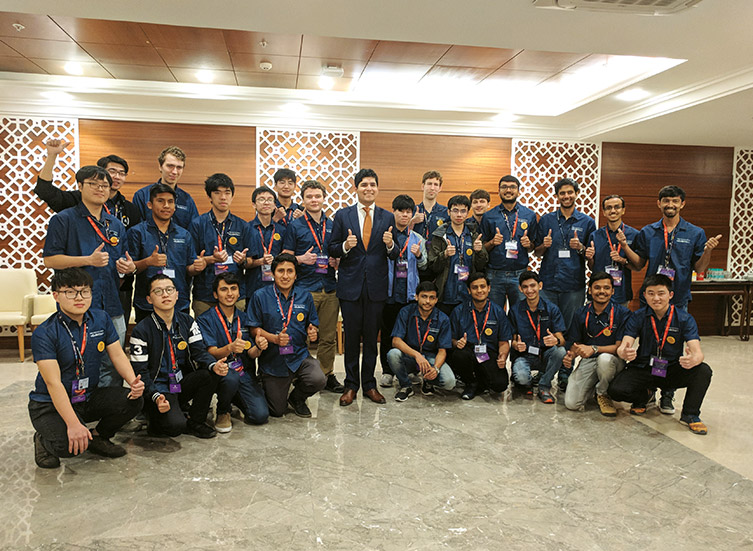 Optimising opportunities
Every season, TCS CodeVita leverages the company's strong HR network across 46 countries and their connect with educational institutions worldwide. This enables the infusion of newer and diverse coders, lending a truly global flavour to the contest. Its online presence extends to www.tcscodevita.com.
TCS further strengthens its reach in international student communities by leveraging its embassy network. "In Season 9, our finalists had received encouraging video messages from Mr Carlos R Polo, Ambassador of Peru to India; Mr Florin Müller, Deputy Head of Mission ad interim, Embassy of Switzerland; Mr Ivan Lancaric, Ambassador of the Slovakia Republic, and Mr Barry O'Farrell, High Commissioner of Australia in India," says Mr Gopalakrishnan.
TCS' interconnected social platforms and powerful networks like TCS COIN™ have helped in spreading the word among employees, as well as strengthened the contest's popularity among the target audience."We have also invested in providing newer avenues for students to have unlimited practice rounds. In season 9, the TCS CodeVita platform was leveraged by students across the globe to understand CodeVita as a contest, before registering and participating in it," says Mr Gopalakrishnan.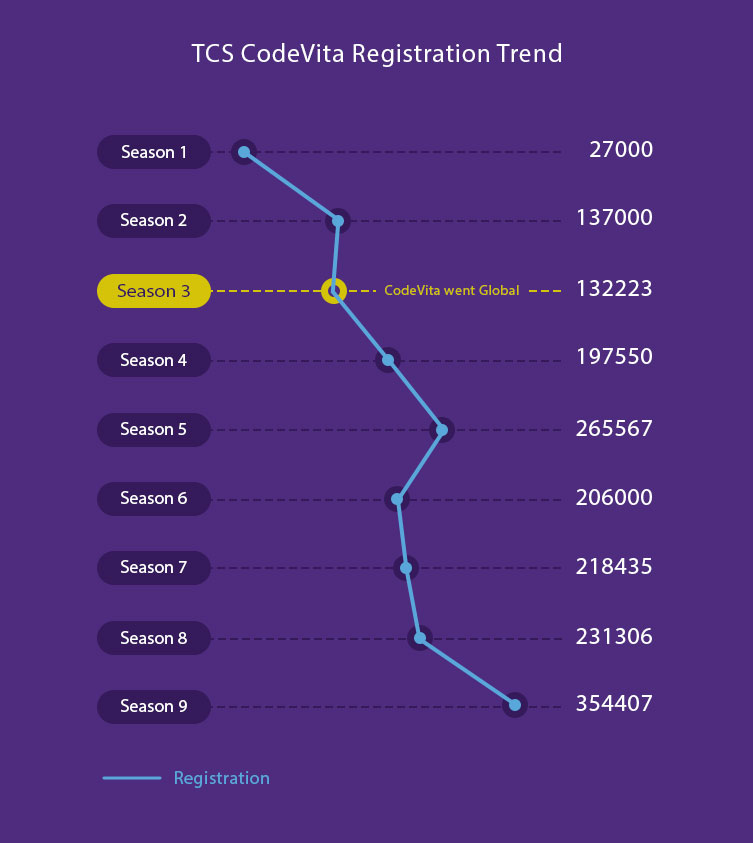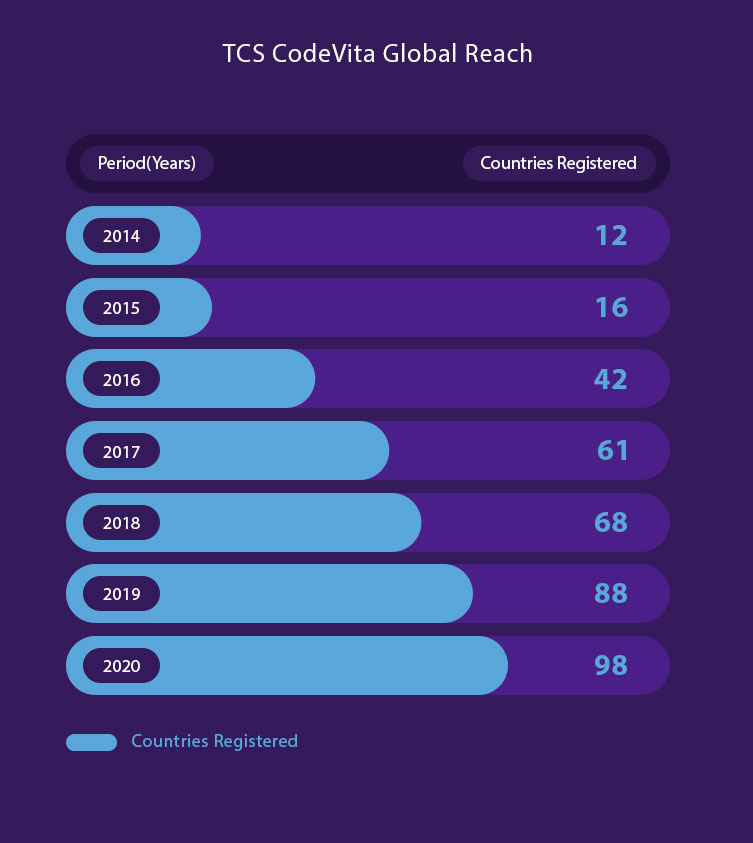 Engaging students in the pandemic
Season 9 of the contest was exceptional due to the pandemic. TCS looked at this as an opportunity for digital interventions. "Digital ecosystems such as Campus Commune helped us engage our target audience through different phases of the contest. A host of community-based, creative, and interactive engagements were curated keeping in mind the target persona. We organised and executed multiple interventions such as leadership connect webinars, bootcamps for programming skills like Python, C++ and Java, informative blogs, and SME podcasts to strengthen our mindshare and increase the conversions in terms of participation and recruitment," explains Mr Gopalakrishnan.
Effective email marketing helped in communicating important announcements at various stages of the contest. "We also reached out to the global coding community through the TCS ACE Network and active online communities in Reddit, LinkedIn, Instagram, Facebook and YouTube," he adds.
Since 2014, TCS has made 11,110 offers through this programme. In 2020 alone, Season 9 saw close to 3,500 total offers for Digital and Ninja roles. Over the past couple of years, 250 students have also completed internships at TCS, with the Top 3 coders offered an opportunity to intern directly with the TCS R&I team. While TCS CodeVita continues to break records for its global reach and participation, the team is working towards reaching out to more ethnic minorities, marginalised communities, as well as increase female participation in the programme. After all, this is not just the future of programming but also next-gen hiring.
—Esther Cabral