July 2021 | 695 words | 3-minute read
When an entire nation is riveted on their computer screens, figuring out the best possible way to procure Covid-19 vaccine shots, a silent, efficient operation is underway to ensure that the vaccine is available to you in the shortest possible time.
And AirAsia India is one of the key players in this operation. The two-month-long suspension of all airline traffic drastically reduced business travel. Leisure and tourist travel nosedived almost overnight with travellers postponing or cancelling their plans if they had already made them. The logistics sector was also severely affected as the movement of goods on surface transport was restricted across states, with exemptions being made only for long-distance and essential commodities.
Given this situation, AirAsia India redirected its focus on services like cargo and charters. But AirAsia's shift of focus was not just about continuity of services. The disruption was widespread and given the rich Tata heritage of putting the nation first, AirAsia's teams prepared themselves to respond.
The Ministry of Civil Aviation (MoCA) also requested support from airlines operating in India. The relief effort was massive: India needed cargo flights to carry not only essential goods for sustenance such as agricultural and marine produce but also critical life-saving and pandemic containment equipment like personal protective equipment (PPE) and kits, face masks, medicines, ventilators and, in some cases, medical and support personnel.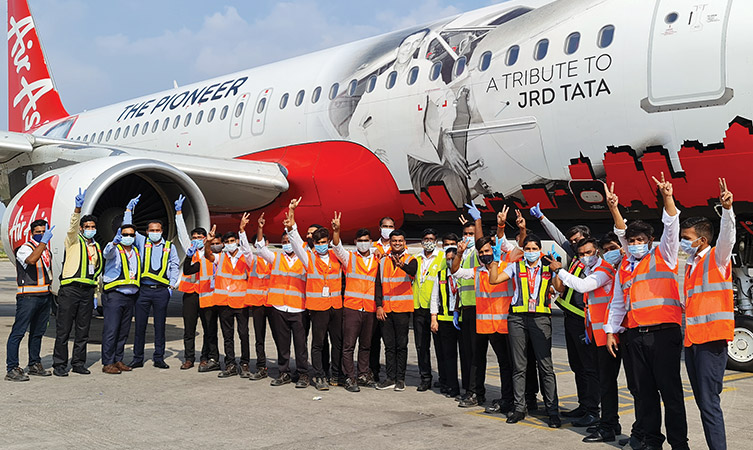 AirAsia India steps up
On the request of the Brihanmumbai Municipal Corporation, AirAsia India carried medicines and PPE, weighing 6.6MT on the Coimbatore-Mumbai sector. Similar cargo, including ventilators and surgical masks, was airlifted from New Delhi to Kolkata for the Tata Memorial Hospital in Jamshedpur, an example of intra-group coordination.
As the national vaccination effort gathers momentum, AirAsia, along with the MoCA, is ensuring that vaccine supplies from the two designated pharma companies, Serum Institute of India (SII) and Bharat Biotech, reach vaccination destinations across the country. In the first month itself, AirAsia India carried more than 9 lakh doses of Covaxin and Covishield put together, from their respective hubs at Pune and Hyderabad to Jaipur. This effort continues; AirAsia India has lifted 69 tonnes of vaccines (2.27 crore doses) till the time of publishing.
Mail and marine
The nation's first flight — a Tata Airlines Puss Moth co-piloted by the legendary JRD Tata — carried air mail. Perhaps, it was destined that a Tata airline would again handle air cargo including air mail in a big way; AirAsia operated its first cargo-only flight between Kolkata and Imphal, which carried agricultural produce and postal articles.
AirAsia India's first ever cargo-on-seat flight was between Kolkata and Chennai, winging live fish and shrimp seeds weighing about 15MT — the first airborne passengers that were strictly and safely underwater throughout the journey!
AirAsia India attracted more such crustacean and aquatic passengers as transport restrictions on ground affected timely delivery. AirAsia India sought regulatory approvals for cargo-on-seat flights in the Kolkata-Kochi-Chennai sectors and carried more than 125MT across 10 flights at the peak of the lockdown in July 2020.
Carrying valuables
Approval to carry electronics with lithium batteries, high value and luxury items was sought; this enabled the airline to support e-commerce, computer and mobile handset companies at a time when other modes of transport were not available. A process was also defined to handle and carry articles such as forex, gold and diamond jewellery, and luxury watches.

Winning clients
The flexibility and customer-centricity displayed by AirAsia India proved invaluable to clients for the cargo services. Flights could be scheduled as per clients' convenience, customised uplift as per their business requirements and efficient processing, including late acceptance and faster delivery, struck a responsive chord.
AirAsia India was also part of the Ministry of Civil Aviation's 'Krishi Udaan', where the airline's support was sought to help farmers in transporting fresh fruits and vegetables across the country. These included lychee fruit from Ranchi and Kolkata, cherries from Srinagar, pineapples from Guwahati, custard apple from Pune and Mumbai, fresh peas from Chandigarh, and coriander from Bengaluru, thereby helping farmers to reach their produce to consumers.
By offering a helping hand in these trying times, AirAsia India demonstrated its positive intent to make a difference in its own small way.
—Shekhar Mohanty and Haroon Bijli. Shekhar Mohanty is the head of Cargo and Logistics, AirAsia India
Learn more about AirAsia India's Cargo services here.