June 2018 | 1428 words | 5-minute read
The circular economy concept may have gained momentum in the industrialised world in the late 1970s, but in India and several oriental cultures, the circularity model is ingrained in our DNA.
Reusing, refurbishing, repairing and reinventing are par for the course here. With the largest second-hand mobile phone market in the world, a vehicle repair shop in every street corner, a scrap dealer willing to recycle any material and refurbishing experts both at home and in the marketplace, the Indian circular economy model provides livelihoods to millions in the country.
Yet, these existing value chain models within the country's unorganised market get scant attention. Defined as a regenerative system in which resource input and waste, emission and energy leakage are minimised by slowing, closing, and narrowing energy and material loops, circular economy is in sharp contrast to the linear economy of 'take, make, dispose' model of production. Circular economy believes in creating value using sustainable processes or products.
Preempting Circularity
In line with this thinking, the Tata group — with its philosophy of creating sustainable business models for the benefit of the people and community — and group companies like Tata Steel, Jaguar Land Rover (JLR) and Tata Global Beverages (TGB) are working towards closing the loop in waste management by recasting design, process and recycling to create abiding value for their businesses.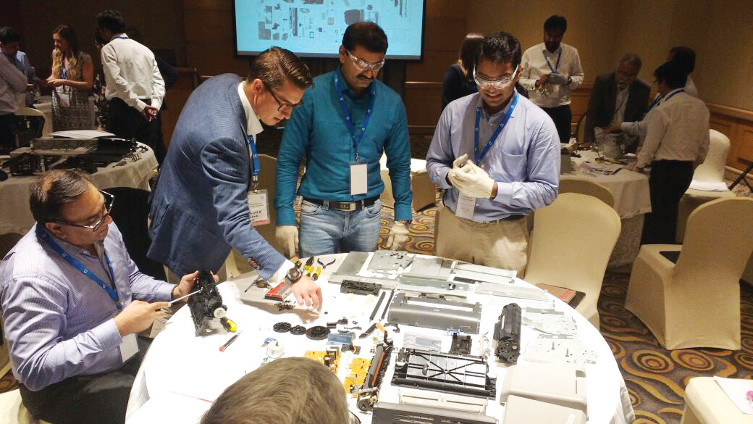 At the group level, the Tata Sustainability Group (TSG) has the onus of driving the circular economy concept to reinforce and accelerate resource efficiency initiatives of Tata companies.
To facilitate a better understanding and more structured approach to the concept, TSG has partnered with the Ellen MacArthur Foundation, a global thought leader in accelerating the transition to circular economy.
The programme began in 2015 with the foundation experts not only defining the circular economy approach but also providing the basic framework for businesses to move towards this model. Since then, they have been organising a series of capacity building workshops to demystify circular economy principles, concepts and frameworks. So far close to 70 Tata executives from across functions have been trained on the concepts of circularity and design for environment. 
The 3R Philosophy
Driving circularity into the mainstream, Tata Steel set up its Industrial By-products Management Division (IBMD) in 2014 to find applications and customers for all the by-products generated in steel-making and coal-mining operations. Operating on the 3R principle — recover, recycle and reuse philosophy — IBMD today is a profit centre. It clocked a turnover of 3200 crore in FY 2018 and has reused 1.8 million tonnes of waste in the last five years.
The division alone handles more than 13 MnTPA of waste with more than 1500+ customers with 20+ products and 150+ stock-keeping units (SKUs) in its portfolio. It deals in a variety of by-products and scrap in the entire value chain of the steel company, starting from raw materials right up to finished products. Its client base includes cement manufacturers, brick makers, power plants, pharmaceuticals, agriculture and local small-scale businesses. The division has a dedicated sales team that looks at potential buyers and industry requirements.
Previously known as Secondary Products division, its primary responsibility was disposal of materials as per government regulations, with emphasis on speed of evacuation with minimum inventory. However, with the expansion of the Jamshedpur facility, generation of LD slag (waste material from steel) increased and the disposal requirement changed.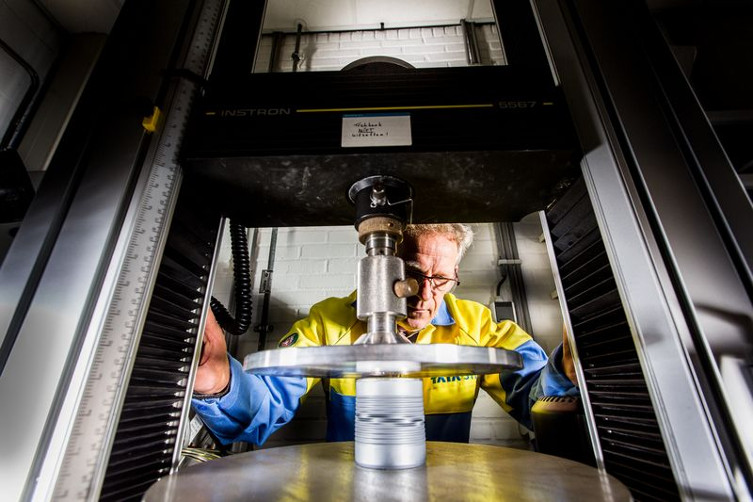 "We increased our engagement with the technology and R&D teams and started using the Value in Use (ViU) framework for evaluating better alternatives for by-products. Not much was available back then with other companies as best practices, therefore IBMD along with these teams designed ways and means to increase LD slag utilisation. In the last five years, our utilisation has increased threefold. Our processed slag goes into making of national highways, cement and clinker making, bricks, hardstands, sinter making (replacing limestone), etc," says Mr Umesh Kumar Singh, chief – operations and new initiatives, IBMD, Tata Steel. 
REAL Recycling 
Jaguar Land Rover (JLR) has been at the forefront of boosting the recovery and reuse of waste metals in vehicle manufacturing. Its REALCAR (REcycled Aluminum CAR), a closed-loop value chain project, was born from the need to create lighter cars for fuel economy, emissions and overall performance.
REALCAR makes use of a recycled aluminum alloy 'RC5754', which was developed in collaboration with its key supplier (Novelis) and innovation agency (Innovate UK). The Jaguar XE is the first car in the world to contain this new grade of high-strength aluminum, which reduces reliance on virgin material and lowers environmental impact.
The auto major also invested significantly in closed loop waste recovery and recycling at their production plants in Halewood, Castle Bromwich and Solihull.
As the world leader in aluminum vehicle manufacture, JLR is constantly increasing the amount of recycled aluminum used in their vehicles through its innovations. JLR is now in the middle of the REALITY project, which aims to introduce additional, post-consumer use recycled material to achieve their long-term goal of 75% circularity in aluminum.
Collaboration and implementation are key to the success of this decade-old project and the challenges have been many. Says Ian Ellison, senior manager — sustainability, vehicle engineering, JLR, "We faced three big challenges — firstly, the level of collaboration between partners is much greater in such a circular value chain. Then there is the technical challenge of developing the metallurgy. There can be no compromise on the properties of the finished material, yet some allowance has to be made for trace impurities from closing the loop. Finally, there is the implementation. To ensure the quality targets are met, it is essential to have rigorous material segregation and handling."
He adds, "The visible business impact is small — the cars are designed in the traditional way and look and perform the same as traditional ones but that's not to say that achieving the targeted level of circularity was in any way easy!"
Zero Waste To Landfill
Tata Global Beverages' Tetley factory in Eaglescliffe, one of the biggest factories worldwide with 280 million teabags rolling off its production lines every week for the UK and Canadian markets, is a 'zero waste to landfill' factory since 2012. The factory has recycled all its waste including tissue, general waste, cardboard, metal and tea dust discard. Tea dust is collected across the site and reused.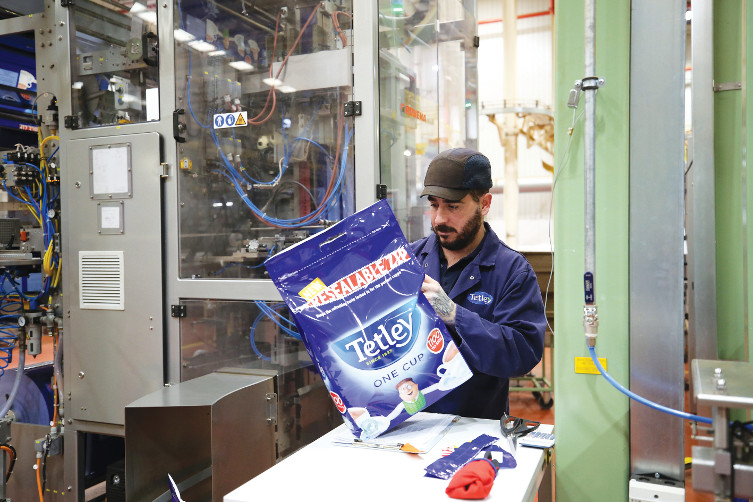 The Eaglescliffe team also modified large energy usage processes by installing intelligent variable speed drive systems for compressed air and dust extraction, allowing the energy demand to be modulated in line with production requirements. Passive infrared sensor lighting was installed and the site moved to LED lighting, resulting in a fall in energy consumption by 22% over the past six years.
They also switched to renewable energy sources and sourced a part of their electricity requirement from a solar farm at a nearby location — reducing CO2 emissions by 19%.
Nearly a decade ago, the factory looked at the environment in which it was operating and identified the requirements of the commercial teams it served, which resulted in implementing the strategy deployment tool — the Hoshin Kanri process. In line with this process, the Easglescliffe team partnered with a packaging machine configurator, Schubert, to develop a 'soft pack' format that allowed tea bags to withstand a great deal of weight, resulting in the ability for it to be double stacked in the supply chain. This modification in stacking of tea bags resulted in reducing the number of vehicles required to ship the product, thereby reducing the carbon footprint in transportation.
Tony Stubbs, VP operations, says, "The Tetley factory is one of the best factories in the UK. It is placed in the upper quartile on almost all measures of performance in comparison to other FMCG companies in the UK. We have outstanding levels of machine effectiveness, output efficiency and employ some of the most highly trained workforce in the UK, each receiving up to 27 days of training each year."
Restorative Economy
Even as the world grapples with serious problems like climate change, water scarcity and destruction of nature, the Tata group is committed to practicing more close-loop recycling by designing products that can be 'made to be made again' and by making choices that will result in positive, regenerative and value creating growth.
—Sanghamitra Bhowmik