December 2022 | 2123 words | 8-minute read
Our world, as we know it today, is built on sinews of steel. Our world, in the future we hope to inhabit, will have to make this steel sustainable. As one of the world's most geographically diversified steel producers and a world top 10 steelmakers, Tata Steel is deeply cognizant of this responsibility.
"Climate change is a significant risk that humanity and the industry face in the long-term. The global steel industry alone is set to account for nearly 35% of fossil fuel-related emissions by 2050. The time is now right for all industries to rethink business models, business priorities, and business sustainability, and to consider how climate change may affect their short, medium and long-term strategy and goals. Tata Steel is working towards early adoption and scaling up of new-age technologies to accelerate this transition," Sanjiv Paul, vice president, safety, health and sustainability, Tata Steel, says, speaking from COP27 in Egypt, where the company — as part of its commitment to responsible growth and a sustainable future — joined the newly formed 'Alliance for Industry Decarbonisation' as co-chair.
It is the latest commitment in a series of steps taken by the company to mitigate the climate change challenge.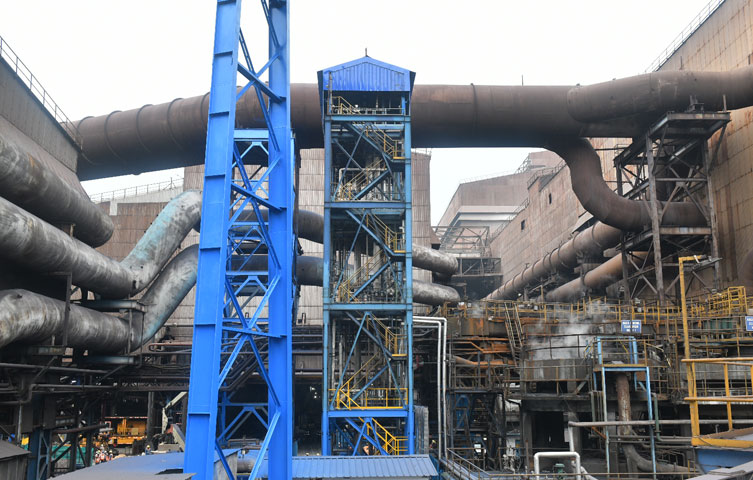 The Challenge & the Change
Climate change is an especially complicated challenge for a 'hard-to-abate' sector like steel. According to a United Nations (UN) Economic Commission for Europe report presented at COP27, the steel industry is responsible for about 7% to 9% of the global anthropogenic carbon emissions. "To put it in context," it says, "if the steel industry was a country, it would be the 5th largest contributor to global CO2 emissions."
The steel industry's sustainability targets, however, are roadblocked by multiple challenges. The advancement of technology and the ecosystem to make the production of green steel as economically viable as traditional methods of production. The lack of a mature sustainable finance market and policies that incentivise early movers. And the need of greater collaboration from the government and greater participation from customers.
Caught in the crosshairs of the rising need for a green transition and the continuous need to expand capacity to maintain market leadership, how did Tata Steel manage to not only become a worldsteel Sustainability Champion but also retain the mantle for five consecutive years?
"Sustainability has formed the core of Tata Steel's DNA since our inception 115 years ago," says Mr Paul. "Tata Steel has now taken the ambitious target to become net-neutral in carbon by 2045 across its operations in India, Europe and Thailand."
It is the earliest timeframe committed to by any large steel company in the world. Aligning with the 1.5°C climate trajectory set by the Paris Agreement, the company has also committed to net-zero water consumption, ambient air quality improvement and no net loss in biodiversity by 2030 across locations. In India, Tata Steel plans to achieve CO2 emission intensity of less than 2 tCO2 /tcs (ton CO2 per tonne of crude steel) by 2025 and less than 1.8 tCO2 /tcs by 2030. In Europe, it plans to make green steel in the Netherlands no later than 2030 and produce CO₂ neutral steel by 2050 in both the UK and the Netherlands.
The company has also prioritised 15 UN Sustainable Development Goals, with a focus on the targets for greenhouse gas (GHG) emissions, specific fresh-water consumption and circular economy.
A sustainability mindset
Tata Steel has fuelled this sustainability mindset throughout the company, starting with the senior leadership. "They took the first step to learn the nuances of global best practices from elite institutes," says Mr Paul. "Sustainability awareness was then cascaded down the line across locations."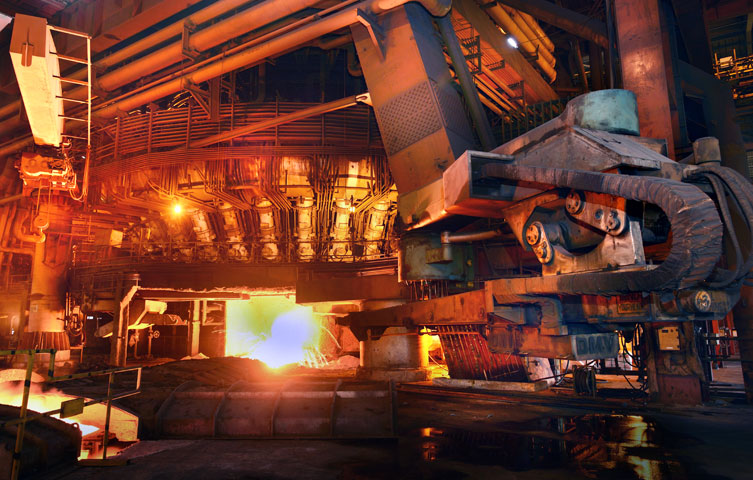 Sustainability has been identified as a compulsory requirement in training for various levels. At the shopfloor level, Sustainability Champions have been identified to implement the initiatives. Tata Steel's Centre of Excellence for GHG Emissions and Technology Leadership Area for Water identify new areas for improvement and ensure implementation. In addition, a governance mechanism has been set up, with quarterly reviews chaired by the CEO and MD, for CO2 emissions, water and environment.
Sustainability strides in India
In India, these have led to the Jamshedpur plant, India's oldest steel making facility, becoming a national benchmark in CO2 emissions. The Jamshedpur works have also been declared water positive, based on a third-party water balance study. The company has even achieved 100% solid waste utilisation.
"Tata Steel has been taking strategic decisions at the right time regarding operating philosophies and the upgrade of the steelmaking facilities," says Mr Paul. "Best-in-class equipment with in-built energy recovery systems were selected for expansion plans, which ensured lower energy consumption. Digital initiatives have ensured smooth and efficient performance of the plant. Jamshedpur is now a Global Lighthouse of the Fourth Industrial Revolution as per the World Economic Forum."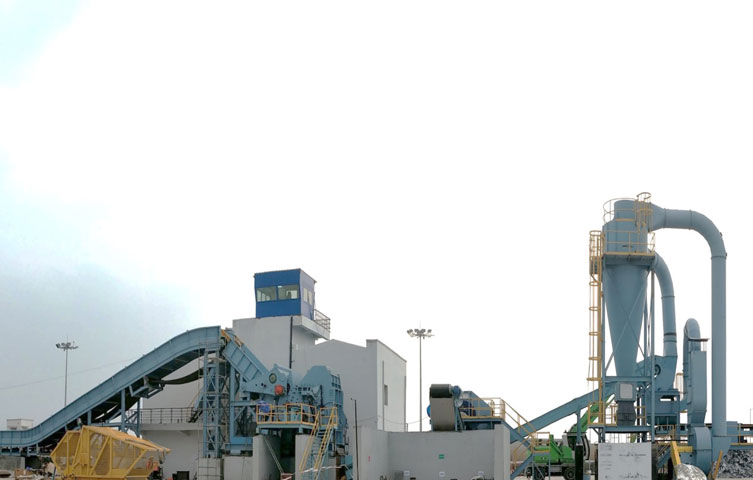 The overall CO2 emission intensity in the India operations reduced by around 20% to 2.51 tCO2/tcs in FY22 from 3.11 tCO2/tcs in FY05, despite the acquisition of Bhushan Steel and Usha Martin's steel business, which had higher emission intensity. Post its phase 2 expansion, the Kalinganagar plant — also recognised by the Global Lighthouse Network for its leadership in using Fourth Industrial Revolution technologies to transform manufacturing — is projected to surpass Jamshedpur's benchmark carbon footprint standards. 
Green Steel in Europe
At Tata Steel UK, several projects are underway to realise reductions in CO2 emissions as part of its push towards carbon-neutral steel production by 2050. "Our long-term plan for the UK is to benefit from the 100% recyclability of steel and to use green electricity to decarbonise our operations," says Mr Paul.
The Netherlands plant is already one of the most CO2-efficient steel producers worldwide and has stated its ambition to reduce CO2 emissions by 5 million tons a year (35-40%) by 2030. Various technological options have been explored to achieve this, including CO2 capture and storage and a hydrogen route to produce steel, with external experts assessing the technical feasibility of all options.
Tata Steel Netherlands has already secured the first client for its green steel after the IJmuiden plant shifts to hydrogen-based steel making.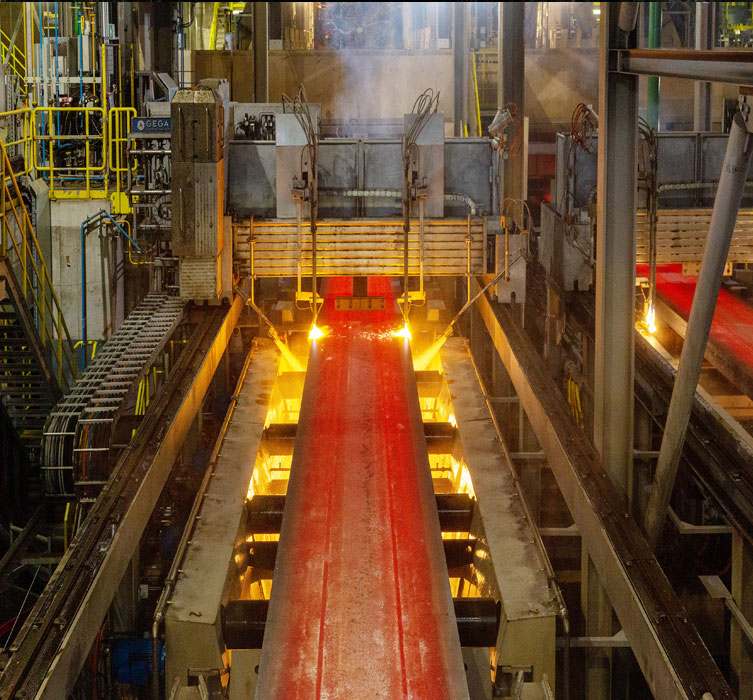 Chasing Green Alternatives
Product sustainability is a long-term sustainability goal for Tata Steel. The company has been actively pursuing the Life Cycle Assessment (LCA) approach to reduce the environmental impact of its products across the value chain and disclose the impact to stakeholders through ecolabels like GreenPro and Environmental Product Declaration. It has already enhanced the green products portfolio with GreenPro certifications for Tata Tiscon, Tata EzyFit, Ground Granulated Blast Furnace Slag, Tata Pravesh and Tata Pipes. And it has committed to covering 100% of steel making and downstream sites under LCA by FY25 and disclosing the environment performance of 100% of products by FY30.
The company is also exploring recycled steel as the raw material of the future. "Steel is infinitely recyclable," says Mr Paul. "Steel produced through the recycled route entails lower carbon emissions, resource consumption and energy utilisation. The average global emission of steelmaking through steel scrap is 0.6 tCO2/tcs as compared to 2.5 tCO2/tcs through the iron ore route. To combat climate change, the focus, going ahead, will be more on circularity to reduce dependency on iron ore. Hence, it is important to secure supply of scarp to our existing and upcoming facilities."
To this end, Tata Steel has developed FerroHaat™, a first-of-its-kind app, to source steel scrap. It provides the much-needed raw material fillip by making available quality processed ferrous scrap, streamlining the currently unorganised scrap supply chain, lowering dependency on imports and enhancing value chain transparency and efficiency. The company aims to grow the capacity of the steel recycling business to >5 MnTPA by 2030.
It also aims to achieve material efficiency of 99% at all steel-making sites by FY25, sustain material efficiency at 100% at all steel making sites by FY30 and increase EBITDA of the by-product business by 2.4 times of 2020 by 2030.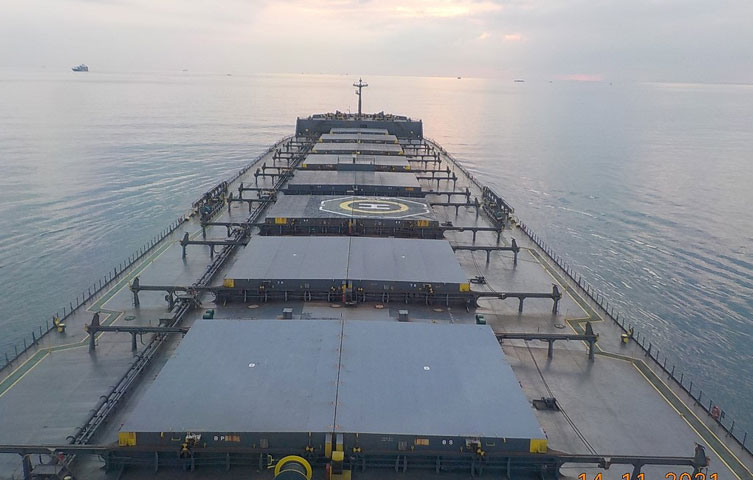 "We are getting ready for future," says Mr Paul. "We are upgrading the facilities to ensure higher use of steel scrap in our operations. We have started working on sustainable alternate reductants in blast furnaces and are readying the infrastructure to enable use of natural gas when it is available at an affordable price. Teams are working on use of biomass/biochar and hydrogen in blast furnaces. We will also be using green electricity."
Innovating sustainability
Underpinning these transformations is a digital-first and innovation-led mindset. Tata Steel has leveraged digital for integrated supply chain and logistics, connected mining, smart asset maintenance, smart closure of financial accounts, smart procurement and energy management to transform how business processes functions impact sustainability targets.
It has also built on its in-house R&D strengths and partnerships — within the Tata ecosystem and with academia, start-ups and industrial organisations — to innovate breakthrough technologies in areas like GHG reduction, water neutrality and use of low-grade raw materials. FerroHaat, for instance, was jointly developed with Tata Consultancy Services. The pilots in carbon capture emerged out of collaborations with start-ups. And the method of continuous injection of coal bed methane gas in a blast furnace — a global first that is expected to reduce coke rate by 10 kg/ton of hot metal, which is equivalent to reducing 33kg of CO2 per tonne of crude steel — was entirely developed in-house.
"Research and innovation are key drivers for our operational efficiency, resource optimisation, sustainability and new product development," says Mr Paul. "We filed our highest number of new patents in FY22."

Taking the lead
To put Tata Steel's sustainability thrust in perspective, in 2022, the company ranked 9th among the 128 companies assessed globally by Sustainalytics — a leap forward from 2021 when it stood 29th among 140 companies. It also secured the top rank among the assessed top global steel producing companies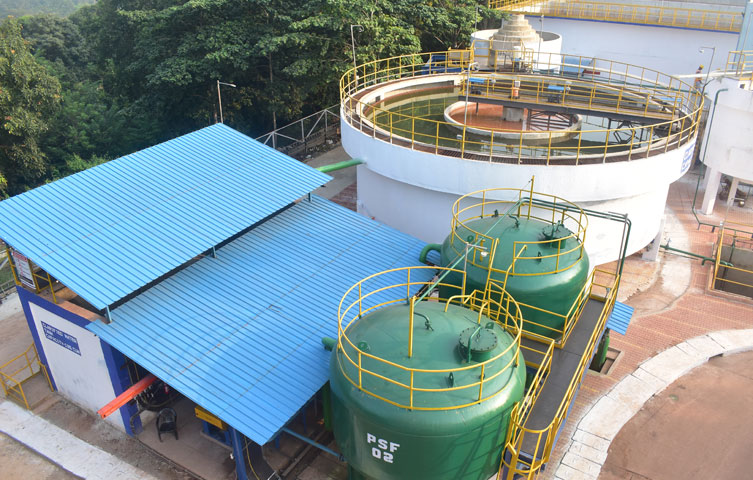 It ranked among the Top 10 steel companies in the Dow Jones Sustainability Index Corporate Sustainability Assessment 2021. It was also inducted as a member of worldsteel's New Sustainability Charter, which looks to generate positive impacts on people, planet and the prosperity of society.
"About 25% of global GDP is produced by the industrial sector, which also emits around 28% of GHG and process-related emissions. Partnerships based on dialogue and actions are, therefore, crucial for industrial stakeholders to best address the challenges and opportunities of a clean-energy transition," says Mr Paul, soon after the first meeting of the Alliance for Industry Decarbonisation at COP27. The meeting resulted in the formation of workgroups in areas of renewable energy, green hydrogen, bioenergy, carbon capture utilisation and storage, heat process optimisation and integration, human capital and finance.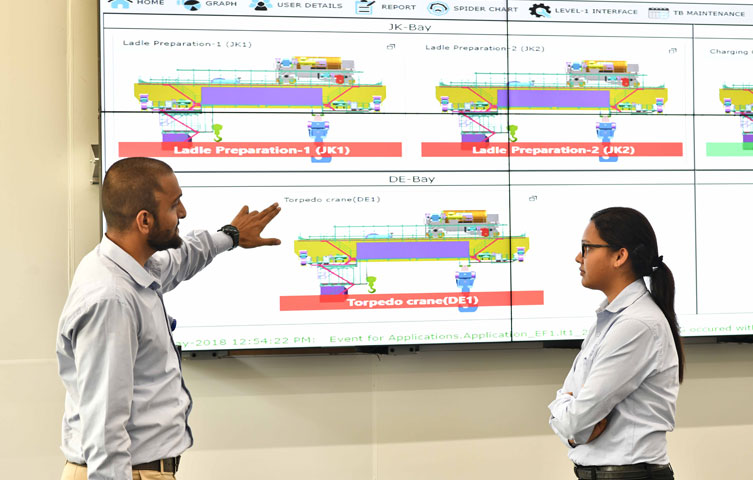 "The participation of leading industries can benefit business opportunities for green industrialisation, highlight the importance of collaboration in developing strategies and sharing best practices to cut industry emissions, and accelerate global climate action," he says.
This is also what makes the Tata group's Project Aalingana an important step in the company's sustainability journey, he adds: "The coming together of all Tata companies will help identify synergistic opportunities within the group and create momentum to fast track all sustainability activities."  
*worldsteel Association
"It is hard to imagine a modern world without steel. As a material that can be recycled infinitely, steel has immense potential both as a product and as a core manufacturing industry to be more eco-friendly. To this end, Tata Steel has pioneered several impactful initiatives to drive resource efficiency and product sustainability, and is running conservation projects in some of India's most ecologically vulnerable parts. Tata Steel is also piloting new technologies on development and scale-up of deep decarbonisation technologies such as CCU and hydrogen-based steelmaking in its pursuit of becoming net zero by 2045. We see the Tata group's Project Aalingana as a grand confluence of some of the best sustainability practices of various group companies representing diverse sectors. We expect the outcome of such an idea to be larger than the sum of its parts." - TV Narendran, CEO & MD, Tata Steel
Sustainable firsts
First Indian company to publish Global Reporting Initiative-based sustainability report, 2001

First in the Indian steel industry to commission a 5 tonnes per day CO2 capture plant, which is located in Jamshedpur

First to set up a steel recycling plant in India; the 0.5 MnTPA steel facility was set-up in Haryana
First Indian steel rebar brand (Tata Tiscon) to receive GreenPro certification

First steel maker in India to deploy EVs for finished steel transportation

First steel producer in the world to join the Sea Cargo Charter to reduce Scope 3 GHG emissions in ocean trade. In December 2021, a ship deployed by Tata Steel successfully completed trial use of biofuel to transport cargo between continents

First to execute a blockchain enabled, paperless trade transaction

First ResponsibleSteel Certification in India awarded to the Jamshedpur plant
Thought Leadership
2001: Becomes member of UN Global Compact, striving to integrate its 10 principles in all facets of business
2001: Becomes the first company in India to start publishing Global Reporting Initiative-based Sustainability Report
2006: Starts participating in CDP's Climate Change disclosure, followed by Supply Chain and Water disclosures in 2012 and 2014, respectively
2012: Starts participating in the Dow Jones Sustainability Indices assessment
2015-2016: Becomes one of the first companies in India to adopt the International Integrated Reporting Framework
2016: Starts participating in the CII GreenCo assessment, with the Jamshedpur plant receiving the highest 'Platinum rating' the same year
2018: Initiates active engagements with ESG rating agencies like Vigeo Eiris, Sustainalytics, etc
2020: Becomes a member of ResponsibleSteel
2021: Joins the Taskforce on Nature-related Financial Disclosures, working towards improvement of disclosure practices and nature positive outcomes
- Monali Sarkar
Also Read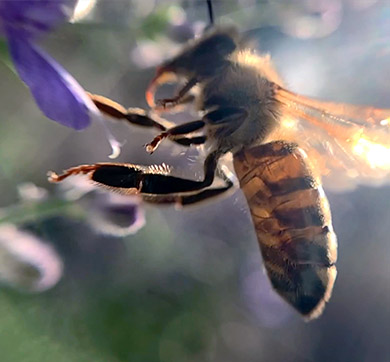 aalingana
Project Aalingana
How we are helping build a greener, cleaner, more sustainable and equitable future
Business
Electric Vehicles for a Better Planet
Driven by the need to address pollution, clean energy, and national security, Tata Motors is leading the electric vehicle revolution.